Access options
Buy single article
Instant access to the full article PDF.
US$ 39.95
Tax calculation will be finalised during checkout.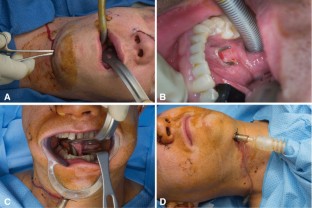 References
1.

Jundt JS, Cattano D, Hagberg CA, Wilson JW. Submental intubation: a literature review. Int J Oral Maxillofac Surg 2012; 41: 46-54.

2.

Eisemann B, Eisemann M, Rizvi M, Urata MM, Lypka MA. Defining the role for submental intubation. J Clin Anesth 2014; 26: 238-42.

3.

Emara TA, El-Anwar MW, Omara TA, Anany A, Elawa IA, Rabea MM. Submental intubation versus tracheostomy in maxillofacial fractures. Oral Maxillofac Surg 2019; 23: 337-41.
Disclosures
None.
Funding statement
None.
Editorial responsibility
This submission was handled by Dr. Hilary P. Grocott, Editor-in-Chief, Canadian Journal of Anesthesia.
Additional information
Publisher's note
Springer Nature remains neutral with regard to jurisdictional claims in published maps and institutional affiliations.
About this article
Cite this article
Panchamia, J.K., Hill, D., Sharaf, B. et al. Submental approach to intubation for craniomaxillofacial surgery. Can J Anesth/J Can Anesth (2021). https://doi.org/10.1007/s12630-020-01912-0
Received:

Revised:

Accepted:

Published: