Abstract
Introduction
Anesthesia-related activities contribute to operating room waste impacting climate change. The aim of this study was to ascertain 1) the current existence and scope of department and education programs concerned with anesthesia "green" practice; and 2) perceived barriers to environmental sustainability efforts among Canadian anesthesia department chiefs and residency program directors.
Methods
Association of Canadian University Departments of Anesthesia-affiliated anesthesiology department chiefs (n = 113) were invited to complete an online survey ascertaining current efforts in, and barriers to, environmentally sustainable anesthesia practice. Similarly, Canadian anesthesiology residency program directors (n = 17) were invited to complete an online survey delineating current educational programs on environmental sustainability and identifying interest in, and barriers to, developing a Canada-wide curriculum.
Results
The response rates for department chiefs and program directors were 23% (26/113) and 41% (7/17), respectively. Department chiefs indicated that their departments participate in sustainability efforts such as donating medical equipment (65%) and recycling (58%). Despite interest in environmental sustainability, department chiefs identified inadequate funding (72%), lack of a mandate (64%), and inadequate knowledge (60%) as barriers to implementing environmentally sustainable practices. Only 29% of responding Canadian anesthesiology programs include environmental sustainability in their curriculum. Responding residency program directors believe residents would benefit from more teaching on the topic (86%) but identified barriers including a lack of faculty expertise (100%) and time constraints (71%). Respondents (71%) also indicated an interest in developing a Canadian curriculum on the topic.
Conclusion
Our results highlight current attitudes, gaps, and barriers to environmentally sustainable anesthesiology practice among departmental and educational leadership. Furthermore, this study identifies potential opportunities to develop cross-Canada collaborative educational programs in this field.
Résumé
Introduction
Les activités liées à l'anesthésie contribuent aux déchets de salle d'opération qui ont un impact sur les changements climatiques. L'objectif de cette étude était d'établir 1) l'existence et la portée des programmes départementaux et de formation s'intéressant à une pratique écoresponsable de l'anesthésie; et 2) les obstacles perçus aux efforts en matière de durabilité environnementale parmi les chefs de départements et les directeurs de programmes de résidence en anesthésie canadiens.
Méthode
Les chefs des départements d'anesthésiologie affiliés à l'Association canadienne universitaire des départements d'anesthésie (ACUDA) (n = 113) ont été invités à remplir un sondage en ligne afin de déterminer les efforts actuels et les obstacles à une pratique durable de l'anesthésie. Les directeurs de programmes de résidence en anesthésiologie canadiens (n = 17) ont également été invités à remplir un sondage en ligne décrivant les programmes de formation actuels portant sur la durabilité environnementale et identifiant l'intérêt pour et les obstacles à la création d'un cursus s'appliquant à tout le Canada.
Résultats
Les taux de réponse des chefs de département et des directeurs de programme étaient de 23 % (26/113) et 41 % (7/17), respectivement. Les chefs de département ont indiqué que leurs départements prenaient part aux efforts de durabilité en faisant don des équipements médicaux (65 %) et en recyclant (58 %). Malgré un intérêt pour la durabilité environnementale, les chefs de département ont fait mention d'un financement inadapté (72 %), de l'absence de mandat (64 %), et d'un manque de connaissances (60 %) en tant qu'obstacles à la mise en place de pratiques durables. Seuls 29 % des programmes d'anesthésiologie canadiens ayant répondu comportaient un volet sur la durabilité environnementale dans leur programme. Les directeurs de programmes de résidence ayant répondu étaient d'avis que les résidents bénéficieraient d'une augmentation de l'enseignement à ce sujet (86 %) mais ont identifié divers obstacles, notamment un manque d'expertise du corps enseignant (100 %) et des contraintes de temps (71 %). Les répondants (71 %) ont également indiqué leur intérêt pour la création d'un cursus canadien à ce sujet.
Conclusion
Nos résultats résument les attitudes, écueils et obstacles actuels à une pratique durable de l'anesthésiologie parmi les directions des départements et des programmes de formation. En outre, cette étude identifie des occasions potentielles de création de programmes éducatifs collaboratifs pancanadiens dans ce domaine.
This is a preview of subscription content, log in to check access.
Access options
Buy single article
Instant access to the full article PDF.
US$ 39.95
Price includes VAT for USA
References
1.

Watts N, Amann M, Ayeb-Karlsson S, et al. The Lancet Countdown on health and climate change: from 25 years of inaction to a global transformation for public health. Lancet 2018; 392: 581-630.

2.

Watts N, Adger WN, Agnolucci P, et al. Health and climate change: policy responses to protect public health. Lancet 2015; 386: 1861-914.

3.

Costello A, Abbas M, Allen A, et al. Managing the health effects of climate change: Lancet and University College London Institute for Global Health Commission. Lancet 2009; 373: 1693-733.

4.

Eckelman MJ, Sherman JD, MacNeill AJ. Life cycle environmental emissions and health damages from the Canadian healthcare system: an economic-environmental-epidemiological analysis. PLoS Med 2018; . https://doi.org/10.1371/journal.pmed.1002623.

5.

Eckelman MJ, Sherman J. Environmental impacts of the U.S. Health Care System and effects on public health. PLoS One 2016; https://doi.org/10.1371/journal.pone.0157014.

6.

MacNeill AJ, Lillywhite R, Brown CJ. The impact of surgery on global climate: a carbon footprinting study of operating theatres in three health systems. Lancet Plant Health 2017; 1: e381-8.

7.

Thiel CL, Eckelman M, Guido R, et al. Environmental impacts of surgical procedures: life cycle assessment of hysterectomy in the United States. Environ Sci Technol 2015; 49: 1779-86.

8.

Petre MA, Bahrey L, Levine M, et al. A national survey on attitudes and barriers on recycling and environmental sustainability efforts among Canadian anesthesiologists: an opportunity for knowledge translation. Can J Anesth 2019; 66: 272-86.

9.

Lehmann LS, Sulmasy LS, Desai S. Hidden curricula, ethics, and professionalism: optimizing clinical learning environments in becoming and being a physician: a position paper of the American College of Physicians. Ann Intern Med 2018; 168: 506-8.

10.

Conran RM, Zein-Eldin Powell S, Domen RE, et al. Development of professionalism in graduate medical education: a case-based educational approach from the College of American Pathologists' Graduate Medical Education Committee. Acad Pathol 2018; . https://doi.org/10.1177/2374289518773493.

11.

Boulis S, Khanduja PK, Downey K, et al. Substance abuse: a national survey of Canadian residency program directors and site chiefs at university-affiliated anesthesia departments. Can J Anesth 2015; 62: 964-71.

12.

Raosoft Inc. Sample size calculator, 2004. Available at URL: http://www.raosoft.com/samplesize.html (accessed April 2020).

13.

Axelrod D, Bell C, Feldman J, et al. Greening the operating room and perioperative arena: environmental sustainability for anesthesia practice, 2017. American Society of Anesthesiologists. Available from URL: https://www.asahq.org/about-asa/governance-and-committees/asa-committees/committee-on-equipment-and-facilities/environmental-sustainability/greening-the-operating-room (accessed April 2020).

14.

Kagoma Y, Stall N, Rubinstein E, Naudi D. People, planet and profits: the case for greening operating rooms. CMAJ 2012; 184: 1905-11.

15.

McGain F, Story D, Kayak E, Kashima Y, McAlister S. Workplace sustainability: the "cradle to grave" view of what we do. Anesth Analg 2012; 114: 1134-9.

16.

Byrne J, Straub H, Digiovanni L, Chor J. Evaluation of ethics education in obstetrics and gynecology residency programs. Am J Obstet Gynecol 2015; 212(397): e1-8.

17.

Burns K, Duffett M, Kho M, et al. A guide for the design and conduct of self-administered surveys of clinicians. CMAJ 2008; 179: 245-52.

18.

Sherman JD, Raibley LA, Eckelman MJ. Life cycle assessment and costing methods for device procurement: comparing reusable and single-use disposable laryngoscopes. Anesth Analg 2018; 127: 434-43.

19.

Overcash M. A comparison of reusable and disposable perioperative textiles: sustainability state-of-the-art 2012. Anesth Analg 2012; 114: 1055-66.

20.

Eckelman M, Mosher M, Gonzalez A, Sherman J. Comparative life cycle assessment of disposable and reusable laryngeal mask airways. Anesth Analg 2012; 114: 1067-72.

21.

Naylor C, Appleby J. Sustainable health and social care: connecting environmental and financial performance. The King's Fund, London, UK, 2012. Available from URL: http://www.kingsfund.org.uk/publications/sustainable-health-and-social-care (accessed April 2020).

22.

Lubarsky DA, French MT, Gitlow HS, Rosen LF, Ullmann SG. Why money alone can't (always) "nudge" physicians: the role of behavioural economics in the design of physician incentives. Anesthesiology 2019; 130: 154-70.

23.

Dolan P, Hallsworth M, Halpern D, King D, Vlaev I. Influencing behaviour through public policy. The Behavioural Insights Team, London, UK, 2010. Available from URL: https://www.bi.team/wp-content/uploads/2015/07/MINDSPACE.pdf (accessed April 2020).

24.

Shelton CL, McBain SC, Mortimer F, White SM. A new role for anaesthetists in environmentally-sustainable healthcare. Anaesthesia 2019; 74: 1091-4.
Author contributions
Clyde T. Matava and Maria-Alexandra Petre contributed to all aspects of this manuscript, including study conception and design; acquisition, analysis, and interpretation of data; and drafting the article. Mark Crawford, Adriaan van Rensburg, Mark Levine, and Lisa Bahrey contributed to the interpretation of data and drafting the article.
Disclosures
None.
Funding statement
Departmental funds.
Editorial responsibility
This submission was handled by Dr. Steven Backman, Associate Editor, Canadian Journal of Anesthesia.
Additional information
Publisher's Note
Springer Nature remains neutral with regard to jurisdictional claims in published maps and institutional affiliations.
Appendices
Appendix 1: Recycling/sustainability survey: anesthesia department chiefs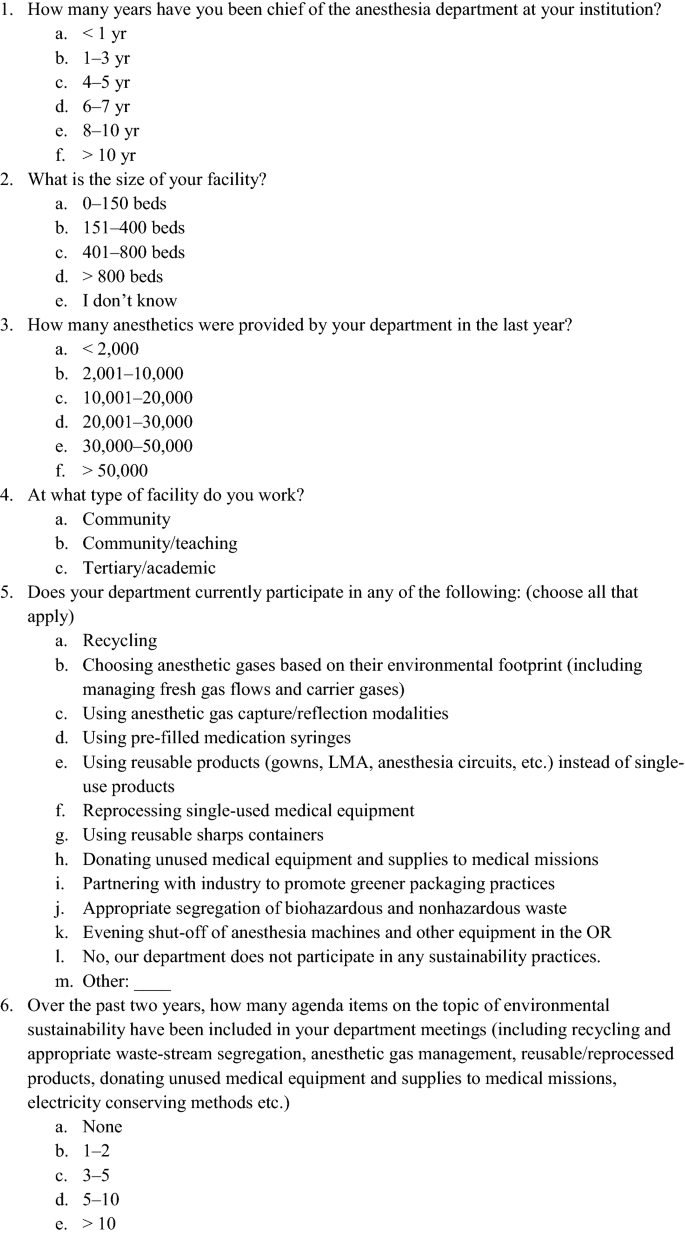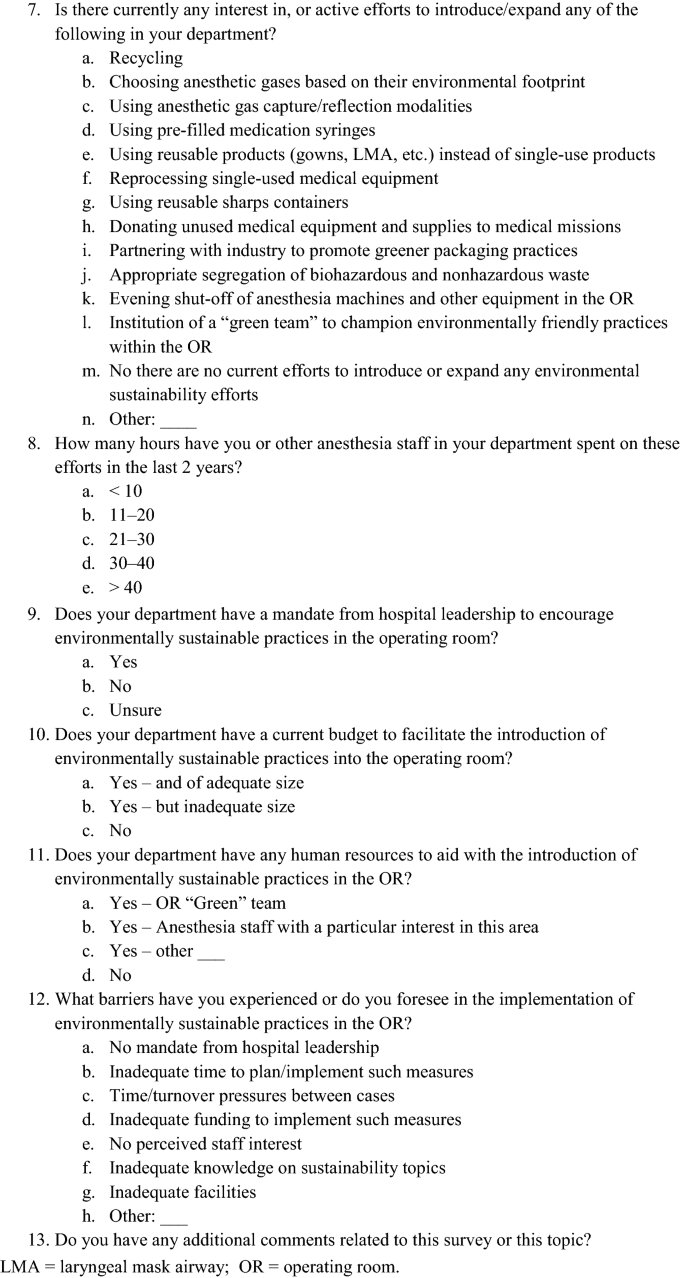 Appendix 2: Recycling/sustainability survey: anesthesia residency program directors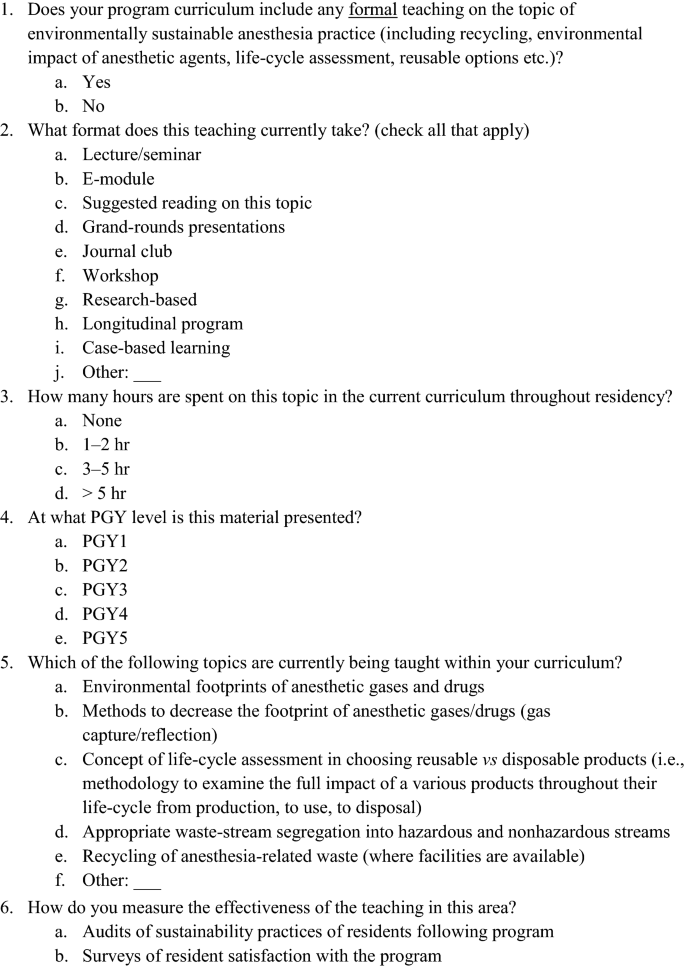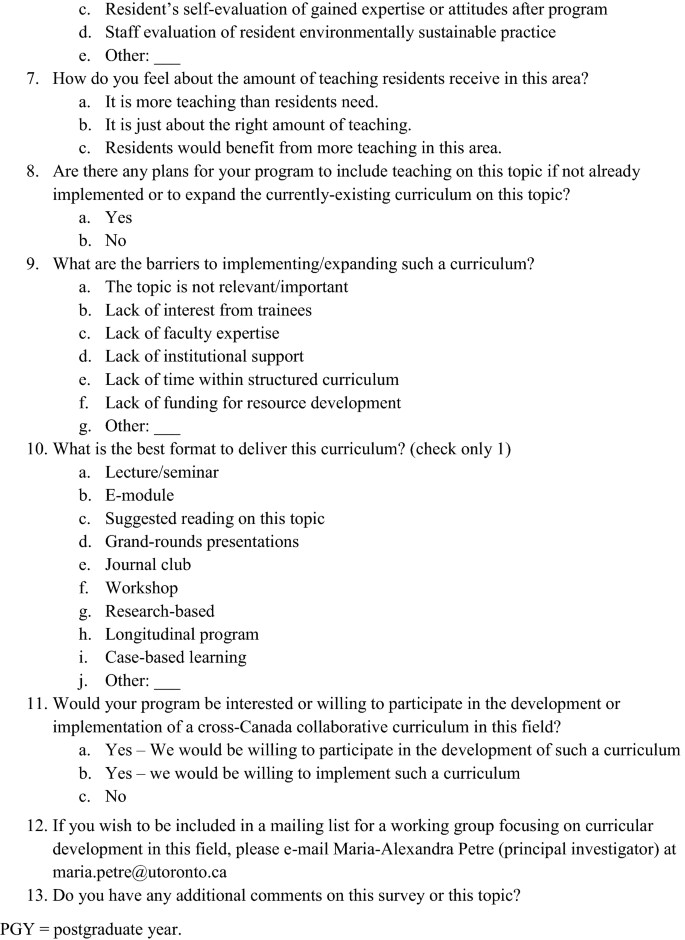 About this article
Cite this article
Petre, M., Bahrey, L., Levine, M. et al. Anesthesia environmental sustainability programs—a survey of Canadian department chiefs and residency program directors. Can J Anesth/J Can Anesth (2020). https://doi.org/10.1007/s12630-020-01738-w
Received:

Revised:

Accepted:

Published: