Abstract
Purpose
Peripheral nerve blocks (PNBs) provide excellent perioperative analgesia but can increase the risk of severe postoperative pain once the block wears off. Poor adherence to discharge instructions may increase this risk. Panda-Nerve Block (Panda) is an app that alerts the patient to assess their PNB, score their pain, and take scheduled pain medication. We assessed the usability and feasibility of Panda for assisting patients after receiving a PNB.
Methods
Twenty-nine patients tested Panda in three rounds, for two to seven days, postoperatively to assess and manage their pain and PNB. Feedback was provided via phone interview and the Computer System Usability Questionnaire (CSUQ). Additionally, each user's usage log was analyzed for parameters such as alert response times. Feasibility was determined by alert responses that occurred before the next alert, with a goal of greater than 50%. User adherence was measured as percentage compliance with alerts within one hour; usability and user satisfaction were determined from the CSUQ and interviews.
Results
A median [interquartile range (IQR)] of 68 [34–93]% responded before the next alert during the first 48 hr of app use, and 83 [54–92]% responded before the next alert with 87 [75–96]% of these within one hour. There were no significant differences in usage between rounds. Ninety-three percent of patients reported Panda to be easy to use and helpful, and 79% of patients would use Panda again. Critical themes included changes to the layout and appearance, clarification of the language of the PNB check, and requests for dynamic adjustments to the medication schedule based on user responses.
Conclusion
Panda-Nerve Block is a feasible method for PNB patients to manage postoperative pain with a high response rate. Future work should include providing two-way communication for patients and clinicians and assessing its effect on pain outcomes.
Trial registration
www.clinicaltrials.gov (NCT03369392); registered 5 December 2017.
Résumé
Objectif
Les blocs nerveux périphériques (BNP) procurent une excellente analgésie périopératoire mais peuvent augmenter le risque de douleur postopératoire élevée une fois que le bloc disparait. Un mauvais respect des instructions de congé pourrait augmenter ce risque. L'application Panda (Panda-Nerve Block) avertit le patient afin qu'il évalue son BNP, quantifie sa douleur, et prenne ses médicaments analgésiques prescrits. Nous avons évalué la facilité d'utilisation et la faisabilité de l'application Panda pour aider les patients ayant reçu un BNP.
Méthode
Vingt-neuf patients ont testé l'application Panda en trois itérations de deux à sept jours après leur opération afin d'évaluer et de prendre en charge leur douleur et le BNP. Les rétroactions étaient partagées par entretien téléphonique et via le Questionnaire sur la convivialité du système informatique (CSUQ - Computer System Usability Questionnaire). En outre, le journal d'utilisation de chaque utilisateur a été analysé pour en étudier certains paramètres tels que les temps de réponse aux alertes. La faisabilité était déterminée par les réponses aux alertes survenant avant la prochaine alerte, avec un objectif de plus de 50 %. L'observance des utilisateurs était mesurée en tant que pourcentage de conformité aux alertes dans l'heure suivante; la facilité d'utilisation et la satisfaction des utilisateurs étaient déterminées à partir du CSUQ et des entretiens.
Résultats
En moyenne [écart interquartile (ÉIQ)], 68 [34–93] % des patients ont répondu avant la prochaine alerte au cours des premières 48 h d'utilisation de l'application, et 83 [54–92] % ont répondu avant la prochaine alerte, avec 87 [75–96] % de ces patients dans l'heure qui suivait. Il n'y a pas eu de différence significative dans l'utilisation entre les itérations. Quatre-vingt-treize pour cent des patients ont rapporté qu'ils trouvaient l'application Panda conviviale et utile, et 79 % l'utiliseraient à nouveau. Les critiques comprenaient des modifications de la disposition et de l'apparence de l'application, la clarification du langage lors des vérifications du BNP, et des demandes pour des ajustements dynamiques du traitement selon les réponses des utilisateurs.
Conclusion
L'application Panda constitue une méthode possible de prise en charge de la douleur postopératoire pour les patients ayant reçu un BNP, avec un taux de réponse élevé. Les travaux futurs devraient inclure la fourniture d'une communication bidirectionnelle pour les patients et les cliniciens et l'évaluation de l'effet de l'utilisation de l'application sur des devenirs de douleur.
Enregistrement de l'étude
www.clinicaltrials.gov (NCT03369392); enregistrée le 5 décembre 2017.
This is a preview of subscription content, log in to check access.
Access options
Buy single article
Instant access to the full article PDF.
US$ 39.95
Price includes VAT for USA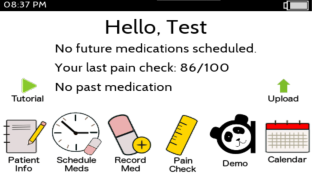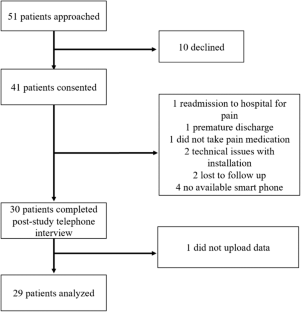 References
1.

Liu SS, Strodtbeck WM, Richman JM, Wu CL. A comparison of regional versus general anesthesia for ambulatory anesthesia: a meta-analysis of randomized controlled trials. Anesth Analg 2005; 101: 1634-42.

2.

Sunderland S, Yarnold CH, Head SJ, et al. Regional versus general anesthesia and the incidence of unplanned health care resource utilization for postoperative pain after wrist fracture surgery: results from a retrospective quality improvement project. Reg Anesth Pain Med 2016; 41: 22-7.

3.

McCartney CL, Brull R, Chan VW, et al. Early but no long-term benefit of regional compared with general anesthesia for ambulatory hand surgery. Anesthesiology 2004; 101: 461-7.

4.

Abdallah FW, Halpern SH, Aoyama K, Brull R. Will the real benefits of single-shot interscalene block please stand up? A systematic review and meta-analysis. Anesth Analg 2015; 120: 1114-29.

5.

Dayer L, Heldenbrand S, Anderson P, Gubbins PO, Martin BC. Smartphone medication adherence apps: potential benefits to patients and providers. J Am Pharm Assoc 2013; 53: 172-81.

6.

Cumino O, Vieira JE, Lima LC, Stievano LP, Silva RA, Mathias LA. Smartphone-based behavioural intervention alleviates children's anxiety during anaesthesia induction: a randomised controlled trial. Eur J Anaesthesiol 2017; DOI: https://doi.org/10.1097/EJA.0000000000000589.

7.

Davis SR, Peters D, Calvo RA, Sawyer SM, Foster JM, Smith L. " Kiss myAsthma ": using a participatory design approach to develop a self-management app with young people with asthma. J Asthma 2018; 55 1018-27.

8.

Kirwan M, Vandelanotte C, Fenning A, Duncan MJ. Diabetes Self-management smartphone application for adults with type 1 diabetes : randomized controlled trial. J Med Internet Res 2013; DOI: https://doi.org/10.2196/jmir.2588.

9.

Pecorelli N, Fiore JF Jr, Kaneva P, et al. An app for patient education and self-audit within an enhanced recovery program for bowel surgery : a pilot study assessing validity and usability. Surg Endosc 2018; 32: 2263-73.

10.

Brown NJ, Kimble RM, Rodger S, Ware RS, Cuttle L. Play and heal : randomized controlled trial of Ditto™ intervention efficacy on improving re-epithelialization in pediatric burns. Burns 2014; 40: 204-13.

11.

Sun T, Dunsmuir D, Miao I, et al. In-hospital usability and feasibility evaluation of Panda, an app for the management of pain in children at home. Paediatr Anaesth 2018; 28: 897-905.

12.

Dunsmuir D, Wu H, Sun T, et al. A postoperative pain management mobile app (Panda) for children at home after discharge: usability and feasibility. JMIR Perioper Med 2019; DOI: https://doi.org/10.2196/12305.

13.

Katz J, Melzack R. Measurement of pain. Surg Clin North Am 1999; 79: 231-52.

14.

Hjermstad MJ, Fayers PM, Haugen DF, et al. Studies comparing numerical rating scales, verbal rating scales, and visual analogue scales for assessment of pain intensity in adults: a systematic literature review. J Pain Symptom Manage 2011; 41: 1073-93.

15.

Chiu LY, Sun T, Ree R, et al. The evaluation of smartphone versions of the visual analogue scale and numeric rating scale as postoperative pain assessment tools: a prospective randomized trial. Can J Anesth 2019; DOI: https://doi.org/10.1007/s12630-019-01324-9.

16.

Stinson JN, Jibb LA, Nguyen C, et al. Development and testing of a multidimensional iphone pain assessment application for adolescents with cancer. J Med Internet Res 2013; DOI: https://doi.org/10.2196/jmir.2350.

17.

Harris PA, Taylor R, Thielke R, Payne J, Gonzalez N, Conde JG. Research electronic data capture (REDCap)—A metadata-driven methodology and workflow process for providing translational research informatics support. J Biomed Inform 2008; 42: 377-81.

18.

Lewis JR. IBM Computer usability satisfaction questionnaires: psychometric evaluation and instructions for use. Int J Hum Comput Interact 1995; 1: 57-78.

19.

Gough AT, Fieraru G, Gaffney PA, Butler M, Kincaid RJ, Middleton RG. A novel use of QR code stickers after orthopaedic cast application. Ann R Coll Surg Engl 2017; 99: 476-8.

20.

Wu J, Yu H, Ho T, Su X, Lin M, Lai F. Tablet PC-enabled application intervention for patients with gastric cancer undergoing gastrectomy. Comput Methods Programs Biomed 2015; 119: 101-9.

21.

Gunter RL, Fernandes-Taylor S, Rahman S, et al. Feasibility of an image-based mobile health protocol for postoperative wound monitoring. J Am Coll Surg 2017; 226: 277-86.

22.

Warren-Stomburg M, Jacobsson J, Brattwall M, Jildenstål P. At-home monitoring after surgery/anaesthesia – a challenge. J Eval Clin Pract 2016; 22: 882-6.
Author contributions
Alexander Dotto contributed to the data acquisition, data analysis, and manuscript writing. Dustin Dunsmuir contributed to the conception of the study, development of the app, interpretation of data, and manuscript writing. Terri Sun contributed to the conception of the study, protocol design, data analysis and interpretation, and manuscript writing. Lily Chiu contributed to the protocol design and manuscript writing. Ron Ree, J. Mark Ansermino, and Cynthia Yarnold contributed to the conception of the study, data interpretation, and editing of the manuscript.
Acknowledgements
The authors would like to thank the staff of St. Paul's Hospital for their assistance.
Conflicts of interest
None.
Funding statement
This study was funded in part by Thrive Health who provided an unrestricted grant. Thrive Health did not have any input on the content of this manuscript.
Editorial responsibility
This submission was handled by Dr. Philip M. Jones, Associate Editor, Canadian Journal of Anesthesia.
Additional information
Publisher's Note
Springer Nature remains neutral with regard to jurisdictional claims in published maps and institutional affiliations.
Appendices
APPENDIX 1 Pre-study questionnaire
Panda at home feasibility—pre-study questionnaire
Thank you for participating. Please circle answers to questions 1–10 and give brief written answers to questions 11–13.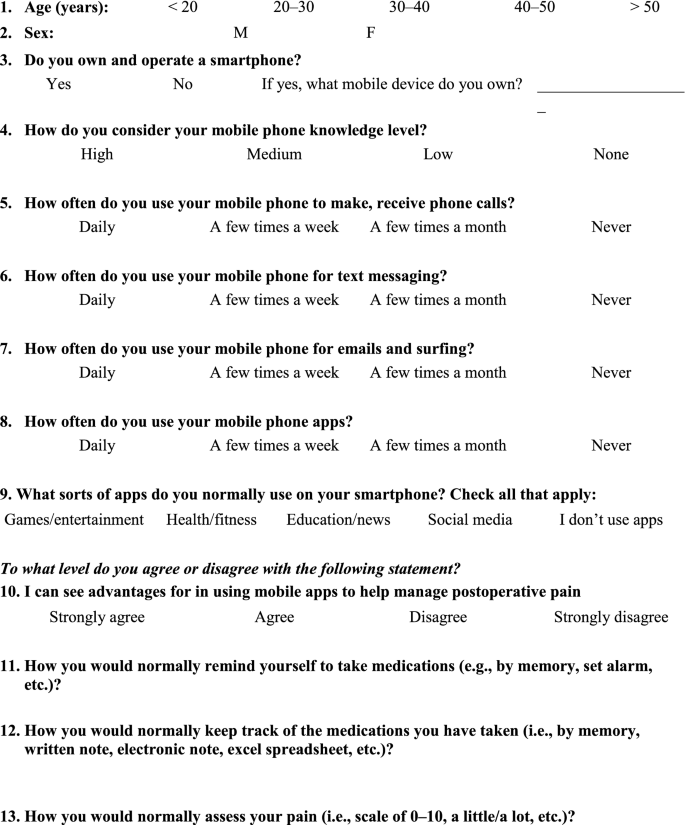 APPENDIX 2 Post-study telephone questionnaire
The purpose of this interview is to obtain as much feedback as possible from the participant. This should take no more than 10–15 min
Preamble
a.

Confirm you are speaking to the right person, i.e., consented and main user of the Panda app during the study period; otherwise, re-arrange.

b.

Thank them for their participation in the study.

c.

Confirm that their study data has been uploaded successfully and received by the research team.

d.

Explain the format of the post-study interview.

e.

Confirm they are willing to talk with you for 10–15 min and that now is a good time; otherwise re-arrange.

f.

Explain that you will be transcribing the interview verbatim (with the identifying information omitted), and confirm that this is OK.

g.

Record date and time started/finished.
Short interview questions (general, if time limited)
1.

How easy was it to use this app?

2.

Do you see yourself using this app? Why or why not?

3.

What did you like least about the app? What did you like most?

4.

Do you think the app can do more? If so, what additional functions would you like to see?

5.

Any other feedback?
Extended interview questions (detailed, if time permits)
Directed questions based on user log function
1.

Generally, what did you think about using the app? (Easy or difficult?)

2.

What did you like the least or find most difficult about using the app?

3.

What did you like the most about using the app?

4.

What would you add or change to improve the app? Do you think the app could do more?

a.

What do you think about the appearance or layout of the app and how could this be improved?

5.

What did you think about setting up the app? How would you feel doing this on your own at home?

6.

What did you think about the "do not disturb" function?

7.

In terms of the medication alert pop-up which said: "Skip", "Snooze" and "Proceed"

a.

What option do you think you chose most often?

b.

Did you feel you knew how to respond to a medication alert? Was this clear?

c.

What do you think about the alert sound?

d.

If you used the "Snooze" function, did you use the "Respond Now" button? Could you find the "Respond Now" button or were you aware of what this button was for?

8.

What did you think about the pain check function?

e.

When did you do pain-checks? (Giving medications or off-schedule)

f.

How easy was it to do?

g.

How useful was this function?

9.

When confirming a medication is taken the app asks "have you given additional medication in the last 'X' hours?" Yes or No? What do you think about this question? Was it easy or difficult to understand?

10.

What did you think about editing medications or re-doing pain scores from the calendar page?

h.

Did you use this function, could you find it, and how easy was it to use?

i.

How useful was this function?

11.

What did you think about adding notes to a pain score or medication from the calendar page?

j.

Did you use this function, could you find it, and how easy was it to use?

k.

How useful was this function?

12.

What did you think about recording off-schedule medications?

l.

Did you use this function, could you find it, and how easy was it to use?

m.

How useful was this function?

13.

Overall, what do you think about using this app? What would motivate you to use the app?

14.

Do you have any other feedback?
About this article
Cite this article
Dotto, A., Dunsmuir, D., Sun, T. et al. The use of the Panda-Nerve Block pain app in single-shot peripheral nerve block patients: a feasibility study. Can J Anesth/J Can Anesth (2020). https://doi.org/10.1007/s12630-020-01732-2
Received:

Revised:

Accepted:

Published:
Keywords
regional

pain

smartphone

app