Efficacy of ultrasound-guided modified thoracolumbar interfascial plane block for postoperative analgesia after spinal surgery: a randomized-controlled trial
To the Editor,
Surgery of the lumbar spine is characterized by diffuse and severe postoperative pain.
1
Pre/postoperative oral opioids, gabapentinoids, nonsteroidal antiinflammatory drugs, and intraoperative ketamine are frequently included in multimodal analgesia for spinal surgery, while regional anesthetic techniques such as neuraxial anesthesia, paravertebral blocks, and local anesthetic infiltration of the wound are less frequently used.
2
Interfascial plane blocks have the potential to provide long-lasting postoperative analgesia and reduce opioid consumption while minimizing the motor block associated with neuraxial and plexus blocks.
3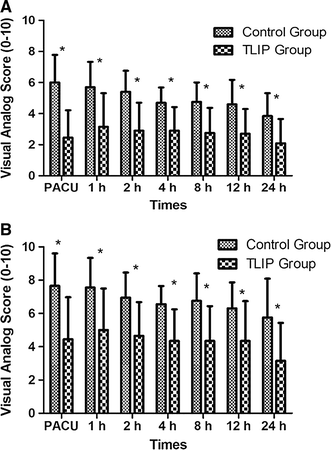 Notes
Conflicts of interest
None declared.
Presentation
Preliminary results of this study were presented at the 42nd ASRA meeting in San Francisco.
Editorial responsibility
This submission was handled by Dr. Gregory L. Bryson, Deputy Editor-in-Chief, Canadian Journal of Anesthesia.
Copyright information
© Canadian Anesthesiologists' Society 2018