Abstract
Background
Multiple markers are used to assess frailty and vulnerability, conditions associated with the development of chemotherapy toxicity (CTT). However, there is still no consensus on which condition has stronger association with this adverse effect of chemotherapy in the elderly.
Objectives
To evaluate the association between frailty and vulnerability with the development of CTT in oncogeriatric patients.
Design, Setting, and Participants
Through a retrospective cohort, a secondary database of 496 male oncogeriatric military patients treated at the Geriatrics Service of the Naval Medical Centre of Peru during 2013–2015 was analyzed.
Measurements
With prior informed consent, the presence of frailty, assessed by Fried Phenotype; and vulnerability, assessed by the Vulnerable Elders Survey-13 (VES-13) and G-8, was determined. The follow-up of patients in chemotherapy was performed every 8 weeks, to determine the development of CTT (according to the Common Terminology Criteria for Adverse Events v4.0). In addition, we included sociodemographic characteristics, medical background information and functional assessment variables. The data collected was encoded and imported into STATA v14.0 statistical package for analysis. Multivariate analysis was performed using crude and adjusted Cox regression models. The reported measure was the hazard ratio (HR) with their respective 95% confidence intervals (95%CI).
Results
The average age was 79.2 ± 4.3 years. 129 (26.01%) developed CTT during follow-up. Similarly, 129 older adults (26.01%) were positive for frailty according to Fried phenotype; 101 (20.36%) were positive for vulnerability with VES-13, and 112 (22.58%) with G-8. In the adjusted Cox model, by type of cancer and adverse effects, a statistically significant association was found between the 3 scales evaluated and the development of CTT, with the Fried Phenotype as the scale with the strongest association (HR=2.01; 95%CI: 1.04–4.90).
Conclusions
The frailty and vulnerability in the elderly are conditions associated with the development of CTT. The Fried phenotype was the scale with the most significant association with the outcome studied.
This is a preview of subscription content, log in to check access.
Access options
Buy single article
Instant access to the full article PDF.
US$ 39.95
Price includes VAT for USA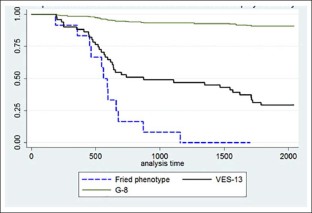 References
1.

Siegel RL, Miller KD, Jemal A. Cancer statistics, 2019. CA Cancer J Clin. 2019 Jan 8;69(1):7–34.

2.

Gironés Sarrió R, Antonio Rebollo M, Molina Garrido MJ, Guillén-Ponce C, Blanco R, Gonzalez Flores E, et al. General recommendations paper on the management of older patients with cancer: the SEOM geriatric oncology task force's position statement. Clin Transl Oncol. 2018 Oct 1;20(10):1246–51.

3.

Hurria A, Mohile S, Gajra A, Klepin H, Muss H, Chapman A, et al. Validation of a Prediction Tool for Chemotherapy Toxicity in Older Adults With Cancer. J Clin Oncol. 2016 Jul 10;34(20):2366–71.

4.

Repetto L. Greater risks of chemotherapy toxicity in elderly patients with cancer. J Support Oncol. 2003;1(4 Suppl 2):18–24.

5.

Daum CW, Cochrane SK, Fitzgerald JD, Johnson L, Buford TW. Exercise Interventions for Preserving Physical Function Among Cancer Survivors in Middle to Late Life. J frailty aging. 2016;5(4):214–24.

6.

Durrieu J, Doussau A, Rieger A, Terrebonne E, Bouabdallah K, Zwolakowski M-D, et al. Design of a Physical Activity Program to Prevent Functional Decline in Onco-Geriatric Patients (CAPADOGE): A Randomized Multicenter Trial. J frailty aging. 2012;1(3):138–43.

7.

Mohile SG, Magnuson A. Comprehensive geriatric assessment in oncology. Interdiscip Top Gerontol. 2013;38(1):85–103.

8.

Amblàs-Novellas J, Martori JC, Molist Brunet N, Oller R, Gómez-Batiste X, Espaulella Panicot J. Índice frágil-VIG: diseño y evaluación de un índice de fragilidad basado en la Valoración Integral Geriátrica. Rev Esp Geriatr Gerontol. 2017 May 1;52(3):119–27.

9.

Retornaz F, Guillem O, Rousseau F, Morvan F, Rinaldi Y, Nahon S, et al. Predicting Chemotherapy Toxicity and Death in Older Adults with Colon Cancer: Results of MOST Study. Oncologist. 2019 Aug 6;25(1):85–93.

10.

Extermann M, Boler I, Reich RR, Lyman GH, Brown RH, Defelice J, et al. Predicting the risk of chemotherapy toxicity in older patients: The chemotherapy risk assessment scale for high-age patients (CRASH) score. Cancer. 2012 Jul 1;118(13):3377–86.

11.

Biganzoli L, Mislang AR, Di Donato S, Becheri D, Biagioni C, Vitale S, et al. Screening for Frailty in Older Patients With Early-Stage Solid Tumors: A Prospective Longitudinal Evaluation of Three Different Geriatric Tools. J Gerontol A Biol Sci Med Sci. 2017 Jul 1;72(7):922–8.

12.

Cerullo F, Gambassi G, Cesari M. Cancer-Related Anemia and Frailty in Older Persons. J frailty aging. 2012;1(3):128–36.

13.

Pottel L, Boterberg T, Pottel H, Goethals L, Van Den Noortgate N, Duprez F, et al. Determination of an adequate screening tool for identification of vulnerable elderly head and neck cancer patients treated with radio(chemo)therapy. J Geriatr Oncol. 2012 Jan;3(1):24–32.

14.

van Walree IC, Scheepers E, van Huis-Tanja LH, Emmelot-Vonk MH, Bellera C, Soubeyran P, et al. A systematic review on the association of the G8 with geriatric assessment, prognosis and course of treatment in older patients with cancer. J Geriatr Oncol. 2019;10(6):847–58.

15.

Fried LP, Tangen CM, Walston J, Newman AB, Hirsch C, Gottdiener J, et al. Frailty in Older Adults: Evidence for a Phenotype. Journals Gerontol Ser A Biol Sci Med Sci. 2001 Mar 1;56(3):M146–57.

16.

Runzer-Colmenares FM, Urrunaga-Pastor D, Aguirre LG, Reategui-Rivera CM, Parodi JF, Taype-Rondan A. Fragilidad y vulnerabilidad como predictores de radiotoxicidad en adultos mayores: un estudio longitudinal en Perú. Med Clin (Barc). 2017 Oct 23;149(8):325–30.

17.

Runzer-Colmenares FM, Chambergo-Michilot D, Espinoza-Gutiérrez GA, Corcuera-Ciudad R, Patiño-Villena AF, Paima-Olivari R, et al. Diabetes mellitus tipo 2 y toxicidad por quimioterapia en adultos mayores con cáncer prostático. Rev haban cieñe méd. 2019;18(1):74–87.

18.

Menant JC, Weber F, Lo J, Sturnieks DL, Close JC, Sachdev PS, et al. Strength measures are better than muscle mass measures in predicting health-related outcomes in older people: time to abandon the term sarcopenia? Osteoporos Int. 2017 Jan 1;28(1):59–70.

19.

Runzer-Colmenares FM, Samper-Ternent R, Al Snih S, Ottenbacher KJ, Parodi JF, Wong R. Prevalence and factors associated with frailty among Peruvian older adults. Arch Gerontol Geriatr. 2014 Jan;58(1):69–73.

20.

Theou O, Brothers TD, Mitnitski A, Rockwood K. Operationalization of frailty using eight commonly used scales and comparison of their ability to predict all-cause mortality. J Am Geriatr Soc. 2013 Sep;61(9):1537–51.

21.

Kon SSC, Patel MS, Canavan JL, Clark AL, Jones SE, Nolan CM, et al. Reliability and validity of 4-metre gait speed in COPD. Eur Respir J. 2013 Aug 1;42(2):333–40.

22.

Rothman MD, Leo-Summers L, Gill TM. Prognostic significance of potential frailty criteria. J Am Geriatr Soc. 2008 Dec;56(12):2211–6.

23.

Saliba D, Elliott M, Rubenstein LZ, Solomon DH, Young RT, Kamberg CJ, et al. The Vulnerable Elders Survey: a tool for identifying vulnerable older people in the community. J Am Geriatr Soc. 2001 Dec;49(12):1691–9.

24.

Baitar A, Van Fraeyenhove F, Vandebroek A, De Droogh E, Galdermans D, Mebis J, et al. Evaluation of the Groningen Frailty Indicator and the G8 questionnaire as screening tools for frailty in older patients with cancer. J Geriatr Oncol. 2013 Jan;4(1):32–8.

25.

Puts MTE, Monette J, Girre V, Pepe C, Monette M, Assouline S, et al. Are frailty markers useful for predicting treatment toxicity and mortality in older newly diagnosed cancer patients? Results from a prospective pilot study. Crit Rev Oncol Hematol. 2011 May;78(2):138–49.

26.

Viktil KK, Blix HS, Moger TA, Reikvam A. Polypharmacy as commonly defined is an indicator of limited value in the assessment of drug-related problems. Br J Clin Pharmacol. 2007 Feb;63(2):187–95.

27.

Urrunaga-Pastor D, Moncada-Mapelli E, Runzer-Colmenares FM, Bailon-Valdez Z, Samper-Ternent R, Rodriguez-Mañas L, et al. Factors associated with poor balance ability in older adults of nine high-altitude communities. Arch Gerontol Geriatr. 2018 Jul 1;77:108–14.

28.

Wade DT, Collin C. The Barthel ADL Index: a standard measure of physical disability? Int Disabil Stud. 1988;10(2):64–7.

29.

Stokoe JM, Pearce J, Sinha R, Ring A. G8 and VES-13 scores predict chemotherapy toxicity in older patients with cancer. J Geriatr Oncol. 2012 Oct;3:S81.

30.

Luciani A, Biganzoli L, Colloca G, Falci C, Castagneto B, Floriani I, et al. Estimating the risk of chemotherapy toxicity in older patients with cancer: The role of the Vulnerable Elders Survey-13 (VES-13). J Geriatr Oncol. 2015 Jul 1;6(4):272–9.

31.

Hamaker ME, Jonker JM, de Rooij SE, Vos AG, Smorenburg CH, van Munster BC. Frailty screening methods for predicting outcome of a comprehensive geriatric assessment in elderly patients with cancer: A systematic review. Lancet Oncol. 2012 Oct;13(10):e437–44.

32.

Soubeyran P, Bellera C, Goyard J, Heitz D, Rousselot H, Albrand G, et al. Screening for vulnerability in older cancer patients: the ONCODAGE Prospective Multicenter Cohort Study. PLoS One. 2014;9(12):e115060.

33.

Ruiz J, Miller AA, Tooze JA, Crane S, Petty WJ, Gajra A, et al. Frailty assessment predicts toxicity during first cycle chemotherapy for advanced lung cancer regardless of chronologic age. J Geriatr Oncol. 2019 Jan;10(1):48–54.

34.

Khayi F, Lafarge L, Terret C, Albrand G, Falquet B, Culine S, et al. Prediction of docetaxel toxicity in older cancer patients: a Bayesian network approach. Fundam Clin Pharmacol. 2019 Apr 30;33(6):679–86.

35.

Wildes TM, Ruwe AP, Fournier C, Gao F, Carson KR, Piccirillo JF, et al. Geriatric assessment is associated with completion of chemotherapy, toxicity, and survival in older adults with cancer. J Geriatr Oncol. 2013 Jul;4(3):227–34.

36.

Aredes MA, Garcez MR, Chaves G V. Influence of chemoradiotherapy on nutritional status, functional capacity, quality of life and toxicity of treatment for patients with cervical cancer. Nutr Diet. 2018;75(3):263–70.

37.

Couderc AL, Boulahssass R, Nouguerède E, Gobin N, Guérin O, Villani P, et al. Functional status in a geriatric oncology setting: A review. J Geriatr Oncol. 2019;10(6):884–94.

38.

Van Waart H, Stuiver MM, Van Harten WH, Geleijn E, Kieffer JM, Buffart LM, et al. Effect of low-intensity physical activity and moderate- to high-intensity physical exercise during adjuvant chemotherapy on physical fitness, fatigue, and chemotherapy completion rates: Results of the PACES randomized clinical trial. J Clin Oncol. 2015 Jun 10;33(17):1918–27.

39.

Argyriou AA, Bruna J, Anastopoulou GG, Velasco R, Litsardopoulos P, Kalofonos HP. Assessing risk factors of falls in cancer patients with chemotherapy-induced peripheral neurotoxicity. Support Care Cancer. 2020 Apr;28(4):1991–5.

40.

Senior SL. Health needs of ex-military personnel in the UK: A systematic review and qualitative synthesis. J R Army Med Corps. 2019;165(6):410–5.
Acknowledgment
We acknowledge the staff of the Aging Research Centre — Faculty of Medicine at the Universidad de San Martín de Porres, Peru; and the staff of Geriatric Service of the Peruvian Naval Medical Centre for the logistical support provided.
Ethics declarations
Conflict of interest: The authors disclose no conflict of interest.
About this article
Cite this article
Runzer-Colmenares, F.M., Urrunaga-Pastor, D., Roca-Moscoso, M.A. et al. Frailty and Vulnerability as Predictors of Chemotherapy Toxicity in Older Adults: A Longitudinal Study in Peru. J Nutr Health Aging (2020). https://doi.org/10.1007/s12603-020-1404-6
Received:

Accepted:

Published:
Key words
Drug therapy

adverse reactions

neoplasm

frailty

health vulnerability