Abstract
Objectives
Knee pain is one of the most common symptoms of knee osteoarthritis (OA) that affects the quality of life in the older adults, and identifying the contributing factors of knee pain is important. We hypothesized that higher fruit and vegetable consumption might be associated with the severity of knee pain lower prevalence of severe knee pain by affecting pain perception in the knee joint. Therefore, we investigated the relationship between self-reported knee pain and the consumption of fruits vegetables, carotenoids and vitamin C and self-reported knee pain.
Design
Nationally representative cross sectional study.
Setting
2010-2011 rounds of the Korean National Health and Nutrition Examination Survey.
Participants
A total of 6588 subjects aged ≥50 years were participated.
Methods
Severity of knee pain was estimated using a 10-point numeric rating scale (NRS). Daily intake of fruits, vegetables, and vitamins were estimated using data from 24-hour recalls and food frequency questionnaires.
Results
The NRS scores of knee pain decreased significantly with increasing fruit and vegetable intake quartiles. A multivariate logistic regression analysis showed that the fourth quartile of vegetable and fruit consumption was associated with decreased prevalence of severe knee pain (OR 0.59, 95% CI 0.48-0.73) compared with first quartile of vegetable and fruit consumption; however, carotenoids and vitamin C consumption was not associated with the severity of knee pain.
Conclusions
In conclusion, severe knee pain was independently associated with fruit and vegetable consumption. Our findings suggest that intake of whole fruits and vegetables may help improve knee pain in older adults.
We're sorry, something doesn't seem to be working properly.
Please try refreshing the page. If that doesn't work, please contact support so we can address the problem.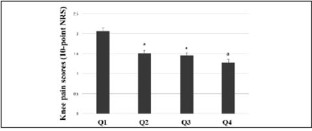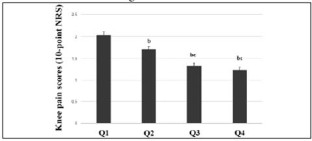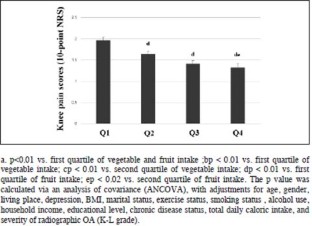 References
1.

Prevalence of doctor-diagnosed arthritis and arthritis-attributable activity limitation—United States, 2010-2012. MMWR. Morbidity and mortality weekly report 2013;62:869–873.

2.

Alshami AM. Knee osteoarthritis related pain: a narrative review of diagnosis and treatment. Int J Health Sci (Qassim) 2014;8:85–104.

3.

Ameye LG, Chee WS. Osteoarthritis and nutrition. From nutraceuticals to functional foods: a systematic review of the scientific evidence. Arthritis research & therapy 2006;8:R127. doi 10.1186/ar2016.

4.

Boumediene K, Felisaz N, Bogdanowicz P, Galera P, Guillou GB, Pujol JP. Avocado/soya unsaponifiables enhance the expression of transforming growth factor beta1 and beta2 in cultured articular chondrocytes. Arthritis and rheumatism 1999;42:148–156. doi 10.1002/1529-0131(199901)42:1<148::aid-anr18>3.0.co;2-u.

5.

Cassani B, Villablanca EJ, De Calisto J, Wang S, Mora JR. Vitamin A and immune regulation: role of retinoic acid in gut-associated dendritic cell education, immune protection and tolerance. Molecular aspects of medicine 2012;33:63–76.

6.

Cheng C, Chang S, Lee B, Lin K, Huang Y. Vitamin B6 supplementation increases immune responses in critically ill patients. European journal of clinical nutrition 2006;60:1207–1213.

7.

Clum G, Gustat J, O'Malley K, Begalieva M, Luckett B, Rice J, Johnson C. Factors influencing consumption of fruits and vegetables in older adults in New Orleans, Louisiana. The journal of nutrition, health & aging:1-7.

8.

Committee DGA. Nutrition and your health: dietary guidelines for Americans: 2005 Dietary Guidelines Advisory Committee report. Washington, DC: Department of Agriculture.

9.

Dillon CF, Rasch EK, Gu Q, Hirsch R. Prevalence of knee osteoarthritis in the United States: arthritis data from the Third National Health and Nutrition Examination Survey 1991-94. The Journal of rheumatology 2006;33:2271–2279.

10.

Ethgen O, Vanparijs P, Delhalle S, Rosant S, Bruyere O, Reginster JY. Social support and health-related quality of life in hip and knee osteoarthritis. Quality of life research: an international journal of quality of life aspects of treatment, care and rehabilitation 2004;13:321–330.

11.

Fransen M, Bridgett L, March L, Hoy D, Penserga E, Brooks P. The epidemiology of osteoarthritis in Asia. International journal of rheumatic diseases 2011;14:113–121. doi 10.1111/j.1756-185X.2011.01608.x.

12.

Gerbershagen HJ, Rothaug J, Kalkman C, Meissner W. Determination of moderateto-severe postoperative pain on the numeric rating scale: a cut-off point analysis applying four different methods. British journal of anaesthesia:aer195, 2011.

13.

Hackel D, Pflucke D, Neumann A, Viebahn J, Mousa S, Wischmeyer E, Roewer N, Brack A, Rittner HL. The connection of monocytes and reactive oxygen species in pain. PloS one 2013;8:e63564. doi 10.1371/journal.pone.0063564.

14.

Hannan MT, Felson DT, Pincus T. Analysis of the discordance between radiographic changes and knee pain in osteoarthritis of the knee. The Journal of rheumatology 2000;27:1513–1517.

15.

Harijith A, Ebenezer DL, Natarajan V. Reactive oxygen species at the crossroads of inflammasome and inflammation. Frontiers in physiology 2014;5:352. doi 10.3389/fphys.2014.00352.

16.

Henrotin Y, Deby-Dupont G, Deby C, Franchimont P, Emerit I. Active oxygen species, articular inflammation and cartilage damage. Exs 1992;62:308–322.

17.

Henrotin Y, Kurz B, Aigner T. Oxygen and reactive oxygen species in cartilage degradation: friends or foes? Osteoarthritis and cartilage / OARS, Osteoarthritis Research Society 2005;13:643–654. doi 10.1016/j.joca.2005.04.002.

18.

Henrotin YE, Labasse AH, Jaspar JM, De Groote DD, Zheng SX, Guillou GB, Reginster JY. Effects of three avocado/soybean unsaponifiable mixtures on metalloproteinases, cytokines and prostaglandin E2 production by human articular chondrocytes. Clinical rheumatology 1998;17:31–39.

19.

Henrotin YE, Sanchez C, Deberg MA, Piccardi N, Guillou GB, Msika P, Reginster JY. Avocado/soybean unsaponifiables increase aggrecan synthesis and reduce catabolic and proinflammatory mediator production by human osteoarthritic chondrocytes. The Journal of rheumatology 2003;30:1825–1834.

20.

Hill J, Bird HA. Failure of selenium-ace to improve osteoarthritis. British journal of rheumatology 1990;29:211–213.

21.

Jensen MP. The validity and reliability of pain measures for use in clinical trials in adults: review paper written for the initiative on methods, measurement, and pain assessment in clinical trials (IMMPACT) meeting, April 12–13 200. In:IMMPACTII

22.

Jonas WB, Rapoza CP, Blair WF. The effect of niacinamide on osteoarthritis: a pilot study. Inflammation research: official journal of the European Histamine Research Society [et al.] 1996;45:330–334.

23.

Kang E, Kim N, Kim D, Kim H, Byun H, Seo M. In-depth analyses of the third National Health and Nutrition Examination Survey: the health interview and health behavior survey part. Seoul: Korea Institute for Health and Social Affairs. 2007.

24.

Kapoor M, Martel-Pelletier J, Lajeunesse D, Pelletier JP, Fahmi H. Role of proinflammatory cytokines in the pathophysiology of osteoarthritis. Nature reviews. Rheumatology 2017:33–42. doi 10.1038/nrrheum.2010.196.

25.

Kellgren JH, Lawrence JS. Radiological assessment of osteo-arthrosis. Annals of the rheumatic diseases 1954;16:494–502.

26.

Kidd BL, Inglis JJ, Vetsika K, Hood VC, De Felipe C, Bester H, Hunt SP, Cruwys SC. Inhibition of inflammation and hyperalgesia in NK-1 receptor knock-out mice. Neuroreport 2003;14:2189–2192. doi 10.1097/01.wnr.0000097046.56589.ea.

27.

Kim J, Son M. National health insurance statistical yearbook. Seoul: Health Insurance Review and Assessment Service and National Health Insurance Service, 2014.

28.

Kim Y, Park S, Kim N-S, Lee B-K. Inappropriate survey design analysis of the Korean National Health and Nutrition Examination Survey may produce biased results. Journal of Preventive Medicine and Public Health 2013;46:96–104.

29.

Kweon S, Kim Y, Jang M-j, Kim Y, Kim K, Choi S, Chun C, Khang Y-H, Oh K. Data resource profile: The korea national health and nutrition examination survey (knhanes). International journal of epidemiology 2014;43:69–77.

30.

Machlin LJ, Bendich A. Free radical tissue damage: protective role of antioxidant nutrients. FASEB journal: official publication of the Federation of American Societies for Experimental Biology 1987;1:441–445.

31.

Mauviel A, Daireaux M, Hartmann DJ, Galera P, Loyau G, Pujol JP. [Effects of unsaponifiable extracts of avocado/soy beans (PIAS) on the production of collagen by cultures of synoviocytes, articular chondrocytes and skin fibroblasts]. Revue du rhumatisme et des maladies osteo-articulaires 1989;56:207–211.

32.

McAlindon TE, Cooper C, Kirwan JR, Dieppe PA. Determinants of disability in osteoarthritis of the knee. Annals of the rheumatic diseases 1993;52:258–262.

33.

McAlindon TE, Jacques P, Zhang Y, Hannan MT, Aliabadi P, Weissman B, Rush D, Levy D, Felson DT. Do antioxidant micronutrients protect against the development and progression of knee osteoarthritis? Arthritis and rheumatism 1996;39:648–656.

34.

McNaughton SA, Ball K, Crawford D, Mishra GD. An index of diet and eating patterns is a valid measure of diet quality in an Australian population. The Journal of nutrition 2008;138:86–93.

35.

Okma-Keulen P, Hopman-Rock M. The onset of generalized osteoarthritis in older women: a qualitative approach. Arthritis and rheumatism 2001;45:183–190. doi 10.1002/1529-0131(200104)45:2<183::aid-anr172>3.0.co;2-0.

36.

Organization WH. Fruit and vegetables for health: report of a Joint FAO/WHO Workshop, 1-3 September, 2004, Kobe, Japan. In: Fruit and vegetables for health: Report of a Joint FAO/WHO Workshop, 1-3 September, 2004, Kobe, Japan. WHO, 2005

37.

Rahman K. Garlic and aging: new insights into an old remedy. Ageing research reviews 2003;2:39–56.

38.

Robinson S, Syddall H, Jameson K, Batelaan S, Martin H, Dennison EM, Cooper C, Sayer AA, Group HS. Current patterns of diet in community-dwelling older men and women: results from the Hertfordshire Cohort Study. Age and ageing:afp121, 2009.

39.

Sanghi D, Mishra A, Sharma AC, Raj S, Mishra R, Kumari R, Natu SM, Agarwal S, Srivastava RN. Elucidation of dietary risk factors in osteoarthritis knee-a casecontrol study. Journal of the American College of Nutrition 2015;34:15–20. doi 10.1080/07315724.2013.875439.

40.

Sibbritt D, Lui C, Kroll T, Adams J. Prevalence of glucosamine and omega-3 fatty acid use and characteristics of users among mid-age women: Analysis of a nationally representative sample of 10,638 women. The journal of nutrition, health & aging 2016;1–8.

41.

Wang Y, Hodge AM, Wluka AE, English DR, Giles GG, O'Sullivan R, Forbes A, Cicuttini FM. Effect of antioxidants on knee cartilage and bone in healthy, middleaged subjects: a cross-sectional study. Arthritis research & therapy 2007;9:R66. doi 10.1186/ar2225.

42.

Wang Y, Prentice LF, Vitetta L, Wluka AE, Cicuttini FM. The effect of nutritional supplements on osteoarthritis. Alternative medicine review: a journal of clinical therapeutic 2004;9:275–296.

43.

Wintergerst ES, Maggini S, Hornig DH. Immune-enhancing role of vitamin C and zinc and effect on clinical conditions. Annals of Nutrition and Metabolism 2006;50:85–94.

44.

Woolf AD, Pfleger B. Burden of major musculoskeletal conditions. Bull World Health Organ 2003;81:646–656.
Electronic supplementary material
About this article
Cite this article
Han, H.S., Chang, C.B., Lee, DC. et al. Relationship between total fruit and vegetable intake and self-reported knee pain in older adults. J Nutr Health Aging 21, 750–758 (2017). https://doi.org/10.1007/s12603-016-0842-7
Received:

Accepted:

Published:

Issue Date:
Keywords
Knee pain

Knee osteoarthritis

Fruit intake

Vegetable intake