Abstract
Members of the genus Malassezia are known to be opportunistic pathogens responsible for causing skin disorders such as seborrheic dermatitis or dandruff, pityriasis versicolor, folliculitis, atopic dermatitis, and psoriasis. Due to the side effects caused by prolonged use of current topical antifungal agents, development of an alternative treatment is necessary. Fermentative production of antimicrobial metabolites from Bacillus amyloliquefaciens MTCC 10456 was carried out, and their antagonistic activity against Malassezia furfur and Malassezia globosa was evaluated. The antifungal metabolites were isolated by acid precipitation, and bioassay-guided simultaneous separation of the antimicrobial compounds was done by reversed-phase high-performance liquid chromatography (RP-HPLC). The fraction which demonstrated antifungal activity consisted of bacilysin, homologues of bacillomycin D, and members of the macrolactin family. The presence of bacilysin was detected using specific inhibitor assays and homologues of bacillomycin D, and macrolactins were identified using liquid chromatography/high-resolution electrospray ionization-mass spectrometry (LC/HRESI-MS/MS) analysis. Synergism among the identified compounds was observed which enhanced the antagonistic activity against Malassezia spp. To our knowledge, this is the first study to report the co-production and separation of members of macrolactin antibiotics, lipopeptides such as bacillomycin D and dipeptide antibiotic bacilysin, by any Bacillus strain from marine environment. Activity of individual compounds against Malassezia has been reported which may facilitate their application in the field of dermatology and in cosmetic products.
Access options
Buy single article
Instant access to the full article PDF.
US$ 39.95
Tax calculation will be finalised during checkout.
Subscribe to journal
Immediate online access to all issues from 2019. Subscription will auto renew annually.
US$ 79
Tax calculation will be finalised during checkout.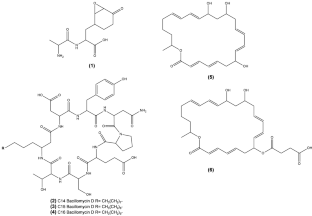 Data Availability
Both the authors have read and approved the final manuscript. The contents of this manuscript have not been copyrighted or published previously.
Acknowledgments
We would like to thank "Central instrumentation facility," Savitribai Phule Pune University (SSPU) Maharashtra, India, for mass spectrometric analysis of samples.
Funding
This work was supported by the Praj Industries Ltd.
Ethics declarations
Conflict of Interest
The authors declare that they have no conflict of interest.
Ethical Approval
This article does not contain any studies with human participants or animals performed by any of the authors.
Additional information
Publisher's Note
Springer Nature remains neutral with regard to jurisdictional claims in published maps and institutional affiliations.
Supplementary Information
Below is the link to the electronic supplementary material.
About this article
Cite this article
Vairagkar, U., Mirza, Y. Antagonistic Activity of Antimicrobial Metabolites Produced from Seaweed-Associated Bacillus amyloliquefaciens MTCC 10456 Against Malassezia spp.. Probiotics & Antimicro. Prot. (2021). https://doi.org/10.1007/s12602-021-09742-2
Keywords
Bacillus amyloliquefaciens
Malassezia

Lipopeptides

Polyketides

Antifungal peptides

Macrolactins