Abstract
Anti-lipopolysaccharide factors (ALFs) are antimicrobial peptides of approximately 100 amino acid residues with a broad spectrum of antimicrobial activity. It is an amphipathic peptide with an N-terminal hydrophobic region and a lipopolysaccharide binding domain (LBD). In the present study, we report an isoform of the anti-lipopolysaccharide factor (Mm-ALF) from the speckled shrimp, Metapenaeus monoceros. A 359 bp cDNA encoded 119 amino acids, and the sequence showed 99.16% similarity to ALF from the shrimp Fenneropenaeus indicus. The mature peptide of 94 amino acids has a net charge of +8, molecular weight 10.62 kDa, and pI 10.11. The mature peptide Mm-ALF was recombinantly expressed in E. coli Rosetta-gami cells, and the peptide was isolated and purified. The rMm-ALF exhibited notable antibacterial activity against Gram-positive (Staphylococcus aureus and Bacillus cereus) and Gram-negative (Escherichia coli, Edwardsiella tarda, Aeromonas hydrophila, Pseudomonas aeruginosa, Vibrio parahaemolyticus, Vibrio harveyi, Vibrio alginolyticus, Vibrio proteolyticus, Vibrio cholerae and Vibrio fluvialis) bacteria.
Access options
Buy single article
Instant access to the full article PDF.
US$ 39.95
Tax calculation will be finalised during checkout.
Subscribe to journal
Immediate online access to all issues from 2019. Subscription will auto renew annually.
US$ 79
Tax calculation will be finalised during checkout.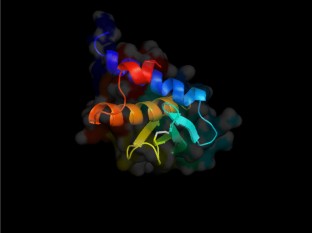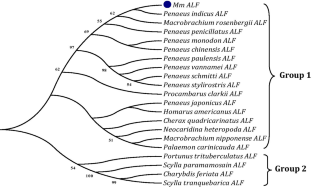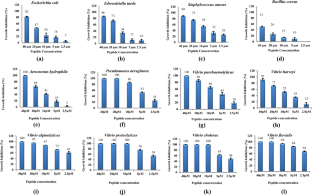 Data Availability
The datasets generated during and/or analysed during the current study are available from the corresponding author on reasonable request.
References
1.

Rosa RD, Barracco MA (2010) Antimicrobial peptides in crustaceans. Invertebr Surviv J 7(2):262–284

2.

Boone L (1931) A collection of anomuran and macruran Crustacea from the Bay of Panama and the fresh waters of the Canal Zone. Bulletin of the AMNH 63

3.

Tanaka S, Nakamura T, Morita T, Iwanaga S (1982) Limulus anti-LPS factor: an anticoagulant which inhibits the endotoxin-mediated activation of Limulus coagulation system. Biochem Biophys Res Commun 105(2):717–723

4.

Li S, Li F (2020) The Anti-lipopolysaccharide Factors in Crustaceans. In: Hoeger U, Harris J (eds) Vertebrate and Invertebrate Respiratory Proteins, Lipoproteins and other Body Fluid Proteins. Subcell Biochem 94:63–80 https://doi.org/10.1007/978-3-030-41769-7

5.

Ponprateep S, Tharntada S, Somboonwiwat K, Tassanakajon A (2012) Gene silencing reveals a crucial role for anti-lipopolysaccharide factors from Penaeus monodon in the protection against microbial infections. Fish Shellfish Immunol 32:26–34

6.

Supungul P, Klinbunga S, Pichyangkura R, Hirono I, Aoki T, Tassanakajon A (2004) Antimicrobial peptides discovered in the black tiger shrimp Penaeus monodon using the EST approach. Dis Aquat Organ 61:123–135

7.

Li SH, Zhang XJ, Sun Z, Li FH, Xiang JH (2013) Transcriptome analysis on Chinese Shrimp Fenneropenaeus chinensis during WSSV Acute Infection. PLoS ONE 8(3):e58627

8.

Li SH, Lv XJ, Li FH, Xiang JH (2019) Characterization of a lymphoid organ specific anti-lipopolysaccharide factor from shrimp reveals structure-activity relationship of the LPS-binding domain. Front Immunol 10:872

9.

Wang Y, Tang T, Gu J, Li X, Yang X, Gao X, Liu F, Wang J (2015) Identification of five antilipopolysaccharide factors in oriental river prawn, Macrobrachium nipponense. Fish Shellfish Immunol 46:252–260

10.

Gu HJ, Sun QL, Jiang S, Zhang J, Sun L (2018) First characterization of an anti-lipopolysaccharide factor (ALF) from hydrothermal vent shrimp: Insights into the immune function of deep-sea crustacean ALF. Dev Comp Immunol 84:382–395

11.

Matos GM, Schmitt P, Barreto C, Farias ND, Toledo-Silva G, Guzman F, Destoumieux-Garzon D, Perazzolo LM, Rosa RD (2018) Massive gene expansion and sequence diversification is associated with diverse tissue distribution, regulation and antimicrobial properties of anti-lipopolysaccharide factors in shrimp. Mar Drugs 16(10):381

12.

Yang Y, Boze H, Chemardin P, Padilla A, Moulin G et al (2009) NMR structure of rALF-Pm3, an anti-lipopolysaccharide factor from shrimp: model of the possible lipid A-binding site. Biopolymers 91(3):207–220

13.

Schmitt P, Rosa RD (1858) Destoumieux-Garzón D (2016) An intimate link between antimicrobial peptide sequence diversity and binding to essential components of bacterial membranes. Biochim Biophys Acta Biomembr 5:958–970

14.

Rosa RD, Vergnes A, De Lorgeril J, Goncalves P, Perazzolo LM, Saune L, Romestand B, Fievet J, Gueguen Y, Bachere E, Destoumieux-Garzon D (2013) Functional divergence in shrimp anti-lipopolysaccharide factors (ALFs): from recognition of cell wall components to antimicrobial activity. PLoS ONE 8(7):e67937

15.

Carriel-Gomes MC, Kratz JM, Barracco MA, Bachere E, Barardi CR, Simoes CM (2007) In vitro antiviral activity of antimicrobial peptides against herpes simplex virus 1, adenovirus, and rotavirus. Mem Inst Oswaldo Cruz 102:469–472

16.

De la Vega E, O'Leary NA, Shockey JE, Robalino J, Payne C, Browdy CL, Warr GW, Gross PS (2008) Anti-lipopolysaccharide factor in Litopenaeus vannamei (LvALF): a broad spectrum antimicrobial peptide essential for shrimp immunity against bacterial and fungal infection. Mol Immunol 45:1916–1925

17.

Liu H, Jiravanichpaisal P, Soderhall I, Cerenius L, Soderhall K (2006) Antilipopolysaccharide factor interferes with white spot syndrome virus replication in vitro and in vivo in the crayfish Pacifastacus leniusculus. J Virol 80:10365–10371

18.

Somboonwiwat K, Marcos M, Tassanakajon A, Klinbunga S, Aumelas A, Romestand B, Gueguen Y, Boze H, Moulin G, Bachere E (2005) Recombinant expression and antimicrobial activity of anti-lipopolysaccharide factor (ALF) from the black tiger shrimp Penaeus monodon. Dev Comp Immunol 29:841–851

19.

Tassanakajon A, Somboonwiwat K, Amparyup P (2015) Sequence diversity and evolution of antimicrobial peptides in invertebrates. Dev Comp Immunol 48:324–341

20.

Aketagawa J, Miyata T, Ohtsubo S, Nakamura T, Morita T, Hayashida H, Miyata T, Iwanaga S, Takao T, Shimonishi Y (1986) Primary structure of Limulus anticoagulant anti-lipopolysaccharide factor. J Biol Chem 261(16):7357–7365

21.

Muta T, Miyata T, Tokunaga F, Nakamura T, Iwanaga S (1987) Primary structure of anti-lipopolysaccharide factor from American horseshoe crab. Limulus polyphemus J Biochem 101(6):1321–1330

22.

Tharntada S, Ponprateep S, Somboonwiwat K, Liu H, Söderhäll I, Söderhäll K, Tassanakajon A (2009) Role of anti-lipopolysaccharide factor from the black tiger shrimp, Penaeus monodon, in protection from white spot syndrome virus infection. J Gen Virol 90(6):1491–1498

23.

Nandakumar G (1997) Biology population characteristics and fishery of the speckled shrimp Metapenaeus monoceros fabricius 1798 along the Kerala coast. Dissertation, Cochin University of Science and Technology

24.

Waterhouse A, Bertoni M, Bienert S, Studer G, Tauriello G, Gumienny R et al (2018) SWISS-MODEL: homology modelling of protein structures and complexes. Nucleic Acids Res 6(1):296–303

25.

Miles RS, Amyes SGB (1996) Laboratory control of antimicrobial therapy. In: Fraser AG, Marmion BP, Simons A (eds) Collee JG. Mackie & McCartney's Practical Medical Microbiology, New York, pp 151–177

26.

Onuma Y, Satake M, Ukena T, Roux J, Chanteau S, Rasolofonirina N, Ratsimaloto M, Naoki H, Yasumoto T (1999) Identification of putative palytoxin as the cause of clupeotoxism. Toxicon 37(55):65. https://doi.org/10.1016/s0041-0101(98)00133-0

27.

Kurotani A, Tokmakov AA, Sato KI, Stefanov VE, Yamada Y, Sakurai T (2019) Localization-specific distributions of protein pI in human proteome are governed by local pH and membrane charge. BMC Mol Cell Biol 20(1):36

28.

Vinothkumar KR, Henderson R (2010) Structures of membrane proteins. Q Rev Biophys 43(1):65–158

29.

Schwartz MA (2001) Integrin signaling revisited. Trends Cell Biol 11(12):466–470

30.

Ikai A (1980) Thermostability and aliphatic index of globular proteins. J Biochem 88(6):1895–1898

31.

Kyte J, Doolittle RF (1982) A simple method for displaying the hydropathic character of a protein. J Mol Biol 157(1):105–132

32.

Wilkins MR, Gasteiger E, Sanchez JC, Bairoch A, Hochstrasser DF (1998) Two-dimensional gel electrophoresis for proteome projects: the effects of protein hydrophobicity and copy number. Electrophoresis 19(8–9):1501–1505

33.

Saint Jean KD, Henderson KD, Chrom CL, Abiuso LE, Renn LM, Caputo GA (2018) Effects of hydrophobic amino acid substitutions on antimicrobial peptide behavior. Probiotics Antimicrob Proteins 10(3):408–419

34.

Bessalle R, Gorea A, Shalit I, Metzger JW, Dass C, Desiderio DM, Fridkin M (1993) Structure-function studies of amphiphilic antibacterial peptides. J Med Chem 36(9):1203–1209

35.

Matsuzaki K, Sugishita KI, Harada M, Fujii N, Miyajima K (1997) Interactions of an antimicrobial peptide, magainin 2, with outer and inner membranes of Gram-negative bacteria. Biochimic Biophys Acta (BBA)-Biomembr 1327(1):119–130

36.

Azad MA, Huttunen-Hennelly HEK, Friedman CR (2011) Bioactivity and the first transmission electron microscopy immunogold studies of short de novo-designed antimicrobial peptides. Antimicrob Agents Chemother 55(5):2137–2145

37.

Petkov P, Lilkova E, Ilieva N, Litov L (2019) Self-association of antimicrobial peptides: a molecular dynamics simulation study on bombinin. Int J Mol Sci 20(21):5450

38.

Mathews DH, Moss WN, Turner DH (2010) Folding and finding RNA secondary structure. Cold Spring Harb Perspect Biol 2(12):3665

39.

Kumar P, Kizhakkedathu JN, Straus SK (2018) Antimicrobial peptides: diversity, mechanism of action and strategies to improve the activity and biocompatibility in vivo. Biomolecules 8(1):4

40.

Chang KY, Yang JR (2013) Analysis and prediction of highly effective antiviral peptides based on random forests. PLoS ONE 8(8):e70166

41.

Dong N, Ma Q, Shan A, Lv Y, Hu W, Gu LY (2012) Strand length-dependent antimicrobial activity and membrane-active mechanism of arginine-and valine-rich β-hairpin-like antimicrobial peptides. Antimicrob Agents Chemother 56(6):2994–3003

42.

Hoess A, Watson S, Siber GR, Liddington R (1993) Crystal structure of an endotoxin-neutralizing protein from the horseshoe crab, Limulus anti‐LPS factor, at 1.5 A resolution. EMBO J 12(9):3351–3356

43.

Guo S, Li S, Li F, Zhang X, Xiang J (2014) Modification of a synthetic LPS-binding domain of anti-lipopolysaccharide factor from shrimp reveals strong structure-activity relationship in their antimicrobial characteristics. Dev Comp Immunol 45(2):227–232

44.

Li S, Guo S, Li F, Xiang J (2014) Characterization and function analysis of an anti-lipopolysaccharide factor (ALF) from the Chinese shrimp Fenneropenaeus chinensis. Dev Comp Immunol 46(2):349–355

45.

Li S, Guo S, Li F, Xiang J (2015) Functional diversity of anti-lipopolysaccharide factor isoforms in shrimp and their characters related to antiviral activity. Mar Drugs 13(5):2602–2616

46.

Somboonwiwat K, Bachère E, Rimphanitchayakit V, Tassanakajon A (2008) Localization of anti-lipopolysaccharide factor (ALFPm3) in tissues of the black tiger shrimp, Penaeus monodon, and characterization of its binding properties. Dev Comp Immunol 32(10):1170–1176

47.

Sun C, Xu WT, Zhang HW, Dong LP, Zhang T, Zhao XF, Wang JX (2011) An anti-lipopolysaccharide factor from red swamp crayfish, Procambarus clarkii, exhibited antimicrobial activities in vitro and in vivo. Fish & shellfish Immunol 30(1):295–303

48.

Jiang HS, Zhang Q, Zhao YR, Jia WM, Zhao XF, Wang JX (2015) A new group of anti-lipopolysaccharide factors from Marsupenaeus japonicus functions in antibacterial response. Dev Comp Immunol 48(1):33–42

49.

Yang H, Li S, Li F, Lv X, Xiang J (2015) Recombinant expression and functional analysis of an isoform of anti-lipopolysaccharide factors (FcALF5) from Chinese shrimp Fenneropenaeus chinensis. Dev Comp Immunol 53(1):47–54

50.

Yedery RD, Reddy KVR (2009) Identification, cloning, characterization and recombinant expression of an anti-lipopolysaccharide factor from the hemocytes of Indian mud crab. Scylla serrata Fish & shellfish Immunol 27(2):275–284
Acknowledgments
The authors are thankful to the Director, Centre for Marine Living Resources and Ecology (CMLRE) and Ministry of Earth Sciences (MoES), Government of India, for the research grant (MoES/10-MLR/01/2012) and scientific support for the work. The first author is grateful to the University Grants Commission (UGC) for the award of the fellowship, the second author to DST, Govt. of India for the WoS-B Grant (NASI/SoRF-1/2015-16/07 dt.20-01-2016) and the corresponding author to UGC, Govt. of India for the BSR Faculty Grant (F.18-1/2011(BSR) dt. 16 May 2019). The authors wish to thank the Department of Marine Biology, Microbiology and Biochemistry, School of Marine Sciences, Cochin University of Science and Technology and National Centre for Aquatic and Animal Health (NCAAH), and Cochin University of Science and Technology for the facilities provided for the successful completion of the work.
Ethics declarations
Conflict of Interest
The authors declare that they have no conflict of interest.
Ethical Approval
This article does not contain any studies with human participants or animals performed by any of the authors that should be approved by Ethics Committee.
Additional information
Publisher's Note
 Springer Nature remains neutral with regard to jurisdictional claims in published maps and institutional affiliations.
Supplementary Information
Below is the link to the electronic supplementary material.
About this article
Cite this article
K, A., Sebastian, S.R., K.S., S. et al. Molecular and Functional Characterization of an Anti-lipopolysaccharide Factor Mm-ALF from Speckled Shrimp Metapenaeus monoceros. Probiotics & Antimicro. Prot. (2021). https://doi.org/10.1007/s12602-021-09741-3
Keywords
Antimicrobial peptide

Metapenaeus monoceros

Anti-lipopolysaccharide factor

Host defence peptides