Abstract
Antimicrobial peptides (AMPs) are molecules present in several life forms, possess broad-spectrum of inhibitory activity against pathogenic microorganisms, and are a promising alternative to combat the multidrug resistant pathogens. The aim of this work was to identify and characterize AMPs from Capsicum chinense fruits and to evaluate their inhibitory activities against yeasts of the genus Candida and α-amylases. Initially, after protein extraction from fruits, the extract was submitted to anion exchange chromatography resulting two fractions. Fraction D1 was further fractionated by molecular exclusion chromatography, and three fractions were obtained. These fractions showed low molecular mass peptides, and in fraction F3, only two protein bands of approximately 6.5 kDa were observed. Through mass spectrometry, we identified that the lowest molecular mass protein band of fraction F3 showed similarity with AMPs from plant defensin family. We named this peptide CcDef3 (Capsicum chinense defensin 3). The antifungal activity of these fractions was analyzed against yeasts of the genus Candida. At 200 μg/mL, fraction F1 inhibited the growth of C. tropicalis by 26%, fraction F2 inhibited 35% of the growth of C. buinensis, and fraction F3 inhibited all tested yeasts, exhibiting greater inhibition activity on the growth of the yeast C. albicans (86%) followed by C. buinensis (69%) and C. tropicalis (21%). Fractions F1 and F2 promoted membrane permeabilization of all tested yeasts and increased the endogenous induction of reactive oxygen species (ROS) in C. buinensis and C. tropicalis, respectively. We also observed that fraction F3 at a concentration of 50 µg/mL inhibited the α-amylase activities of Tenebrio molitor larvae by 96% and human salivary by 100%. Thus, our results show that fraction F3, which contains CcDef3, is a very promising protein fraction because it has antifungal potential and is able to inhibit the activity of different α-amylase enzymes.
Access options
Buy single article
Instant access to the full article PDF.
US$ 39.95
Tax calculation will be finalised during checkout.
Subscribe to journal
Immediate online access to all issues from 2019. Subscription will auto renew annually.
US$ 79
Tax calculation will be finalised during checkout.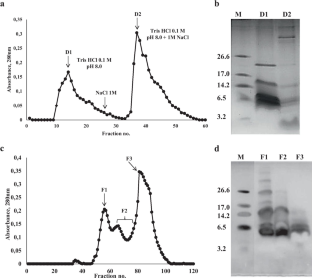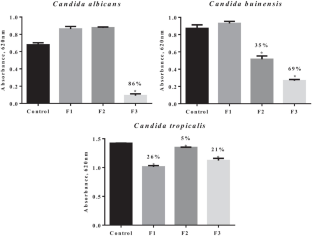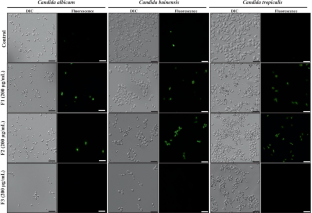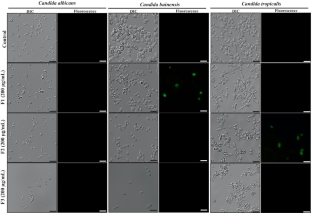 Acknowledgments
This work was performed at the Universidade Estadual do Norte Fluminense Darcy Ribeiro. We are grateful to Souza L.C.D. and Kokis V.M. for general laboratory technical support.
Funding
This study was financed by the Coordenação de Aperfeiçoamento de Pessoal de Nível Superior—Brasil (CAPES)—Finance Code 001, Fundação Carlos Chagas Filho de Amparo à Pesquisa do Estado do Rio de Janeiro (FAPERJ) (E-26/203.090/2016; E-26/202.132/2015; E-26/202.330/2019), and Conselho Nacional de Desenvolvimento Científico e Tecnológico (CNPq).
Ethics declarations
Ethical Approval
This article does not contain any studies with human participants or animals performed by any of the authors.
Additional information
Publisher's Note
Springer Nature remains neutral with regard to jurisdictional claims in published maps and institutional affiliations.
About this article
Cite this article
Aguieiras, M.C.L., Resende, L.M., Souza, T.A.M. et al. Potent Anti-Candida Fraction Isolated from Capsicum chinense Fruits Contains an Antimicrobial Peptide That is Similar to Plant Defensin and is Able to Inhibit the Activity of Different α-Amylase Enzymes. Probiotics & Antimicro. Prot. (2021). https://doi.org/10.1007/s12602-020-09739-3
Keywords
Plant antimicrobial peptide

Antifungal

Mechanism of action

α-Amylase