Abstract
Bollo is a traditional Goan fermented food in which coarse wheat/wheat and finger millet is leavened with toddy. We here isolated 42 yeast strains from Bollo batter. Initial screening of the isolates with probiotic properties yielded four yeast isolates (DABRP1, DABRP2, DABRP5 and DABRP12). These isolates exhibited tolerance to high bile salt concentration and acidic pH and resistance to various antibiotics, which indicated their probiotic nature. All these yeast isolates were identified as Saccharomyces cerevisiae through D1D2-LSU-rDNA sequencing. These yeast isolates also showed higher percent hydrophobicity towards chloroform followed by n-hexadecane and o-xylene indicating their mucosal surface-adhesive property. To evaluate the safety of the isolates for them to be called as generally recognized as safe, the pathogenic behavior of the isolates determined through the in vitro hemolysis assay and evaluation of DNase and gelatinase activities. None of the isolates exhibited hemolysis or produced DNase or gelatinase and thus were considered potentially safe. In terms of beneficial effects, the most potent isolate S. cerevisiae DABRP5 showed antibacterial activity against the test pathogens. It also showed excellent antioxidant activity with DPPH free radical scavenging activity of 68.85 ± 0.69%, anti-inflammatory activity with 60.39 ± 0.34% inhibition of protein denaturation, and antidiabetic activity with 71.75 ± 0.45% inhibition of α-amylase activity. The isolate produced α-amylase, lipase, and β-galactosidase. The probiotic potential of the isolate S. cerevisiae DABRP5 was similar to that of the reference strain (Saccharomyces boulardii CNCM I-745) used in this study. The results thus indicate that yeast isolates from Bollo batter have probiotic potential.
Access options
Buy single article
Instant access to the full article PDF.
US$ 39.95
Tax calculation will be finalised during checkout.
Subscribe to journal
Immediate online access to all issues from 2019. Subscription will auto renew annually.
US$ 79
Tax calculation will be finalised during checkout.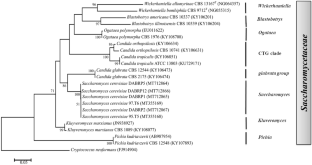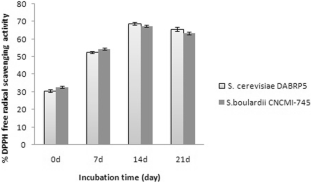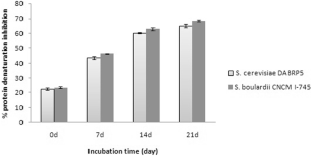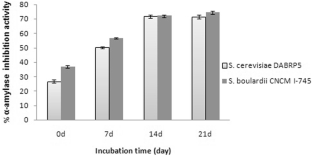 Data Availability
All data generated or analyzed during this study are included in this article and its supplementary information file.
References
1.

Coutiño B, Flores AC, Vela-Gutiérrez G, Sepúlveda L, Aguilar CN, Chavez-Gonzalez M, Rodríguez R (2020) Tavern or Coyol wine: A beverage from palm sap with biotechnological potential. In: Grumezescu AM & Holban AM (ed.) Biotechnological progress and beverage consumption, Academic Press, pp. 233–252. https://doi.org/10.1016/B978-0-12-816678-9.00007-2

2.

Mascarenhas-Keyes S (1977) Catholic Goan food. In: Kuper J (ed) The Anthropologists' Cookbook. Routledge, Taylor and Francis group, London and New York, pp 207–212

3.

Furtado I, Velho-Pereira S (2020) Ethnic fermented foods and beverages of Goa. In: Tamang J. (eds) Ethnic fermented foods and beverages of India: Science history and culture. Springer, Singapore, pp. 139–155. https://doi.org/10.1007/978-981-15-1486-9_6

4.

Soccol CR, Vandenberghe LPDS, Spier MR, Medeiros ABP, Yamaguishi CT, Lindner JDD, Thomaz-Soccol V (2010) The potential of probiotics: a review. Food Technol Biotechnol 48:413–434

5.

FAO/WHO (2002) Guidelines for the evaluation of probiotics in food. Report of a Joint FAO/WHO Working Group on Drafting Guidelines for the Evaluation of Probiotics in Food. London, Ontario, Canada. FAO/WHO, April 30 and May 1, 2002; 1–11

6.

Tamang JP, Shin D-H, Jung S-J, Chae S-W (2016) Functional properties of microorganisms in fermented foods. Front Microbiol 7:1–15. https://doi.org/10.3389/fmicb.2016.00578

7.

Rani B, Khetarpaul N (1998) Probiotic fermented food mixtures: Possible applications in clinical anti-diarrhoea usage. Nutr Health. 12:97–105. https://doi.org/10.1177/026010609801200202

8.

Satish Kumar R, Kanmani P, Yuvaraj N, Paari KA, Pattukumar V, Arul V (2013) Traditional Indian fermented foods: a rich source of lactic acid bacteria. Int J Food Sci Nutr. 64:415–428. https://doi.org/10.3109/09637486.2012.746288

9.

Gupta A, Tiwari SK (2014) Probiotic potential of Lactobacillus plantarum LD1 isolated from batter of Dosa, a South Indian fermented food. Probiotics Antimicrob Proteins 6:73–81. https://doi.org/10.1007/s12602-014-9158-2

10.

Ingraham JL, Ingraham CA (2004). Benefits and uses of microorganisms. In: Thomson- Brooks/Cole (ed) Introduction to microbiology: A case history approach, 3rd edition, California, USA, p. 270.

11.

Akabanda F, Owusu-Kwarteng J, Tano-Debrah K, Glover RL, Nielsen DS, Jespersen L (2013) Taxonomic and molecular characterization of lactic acid bacteria and yeasts in nunu, a Ghanaian fermented milk product. Food Microbiol 34:277–283. https://doi.org/10.1016/j.fm.2012.09.025

12.

Zanello G, Meurens F, Berri M, Salmon H (2009) Saccharomyces boulardii effects on gastrointestinal diseases. Curr Issues Mol Biol 11:47–58

13.

Generoso SV, Viana S, Santos R, Martins FS, Machado JA, Arantes RM, Cardoso VN (2010) Saccharomyces cerevisiae strain UFMG 905 protects against bacterial translocation, preserves gut barrier integrity and stimulates the immune system in a murine intestinal obstruction model. Arch Microbiol 192:477–484. https://doi.org/10.1007/s00203-010-0574-8

14.

Barnett JA, Payne RW, Yarrow D (1990) Yeasts: characteristics and identification. Cambridge University Press, Cambridge. p. 1012. https://doi.org/10.1046/j.1525-1470.2001.1862020a.x

15.

Aamir S, Sutar S, Singh SK, Baghela A (2015) A rapid and efficient method of fungal genomic DNA extraction, suitable for PCR based molecular methods. Plant Pathol Quar 5:74–81. https://doi.org/10.13140/RG.2.2.15871.41126

16.

Kurtzman CP, Robnett CJ (1998) Identification and phylogeny of ascomycetous yeasts from analysis of nuclear large subunit (26S) ribosomal DNA partial sequences. Antonie Van Leeuwenhoek. 73: 331–371. https://doi.org/10.1023/A:1001761008817

17.

Kurtzman CP, Fell JW, Boekhout T (2011) The Yeasts: A taxonomic study. Amsterdam, Netherlands.

18.

Kumar S, Stecher G, Tamura K (2016) MEGA7: Molecular evolutionary genetics analysis version 7.0 for bigger datasets. Mol Biol Evol 33:1870–1874. https://doi.org/10.1093/molbev/msw054

19.

Somashekaraiah R, Shruthi B, Deepthi BV, Sreenivasa MY (2019) Probiotic properties of lactic acid bacteria isolated from Neera: a naturally fermenting coconut palm nectar. Front Microbiol 10:1–11. https://doi.org/10.3389/fmicb.2019.01382

20.

Castro-Rodríguez D, Hernández-Sánchez H, Yáñez FJ (2015) Probiotic properties of Leuconostoc mesenteroides isolated from aguamiel of Agave salmiana. Probiotics Antimicrob Proteins 7:107–117. https://doi.org/10.1007/s12602-015-9187-5

21.

Taheur FB, Kouidhi B, Fdhila K, Elabed H, Slama RB, Mahdouani K, Chaieb K (2016) Anti-bacterial and anti-biofilm activity of probiotic bacteria against oral pathogens. Microb Pathog. 97:213–220. https://doi.org/10.1016/j.micpath.2016.06.018

22.

Wang J, Da R, Tuo X et al (2020) Probiotic and safety properties screening of Enterococcus faecalis from healthy Chinese infants. Probiotics Antimicrob Proteins 12:1115–1125. https://doi.org/10.1007/s12602-019-09625-7

23.

Gupta H, Malik RK (2007) Incidence of virulence in bacteriocin-producing enterococcal isolates. Le Lait 87:587–601. https://doi.org/10.1051/lait:2007031

24.

Casida LE (2007) Basis and development of Industrial fermentation processes- Screening. In: Casida LE (ed) A textbook of Industrial Microbiology. New Age international ltd publishers, New Delhi, India, pp 57–68

25.

Gil-Rodríguez AM, Carrascosa AV, Requena T (2015) Yeasts in foods and beverages: in vitro characterisation of probiotic traits. LWT-Food Sci Technol 64:1156–1162. https://doi.org/10.1016/j.lwt.2015.07.042

26.

Jain N, Mehta A (2017) The unexplored roles of probiotic Bacteria: In vitro anti-inflammatory and anthelmintic activity of Enterococcus faecium Bm10 KY788342 and Lactobacillus casei GM10 KY794586. Asian J Pharm Clin Res 10:117–119. https://doi.org/10.22159/ajpcr.2017.v10i9.19413

27.

Ujiroghene OJ, Liu L, Zhang S, Lu J, Zhang C, Pang X, Lv J (2019) Potent α-amylase inhibitory activity of sprouted quinoa-based yoghurt beverages fermented with selected anti-diabetic strains of lactic acid bacteria. RSC Adv 9:9486–9493. https://doi.org/10.1039/C8RA10063B

28.

Ghoddusi HB (2008) Handbook of microbiological media for the examination of food–by Ronald M. Atlas Int J Dairy Technol 61:206–206. https://doi.org/10.1111/j.1471-0307.2008.00358.x

29.

Manafi M (1996) Fluorogenic and chromogenic enzyme substrates in culture media and identification tests. IntJ Food Microbiol 31:45–58. https://doi.org/10.1016/0168-1605(96)00963-4

30.

Stringini M, Comitini F, Taccari M, Ciani M (2009) Yeast diversity during tapping and fermentation of palm wine from Cameroon. Food Microbiol 26:415–420. https://doi.org/10.1016/j.fm.2009.02.006

31.

Netaji F, Oelschlaeger AT (2016) In vitro characterization of Lactococcus lactis strains isolated from Iranian traditional dairy products as a potential probiotic. Appl Food Biotechnol 3:43–51. https://doi.org/10.22037/afb.v3i1.10350

32.

Shangpliang HNJ, Sharma S, Rai R, Tamang JP (2017) Some technological properties of lactic acid bacteria isolated from Dahi and Datshi, naturally fermented milk products of Bhutan. Front Microbiol 8:116. https://doi.org/10.3389/fmicb.2017.00116

33.

Shivangi S, Devi PB,Ragul K, Shetty PH (2020) Probiotic potential of Bacillus strains isolated from an acidic fermented food idli. Probiotics Antimicrob Proteins. 1-12. https://doi.org/10.1007/s12602-020-09650-x

34.

Syal P, Vohra A (2013) Probiotic potential of yeasts isolated from traditional Indian fermented foods. Int J Microbiol Res 5:390–398. https://doi.org/10.9735/0975-5276.5.2.390-398

35.

Lahtinen SJ, Boyle RJ, Margolles A, Frias R, Gueimonde M (2009) Safety assessment of probiotics. In: Charalampopoulos D, Rastall RA (ed) Prebiotics and probiotics science and technology. Springer-Verlag, New York, pp. 1193–1235. https://doi.org/10.1007/978-0-387-79058-9_31

36.

Neut C, Mahieux S, Dubreuil LJ (2017) Antibiotic susceptibility of probiotic strains: is it reasonable to combine probiotics with antibiotics? Med Mal Infect 47:477–483. https://doi.org/10.1016/j.medmal.2017.07.001

37.

Marteau P, Shanahan F (2003) Basic aspects and pharmacology of probiotics: an overview of pharmacokinetics, mechanisms of action and side-effects. Best Pract Res Clin Gastroenterol 17:725–740. https://doi.org/10.1016/S1521-6918(03)00055-6

38.

Nayak SK (2011) Biology of eukaryotic probiotics. In: Liong MT. (eds) Probiotics. Microbiology Monographs, vol 21, Springer, Berlin, Heidelberg, pp. 29–55. https://doi.org/10.1007/978-3-642-20838-6_2

39.

Kourelis A, Kotzamanidis C, Litopoulou-Tzanetaki E, Scouras ZG, Tzanetakis N, Yiangou M (2010) Preliminary probiotic selection of dairy and human yeast strains. J Biol Res 13:93–104

40.

De Souza BMS, Borgonovi TF, Casarotti SN, Todorov SD, Penna ALB (2018) Lactobacillus casei and Lactobacillus fermentum strains isolated from mozzarella cheese: probiotic potential, safety, acidifying kinetic parameters and viability under gastrointestinal tract conditions. Probiotics Antimicrob Proteins 11:382–396. https://doi.org/10.1007/s12602-018-9406-y

41.

Falah F, Vasiee A, Behbahani BA, Yazdi FT, Moradi S, Mortazavi SA, Roshanak S (2019) Evaluation of adherence and anti-infective properties of probiotic Lactobacillus fermentum strain 4–17 against Escherichia coli causing urinary tract infection in humans. Microb Pathog 131:246–253. https://doi.org/10.1016/j.micpath.2019.04.006

42.

Romero-Luna HE, Peredo-Lovillo A, Hernández-Mendoza A, Hernández-Sánchez H, Cauich-Sánchez PI, Ribas-Aparicio RM, Dávila-Ortiz G (2020) Probiotic Potential of Lactobacillus paracasei CT12 isolated from Water Kefir Grains (Tibicos). Curr Microbiol 77:2584–2592. https://doi.org/10.1007/s00284-020-02016-0

43.

Boris S, Suárez JE, Vázquez F, Barbés C (1998) Adherence of human vaginal lactobacilli to vaginal epithelial cells and interaction with uropathogens. Infect Immun 66:1985–1989. https://doi.org/10.1128/IAI.66.5.1985-1989.1998

44.

Sourabh A, Kanwar SS, Sharma OP (2011) Screening of indigenous yeast isolates obtained from traditional fermented foods of Western Himalayas for probiotic attributes. J Yeast Fungal Res 2:117–126. https://doi.org/10.5897/JYFR.9000045

45.

Kumura H, Tanoue Y, Tsukahara M, Tanaka T, Shimazaki K (2004) Screening of dairy yeast strains for probiotic applications. J Dairy Sci 87:4050–4056. https://doi.org/10.3168/jds.S0022-0302(04)73546-8

46.

Eaton TJ, Gasson MJ (2001) Molecular screening of Enterococcus virulence determinants and potential for genetic exchange between food and medical isolates. App Environ Microbiol 67:1628–1635. https://doi.org/10.1128/AEM.67.4.1628-1635.2001

47.

Sanders ME, Akkermans LM, Haller D, Hammerman C, Heimbach JT, Hörmannsperger G, Huys G (2010) Safety assessment of probiotics for human use. Gut Microbes 1:164–185. https://doi.org/10.4161/gmic.1.3.12127

48.

Ragul K, Kandasamy S, Devi PB, Shetty PH (2019) Safety and stability assessment of potential probiotic strains from fermented mango brine pickle. Probiotics Antimicrob Proteins. 12:1039–1044. https://doi.org/10.1007/s12602-019-09617-7

49.

Baumgartner A, Kueffer M, Simmen A, Grand M (1998) Relatedness of Lactobacillus rhamnosus strains isolated from clinical specimens and such from food-stuffs, humans and technology. LWT-Food Sci Technol 31:489–494. https://doi.org/10.1006/fstl.1998.0395

50.

Fijan S (2016) Antimicrobial effect of probiotics against common pathogens. In Tech: Venkateswera. https://www.intechopen.com/books/probiotics-and-prebiotics-in-human-nutrition-and-health/antimicrobial-effect-of-probiotics-against-common-pathogens

51.

Bermudez-Brito M, Plaza-Díaz J, Munoz-Quezada S, Gomez-Llorente C, Gil A (2012) Probiotic mechanisms of action. Ann Nutr Metab 61:160–174. https://doi.org/10.1159/000342079

52.

Fakruddin MD, Hossain MN, Ahmed MM (2017) Antimicrobial and antioxidant activities of Saccharomyces cerevisiae IFST062013, a potential probiotic. BMC complement Altern Med 17:64–75. https://doi.org/10.1186/s12906-017-1591-9

53.

Rajkowska K, Kunicka-Styczynska A, Rygala A (2012) Probiotic activity of Saccharomyces cerevisiae var. boulardii against human pathogens. Food Technol Biotechnol 50:230–236

54.

Wang Y, Wu Y, Wang Y, Xu H, Mei X, Yu D, Wang Y, Li W (2017) Antioxidant properties of probiotic bacteria. Nutrients 9:521–536. https://doi.org/10.3390/nu9050521

55.

Menezes AGT, Ramos CL, Cenzi G, Melo DS, Dias DR, Schwan RF (2020) Probiotic potential, antioxidant activity and phytase production of indigenous yeasts isolated from indigenous fermented foods. Probiotics Antimicrob Proteins 12:280–288. https://doi.org/10.1007/s12602-019-9518-z

56.

Czerucka D, Piche T, Rampal P (2007) Yeast as probiotics–Saccharomyces boulardii. Aliment Pharm Ther. 26:767–778. https://doi.org/10.1111/j.1365-2036.2007.03442.x

57.

Gulzar N, Saleem IM, Rafiq S, Nadeem M (2019). Therapeutic potential of probiotics and prebiotics. In: Oral health by using probiotic products. Intech Open. https://www.intechopen.com/books/oral-health-by-using-probiotic-products/therapeutic-potential-of-probiotics-and-prebiotics

58.

Jawhara S, Poulain D (2007) Saccharomyces boulardii decreases inflammation and intestinal colonization by Candida albicans in a mouse model of chemically-induced colitis. Med Mycol 45:691–700. https://doi.org/10.1080/13693780701523013

59.

Jawhara S, Habib K, Maggiotto F, Pignede G, Vandekerckove P, Maes E, Dubuquoy L, Fontaine T, Guerardel Y, Poulain D (2012) Modulation of intestinal inflammation by yeasts and cell wall extracts: strain dependence and unexpected anti-inflammatory role of glucan fractions. PLoS ONE 7:e40648. https://doi.org/10.1371/journal.pone.0040648

60.

Foligné B, Dewulf J, Vandekerckove P, Pignède G, Pot B (2010) Probiotic yeasts: anti-inflammatory potential of various non-pathogenic strains in experimental colitis in mice. World J Gastroenterol 16:2134–2145. https://doi.org/10.3748/wjg.v16.i17.2134

61.

Crawford S (2014) Anti-inflammatory/antioxidant use in long-term maintenance cancer therapy: a new therapeutic approach to disease progression and recurrence. Ther Adv Med Oncol 6:52–68. https://doi.org/10.1177/1758834014521111

62.

Tilg H, Moschen AR (2014) Microbiota and diabetes: an evolving relationship. Gut 63:1513–1521. https://doi.org/10.1136/gutjnl-2014-306928

63.

Ayyash M, Al-Nuaimi AK, Al-Mahadin S, Liu S-Q (2018) In vitro investigation of anticancer and ACE-inhibiting activity, α-amylase and α-glucosidase inhibition, and antioxidant activity of camel milk fermented with camel milk probiotic: a comparative study with fermented bovine milk. Food Chem 239:588–597. https://doi.org/10.1016/j.foodchem.2017.06.149

64.

Naydenov K, Anastasov A, Avramova M, Mindov I, Tacheva T, Tolekova A, Vlaykova T (2012) Probiotics and diabetes mellitus. Trakia J Sci 10:300–306

65.

Ianiro G, Pecere S, Giorgio V, Gasbarrini A, Cammarota G (2016) Digestive enzyme supplementation in gastrointestinal diseases. Curr Drug Metab 17:187–193. https://doi.org/10.2174/138920021702160114150137

66.

Sukmawati D, Arman Z, Sondana GA, Fikriyah NN, HasanahR AZN, Kurniati TH (2019) December). Potential amylase-producing yeast isolated from indigenous fermented beverages originating from Bali, Indonesia. Journal of Physics: Conference Series. IOP Publishing 1402:1–7. https://doi.org/10.1088/1742-6596/1402/5/055021

67.

Farinazzo FS, Farinazzo ES, Spinosa WA, Garcia S (2017) Saccharomyces boulardii: optimization of simultaneous saccharification and fermentation of cell production in organic and conventional apple substrate pulp. Food Sci Biotechnol 26:969–977. https://doi.org/10.1007/s10068-017-0123-1

68.

Ciafardini G, Zullo BA, Iride A (2006) Lipase production by yeasts from extra virgin olive oil. Food Microbiol 23:60–67. https://doi.org/10.1016/j.fm.2005.01.009

69.

Moré MI, Vandenplas Y (2018) Saccharomyces boulardii CNCM I-745 improves intestinal enzyme function: a trophic effects review. Clin Med Insights Gastroenterol 11:1–14. https://doi.org/10.1177/1179552217752679

70.

Montalto M, Nucera G, Santoro L, Curigliano V, Vastola M, Covino M, Cuoco L, Manna R, Gasbarrini A, Gasbarrini G (2005) Effect of exogenous B-galactosidase in patients with lactose malabsorption and intolerance: a crossover double-blind placebo-controlled study. Eur J ClinNutr 59:489–493. https://doi.org/10.1038/sj.ejcn.1602098
Acknowledgments
The authors are grateful to the Department of Microbiology, Goa University, for providing the necessary facilities to carry out the research work. The authors are thankful to editingindia, a professional manuscript editing service provider for correcting our manuscript.
Ethics declarations
Conflict of Interest
The authors declare that they have no conflict of interest.
Additional information
Publisher's Note
Springer Nature remains neutral with regard to jurisdictional claims in published maps and institutional affiliations.
Supplementary Information
Below is the link to the electronic supplementary material.
About this article
Cite this article
Pereira, R.P., Jadhav, R., Baghela, A. et al. In Vitro Assessment of Probiotic Potential of Saccharomyces Cerevisiae DABRP5 Isolated from Bollo Batter, a Traditional Goan Fermented Food. Probiotics & Antimicro. Prot. (2021). https://doi.org/10.1007/s12602-020-09734-8
Keywords
Probiotics

Saccharomyces cerevisiae

Fermented foods

Bollo batter

Therapeutic properties

Goa