Abstract
Ophicordyceps is a genus of fungi that grow on insects. In this paper we report for the first time the occurrence of Ophicordyceps nutans Pat. a species belonging to this entomopathogenic fungi group in Kanger Valley National Park in Bastar District of Chhattisgarh in Central India. The fruiting body or ascocarp of O. nutans was found in Halyomorpha halys, brown marmorated stink bug—an insect pest. The study highlighted the impact of O. nutans on the host insect and the damage it causes in trees and crops. The local people use this fungus in traditional medicine as an immune stimulator and also as a pest-control agent to protect crop and tree from stink bug. Therefore, it appears that O. nutans possesses great potential to be developed as natural medicine and bio-pesticide to save the agricultural crops and forest trees.
This is a preview of subscription content, log in to check access.
Access options
Buy single article
Instant access to the full article PDF.
US$ 39.95
Price includes VAT for USA
Subscribe to journal
Immediate online access to all issues from 2019. Subscription will auto renew annually.
US$ 99
This is the net price. Taxes to be calculated in checkout.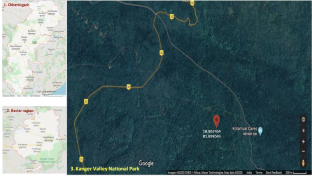 References
Friedrich, R.C.S., B. Shrestha, C.A. Salvador-Montoya, L.M.R. Tomé, M.A. Reck, A. Góes-Neto, and E.R. Drechsler-Santos. 2018. Ophiocordyceps neonutans sp. nov., a new neotropical species from O. nutans complex (Ophiocordycipitaceae, Ascomycota). Phytotaxa 344: 215–227.

Hywel-Jones, N. 1995. Notes on Cordyceps nutans and its anamorph, a pathogen of hemipteran bugs in Thailand. Mycological Research 99: 724–726.

Isaka, M., P. Kittakoop, K. Kirtikara, N.L. Hywel-Jones, and Y. Thebtaranonth. 2005. Bioactive substances from insect pathogenic fungi. Accounts of Chemical Research 38: 813–823.

Karun, N.C., and K.R. Sridhar. 2013. Incidence of entomophagous medicinal fungus, Ophiocordyceps nutans on stink bug, Halyomorpha halys (Stal) in the Western Ghats of India. Journal of Biological Control 21: 139–143.

Karun, N.C., Sridhar, K.R., Ambarish, C.N., Pavithra, M. Greeshma, A.A., Ghate, S.D. 2017. Health perspectives of medicinal macrofungi of southwestern India. Ronald Ross Watson and Sherma Zibadi (eds.) Handbook of nutrition and heart health. Wageningen Academic Publisher, Chapter 25: 533–548.

Lo, H.C., C. Hsieh, F.Y. Lin, and T.H. Hsu. 2013. A Systematic Review of the Mysterious Caterpillar Fungus Ophiocordyceps sinensis in Dong-ChongXiaCao ( Dōng Chóng Xià Cǎo) and Related Bioactive Ingredients. Journal of Traditional Complement Medicine 3: 16–32.

Luangsa-ard, J., K. Tasanathai, D. Thanakitpipattana, A. Khonsanit, and M. Stadler. 2018. Novel and interesting Ophiocordyceps spp. (Ophiocordycipitaceae, Hypocreales) with superficial perithecia from Thailand. Studies in Mycology 89: 125–142.

McPherson, J.E. 2017. Invasive stink bugs and related species (Pentatomoidea): Biology, higher systematics, semiochemistry, and management. United States: CRC Press.

Sasaki, F., T. Miyamoto, Y. Tamai, and T. Yajima. 2004. Isolation of vegetable wasps and plant worms, Cordyceps nutans, from fruit-body tissue. Journal of Invertebrate Pathology 85: 70–73.

Sasaki, F., T. Miyamoto, Y. Tamai, and T. Yajima. 2005. Optimum Temperature and pH for Mycelial Growth of Cordyceps nutans Pat. (Ascomycetes). International Journal of Medicinal Mushroom 7: 301–304.

Sasaki, F., T. Miyamoto, A. Yamamoto, Y. Tamai, and T. Yajima. 2008. Morphological and genetic characteristics of the entomopathogenic fungus Ophiocordyceps nutans and its host insects. Mycological Research 112: 1241–1244.

Sasaki, F., T. Miyamoto, A. Yamamoto, Y. Tamai, and T. Yajima. 2012. Relationship between intraspecific variations and host insects of Ophiocordyceps nutans collected in Japan. Mycoscience 53: 85–91.

Shrestha, B. 2011. Diversity of Cordyceps Fungi in Nepal. Nepal Journal of Science and Technology 12: 103–110.

Sridhar, K.R., and N.C. Karun. 2017. Observations on Ophiocordyceps nutans in the Western Ghats. Journal on New Biology 6: 104–111.

Tuli, H.S., Sandhu, S.S., Sharma, A.K. 2014. Pharmacological and therapeutic potential of Cordyceps with special reference to Cordycepin. 3 Biotech 4: 1–12.

Wen, T.-C., F.Y. Long, C. Kang, F. Wang, and W. Zeng. 2017. Effects of additives and bioreactors on cordycepin production from Cordyceps militaris in liquid static culture. Mycosphere 8: 886–898.
Acknowledgement
Authors are highly acknowledged to National Centre for Natural Resource, Pt. Ravishankar Shukla University, Raipur, Chhattisgarh for their support to complete this survey and research.
Ethics declarations
Conflict of interest
The authors declare that there is no conflict of interest.
Additional information
Publisher's Note
Springer Nature remains neutral with regard to jurisdictional claims in published maps and institutional affiliations.
About this article
Cite this article
Paul, J.S., Jadhav, S.K., Quraishi, A. et al. Ferret out a Natural Bio-Pesticide: Ophicordyceps nutans in Central India and Its Interaction Analysis with Tree Stink Bug. Proc Zool Soc (2020). https://doi.org/10.1007/s12595-020-00328-4
Received:

Revised:

Accepted:

Published:
Keywords
Ophicordyceps nutans

Entomoparasitic fungi

Halyomorpha halys

Bio-pesticide

Stink bug