Abstract
The current investigation aims to evaluate the effect of leaf extract of the anthelmintic medicinal plant Lysimachia ramosa and its n-butanol fraction on glycogen concentration and carbohydrate related metabolic enzymes viz. hexokinase (HK), phosphofructokinase, pyruvate kinase (PK), phosphoenolpyruvate carboxykinase (PEPCK), lactate dehydrogenase (LDH), malate dehydrogenase (MDH), malic enzyme (ME) and fumarate reductase (FR) in the cestode Raillietina echinobothrida. Following exposure to crude leaf extract and n-butanol fraction at a dose of 6 mg/ml of phosphate buffered saline, glycogen concentration decreased by 26–51% post paralysis whereas in terms of carbohydrate related metabolic enzymes, highest inhibition was seen in case of MDH (66–75%) followed by FR (64–66%), PEPCK (54–64%), LDH (48–60%), ME (33–38%) and PK (27–36%). The decrease in the enzyme activities of HK, LDH and MDH were also demonstrated histochemically. The result indicates that the intrusion of the phytoconstituents in the function of enzymes of energy generating pathway of R. echinobothrida, perhaps dispossesses the parasite from energy production leading to paralysis.
Access options
Buy single article
Instant access to the full article PDF.
US$ 39.95
Tax calculation will be finalised during checkout.
Subscribe to journal
Immediate online access to all issues from 2019. Subscription will auto renew annually.
US$ 79
Tax calculation will be finalised during checkout.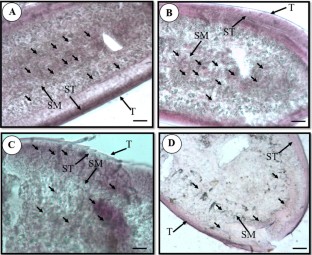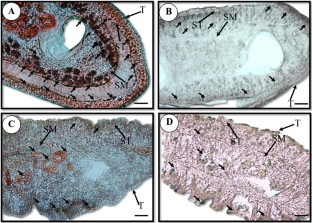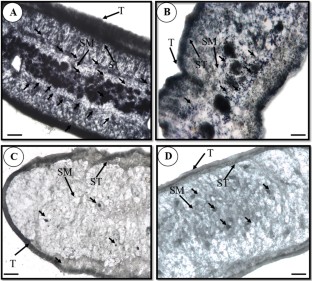 References
Ahmad, M., and W.A. Nizami. 1987. In vitro effects of mebendazole on the carbohydrate metabolism of Avitellina lahorea (Cestoda). Journal of Helminthology 61: 247–252.

Alam, M.N., M. Mostafa, M.A. Khan, M.A. Alim, A.K.M.A. Rahman, and A.A. Trisha. 2014. Prevalence of gastrointestinal helminth infections in indigenous chickens of selected areas of Barisal district, Bangladesh. Bangladesh Journal of Veterinary Medicine 12(2): 135–139.

Banu, M.J., K. Nellaiappan, and S. Dhandayuthapani. 1989. Lactate dehydrogenase from adult Setaria digitata (Nematoda: Onchocercidae). Veterinary Parasitology 32: 311–323.

Banu, M.J., K. Nellaiappan, and S. Dhandayuthapani. 1992. Mitochondrial malate dehydrogenase and malic enzyme of a filarial worm Setaria digitata: some properties and effects of drugs and herbal extracts. Japanese Journal of Medical Science and Biology 45: 137–150.

Bergmeyer, H.U. 1974. Methods of enzymatic analysis. Berlin: Springer.

Bergmeyer, H.U., and E. Bernt. 1981. Lactate dehydrogenase. In Methods of enzymatic analysis, ed. H.U. Bergmeyer, 574–579. Florida: Verlag Chemie International.

Butboonchoo, P., C. Wongsawad, A. Rojanapaibul, and J.Y. Chai. 2016. Morphology and molecular phylogeny of Raillietina spp. (Cestoda: Cyclophyllidea: Davaineidae) from domestic chickens in Thailand. Korean Journal of Parasitology 6: 777–786.

Challam, M., B. Roy, and V. Tandon. 2010. Effect of Lysimachia ramosa (Primulaceae) on helminth parasites: motility, mortality and scanning electron microscopic observations on surface topography. Veterinary Parasitology 169(1–2): 214–218.

Das, B., V. Tandon, and N. Saha. 2004. Anthelmintic efficacy of Flemingia vestita (Fabaceae): alteration in the activities of some glycolytic enzymes in the cestode, Raillietina echinobothrida. Parasitology Research 93: 253–261.

Dey, P., and B. Roy. 2018. Biochemical and ultrastructural changes in Raillietina echinobothrida in vitro exposed to extract of Lysimachia ramosa. Journal of Parasitic Diseases 42(2): 212–219.

Geerts, S., and B. Gryseels. 2000. Drug resistance in human helminths: current situation and lessons from livestock. Clinical Microbiology Review 13: 207–222.

Hideaki, U.I., K. Shiomi, Y. Yamaguchi, R. Masuma, T. Nagamitsu, D. Takano, T. Sunazuka, M. Namikoshi, and S. Omura. 2001. Nafuredin, a novel inhibitor of NADH-fumarate reductase, produced by Aspergillus niger FT-0554. Journal of Antibiotics 54: 234–238.

Hotez, P.J., P.J. Brindley, J.M. Bethony, C.H. King, E.J. Pearce, and J. Jacobson. 2008. Helminth infections: the great neglected tropical diseases. Journal of Clinical Investigation 118(4): 1311–1321.

Hussain, H., O.P. Shukla, S. Ghatak, and N.A. Kaushal. 1990. Enzymes of PEP-succinate pathway in Setaria cervi and effect of anthelmintic drugs. Indian Journal of Experimental Biology 28: 871–875.

Kiuchi, F., N. Miyashita, Y. Tsuda, K. Konda, and H. Yoshimusa. 1987. Studies on crude drug effective on visceral larval migrans. I. Identification of larvicidal principles in betelnuts. Chemical & Pharmaceutical Bulletin 35: 2880–2886.

Kumar, S. 1987. The in vitro effects of anthelmintics on the enzyme activities of Setaria cervi. Acta Veterinaria Brno 56: 305–313.

Kumar, P.R., R. Ravindran, B. Lakshmanan, P. Senthamil Selvan, H. Subramanan, and T. Sreekumaran. 2007. Pathology of nodular tapeworm in backyard poultry. Journal of Parasitic Diseases 31: 54–55.

Kumar, M.D., and L. Veerakumari. 2015. In vitro studies on the effect of ethanol extract of Syzygium aromaticum on the carbohydrate metabolism of Cotylophoron cotylophorum. International Journal of Advance Veterinary Science and Technology 4: 199–210.

Kumar, S.S., and L. Veerakumari. 2018. Effect of ethanol extract of Syzygium aromaticum and Trachyspermum ammi on pyruvate kinase and phosphoenolpyruvate carboxykinase of the nematode, Haemonchus contortus. International Journal of Life Science and Research 6: 197–204.

Lowry, O.H., N.J. Rosebrough, A.L. Farr, and R.J. Randall. 1951. Protein measurement with the folin phenol reagent. Journal of Biological Chemistry 193: 265–275.

Malagon, D., R. Benitez, A. Valero, and F.J. Adroher. 2009. CO2-fixing enzymes and phosphoenolpyruvate metabolism in the fish parasite Hysterothylacium aduncum (Ascaridoidea, Anisakidae). Diseases of Aquatic Organisms 85: 217–223.

Mansour, T.E., and E. Bueding. 1953. Kinetics of lactic dehydrogenases of Schistosoma mansoni and of rabbit muscle. British Journal of Pharmacology 8: 431.

Matsumoto, J., K. Sakamoto, N. Shinjyo, Y. Kido, N. Yamamoto, K. Yagi, H. Miyoshi, N. Nonaka, K. Katakuru, K. Kita, and Y. Oku. 2008. Anaerobic NADH-fumarate reductase system is predominant in the respiratory chain of Echinococcus multilocularis, providing a novel target for the chemotherapy of alveolar Echinococcosis. Antimicrobial Agents and Chemotherapy 52: 164–170.

McCraken, R.O., and K.B. Lipkowitz. 1990. Structure-activity relationships of benzothiazole and benzimidazole anthelmintics: a molecular modeling approach to in vivo drug efficacy. Journal of Parasitology 76(6): 853–864.

McManus, D.P., and J.D. Smyth. 1982. Intermediary carbohydrate metabolism in protoscoleces of Echinococcus granulosus (horse and sheep strains) and E. multilocularis. Parasitolology 8: 351–366.

Mello-Silva, C.C., M.M. Vilar, M.C. Vasconcellos, J. Pinheiro, and M.L.A. Rodrigues. 2010. Carbohydrate metabolism alterations in Biomphalaria glabrata infected with Schistosoma mansoni and exposed to Euphorbia splendens var. hislopii latex. Memorias do Instituto Oswaldo Cruz 105(4): 492–495.

Moczon, T., and Z. Swiderski. 1992. Schistosoma haematobium: histochemistry of glycogen, glycogen phosphorylase a and glycogen branching enzyme in niridazole-treated females. International Journal of Parasitology 22(1): 55–63.

Moon, T.W., W.C. Hulbert, T. Mustafa, and D.F. Mettrick. 1977. A study of lactate dehydrogenase and malate dehydrogenase in adult Hymenolepis dimunata (Cestoda). Comparative Biochemistry and Physiology 56(B): 249–254.

Murray, G.I., M.D. Burke, and S.W.B. Ewen. 1989a. Enzyme histochemistry on freeze-dried resin-embedded tissue. Journal of Histochemistry and Cytochemistry 73(5): 643–652.

Murray, G.I., M.D. Burke, and S.W.B. Ewen. 1989b. Enzyme histochemistry on freeze-dried, resin-embedded tissue. Journal of Histochemistry and Cytochemistry 37(5): 643–652.

Pampori, N.A., and V.M.L. Srivastava. 1987. Enzymes of carbohydrate metabolism of Cotugnia digonopora and their activity in the presence of anthelmintics, in vitro. Journal of Biosciences 12(3): 239–247.

Pearse, A.G.E. 1972. Histochemistry: theoretical and applied, vol. II, 3rd ed. Edinburg: Churchill Livingstone.

Roy, B., and B.R. Giri. 2016a. α-Viniferin and resveratrol induced alteration in the activities of some energy metabolism related enzymes in the cestode parasite Raillietina echinobothrida. Acta Tropica 154: 102–106.

Roy, B., and B.R. Giri. 2016b. Fumarate reductase inhibitory potential of phytostilbenes resveratrol and alfa-viniferin. International Journal of Pharma and Bio Sciences 7(2): 134–137.

Roy, B., A. Swargiary, and B.R. Giri. 2012. Alpinia nigra (Family Zingiberaceae): an anthelmintic medicinal plant of North east India. Advance Life Science 2(3): 39–51.

Russel, E.L., and K.B. Storey. 1995. Anoxia and freezing exposure stimulate covalent modification of enzymes of carbohydrate metabolism in Littorina littorea. Journal of Comparative Physiology 165: 132–142.

Saha, N., L. Das, and S. Dutta. 1999. Types of carbamyl phosphate synthetase and subcellular localization of urea cycle and related enzymes in air-breathing walking catfish, Clarias batrachus. Journal of Experimental Zoology 283: 121–130.

Sakai, C., E. Tomitsuka, H. Esumi, S. Harada, and K. Kita. 2012. Mitochondrial fumarate reductase as a target of chemotherapy: from parasites to cancer cells. Biochimica et Biophysica Acta 1820: 643–651.

Sanchez-Moreno, M., J.M.P. Salas, P. Leon, M.A. Garcia-Ruiz, M. Lemaur, and M. Monteoliva. 1987. Malate dehydrogenase in helminth parasites. Inhibition by benzimidazoles and pyrimidine derivatives. Arzneimittel Forschung Drug Research 37: 1327–1331.

Saz, H.J. 1971. Facultative anaerobiosis in the invertebrates: pathways and control systems. American Zoologist 11: 125–133.

Seifter, S., S. Seymour, B. Novic, and E. Muntwyler. 1950. The determination of glycogen. Archives of Biochemistry 25: 191.

Singh, S.P., J.C. Katiyar, and V.M.L. Srivastava. 1992. Enzymes of the tricarboxylic acid cycle in Ancylostoma ceylanicum and Nippostrongylus brasiliensis. Journal of Parasitology 78: 24–29.

Smyth, J.D., and D.P. McManus. 1989. The physiology and biochemistry of cestodes. Cambridge: Cambridge University Press.

Su, Y., and K.B. Storey. 1992. Phosphofructokinase from white muscle of the rainbow trout, Oncorhynchus mykiss: purification and properties. Biochimica et Biophysa Acta 1160: 301–308.

Swargiary, A., B. Roy, B.R. Giri, and B. Ronghang. 2013. A comparative study on the anthelmintic efficacy of some medicinal plants of North-East India: alteration in the glycolytic enzymes of Fasciolopsis buski, a giant intestinal fluke. Asian Pacific Journal of Tropical Medicine 6: 412–420.

Tandon, V., and B. Das. 2007. In vitro testing of anthelmintic efficacacy of Flemingia vestita (Fabaceae) on carbohydrate metabolism in Rallietina echinobothrida. Methods 42: 330–338.

Tandon, V., B. Das, and N. Saha. 2003. Anthelmintic efficacy of Flemingia vestita (Fabaceae): effect of genistein on glycogen metabolism in the cestode, Raillietina echinobothrida. Parasitology International 52: 179–183.

Tandon, V., A.K. Yadav, B. Roy, and B. Das. 2011. Phytochemicals as cure of worm infections in traditional medicine systems. Emerging Trends in Zoology 2011: 351–378.

Veerakumari, L., and N. Chitra. 2015. Effect of Allium sativum on the carbohydrate metabolism of Haemonchus contortus. International Journal of Science and Research 5: 780–785.

Veerakumari, L., K. Lalhmingchhuanmawii, and R. Ashwini. 2014. Effect of Punica granatum ethanol extract on the carbohydrate metabolism of Cotylophoron cotylophorum. International Journal of Biological Sciences 4: 199–210.

Wang, E.J., and H.J. Saz. 1974. Comparative biochemical studies of Litomosoides carinii, Dipetalonema viteae, and Brugia pahangi adults. Journal of Parasitology 60: 316–321.

Wani, J.H., and V.M. Srivastava. 1994. Effect of cations and anthelmintics on enzymes of respiratory chains of the cestode Hymenolepis diminuta. Biochemistry and Molecular Biology International 34: 239–250.

Yasemin, O.Z.T.O.P., S.A.Y.G.I. Gulendame, and O.Z.T.O.P. Nursevin. 1997. In vitro effects of some anthelminthics on the malate dehydrogenase and lactate dehydrogenase enzyme activities of Taenia saginata. Turkey Journal of Medical Sciences 29: 365–370.
Acknowledgements
This study was supported from Project Grant by University Grants Commission (New Delhi) to Bishnupada Roy. The authors also acknowledge UGC for infrastructural facilities provided in the form of Department Special Assistance (DSA) phase III to the Department of Zoology, North-Eastern Hill University, Shillong.
Ethics declarations
Conflict of interest
The authors declare that they have no conflict of interest.
Additional information
Publisher's Note
Springer Nature remains neutral with regard to jurisdictional claims in published maps and institutional affiliations.
About this article
Cite this article
Dey, P., Roy, B. Effect of Lysimachia ramosa Wall. Ex Duby and Its n-Butanol Fraction on Glycogen Content and Some Energy Related Enzymes in the Cestode, Raillietina echinobothrida. Proc Zool Soc 73, 255–264 (2020). https://doi.org/10.1007/s12595-019-00307-4
Received:

Revised:

Accepted:

Published:

Issue Date:
Keywords
Lysimachia ramosa
n-Butanol fraction

Cestode

Enzymes activities