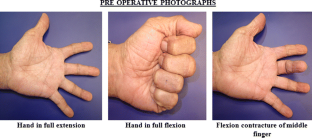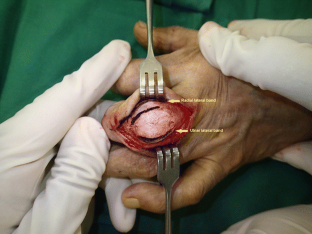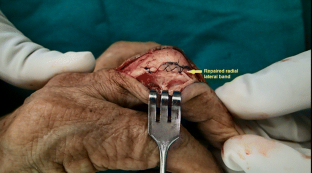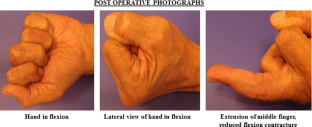 References
1.

Wolfe SW (1999) Tenosynovitis. In: Green DP, Hotchkiss RN, Pederson WC (eds) Green's operative hand surgery, 4th edn. Churchill Livingstone, New York, pp 2022–2044

2.

Parkamakisuzo F, Cansu E, Unal MB (2013) Trigger finger at the carpal tunnel level: three case reports. Acta Orthop Traumatol Turc 47(1):65–67

3.

Notta A (1850) Recherches sur une affection particuliere des gainestendineuses de la main. Arch Gen Med 24:142

4.

Ryzewicz M, Wolf JM (2006) Trigger digits: principles, management, and complications. J Hand Surg (Br) 31:135–146

5.

Lee SJ, Pho RW (2005) Report of an unusual case of trigger finger secondary to phalangeal exostosis. Hand Surg 10(1):135–138

6.

Chillag A, Greenberg S (2011) Images in clinical medicine. An unusual cause of trigger finger. N Engl J Med 365 (7)

7.

Sharma PR et al (2010) Bilateral trigger finger in a 7-year-old after a viral infection: case report. J Hand Surg [Am] 35(8):1334–1335

8.

Coons MS, Green SM (1995) Boutonniere deformity. Hand Clin 11(3):387–402
Acknowledgments
No acknowledgements are accorded for the production of this manuscript.
All authors contributed to the care of the patient, wrote and reviewed the final manuscript.
Declaration of Conflicting Interests
All named authors hereby declare that they have no conflicts of interest to disclose.
Funding Statement
No funds were used during the production of the manuscript.
Informed Consent
Informed consent has been obtained for the production of the manuscript.
Electronic supplementary material
Below is the link to the electronic supplementary material.
About this article
Cite this article
Lim, R., Sreedharan, S. Lateral Band Subluxation: An Unusual Case of Pseudotrigger. J Hand Microsurg 7, 208–211 (2015). https://doi.org/10.1007/s12593-014-0160-4
Received:

Accepted:

Published:

Issue Date:
Keywords
Flexor Tendon

Exostosis

Lateral Band

Proximal Interphalangeal Joint

Trigger Finger