Access options
Buy single article
Instant access to the full article PDF.
US$ 39.95
Tax calculation will be finalised during checkout.
Subscribe to journal
Immediate online access to all issues from 2019. Subscription will auto renew annually.
US$ 79
Tax calculation will be finalised during checkout.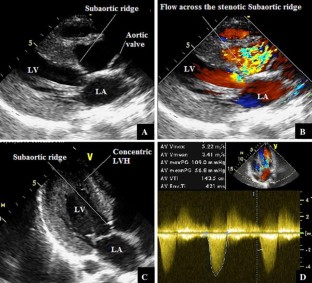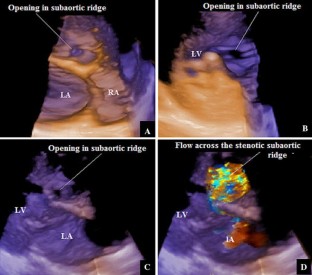 References
1.

Kelly DT, Wulfsberg E, Rowe RD. Discrete subaortic stenosis. Circulation. 1972;46:309–22.

2.

Katz NM, Buckley MJ, Liberthson RR. Discrete membranous subaortic stenosis. Report of 31 patients, review of the literature, and delineation of management. Circulation. 1977;56:1034–8.

3.

Darcin OT, Yagdi T, Atay Y, et al. Discrete subaortic stenosis: surgical outcomes and follow-up results. Tex Heart Inst J. 2003;30:286–92.

4.

Misra A, McCulloch M, Gangopadhyay S, et al. Images in cardiology: remarkable correlation of subaortic membrane visualization by three-dimensional echocardiography and at surgery. Clin Cardiol. 2005;28:356.
Conflict of interest
Rajiv Bharat Kharwar, Safal, Sudhanshu Dwivedi, Ram Kirti Saran, and Sharad Chandra declare that they have no conflict of interest.
Ethical standards
All procedures followed were in accordance with the ethical standards of the responsible committee on human experimentation (institutional and national) and with the Helsinki Declaration of 1975, as revised in 2000(5). Informed consent was obtained from all patients for being included in the study.
Electronic supplementary material
Below are the links to the electronic supplementary material.
Supplementary material 1 (AVI 2906 kb). Video 1. Two-dimensional transthoracic echocardiography with color Doppler. Apical long-axis orientation clearly showing the fibromuscular ridge in the left ventricular outflow tract region with color flow turbulence across the ridge. LA =  left atrium, LV = left ventricle
Supplementary material 2 (AVI 406 kb). Video 2. Three-dimensional transthoracic echocardiography. The parasternal long-axis orientation has been rotated so that the fibromuscular ridge can be seen from the aortic side. The central opening in the fibromuscular ridge can be clearly delineated. LA = left atrium, LV = left ventricle
Supplementary material 3 (AVI 314 kb). Video 3. Three-dimensional transthoracic echocardiography. The parasternal long-axis orientation has been rotated so as to see the fibromuscular ridge from the left ventricular side. The central opening in the fibromuscular ridge can be clearly delineated, as can the relationship between the ridge and the anterior mitral leaflet. LV = left ventricle
Supplementary material 4 (AVI 190 kb). Video 4. Three-dimensional transthoracic echocardiography with color Doppler. The parasternal long-axis orientation has been rotated so that the ridge can be seen from the aortic side. The turbulence across the central opening in the subaortic ridge is clearly visible
About this article
Cite this article
Kharwar, R.B., Safal, Dwivedi, S. et al. A case with discrete fibromuscular subaortic stenosis: evaluation by three-dimensional echocardiography. J Echocardiogr 12, 162–164 (2014). https://doi.org/10.1007/s12574-014-0228-y
Received:

Revised:

Accepted:

Published:

Issue Date:
Keywords
Hypertrophic Cardiomyopathy

Transthoracic Echocardiography

Membranous Type

Supplementary Video

Aortic Valve Regurgitation