Access options
Buy single article
Instant access to the full article PDF.
US$ 39.95
Tax calculation will be finalised during checkout.
Subscribe to journal
Immediate online access to all issues from 2019. Subscription will auto renew annually.
US$ 79
Tax calculation will be finalised during checkout.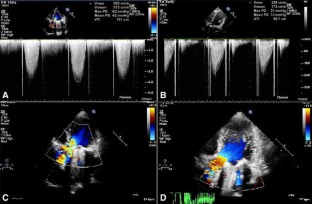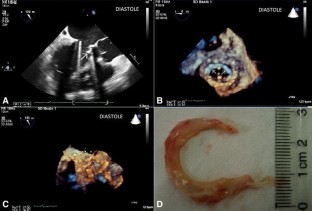 References
1.

Duran NE, Biteker M, Özkan M. Treatment alternatives in mechanical valve thrombosis. Arch Turk Soc Cardiol. 2008;36:420–5.

2.

Başkurt M, Turhan FN, Okçün B, et al. A normofunctioning caged-ball aortic valve prosthesis for 31 years. Anadolu Kardiyol Derg. 2009;9(3):255–6.

3.

Ozkan M, Gündüz S, Yildiz M, et al. Diagnosis of the prosthetic heart valve pannus formation with real-time three-dimensional transoesophageal echocardiography. Eur J Echocardiogr. 2010;11(4):E17. doi:10.1093/ejechocard/jep206.

4.

Chahal M, Pandya U, Adlakha S, et al. Live 3D TEE demonstrates and guides the management of prosthetic mitral valve obstruction. Echocardiography. 2011;28(7):E146–8. doi:10.1111/j.1540-8175.2011.01412.
Conflict of interest
All of the authors have no conflict of interest.
Electronic supplementary material
Below is the link to the electronic supplementary material.
Supplementary material 1 (AVI 304 kb) Video 1. Transthoracic echocardiography with color flow imaging showed flow acceleration through LVOT
Supplementary material 2 (AVI 603 kb) Video 2. Two-dimensional transesophageal echocardiography with transducer array at 120° revealed that the hyperechogenic mass on the ventricular side of the mechanical mitral valve caused LVOT obstruction
Supplementary material 3 (AVI 156 kb) Video 3. Real-time three-dimensional transesophageal echocardiographic visualization of the mechanical mitral valve (MMV) from left atrial view demonstrated eccentric pannus overgrowth anteriorly localized on the ventricular side of the MMV
Supplementary material 4 (AVI 111 kb) Video 4. Real-time three-dimensional transesophageal echocardiographic visualization of the mechanical mitral valve (MMV) from left ventricular view revealed pannus overgrowth as a secondary circular feature on the ventricular side of the MMV
Supplementary material 5 (AVI 573 kb) Video 5. Transthoracic echocardiography with color flow imaging showed normal LVOT flow pattern after pannus resection
About this article
Cite this article
Kalçık, M., Toprak, C., Gürsoy, M.O. et al. An unusual cause of left ventricular outflow tract obstruction: obstructive pannus on the left ventricular side of a mechanical mitral prosthesis. J Echocardiogr 12, 120–122 (2014). https://doi.org/10.1007/s12574-014-0218-0
Received:

Revised:

Accepted:

Published:

Issue Date:
Keywords
Mitral Valve Replacement

Left Ventricular Outflow Tract

Left Ventricular Outflow Tract Obstruction

Ventricular Outflow Tract Obstruction

Mechanical Prosthesis