This is a preview of subscription content, log in to check access.
Access options
Buy single article
Instant access to the full article PDF.
US$ 39.95
Tax calculation will be finalised during checkout.
Subscribe to journal
Immediate online access to all issues from 2019. Subscription will auto renew annually.
US$ 79
Tax calculation will be finalised during checkout.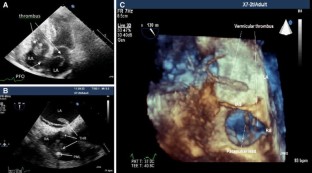 References
1.

Celik T, Kursaklioglu H, İyisoy A, et al. Huge atrial thrombus causing massive pulmonary and paradoxical embolism via patent foramen ovale. Tex Heart Inst J. 2005;32:612–3.

2.

Webb ST, Falter F. Use of transoesophageal echocardiography in impending paradoxical embolism due to thrombus straddling a patent foramen ovale. Eur J Anaesthesiol. 2007;24:383–5.

3.

Sibbing D, Overbeck M, Schmidt R, et al. Patent foramen ovale with a riding vermicular thrombus causing paradoxical and massive pulmonary embolism. Eur Heart J. 2006;27:2724.

4.

Erkut B, Kocak H, Becit N, et al. Massive pulmonary embolism complicated by a patent foramen ovale with straddling thrombus: report of a case. Surg Today. 2006;36:528–33.
Conflict of interest
All the authors contributed to the submitted work and preparation of the manuscript and read and approved the manuscript. Our article is not under consideration elsewhere and none of the contents of the manuscript has been published elsewhere. We declare no conflicts of interest with respect to the authorship and/or publication of this article. The authors received no financial support for the research and/or authorship of this article.
Electronic supplementary material
Below are the links to the electronic supplementary material.
Supplementary material 1 (AVI 1697 kb)
Supplementary material 2 (MPG 994 kb)
About this article
Cite this article
Astarcioglu, M.A., Ozkan, M., Gursoy, O. et al. Patent foramen ovale with a riding vermicular thrombus arising from a pacemaker lead. J Echocardiogr 11, 115–116 (2013). https://doi.org/10.1007/s12574-013-0174-0
Received:

Revised:

Accepted:

Published:

Issue Date:
Keywords
Pulmonary Embolism

Left Atrium

Permanent Pacemaker

Progressive Dyspnea

Atrial Thrombus