Abstract
This study investigates the potential for policymakers in resource-constrained developing countries in Sub-Saharan Africa to combine household and food price data to design spatially targeted food marketing interventions. The focus country is Nigeria. Specifically, the empirical analysis for Kebbi state includes an investigation of production and consumption patterns among farm households to determine the extent to which production and consumption behavior varies across regions. Market-specific price data for crops commonly grown and consumed by these households were then used to identify whether and how prices have varied across spatially disparate markets over time. The results show that there are substantial differences in production and consumption behavior across households within Kebbi state. Additionally, price behavior for rice and millet, varied greatly for one market that had substantial regional production of these crops and is located outside of a main trade corridor. Hence, marketing interventions can be targeted to the more isolated market where households may face more risk of food insecurity due to production shortfalls or trade disruptions. These results show that household and price data can be combined to target food marketing interventions where they are needed most. Additionally, the analysis approach is useful for determining if general or market-specific interventions are more justifiable based on commonalities or differences across markets.
Access options
Buy single article
Instant access to the full article PDF.
US$ 39.95
Tax calculation will be finalised during checkout.
Subscribe to journal
Immediate online access to all issues from 2019. Subscription will auto renew annually.
US$ 79
Tax calculation will be finalised during checkout.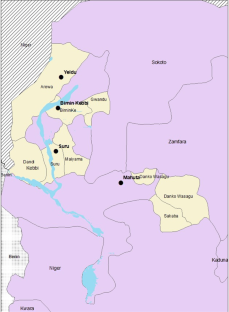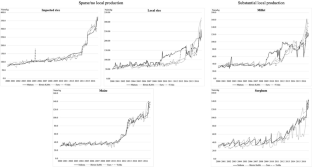 Data availability
The data that support the findings of this study are available from the corresponding author upon request.
References
Abbott, P. C. (2012). Export restrictions as stabilization responses to food crisis. American Journal of Agricultural Economics, 94(2), 428–434.

Andrews, D. W. K. (1993). Tests for parameter instability and structural change with unknown change point. Econometrica, 61(4), 821–856.

Arndt, C., Chuku, C., Adeniran, A., Adetutu, M., Ajayi, V., Mavrotas, G., & Onyekwena, C. (2018). Nigeria's macroeconomic crisis explained. IFPRI Nigeria strategy support program working paper 52, Washington, DC.

Ayenew, H. Y., Biadgilign, S., Schickramm, L., Abate-Kassa, G., & Sauer, J. (2018). Production diversification, dietary diversity and consumption seasonality: Panel data evidence from Nigeria. BMC Public Health, 18(1), 988.

Benson, T., Minot, N., Pender, J., Robles, M., & von Braun, J. (2008). Global food crises: Monitoring and assessing impact to inform policy responses. IFPRI issue brief 55, Washington, DC.

Brown, M. E., & Kshirsagar, V. (2015). Weather and international price shocks on food prices in the developing world. Global Environmental Change, 35, 31–40.

Chaaban, J., Ghattas, H., Irani, A., & Thomas, A. (2018). Targeting mechanisms for cash transfers using regional aggregates. Food Security, 10, 457–472.

Delgado, C. L. (1986). A variance components approach to food grain market integration in northern Nigeria. American Journal of Agricultural Economics, 68(4), 970–979.

Dillon, A., McGee, K., & Oseni, G. (2015). Agricultural production, dietary diversity and climate variability. The Journal of Development Studies, 51(8), 976–995.

Ecker, O. (2018). Agricultural transformation and food and nutrition security in Ghana: Does farm production diversity (still) matter for household dietary diversity? Food Policy, 79, 271–282.

Federal Ministry of Agriculture & Rural Development (FMARD). The Green Alternative: The Agriculture Promotion Policy 2016-2020 (Policy and strategy document). Abuja, Nigeria.

Food and Agriculture Policy Decision Analysis (FAPDA). (2020). FAPDA policy database. Retrieved from http://www.fao.org/in-action/fapda/fapda-policy-database/en/.

Hatzenbuehler, P. L., Abbott, P. C., & Abdoulaye, T. (2017a). Evaluation of Nigerian agricultural production data. African Journal of Agricultural and Resource Economics, 12(2), 125–141.

Hatzenbuehler, P. L., Abbott, P. C., & Abdoulaye, T. (2017b). Price transmission in Nigerian food security crop markets. Journal of Agricultural Economics, 68(1), 143–163.

Himelein, K. (2012). Living standards measurement study – Integrated surveys on agriculture. Kigali: FAO meeting presentation.

Hays, H. M., & McCoy, J. H. (1978). Food grain marketing in northern Nigeria: Spatial and temporal performance. The Journal of Development Studies, 14(2), 182–192.

Jerven, M. (2013). Poor numbers: How we are misled by African development statistics and what to do about it. Ithaca: Cornell University Press.

Johnson, M. E., & Dorosh, P. (2017). Tariffs, smuggling, and economic welfare: A spatial analysis of Nigerian rice policy options. Journal of African Economies, 26(4), 516–538.

Jones, W. O. (1968). The structure of staple food marketing in Nigeria as revealed by price analysis. Food Research Institute Studies, 8(2), 1–30.

Kaminski, J., Christiaensen, & Gilbert, C. L. (2016). Seasonality in local food markets and consumption: Evidence from Tanzania. Oxford Economic Papers, 68(3), 736–757.

Lançon, F., David-Benz, H., Meuriot, V., & Temple, L. (2011). Soaring world cereal prices: A boon for African farmers? Working paper no. 9, CIRAD. Paris.

Larson, D. F., Lampietti, J., Gouel, C., Cafiero, C., & Roberts, J. (2014). Food security and storage in the Middle East and North Africa. The World Bank Economic Review, 28(1), 48–73.

Liu, L., & Basso, B. (2020). Linking field survey with crop modeling to forecast maize yield in smallholder farmers' fields in Tanzania. Food Security, 12, 537–548.

Mavrotas, G., Mogues, T., Motunrayo, O., Smart, J., & Xiong, Z. (2018). Agricultural public expenditures, sector performance, and welfare in Nigeria: A state-level analysis. IFPRI Nigeria strategy support program working paper 60, Washington, DC.

McMillan, M. (2016). Understanding African poverty over the longue Durée: A review of Africa's Development in Historical Perspective. Journal of Economic Literature, 54(3), 893–905.

Mogues, T., Morris, M. L., Freinkman, L., Adubi, A., Ehui, S., Nwoko, C., Taiwo, O., Nege, C., Okonji, P., & Chete, L. (2008). Agricultural public spending in Nigeria. IFPRI discussion paper 00789, Washington, DC.

Minot, N. (2011). Transmission of world food price changes to markets in sub-Saharan Africa. IFPRI discussion paper no. 01059, Washington, DC.

National Bureau of Statistics (NBS). (2017). Kebbi state grain prices for select markets, January 2000 to December 2016. National Bureau of Statistics. Abuja, Nigeria. Dataset acquired via personal correspondence in May 2017.

Perron, P., & Vogelsange, T. J. (1992). Nonstationarity and level shifts with an application to purchasing power parity. Journal of Business & Economic Statistics, 10(3), 301–320.

Svanidze, M., Götz, L., Djuric, I., & Glauben, T. (2019). Food security and the functioning of wheat markets in Eurasia: A comparative price transmission analysis for the countries of Central Asia and the South Caucasus. Food Security, 11, 733–752.

Tesfaye, K., Sonder, K., Cairns, J., Magorokosho, C., Tarekegn, A., Kassie, G. T., Getaneh, F., Abdoulaye, T., Abate, T., & Erenstein, O. (2016). Targeting drought-tolerant maize varieties in southern Africa: A geospatial crop modeling approach using big data. International Food and Agribusiness Management Review, 19A, 75–92.

World Bank and NBS. (2020). Living Standards Measurement Study – Integrated Surveys on Agriculture, Nigeria. Dataset. Retrieved from https://microdata.worldbank.org/index.php/catalog/lsms.

World Food Program (WFP). (2020). Food Price Forecasting and Alert for Price Spikes. Retrieved from https://dataviz.vam.wfp.org/economic_explorer/price-forecasts-alerts.
Acknowledgments
We are grateful to the National Bureau of Statistics in Abuja, Nigeria for provision of the utilized price data. We also appreciate contributions by local collaborators at Kebbi State University of Science and Technology Aliero, including Mohammed Abubakar Maikasuwa and Abdulrahaman Aliyu, and participants in the research seminar there in July 2018. The usual disclaimer applies.
Funding
Research funding for data gathering, empirical analysis, and travel for dissemination activities was provided by the United States Agency for International Development under the Feed the Future Nigeria Agricultural Policy Project, grant number: 602115.002.001. Institutional support in final paper preparation was provided by the International Food Policy Research Institute and University of Idaho Extension.
Ethics declarations
Conflict of interest
The authors declare no conflict of interest.
Ethics approval
Not applicable.
Code availability
The code used to obtain the findings of this study is available from the corresponding author upon request.
About this article
Cite this article
Hatzenbuehler, P.L., Mavrotas, G. Combining household and price data to target food marketing interventions in Nigeria. Food Sec. (2021). https://doi.org/10.1007/s12571-020-01127-7
Received:

Accepted:

Published:
Keywords
Household data

Price time series

Structural break

Agricultural policy

Nigeria
JEL codes