Abstract
Development practitioners and policymakers often posit that promoting cash crop expansion to generate rural employment has the potential to alleviate poverty and improve food security. Focusing upon the recent expansion of oil palm production in the northern lowlands of Guatemala, we critically evaluate this claim. To do so, we draw upon survey data collected in two neighbouring villages – one where oil palm is the main land use, another where maize and secondary forest are prevalent – to investigate how the expanding cultivation of the cash crop shapes local food access and rural livelihoods. We find that oil palm has improved food access for some households with oil palm employment. However, number of beneficiaries is relatively small and the practice does not lift them from the ranks of the food insecure. For most households in the village where oil palm is prevalent, the ability to access food has decreased, as the expansion of oil palm has displaced staple grain production and eliminated relatively more inclusive forms of agricultural employment. In contrast, households from the village where staple maize production remains predominant are notably more food secure. We conclude that, in the absence of deep changes that address the underlying causes of widespread vulnerability in Guatemala's northern lowlands, the self-provisioning of maize and other staples will continue to serve as a cornerstone of food security, while the promotion of cash crops like oil palm will exacerbate inequalities in households' ability to access food.
This is a preview of subscription content, log in to check access.
Access options
Buy single article
Instant access to the full article PDF.
US$ 39.95
Price includes VAT for USA
Subscribe to journal
Immediate online access to all issues from 2019. Subscription will auto renew annually.
US$ 99
This is the net price. Taxes to be calculated in checkout.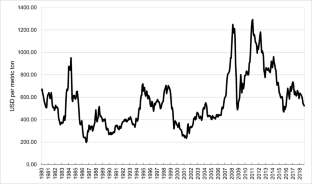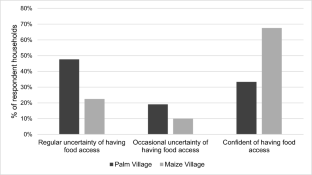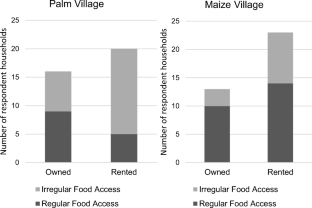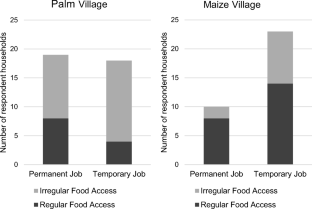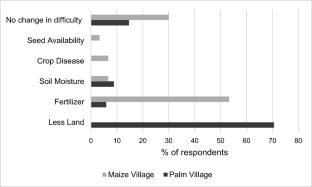 Notes
1.

In terms of actual oil palm fruit production, Guatemala ranks as the fourth largest producer in Latin America (FAO 2019).

2.

Forests continue to be the primary source of firewood for cooking in the region. For some households, forests are also a source of edible and/or medicinal herbs, fruits, mushrooms, and game meat (Hervas 2019b).

3.

As oil palm fruit is harvested every 15 days, it does provide a regular source of income for farm/plantation owners. However, as we discuss below, this is not the case for farm employees in our study, the majority of whom work on short contracts with no guarantee of continued employment.

4.

Two palm growers stated that the price that they received was pegged to the price of petroleum. We are not certain whether some farmers in our study are compensated differently or if they were mistaken about how the price that they receive for their palm fruit is determined.

5.

Personal communication with Alberto Alonso-Fradejas (September 2018).

6.

While the components have remained virtually the same over time, the name of the conditional cash transfer program has changed with each successive presidential administration. When launched by the administration of Álvaro Colom in 2008, it was dubbed Mi Familia Progresa. The administration of Otto Pérez Molina changed the name to Mi Bono Seguro and that of his successor, Jimmy Morales, changed it to Bono Social.

7.

All of the research team members received prior ethics training (including but not limited to free and informed consent and withdrawal, anonymity, protection of data, and sensitivity to the respondents), and both male and female research assistants and translators participated in the in-person survey distribution to foster inclusivity and receptiveness. In some instances, other household members were also present during the survey and contributed to responses.

8.

When urban areas are considered, maize is the source of 65% of the carbohydrates and 71% of the protein in Guatemalan diets.

9.

Males typically begin to work at age 10 in this region.

10.

A caporal typically manages the work process and is in charge of worker recruitment on the plantation.

11.

In one of the cases, the worker had a good relationship with the plantation owner who provided regular employment. In the second case the household had three work age males with oil palm employment with the assumption that at least one will have work at a given time.

12.

Excludes farmers who grow maize in other communities. Some farmers rent land, often at high prices, in other communities in the ecoregion because they have richer soils.

13.

The market price can fluctuate seasonally by approximately 20%.

14.

Many elements affect land prices in the study region including land tenure status, ecological attributes, and circumstantial factors (e.g. if the seller is desperate for a quick sale and/or is taken advantage of by the buyer). However, our research indicates a steep upward trend in land prices, with a couple of land owners even strategically holding uncultivated land with the expectation of eventually selling to an oil palm grower at a higher price.

15.

When wage labourers are also subsistence farmers, the net benefits are ambiguous.

16.

Oil palm plantations also offer sporadic or occasional employment opportunities, usually lasting one to several days, for specific tasks such as preparing seedlings in the plant nursery or collecting seeds that have fallen on the ground during harvest. These occasional jobs are often taken by women, who sometimes bring their children or other family members to help if they get paid per task rather than per day. There is typically no guarantee for re-hiring for such jobs.

17.

Some local oil palm labourers also complained of getting reprimanded for not finishing an arbitrarily assigned task/quota, being 'too slow' according to their team leader, and taking breaks. Some were also required to work overtime, and in some cases, not paid for the extra hours.

18.

Some households also indicated that they must also now pay for firewood and for forest herbs that were available for free a before local forests were cut down.
References
Agarwal, B. (2000). Conceptualising environmental collective action: Why gender matters. Cambridge Journal of Economics, 24, 283–310.

Alonso-Fradejas, A. (2012). Land control-grabbing in Guatemala: The political economy of contemporary agrarian change. Canadian Journal of Development Studies, 33(4), 509–528.

Alonso-Fradejas, A. (2018). The rise of agro-extractive capitalism: Insights from Guatemala in the early 21st century. Ph.D. Dissertation, International Institute of Social Studies, Erasmus University.

Anderman, T. L., Remans, R., Wood, S. A., DeRosa, K., & DeFries, R. S. (2014). Synergies and tradeoffs between cash crop production and food security: A case study in rural Ghana. Food Security, 6, 541–554.

Annis, S. (1987). God and production in a Guatemalan town. Austin: University of Texas Press.

Baiphethi, M. N., & Jacobs, P. T. (2009). The contribution of subsistence farming to food security in South Africa. Agrekon, 48(4), 459–482.

Banco de Guatemala. (2019). Guatemala Food Inflation. tradingeconomics.com/guatemala/good-inflation. Accessed 15 Aug 2019.

Berry, R. A., & Cline, W. R. (1979). Agrarian structure and productivity in developing countries: A study prepared for the international labour office within the framework of the world employment programme. Baltimore: Johns Hopkins University Press.

Bingen, J., Serrano, A., & Howard, J. (2003). Linking farmers to markets: Different approaches to human capital development. Food Policy, 28(4), 405–419.

Bowles, S. (1998). Endogenous preferences: The cultural consequences of markets and other economic institutions. Journal of Economic Literature, 36, 75–111.

Carletto, C., Kilic, T., & Kirk, A. (2011). Nontraditional crop, traditional constraints: Long-term welfare impacts of export crop adoption among Guatemalan smallholders. Agricultural Economics, 42(supplement), 61–76.

Carletto, C., Corral, P., & Guelfi, A. (2017). Agricultural commercialization and nutrition revisited: Empirical evidence from three African countries. Food Policy, 67, 106–118.

Castellanos-Navarrette, A., Tobar-Tomás, W. V., & López-Monzón, C. E. (2018). Development without change: Oil palm labour regimes, development narratives, and disputed moral economies in Mesoamerica. Journal of Rural Studies.

Clapp, J. (2017). Food self-sufficiency: Making sense of it, and when it makes sense. Food Policy, 66, 89–96.

Conroy, M. E., Murray, D. L., & Rosset, P. M. (1996). A cautionary tale: Failed U.S. development policy in Central America. Boulder: Lynn Rienner Pub.

De Janvry, A., & Sadoulet, E. (2010). The global food crisis and Guatemala: What crisis and for whom? World Development, 38(9), 1328–1339.

De Janvry, A., & Sadoulet, E. (2011). Subsistence farming as a safety net for food-price schocks. Development in Practice, 21(4–5), 472–480.

Dürr, J. (2016). Sugar-cane and oil palm expansion in Guatemala and its consequences for the regional economy. Journal of Agrarian Change, 17(3), 557–570.

Dürr, J. (2017). Global value chains and traditional supply chains: Evidence from Guatemala. Development Policy Review, 36(S2), 605–1018.

El Observador. (2013). Palma Africana enraizándose en las tierras de Ixcán. Enfoque, Año 5, No. 30, pp. 1–24. Guatemala City: El Observador.

Escoto, J. R., & Marroquín, M. (1992). La AID en Guatemala: poder y sector empresarial. Guatemala: CRIES/AVANCSO.

Fafchamps, M. (1992). Cash crop production, food price volatility, and rural market integration in the third world. American Journal of Agricultural Economics, 74, 90–99.

Fan, S., & Brzeska, J. (2016). Sustainable food security and nutrition: Demystifying conventional beliefs. Global Food Security, 11, 11–16.

FAO. (2004). The market for non-traditional agricultural exports. FAO Commodities and Trade Technical Paper No. 3. Rome: Food and Agricultural Organization for the United Nations.

FAO. (2011). The state of food and agriculture. Women in agriculture. Closing the gender gap for development. Rome: Food and Agricultural Organization for the United Nations.

FAO. (2019). FAOSTAT. Countries by commodity. http://www.fao.org/faostat/en/#rankings/countries_by_commodity. Accessed on 26 Sept 2019.

Fuentes López, M. R., Van Etten, J., Ortega Aparicio, Á., & Vivero Pol, J. L. (2005). Maíz para Guatemala: propuesta para la reactivación de la cadena agroalimentaria del maíz blanco y amarillo. Guatemala: Organización de las Naciones Unidas para la Agricultura y Alimentación, Representación en Guatemala.

Gammage, S. (2010). Time pressed and time poor: Unpaid household work in Guatemala. Feminist Economics, 16(3), 79–112.

Granovsky-Larsen, S. (2013). Between the bullet and the bank: Agrarian conflict and access to land in neoliberal Guatemala. Journal of Peasant Studies, 40(2), 325–350.

Gudmundson, L., & Lindo-Fuentes, H. (1995). Central America, 1821–1871: Liberalism before liberal reform. Tuscaloosa: University of Alabama Press.

Guereña, A., & Zepeda, R. (2013). The power of oil palm: Land grabbing and impacts associated with the expansion of oil palm crops in Guatemala: The case of the Palmas del Ixcán company. Oxfam America.

Gutierrez, J. P. (2011). Evaluacion externa de impacto del programa de transferencias monetarias condicionadas: Mi Familia Progresa. Washington, DC: Banco Interamericano de Desarrollo.

Hamilton, S., & Fischer, E. F. (2003). Non traditional agricultural exports in highland Guatemala: Understandings of risk and perceptions of change. Latin American Research Review, 38(3), 82–110.

Handy, J. (1984). Gift of the devil: A history of Guatemala. Toronto: Between the Lines.

Herring, R. J. (1983). Land to the tiller: The political economy of agrarian reform in South Asia. New Haven: Yale University Press.

Hervas, A. (2019a). Land, development and contract farming on the Guatemalan oil palm frontier. The Journal of Peasant Studies, 46(1), 115–141.

Hervas, A. (2019b). The socio-ecological ramifications of boom crops: Examining the impacts of oil palm expansion upon food system vulnerability in northern Guatemala. Doctoral Thesis. Department of Geography & Planning, University of Toronto.

Hervas, A. (2020). Cultivating vulnerability: oil palm expansion and the socio-ecological food system in the Lachuá Ecoregion, Guatemala. Regional Environmental Change 20: 45

Hurtado, L., & Sanchez, G. V. (2012). Precarización del trabajo agrícola en plantaciones de palma africana en Sayaxché, Petén, Guatemala. In J. C. Celis Ospina (Ed.), La Subcontratación laboral en América Latina: Miradas Multidimensionales. Escuela Nacional Sindical: Colombia.

Immink, M. D. C., & Alarcón, J. A. (1991). Household food security, nutrition and crop diversification among smallholder farmers in the highlands of Guatemala. Ecology of Food and Nutrition, 25(4).

INE. (2006). Encuesta nacional de condiciones de vida, (ENCOVI 2006). Guatemala: República de Guatemala.

INE. (2014). Caracterización república de Guatemala. Gobierno de Guatemala. Guatemala: Instituto Nacional de Estadística.

INE. (2017). (data from Instituto Nacional de Estadistica). Índice de precios al consumidor. https://www.ine.gob.gt/index.php/estadisticas-continuas/indice-de-precio-al-consumidos.

Isakson, S. R. (2009). No hay ganancia en la milpa: The agrarian question, food sovereignty, and the on-farm conservation of agrobiodiversity in the Guatemalan highlands. The Journal of Peasant Studies, 36(4), 725–759.

Isakson, S. R. (2011). Market provisioning and the conservation of crop biodiversity: An analysis of peasant livelihoods and maize diversity in the Guatemalan highlands. World Development, 39(8), 1444–1459.

Isakson, S. R. (2014). Maize diversity and the political economy of agrarian restructuring in Guatemala. Journal of Agrarian Change, 14(3), 347–379.

Kamoyo, M., Muranda, Z., & Chikuya, T. (2015). Agricultural export crop participation, contract farming and rural livelihood in Zimbabwe: The case of cotton farming in Rushinga district. IOSR Journal of Economics and Finance, 6(6), 110–120.

Kay, C. (2002). Chile's neoliberal agrarian transformation and the peasantry. Journal of Agrarian Change, 2(4), 464–501.

Komarek, A. M. (2010). Crop diversification decisions: The case of vanilla in Uganda. Quarterly Journal of International Agriculture, 49(3), 227–242.

Li, T. M. (2011). Centering labor in the land grab debate. Journal of Peasant Studies, 38(2), 281–298.

Lipton, M. (1968). The theory of the optimizing peasant. Journal of Development Studies, 4(3), 327–351.

McCarthy, J. (2010). Processes of inclusion and adverse incorporation: Oil palm and agrarian change in Sumatra, Indonesia. The Journal of Peasant Studies, 37(4), 821–850.

McCreery, D. (1994). Rural Guatemala, 1760–1940. Stanford: Stanford University Press.

Méthot, J., & Bennett, E. M. (2018). Reconsidering non-traditional export agriculture and household food security: A case study in rural Guatemala. PLoS One, 13(5).

Mingorría, S., Gamboa, G., Martín-López, B., & Corbera, E. (2014). The oil palm boom: Socio-economic implications for Q'eqchi' households in the Polochic valley, Guatemala. Environment, Development and Sustainability, 16(4), 841–871.

Morris, K. S., Mendez, V. E., & Olson, M. B. (2013). 'Los meses flacos': Seasonal food insecurity in a Salvadoran organic coffee cooperative. The Journal of Peasant Studies, 40(2), 423–446.

Negash, M., & Swinnen, J. F. M. (2013). Biofuels and food security: Micro-evidence from Ethiopia. Energy Policy, 61, 963–976.

Obidzinski, K., Andriani, R., Komarudin, H., & Andrianto, A. (2012). Environmental and social impacts of oil palm plantations and their implications for biofuel production in Indonesia. Ecology and Society, 17(1), 1–25.

Ofosu-Budu, K., & Sarpong, D. (2013). Oil palm industry growth in Africa: A value chain and smallholders study for Ghana. In A. Elbehri (Ed.), Rebuilding West Africa's Food Potential. FAO/IFAD.

PESAN. (2009). Plan Estratégico de Seguridad Alimentaria y Nutricional 2009–2012. Guatemala: Secretaría de Seguridad Alimentaria y Nutricional.

Polanyi, K. (1958). The economy as an instituted process. In K. Polanyi, C. Arensberg, & H. W. Pearson (Eds.), Trade and Markets in Early Empires. New York: The Free Press Corporation.

ProRural. (2009). Resumen operativo de ProRural. Gobierno de Guatemala.

Rist, L., Feintrenie, L., & Levang, P. (2010). The livelihood impacts of oil palm: Smallholders in Indonesia. Biodivesity Conservation, 19, 1009–1024.

Roumasset, J. A. (1976). Rice and risk: Decision making among low-income farmers. Amsterdam: North Holland Publ. Comp.

Sandberg, J., & Tally, E. (2015). Politicisation of conditional cash transfers: The case of Guatemala. Development Policy Review, 33(4), 503–522.

Scott, J. C. (1976). The moral economy of the peasant: Rebellion and subsistence in South East Asia. New Haven: Yale University Press.

Seavoy, R. E. (2000). Subsistence and economic development. Westport: Praeger.

Sen, A. (1981). Poverty and famines: An essay on entitlement and deprivation. Oxford: Oxford University Press.

Solis, F., Solano, L., Fonseca, M., & Illescas, G. (2013). Palma africana endaizándose en las tierras de Ixcán. Enfoque, 8(30).

Soper, R. (2015). Globalization and the agrarian question: Divergent development of two export-oriented farming communities. States and Citizens: Accommodation, Facilitation and Resistance to Globalization (pp. 235–260). Emerald Group Publishing Limited.

Steinberg, M. K., & Taylor, M. (2002). The impact of political turmoil on maize culture and diversity in highland Guatemala. Mountain Research and Development, 22(4), 344–351.

Tankari, M. R. (2017). Cash crops reduce the welfare of farm households in Senegal. Food Security, 9(5), 1105–1115.

Taylor, M. J. (2007). Militarism and the environment in Guatemala. GeoJournal, 69, 181–198.

Thrupp, L. A., Bergerong, G., & Waters, W. E. (1995). Bittersweet harvests for global supermarkets: Challenges in Latin America's agricultural export boom. Washington: World Resources Inst.

USAID. (2018). USAID/Guatemala country fact sheet. www.usaid.gov/guatemala.

USDA. (2019). International production assessment division. United States Department of Agriculture.

Walsh-Dilley, M. (2013). Negotiating hybridity in highland Bolivia: Indigenous moral economy and the expanding market for quinoa. Journal of Peasant Studies, 40(4), 659–682.

WFP. (2017). World Food Programme of the United Nations. http://www1.wfp.org/countries/guatemala.

Wichern, J., van Wijk, M. T., Descheemaeker, K., Frelat, R., van Asten, P. J. A., & Giller, K. E. (2017). Food availability and livelihood strategies among rural households across Uganda. Food Security, 9(6), 1385–1403.

World Bank. (2007). World development report 2008: Agriculture for development. Washington: The World Bank.

World Bank. (2011). The World Bank group framework and IFC strategy for engagement in the oil palm sector. Washington: World Bank.

World Bank Data. (2018). GEM commodities data. World Bank Group.

Ybarra, M. (2010). Living on Scorched Earth: the political ecology of land ownership in Guatemala's northern lowlands. Doctoral Thesis, University of California, Berkeley.

Ybarra, M. (2017). Green wars: Conservation and decolonization in the Maya forest. Oakland: University of California Press.
Acknowledgments
This research was supported by a Canada-Latin America and the Caribbean Research Exchange Grant (LACREG) from the International Development Research Council (IDRC) and Universities Canada. We would like to thank Carlos Avendaño, Oscar Rojas, Tania Montenegro, and Julio Morales for their invaluable assistance on this project. Though they must remain unnamed, we would also like to thank the leaders of the participant communities and all other research participants for welcoming us into their communities and sharing their time, insights, and homes with us. We are grateful for the instructive feedback provided by two anonymous reviewers and the editor-in-chief of Food Security, Serge Savary. Their careful reviews of our manuscript and constructive comments helped us to significantly improve the quality of this paper. Any remaining errors remain our own.
Ethics declarations
This research was approved by the University of Toronto's Office of Research Ethics (protocol #31034). All procedures performed in studies involving human participants were in accordance with the ethical standards of the institutional and/or national research committee and with the 1964 Helsinki declaration and its later amendments or comparable ethical standards.
Informed consent was obtained from all individual participants included in the study.
Conflict of interest
The authors declare that they had no conflict of interest.
Appendix
Appendix
About this article
Cite this article
Hervas, A., Isakson, S.R. Commercial agriculture for food security? The case of oil palm development in northern Guatemala. Food Sec. 12, 517–535 (2020). https://doi.org/10.1007/s12571-020-01026-x
Received:

Accepted:

Published:

Issue Date:
Keywords
Food access

Oil palm

Guatemala

Maize

Contract farming

Commercial agriculture