Abstract
The level of diversity in household diets is an indirect measure of diet quality and the extent to which nutritional needs of households are being met. There is also a positive relationship between dietary diversity and the three pillars of food security, viz., availability, access and utilization. In the light of these statements, the paper reports on the patterns of food consumption and dietary diversity in 12 selected villages of eastern India with a view to understanding the heterogeneity in food habits, quality of diet intake and the socio-economic and demographic determinants of the dietary diversity in the region. There was significant disparity across the villages in terms of budgetary shares and intake levels of different food items. The level of heterogeneity in food intake was also reflected in the estimates of dietary diversity across villages. Multiple regression analysis on the determinants of dietary diversity showed that larger households with better-educated male heads and higher purchasing power fared well on dietary diversity scores. Access to the Public Distribution System (PDS) also contributed to enhancement of dietary diversity through an indirect route, as PDS beneficiaries are better able to afford diverse food items. In contrast, low social status in the form of affiliation to scheduled castes/scheduled tribes (SC/ST) diminished diversity scores. From a policy perspective, it is therefore important to focus interventions on improving dietary diversity and nutrition security with proper understanding of the socio-economic setting of the target area and its population.
Access options
Buy single article
Instant access to the full article PDF.
US$ 39.95
Tax calculation will be finalised during checkout.
Subscribe to journal
Immediate online access to all issues from 2019. Subscription will auto renew annually.
US$ 79
Tax calculation will be finalised during checkout.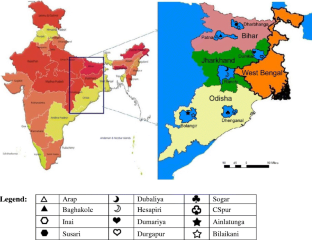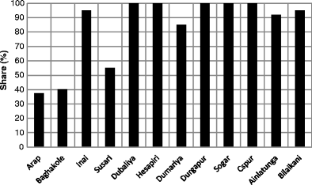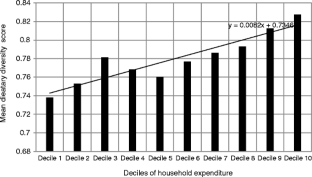 Notes
1.

The state of Chhattisgarh is an exception, where the recent attempts to revitalize the PDS has brought about inspiring results. The state embraced a near universal PDS in the year 2005 and is highly successful in providing subsidized food grains with negligible levels of unauthorized leakages.

2.

The VLS are longitudinal surveys initiated by ICRISAT in 1975 in 10 semi-arid tropical Indian villages. The surveys continued for the next 10 years, before formally closing in 1985 in response to budgetary pressure. The surveys were re-opened in 2002 in the initial six villages, starting with low frequency rounds and with higher frequency interviews since 2005–06. Subsequently in 2010, the programme was redesigned under the title, 'Village Dynamics in South Asia (VDSA), extending the activities to Eastern India and Bangladesh. This initiative was funded by the Bill and Melinda Gates Foundation (BMGF) and implemented in India in collaboration with Indian Council of Agricultural Research (ICAR), State Agricultural Universities (SAUs) and other local organizations. The VLS data however cannot be treated as representative data for districts, states or the agro-climatic region within which the villages are located due to the relatively small sample coverage.

3.

A recall period of 30 days is generally considered too long, particularly for studies related to dietary diversity. However, under VLS programme, the sample households are sensitized to keep a record of their day-today consumption on a regular basis with help of their female members. Unless migrated, these households remain in the VLS records as regular data suppliers as long as the programme continues in the region. The resident nature of investigators also helps in checking discrepancies in the data, so minimizing sampling bias.

4.

The all-India average monthly consumption of various food items in rural areas as per the 66th round (2009–10) of National Sample Surveydata are; Cereals: 11.35 kg/capita; pulses: 0.65 kg/capita; oils: 0.65 kg/capita; vegetables: 4.04 kg/capita; fresh fruits: 0.91 kg/capita; milk: 4.12 kg/capita and meat, fish and egg: 0.59 kg/capita.

5.

People belonging to upper-castes, particularly Brahmins are known to eat heavily in relation to others, irrespective of their economic status.

6.

Cereals (mainly rice and wheat) constitute the major share of PDS supplies in India.

7.

The Scheduled Castes (SCs) and Scheduled Tribes (STs) are official designations given to various groups of historically disadvantaged people in India.
References
Bernal, R. J., & Lorenzana, A. P. (2003). Dietary diversity and associated factors among beneficiaries of 77 child care centers: central regional. Venezuela, 53, 52–81.

Doan, D. (2014). Does income improve diet diversity in China? Paper presented at 58th Annual Conference of the Australian Agricultural and Resource Economics Society, Port Macquarie, New South Wales, 4–7 Feb 2014.

Drescher, L. S., Thiele, S., Roosen, J., & Mensink, G. B. (2009). Consumer demand for healthy eating considering diversity – an economic approach for German individuals. International Journal of Consumer Studies, 33, 684–696.

Gronau, R., & Hamermesh, D. (2008). The demand for variety: a household production perspective. Review of Economics and Statistics, 90(3), 562–572.

Gulati, A., Kumar, G., Shreedhar, A., Ganga, & Nandakumar, T. (2012). Agriculture and malnutrition in India. Food and Nutrition Bulletin, 33(1), 74–86.

Headey, D., & Ecker, O. (2013). Rethinking the measurement of food security: from first principles to best practice. Food Security, 5(3), 327–343.

Herforth, A. (2010). Promotion of traditional African vegetables in Kenya and Tanzania: a case study of an intervention representing emerging imperatives in global nutrition. Ithaca:Cornell University.

Hillbrunner, C., & Egan, R. (2008). Seasonality, household food security and nutritional status in Dinajpur, Bangladesh. Food and Nutrition Bulletin, 29(3), 221–231.

Hoddinott, J., & Yohannes, Y. (2002). Dietary diversity as a food security indicator. Washington, D.C.:Food and Nutrition Technical Assistance, Academy for Educational Development.

IIPS and Macro International (2007). National Family Health Survey (NFHS-3), 2005–06: India, Volume I. Mumbai:International Institute for Population Sciences.

Jones, A. D., Shrinivas, A., & Bezner-Kerr, R. (2014). Farm production diversity is associated with greater household dietary diversity in Malawi: findings from nationally representative data. Food Policy, 46(2014), 1–12.

Kant, A. K. (2004). Dietary patterns and health outcomes. Journal of American Dietetic Association, 104, 615–635.

Keding, G. B., Schneider, K., & Jordan, I. (2013). Production and processing of foods as core aspects of nutrition-sensitive agriculture and sustainable diets. Food Security, 5(6), 825–845.

Khera, R. (2011a). Trends in diversion of grain from the public distribution system. Economic and Political Weekly, 46(21), 106–114.

Khera, R. (2011b). India's public distribution system: utilization and impact. Journal of Development Studies, 47(7), 1038–1060.

Liu, J., Shively, G. E., & Binkley, J. K. (2014). Access to variety contributes to dietary diversity in China. Food Policy, 49(2014), 323–331.

MSSRF (2008). Report on the state of food security in rural India. Chennai:MS Swaminathan Research Foundation.

Oyarzun, P. J., Borja, R. M., Sherwood, S., & Parra, V. (2013). Making sense of agro-biodiversity, diet, and intensification of smallholder family farming in the highland Andes of Ecuador. Ecology of Food and Nutrition, 52(6), 515–541.

Rose, D., Meershoek, S., Ismael, C., & Mc Ewan, M. (2002). Evaluation of a rapid field toolfor assessing household diet quality in Mozambique. Food and Nutrition Bulletin, 23, 181–189.

Ruel, M. (2002). Is dietary diversity an indicator of food security or dietary quality? A review of measurement and research needs. FCND Discussion Paper No. 140. Washington D.C.: International Food Policy Research Institute.

Styen, N. P., Nel, J. H., Nantel, G., Kennedy, G., & Labadarios, D. (2006). Food variety and dietary diversity scores in children: are they good indicators of dietary adequacy? Public Health Nutrition, 9(5), 644–650.

Swaminathan, M. (2009). Neo-liberal policies and food security in India: Impact on public distribution system, Proceedings of the Conference on 'The Crisis of Neo-liberalism in India: Challenges and Alternatives', 13–15, March 2009. Mumbai: Tata Institute of Social Sciences (TISS) and International Development Economics Associates (IDEAs).

Tarini, A., Bakari, S., & Delisle, H. (1999). The overall nutritional quality of the diet is reflected in the growth of Nigerian children. Sante, 9, 23–31.

Taruvinga, A., Muchenje, V., & Mushunje, A. (2013). Determinants of rural household dietary diversity: the case of Amatole and Nyandeni districts, South Africa. International Journal of Development and Sustainability, 2(4) In Press.

Thiele, S., & Weiss, C. (2003). Consumer demand for food diversity: Evidence from Germany. Food Policy, 28(2003), 99–115.

Thorne-Lyman, A. L., Valpiani, N., Sun, K., Semba, R. D., Klotz, C. L., Kraemer, K., Akhter, N., de Pee, S., Moench-Pfanner, R., Sari, M., & Bloem, M. W. (2010). Household dietary diversity and food expenditures are closely linked in rural Bangladesh, increasing the risk of malnutrition due to the financial crisis. The Journal of Nutrition, 140, 182S–188S.

WHO/FAO (World Health Organization /Food and Agriculture Organization of the United Nations) (1996). Preparation and use of food-based dietary guidelines. Geneva:Nutrition Programme, World Health Organization.
Acknowledgments
This paper is drawn from the research work undertaken in the Project 'Village Dynamics in South Asia (VDSA)' coordinated by ICRISAT with funding from the Bill and Melinda Gates Foundation (BMGF). The authors thank the BMGF for financial assistance and ICRISAT for the overall coordination, technical and administrative support. We are equally grateful to NCAP, a network partner under the project for facilitating data collection and other technical activities. The guidance extended by Dr. Ramesh Chand, Director, NCAP and Principal Investigator of the Project at NCAP is gratefully acknowledged. Comments and suggestions by Dr. Mruthyunjaya for improving the paper are appreciated. We are also indebted to other collaborating scientists in the project whose expert directions from time to time were useful in shaping the paper. The sustained cooperation of the farmer interviewees was critical to the success of the study and we owe a great deal to them. Technical and secretarial assistance from Mr. Shivjee, data collection and enumeration services from field staff and the comments and suggestions received from the participants of various seminars and conferences organized under the Project are also gratefully acknowledged.
Electronic supplementary material
Appendix 1
About this article
Cite this article
Parappurathu, S., Kumar, A., Bantilan, M.C.S. et al. Food consumption patterns and dietary diversity in eastern India: evidence from village level studies (VLS). Food Sec. 7, 1031–1042 (2015). https://doi.org/10.1007/s12571-015-0493-2
Received:

Accepted:

Published:

Issue Date:
Keywords
Household food security

Food policy

Dietary diversity

Eastern India