Abstract
The 2007–08 food price crisis has not only increased food insecurity around the globe, but also exposed long-term failures in the functioning of the world food system. Establishing a global governance architecture for governing food, nutrition, and agriculture as well as improving market functioning and increasing investment in public goods will be critical for the way forward. Three high-priority policy actions are necessary to cope with urgent needs for food and nutrition security and at the same time build a stronger food system that can respond to future challenges: (1) improve productivity and scale up research investments; (2) expand nutrition and social protection, (3) strengthen markets and trade.
Access options
Buy single article
Instant access to the full article PDF.
US$ 39.95
Tax calculation will be finalised during checkout.
Subscribe to journal
Immediate online access to all issues from 2019. Subscription will auto renew annually.
US$ 79
Tax calculation will be finalised during checkout.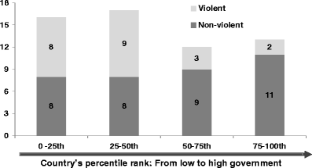 Notes
1.

The GHI is a combined measure of three equally weighted components: (1) the proportion of undernourished as a percentage of the population, (2) the prevalence of underweight in children under the age of five, and (3) the under-five mortality rate. The 2008 GHI is based on data until 2006—the last year with data available at the time of publication.
References
Ahmed A, Hill R, Smith L, Wiesmann D, Frankenburger T (2007) The world's most deprived: Characteristics and causes of extreme poverty and hunger. 2020 Discussion Paper 43. Washington, D.C.: International Food Policy Research Institute

Benson T, Minot N, Pender J, Robles M, von Braun J (2008) Global food crises: Monitoring and assessing impact to inform policy responses. Food Policy Report. International Food Policy Research Institute, Washington, DC

Bouis H (2008) Rising food prices will result in severe declines in mineral and vitamin intakes of the poor. HarvestPlus, Washington, DC

Chicago Board of Trade (2008) Monthly Agricultural Update: August 2008. Chicago, Illinois.

Cline WR (2007) Global warming and agriculture: Impact estimates by country. Center for Global Development and Peterson Institute for International Economics, Washington, DC

Fan S, Rosegrant M (2008) Investing in agriculture to overcome the world food crisis and reduce poverty and hunger. IFPRI Policy Brief 3. International Food Policy Research Institute, Washington, DC

FAO (Food and Agriculture Organization of the United Nations) (2008a) Hunger on the rise: Soaring prices add 75 million people to global hunger rolls. Briefing paper. Memo.

FAO (Food and Agriculture Organization of the United Nations) (2008b) FAOSTAT database. Available at: http://www.faostat.fao.org/default.aspx

Fischer G, Shah M, Tubiello F, van Velhuizen H (2005) Socio-economic and climate change impacts on agriculture: An integrated assessment, 1990–2080. Philos Trans R Soc B 360:2067–2083

Hoddinott J, Maluccio JA, Behrman JR, Flores R, Martorell R (2008) Effect of a nutrition intervention during early childhood on economic productivity in Guatemalan adults. Lancet 371(610):411–416

International Grains Council (2008) Grain Market Report 378. London.

Pardey PG, Alston JM, Piggott RR (eds) (2006) Agricultural R&D in the Developing World: Too Little, Too Late. International Food Policy Research Institute, Washington, DC

Rosegrant MW (2008) Biofuels and Grain Prices: Impacts and Policy Responses. Testimony for the U.S. Senate Committee on Homeland Security and Governmental Affairs. Washington, DC

von Braun J, Diaz-Bonilla E (2008) Globalization of Agriculture and Food: Causes, Consequences, and Policy Implications. In: von Braun J, Diaz-Bonilla E (eds) Globalization of Food and Agriculture and the Poor. Oxford University Press, New Delhi, 2008

von Braun J, Islam N (2008) Toward a New Global Governance System for Agriculture, Food, and Nutrition: What Are the Options? IFPRI Forum, March. International Food Policy Research Institute, Washington D.C

von Braun J, Torero M (2008) Physical and virtual global food reserves to protect the poor and prevent market failure. IFPRI Policy Brief 4. International Food Policy Research Institute, Washington D.C

von Braun J, Fan S, Meinzen-Dick R, Rosegrant MW, Nin Pratt A (2008) International Agricultural Research for Food Security, Poverty Reduction, and the Environment: What to Expect from Scaling Up CGIAR Investments and "Best Bet" Programs. International Food Policy Research Institute, Washington D.C

von Grebmer K, Fritschel H, Nestorova B, Olofinbiyi T, Pandya-Lorch R, Yohannes Y (2008) Global Hunger Index: The Challenge of Hunger 2008. Deutsche Welthungerhilfe, International Food Policy Research Institute, and Concern, Bonn
About this article
Cite this article
von Braun, J. Addressing the food crisis: governance, market functioning, and investment in public goods. Food Sec. 1, 9–15 (2009). https://doi.org/10.1007/s12571-008-0001-z
Received:

Accepted:

Published:

Issue Date:
Keywords
Food security

Food governance

Agricultural science policy