Abstract
Introduction
Lipofibromatosis is an extremely rare benign pediatric soft tissue tumour, characterized by slow and painless growth, with a predilection for distal extremities, a poor margination and a high rate of local recurrence. The classic histology consists of abundant adipose tissue traversed by bundles of spindled fibroblastic cells.
Case presentation
We present the case of a 25-year-old female patient with a retroclavicular growing lipofibromatosis. The expansion caused recurrent paresthesia in the left hand. Magnetic resonance imaging of the affected cervico-thoracal area showed a 4.6 × 4.3 × 6.4 cm encapsulated lesion, reaching up to the supraspinatus muscle. An incisional biopsy was done for diagnostic reasons, leading to the diagnosis of lipofibromatosis. As a consequence, the tumour was resected marginally. During a follow-up period of 48 months, no local recurrence was detected.
Discussion
In the past, lipofibromatosis was interpreted as infantile or juvenile fibromatosis, fibrous hamartoma or fibrosing lipoblastoma, which may explain the rarity of this entity. To the best of our knowledge, this is the first report of a non-pediatric case of lipofibromatosis. In conclusion, the entity of lipofibromatosis should be kept in mind as a potential differential diagnosis for fibrofatty tumours in children and young adults.
This is a preview of subscription content,
to check access.
Access this article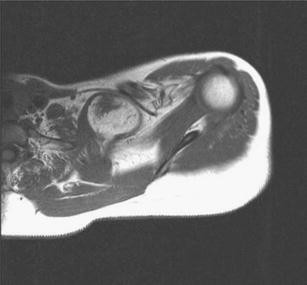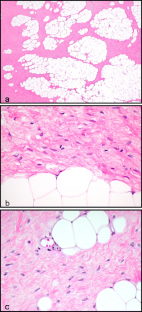 References
Fetsch JF, Miettinen M, Laskin WB, Michal M, Enzinger FM (2000) A clinicopathologic study of 45 pediatric soft tissue tumors with an admixture of adipose tissue and fibroblastic elements, and a proposal for classification as lipofibromatosis. Am J Surg Pathol 24(11):1491–1500

Miettinen MM, Fetsch JF (2002) Lipofibromatosis. In: Fletcher CDM, Unni KK, Mertens F (eds) World Health Organization classification of tumours: pathology and genetics of tumours of soft tissue and bone. IARC, Lyon, p 85

Deepti AN, Madhuri V, Walter NM, Cherian RA (2008) Lipofibromatosis: report of a rare paediatric soft tissue tumour. Skeletal Radiol 37(6):555–558

Leuschner I (2010) Lipofibromatosis in a 6-year-old girl: a case report. Pathologe 31(2):150–152

Ayadi L, Charfi S, Ben Hamed Y, Bahri I, Gouiaa N, Khabir A et al (2008) Pigmented lipofibromatosis in unusual location: case report and review of the literature. Virchows Arch 452(1):115–117

Nagarajan G, Deshpande A, Supe A (2002) Progressive macrosyndactyly due to nerve territory-oriented lipofibromatosis: a case report. Surgery 131(4):468–469

Herrmann BW, Dehner LP, Forsen JW Jr (2004) Lipofibromatosis presenting as a pediatric neck mass. Int J Pediatr Otorhinolaryngol 68(12):1545–1549

Kenney B, Richkind KE, Friedlaender G, Zambrano E (2007) Chromosomal rearrangements in lipofibromatosis. Cancer Genet Cytogenet 179(2):136–139

Kabasawa Y, Katsube K, Harada H, Nagumo K, Terasaki H, Perbal B et al (2007) A male infant case of lipofibromatosis in the submental region exhibited the expression of the connective tissue growth factor. Oral Surg Oral Med Oral Pathol Oral Radiol Endod 103(5):677–682

Sasaki D, Hatori M, Hosaka M, Watanabe M, Kokubun S (2005) Lipofibromatosis arising in a pediatric forearm—a case report. Ups J Med Sci 110(3):259–266

Teo HE, Peh WC, Chan MY, Walford N (2005) Infantile lipofibromatosis of the upper limb. Skeletal Radiol 34(12):799–802

Greene AK, Karnes J, Padua HM, Schmidt BA, Kasser JR, Labow BI (2009) Diffuse lipofibromatosis of the lower extremity masquerading as a vascular anomaly. Ann Plast Surg 62(6):703–706

Sari A, Tunakan M, Bolat B, Cakmakci H, Ozer E (2007) Lipofibromatosis in a two-year-old girl: a case report. Turk J Pediatr 49(3):319–321
Conflicts of interest
The authors declare that they have no conflict of interests.
About this article
Cite this article
Friesenbichler, J., Leithner, A., Beham, A. et al. Retroclavicular lipofibromatosis: case report and review of the literature. Eur Orthop Traumatol 1, 115–118 (2010). https://doi.org/10.1007/s12570-010-0025-7
Received:

Accepted:

Published:

Issue Date:

DOI: https://doi.org/10.1007/s12570-010-0025-7
Keywords