Abstract
Liquid lubricants and greases used in space applications are generally susceptible to degradation or aging. Depending on the specific material combination and storage conditions, aging effects are also relevant for long-term storage (LTS). An overview on both physical and chemical aging processes for liquid lubricants and greases is given and processes which are seen as relevant for LTS and may impact the long-term performance of these materials are identified. Individual degradation processes as well as causes and potential risks are discussed, providing complementary data for two liquid perfluoropolyether (PFPE) lubricants (Fomblin Z25 and Brayco 815Z) and a PFPE grease (MAPLUB PF 100-b), focussing on thermo-oxidative and catalytic degradation. For these lubricants, monitoring of degradation effects is done indirectly by their mass loss at different temperatures and in the presence of a catalyst over a total duration of 1000 h. An increased mass loss during accelerated thermo-oxidative aging at temperatures above 200 °C is observed, with overlapping effects of thickener degradation for the investigated grease. Noticeable catalytic degradation effects are further seen for accelerated thermo-oxidative aging in the presence of Al2O3 above 200 °C.
Access options
Buy single article
Instant access to the full article PDF.
US$ 39.95
Tax calculation will be finalised during checkout.
Subscribe to journal
Immediate online access to all issues from 2019. Subscription will auto renew annually.
US$ 79
Tax calculation will be finalised during checkout.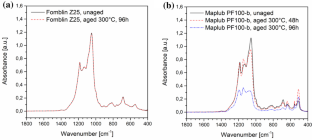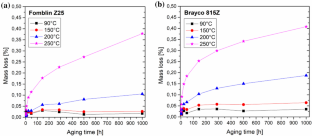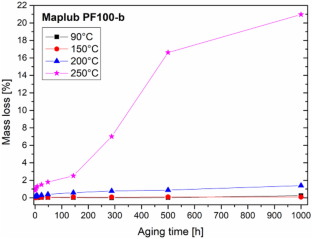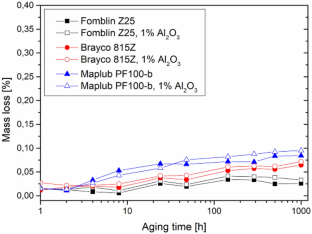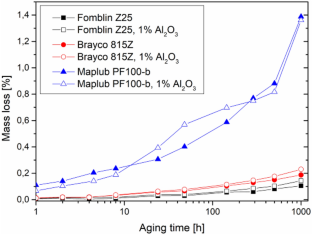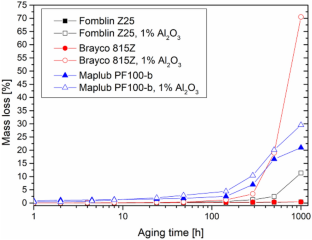 References
1.

Sarafin TP, editor. Spacecraft structures and mechanisms: from concept to launch. Netherlands: Springer; 1995.

2.

Jones, W.R., Jansen, M.J.: Space tribology. NASA/TM−2000-209924 (2000)

3.

Jones, W.R., Jansen, M.J.: Lubrication for space applications. NASA/CR−2005-213424 (2005)

4.

Senese, S., Strube, B., Lattner, K., Fusco, G., Deuschle, T., Förster, U., Thiel, M., Svedevall, A., Alvarez Toledo, A., Sghedoni, M., Mankai, S., Pirson, L., Falkner, M., Durand, Y., Lamarre, D., Plank, H., Nitschko, T. Neugebauer, C., Compostizo, C., Urgoiti, E., Bueno, I.: Meteosat third generation (MTG) mechanisms: impact on instrument performances. Proc. 18. european space mechanisms and tribology symposium 2019, Munich, Germany (2019)

5.

Buttery M, Lewis S, Kent A, Bingley R, Cropper M. Long-term storage considerations for spacecraft lubricants. Lubricants. 2020;8(3):32.

6.

ECSS-Q-ST-20-08C – Storage, handling and transportation of spacecraft hardware (1 October 2014). ECSS standard. https://ecss.nl/standard/ecss-q-st-20-08c-storage-handling-and-transportation-of-spacecraft-hardware-1-october-2014/. (Accessed 20 Oct 2020)

7.

Fusaro, R.L., Khonsari, M.M.: Liquid lubrication for space applications. NASA−TM−105198 (1992)

8.

Zaretsky, E.V.: Liquid lubrication in space. NASA−RP−1240 (1990)

9.

Roberts EW, Todd MJ. Space and vacuum tribology. Wear. 1990;136:157–67.

10.

Street KW. Liquid space lubricants examined by vibrational microspectroscopy. Anal Lett. 2008;41(3):351–76.

11.

Fusaro, R.L.: Lubrication of space systems. NASA–TM–106392 (1994)

12.

Jones, W.R.: Properties of perfluoropolyethers for space applications. NASA−TM−106616 (1994)

13.

Dube MJ. A new synthetic hydrocarbon liquid lubricant for space applications. Tribol Lett. 2003;15(1):3–8.

14.

Vernier CG, Casserly EW. Multiply-alkylated cyclopentanes (MACs): a new class of synthesized hydrocarbon fluids. Lubr Eng. 1991;47(7):586–91.

15.

Rudnick LR, Shubkin RL. Synthetic lubricants and high-performance functional fluids. New York: Marcel Dekker; 1999.

16.

Rudnick LR. Synthetics, mineral oils, and bio-based lubricants. Chemistry and technology. Hoboken: CRC Press; 2013.

17.

Jones WR, Jansen MJ, Gschwender LJ, Snyder CE, Sharma SK, Predmore RE, Dube MJ. The tribological properties of several silahydrocarbons for use in space. Mechanisms. 2001;1:211196.

18.

Buttery, M., Hampson, M., Kent, A., Allegranza, C.: Development of advanced lubricants for space mechanisms based on ionic liquids. Proc 'ESMATS 2017' Hatfield, UK. (2017)

19.

Pawlak Z. Tribochemistry of lubricating oils tribology and interface engineering series. Amsterdam: Elsevier; 2010.

20.

Cann PM, Doner JP, Webster MN, Wikstrom V. Grease degradation in rolling element bearings. Tribol T. 2001;44(3):399–404.

21.

Rezasoltani A, Khonsari M. On monitoring physical and chemical degradation and life estimation models for lubricating greases. Lubricants. 2016;4(3):34.

22.

Kürten D, Khader I, Kailer A. Tribochemical degradation of vacuum-stable lubricants: a comparative study between multialkylated cyclopentane and perfluoropolyether in a vacuum ball-on-disc and full-bearing tests. Lubr Sci. 2020;32(4):183–91.

23.

Minami I. Molecular science of lubricant additives. Appl Sci. 2017;7(5):445.

24.

Buttery, M., Gaillard, L., Rajala, S., Roberts, E., Rohr, T., Merstallinger, A.: FomblinZ25: a new method for its degradation assessment and proposal for safe operation in space. proc. '15th European space mechanisms and tribology symposium – ESMATS 2013' Noordwijk, The Netherlands (2013)

25.

Jones WR, Paciorek KJL, Harris DH, Smythe ME, Nakahara JH, Kratzer RH. Effects of metals and inhibitors on thermal oxidative degradation reactions of unbranched perfluoroalkylethers. Ind Eng Chem Prod Res Dev. 1985;24(3):417–20.

26.

Paciorek KJL, Kratzer RH. Stability of perfluoroalkylethers. J Fluorine Chem. 1994;67(2):169–75.

27.

Kasai PH, Tang WT, Wheeler P. Degradation of perfluoropolyethers catalyzed by aluminum oxide. Appl Surf Sci. 1991;51(3–4):201–11.

28.

Kasai PH, Wheeler P. Degradation of perfluoropolyethers catalyzed by aluminum chloride. Appl Surf Sci. 1991;52(1–2):91–106.

29.

Keating MY, Howell JL. Decomposition of perfluoropolyether lubricants. J Therm Anal Calorim. 2011;106(1):213–20.

30.

Pepper SV. Effect of test environment on lifetime of a vacuum lubricant. Washington DC: Proc World Tribology Congress III; 2005.

31.

Sianesi D, Zamboni V, Fontanelli R, Binaghi M. Perfluoropolyethers: their physical properties and behaviour at high and low temperatures. Wear. 1971;18:85–100.

32.

Helmick LS, Jones WR. Determination of the thermal stability of perfluoroalkylethers. NASA: NASA Technical Memorandum; 1990.

33.

Caporiccio G, Flabbi L, Marchionni G, Viola GT. The properties and applications of perfluoropolyether lubricants. J Synth Lubr. 1989;6(2):133–49.

34.

Paciorek KJL, Masuda SR, Lin W-H, Nakahara JH. Thermal oxidative stability of perfluoropolyalkylethers and development of quantitative structure-stability relationships. J Fluorine Chem. 1996;76(1):21–7.

35.

Jones WR, Bierschenk TR, Juhlke TJ, Kawa H, Lagow RJ. Preparation of new perfluoro ether fluids exhibiting excellent thermal-oxidative stabilities. Ind Eng Chem Res. 1988;27(8):1497–502.

36.

Paciorek KJL, Kratzer RH, Kaufman J, Nakahara JH. Thermal oxidative studies of poly(hexafluoropropene oxide) fluids. J Appl Polym Sci. 1979;24(6):1397–411.

37.

Kasai PH. Perfluoropolyethers: intramolecular disproportionation. Macromolecules. 1992;25:6791–9.

38.

Hellman PT, Gschwender L, Snyder CE. A review of the effect of metals on the thermo-oxidative stability of perfluoropolyalkylether lubricants. J Synthetic Lubric. 2006;23(4):197–210.

39.

Mori S, Morales W. Reaction of perfluoroalkylpoly ethers (PFPE) with 440C stainless steel in vacuum under sliding conditions at room temperature. NASA: NASA Technical Paper; 1989.
Funding
This research work was performed at the Polymer Competence Center Leoben GmbH (PCCL, Austria) under a programme of, and funded by, the European Space Agency (contract number 4000125239/18/NL/KML/va). PCCL is funded by the Austrian Government and the State Governments of Styria, Upper and Lower Austria. However, the views expressed herein can in no way be taken to reflect the official opinion of the European Space Agency and are not intended to endorse particular technologies, companies, or products.
Ethics declarations
Conflict of interest
The authors declare no conflict of interest.
Additional information
Publisher's Note
Springer Nature remains neutral with regard to jurisdictional claims in published maps and institutional affiliations.
About this article
Cite this article
Wolfberger, A., Hausberger, A., Schlögl, S. et al. Assessment of the chemical degradation of PFPE lubricants and greases for space applications: implications for long-term on-ground storage. CEAS Space J (2021). https://doi.org/10.1007/s12567-021-00348-6
Received:

Revised:

Accepted:

Published:
Keywords
Liquid lubricants

Aging

Chemical degradation

Long-term storage

PFPE