Abstract
This study aimed to investigate the frequency of squamous suture (SqS) obliteration, to estimate the involvement of the major calvarial sutures and those surrounding the temporal squama, and to inspect the neuro- and basicranium for deformities. A series of 211 dry skulls of contemporary adult males were macroscopically observed. The skulls with closed SqS were scanned using an industrial µCT system. Digital morphometry of the skulls with obliterated SqS was performed by recording the 3D coordinates of anatomic landmarks and calculation of linear distances, angles and indices. Obliteration of SqS was observed in 3 (1.42%) skulls. One skull showed bilateral SqS obliteration. The other two cases were unilateral, one right-sided and one left-sided. SqS obliteration seems to be co-ordinated with the closure of the parietomastoid suture, partially related to the closure of the occipitomastoid, sphenoparietal and sphenofrontal sutures, and independent from the closure of the sphenosquamosal suture and the major calvarial sutures. No severe disproportions in the skull configuration were observed in the three investigated cases. The major differences in the complimentary hemicrania concern the parietal and occipital parts of the skull vault. Dorsum sellae erosion, an indicator for raised intracranial pressure, was observed in all three cases.
Access options
Buy single article
Instant access to the full article PDF.
US$ 39.95
Tax calculation will be finalised during checkout.
Subscribe to journal
Immediate online access to all issues from 2019. Subscription will auto renew annually.
US$ 79
Tax calculation will be finalised during checkout.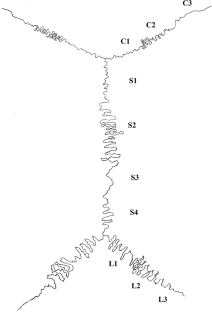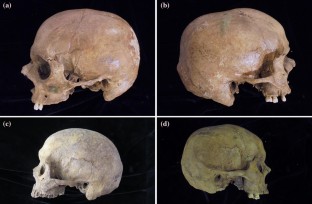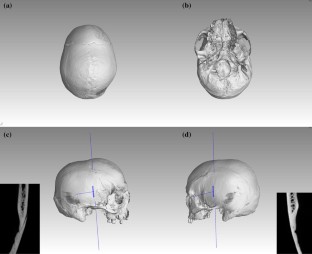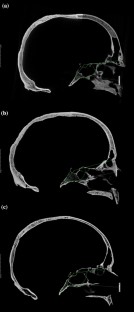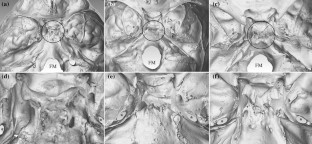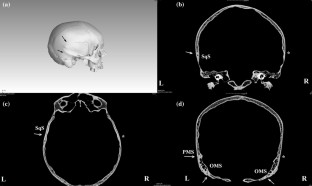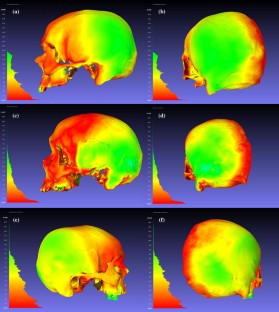 References
Alkofide EA (2007) The shape and size of the sella turcica in skeletal class I, class II, and class III Saudi subjects. Eur J Orthod 29:457–463. https://doi.org/10.1093/ejo/cjm049

Anderson PJ, Netherway DJ, David DJ, Self P (2006) Scanning electron microscope and micro-CT evaluation of cranial sutures in health and disease. J Craniofac Surg 17:909–919. https://doi.org/10.1097/01.scs.0000230019.46896.b0

Bastir M, Rosas A, Lieberman DE, O'Higgins P (2008) Middle cranial fossa anatomy and the origin of modern humans. Anat Rec 291:130–140. https://doi.org/10.1002/ar.20636

Bonneville JF, Dietemann JL (1981) Sella turcica in raised intracranial pressure and hydrocephalus. In: radiology of the sella turcica. Springer, Berlin, Heidelberg, 10.1007/978-3-642-67786-1_12

Byron CD, Maness H, Yu JC, Hamrick MW (2008) Enlargement of the temporalis muscle and alterations in the lateral cranial vault. Integr Comp Biol 48:338–344. https://doi.org/10.1093/icb/icn020

Calandrelli R, D'Apolito G, Gaudino S, Sciandra MC, Caldarelli M, Colosimo C (2014) Identification of skull base sutures and craniofacial anomalies in children with craniosynostosis: utility of multidetector CT. Radiol Med 119:694–704. https://doi.org/10.1007/s11547-014-0387-y

Chieffe D, Naffaa L, Doumit G (2017) Squamous suture synostosis: a review with emphasis on cranial morphology and involvement of other cranial sutures. J Craniofac Surg 28:51–55. https://doi.org/10.1097/SCS.0000000000003184

Cignoni P, Callieri M, Corsini M, Dellepiane M, Ganovelli F, Ranzuglia G (2008) MeshLab: an open-source mesh processing tool. In: Scarano V, De Chiara R, Erra U, (eds). Sixth eurographics Italian chapter conference 129–136

Jr Cohen MM (1993) Sutural biology and the correlates of craniosynostosis. Am J Med Genet 47:581–616. https://doi.org/10.1002/ajmg.1320470507

Di Ieva A, Bruner E, Davidson J, Pisano P, Haider T, Stone SS, Cusimano MD, Tschabitscher M, Grizzi F (2013) Cranial sutures: a multidisciplinary review. Childs Nerv Syst 29:893–905. https://doi.org/10.1007/s00381-013-2061-4

Di Rocco F, Arnaud E, Renier D (2009) Evolution in the frequency of nonsyndromic craniosynostosis. J Neurosurg Pediatr 4:21–25. https://doi.org/10.3171/2009.3.PEDS08355

Eley KA, Thomas GP, Sheerin F, Cilliers D, Wall S, Johnson D (2016) The significance of squamosal suture synostosis. J Craniofac Surg 27:1543–1549. https://doi.org/10.1097/SCS.0000000000002888

Flaherty K, Singh N, Richtsmeier JT (2016) Understanding craniosynostosis as a growth disorder. WIREs Dev Biol 5:429–459. https://doi.org/10.1002/wdev.227

Furuya Y, Edwards MS, Alpers CE, Tress BM, Ousterhout DK, Norman D (1984) Computerized tomography of cranial sutures. Part 1: comparison of suture anatomy in children and adults. J Neurosurg 61:53–58. https://doi.org/10.3171/jns.1984.61.1.0053

Hammer Ø, Harper DAT, Ryan PD (2001) PAST: Paleontological statistics software package for education and data analysis. Palaeontol Electronica 4:1–9

Herring SW (1972) Sutures–a tool in functional cranial analysis. Acta Anat (Basel) 83:222–247

Kanchan T, Krishan K, Kumar GP (2013) Squamous suture: a rare case of asymmetrical closure with review of literature. Forensic Sci Int 231:410.e1–3. https://doi.org/10.1016/j.forsciint.2013.04.031

Key CA, Aiello LC, Molleson T (1994) Cranial suture closure and its implications for age estimation. Int J Osteoarchaeol 4:193–208. https://doi.org/10.1002/oa.1390040304

Koskinen L, Isotupa K, Koski K (1976) A note on craniofacial sutural growth. Am J Phys Anthropol 45:511–516. https://doi.org/10.1002/ajpa.1330450312

Lieberman DE, Pearson OM, Mowbray KM (2000) Basicranial influence on overall cranial shape. J Hum Evol 38:291–315. https://doi.org/10.1006/jhev.1999.0335

Locher MC, Sailer HF, Haers PE, Carls FR, Oechslin CK, Grätz KW (1998) Development of frontal sinus following bilateral fronto-orbital osteotomies. J Craniomaxillofac Surg 26:129–135. https://doi.org/10.1016/S1010-5182(98)80001-2

Marani E, Heida C (2018) Head and neck: morphology. Springer International Publishing, Switzerland, Models and function. https://doi.org/10.1007/978-3-319-92105-1

Martínez-Abadías N, Percival C, Aldridge K, Hill CA, Ryan T, Sirivunnabood S, Wang Y, Jabs EW, Richtsmeier JT (2010) Beyond the closed suture in Apert syndrome mouse models: evidence of primary effects of FGFR2 signaling on facial shape at birth. Dev Dyn 239:3058–3071. https://doi.org/10.1002/dvdy.22414

Moss ML (1957) Experimental alteration of sutural area morphology. Anat Rec 127:569–589. https://doi.org/10.1002/ar.1091270307

Moss ML (1975) Functional anatomy of cranial synostosis. Childs Brain 1:22–33. https://doi.org/10.1159/000119554

Nikolova S, Toneva D, Georgiev I, Harizanov S, Zlatareva D, Hadjidekov V, Lazarov N (2017) A CT-study of the cranial suture morphology and its reorganization during the obliteration. Coll Antropol 41:125–131

Nikolova S, Toneva D, Georgiev I, Lazarov N (2019) Sagittal suture maturation: morphological reorganization, relation to aging, and reliability as an age-at-death indicator. Am J Phys Anthropol 169:78–92. https://doi.org/10.1002/ajpa.23810

Ogle RC, Tholpady SS, McGlynn KA, Ogle RA (2004) Regulation of cranial suture morphogenesis. Cells Tissues Org 176:54–66. https://doi.org/10.1159/000075027

Opperman LA (2000) Cranial sutures as intramembranous bone growth sites. Dev Dyn 219:472–485. https://doi.org/10.1002/1097-0177(2000)9999:9999<:AID-DVDY1073>3.0.CO;2-F

Rich PM, Cox TC, Hayward RD (2003) The jugular foramen in complex and syndromic craniosynostosis and its relationship to raised intracranial pressure. AJNR Am J Neuroradiol 24:45–51

Tamburrini G, Caldarelli M, Massimi L, Santini P, Di Rocco C (2005) Intracranial pressure monitoring in children with single suture and complex craniosynostosis: a review. Childs Nerv Syst 21:913–921. https://doi.org/10.1007/s00381-004-1117-x

Taylor WJ, Hayward RD, Lasjaunias P, Britto JA, Thompson DN, Jones BM, Evans RD (2001) Enigma of raised intracranial pressure in patients with complex craniosynostosis: the role of abnormal intracranial venous drainage. J Neurosurg 94:377–385. https://doi.org/10.3171/jns.2001.94.3.0377

Todd TW, Lyon DW Jr (1924) Endocranial suture closure. Its progress and age relationship. Part I. Adult males of white stock. Am J Phys Anthropol 7:325–384

Todd TW, Lyon DW Jr (1925) Cranial suture closure. Its progress and age relationship. Part II.—ectocranial closure in adult males of white stock. Am J Phys Anthropol 8:23–45

Toneva D, Nikolova S, Zlatareva D, Hadjidekov V (2019) Morphological study of jugular foramen in Bulgarian adults. Acta Morphol Anthropol 26:97–108

Tuite GF, Evanson J, Chong WK, Thompson DN, Harkness WF, Jones BM, Hayward RD (1996) The beaten copper cranium: a correlation between intracranial pressure, cranial radiographs, and computed tomographic scans in children with craniosynostosis. Neurosurgery 39:691–699

Wang J, Bidari S, Inoue K, Yang H, Jr Rhoton A (2010) Extensions of the sphenoid sinus: a new classification. Neurosurgery 66:797–816. https://doi.org/10.1227/01.NEU.0000367619.24800.B1

Weber J, Collmann H, Czarnetzki A, Spring A, Pusch CM (2008) Morphometric analysis of untreated adult skulls in syndromic and nonsyndromic craniosynostosis. Neurosurg Rev 31:179–188. https://doi.org/10.1007/s10143-007-0100-x
Acknowledgements
This study was funded by Bulgarian National Science Fund (grants DN01/15-20.12.2016 and DN11/9-15.12.2017). The authors thank Dr. Ivan Georgiev for the image generation and Elena Petrova for the editorial help.
Ethics declarations
Conflict of interest
The authors declare that they have no conflict of interest.
Additional information
Publisher's Note
Springer Nature remains neutral with regard to jurisdictional claims in published maps and institutional affiliations.
About this article
Cite this article
Nikolova, S., Toneva, D. & Lazarov, N. Squamous suture obliteration: frequency and investigation of the associated skull morphology. Anat Sci Int 96, 42–54 (2021). https://doi.org/10.1007/s12565-020-00555-x
Received:

Accepted:

Published:

Issue Date:
Keywords
Cranial suture biology

Squamous suture

Industrial µCT imaging

Craniosynostosis

Skull morphology