Abstract
Type 1 diabetes mellitus (T1DM) is a chronic metabolic disease caused by the destruction of pancreatic β-cells. Human dental pulp stem cells represent a promising source for cell-based therapies, owing to their easy, minimally invasive surgical access, and high proliferative capacity. It was reported that human dental pulp stem cells can differentiate into a pancreatic cell lineage in vitro; however, few studies have investigated their effects on diabetes. Our study aimed to investigate the therapeutic potential of intravenous and intrapancreatic transplantation of human dental pulp stem cells in a rat model of streptozotocin-induced type 1 diabetes. Forty Sprague Dawley male rats were randomly categorized into four groups: control, diabetic (STZ), intravenous treatment group (IV), and intrapancreatic treatment group (IP). Human dental pulp stem cells (1 × 106 cells) or vehicle were injected into the pancreas or tail vein 7 days after streptozotocin injection. Fasting blood glucose levels were monitored weekly. Glucose tolerance test, rat and human serum insulin and C-peptide, pancreas histology, and caspase-3, vascular endothelial growth factor, and Ki67 expression in pancreatic tissues were assessed 28 days post-transplantation. We found that both IV and IP transplantation of human dental pulp stem cells reduced blood glucose and increased levels of rat and human serum insulin and C-peptide. The cells engrafted and survived in the streptozotocin-injured pancreas. Islet-like clusters and scattered human dental pulp stem cells expressing insulin were observed in the pancreas of diabetic rats with some difference in the distribution pattern between the two injection routes. RT-PCR analyses revealed the expression of the human-specific pancreatic β-cell genes neurogenin 3 (NGN3), paired box 4 (PAX4), glucose transporter 2 (GLUT2), and insulin in the pancreatic tissues of both the IP and IV groups. In addition, the transplanted cells downregulated the expression of caspase-3 and upregulated the expression of vascular endothelial growth factor and Ki67, suggesting that the injected cells exerted pro-angiogenetic and antiapoptotic effects, and promoted endogenous β-cell replication. Our study is the first to show that human dental pulp stem cells can migrate and survive within streptozotocin-injured pancreas, and induce antidiabetic effects through the differentiation and replacement of lost β-cells and paracrine-mediated pancreatic regeneration. Thus, human dental pulp stem cells may have therapeutic potential to treat patients with long term T1DM.
This is a preview of subscription content, log in to check access.
Access options
Buy single article
Instant access to the full article PDF.
US$ 39.95
Price includes VAT for USA
Subscribe to journal
Immediate online access to all issues from 2019. Subscription will auto renew annually.
US$ 99
This is the net price. Taxes to be calculated in checkout.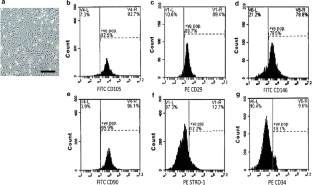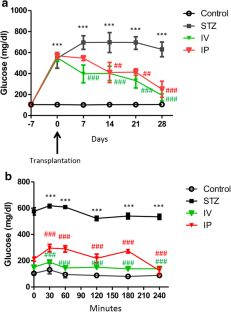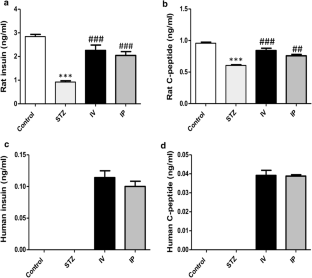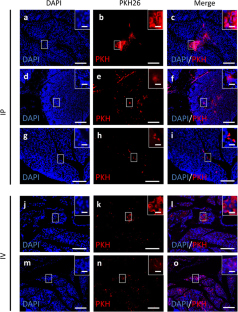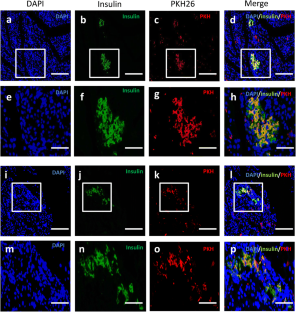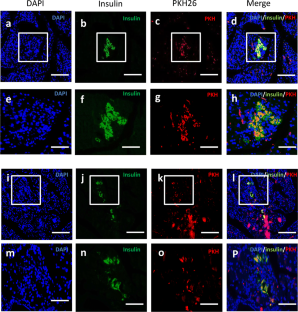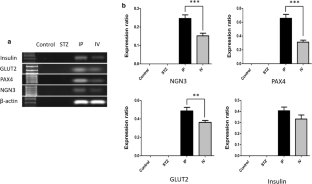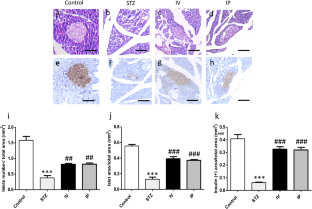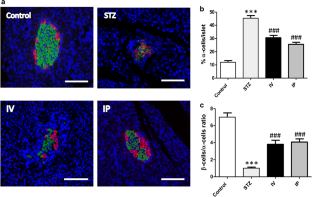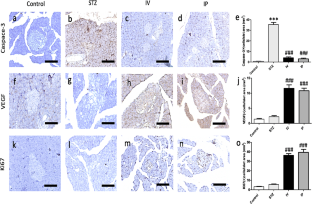 Abbreviations
hDPSCs:

Human dental pulp stem cells

STZ:

Streptozotocin

T1DM:

Type 1 diabetes mellitus

IV:

Intravenous

IP:

Intrapancreatic

NGN3:

Neurogenin 3

PAX4:

Paired box 4

GLUT2:

Glucose transporter 2

VEGF:

Vascular endothelial growth factor

MSCs:

Mesenchymal stem cells

FBS:

Fetal bovine serum

FBS/PBS:

Fetal bovine serum/phosphate-buffered saline

STRO-1:

Stromal precursor antigen-1

RT-PCR:

Reverse transcription-polymerase chain reaction

H&E:

Hematoxylin and eosin

RT:

Room temperature

ANOVA:

One-way or two-way analysis of variance

BM-MSCs:

Bone marrow-derived MSCs

MHC-1:

Human major histocompatibility complex 1

ICCs:

Islet-like cell clusters

SHED:

Stem cells from pulps of human exfoliated deciduous teeth

HMECs:

Human mammary epithelial cells

PI3K:

Phosphoinositide 3-kinase

Reg I alpha:

Regenerating gene protein I alpha
References
Abumaree MH, Abomaray FM, Alshabibi MA, AlAskar AS, Kalionis B (2017) Immunomodulatory properties of human placental mesenchymal stem/stromal cells. Placenta 59:87–95. https://doi.org/10.1016/j.placenta.2017.04.003

Aida K, Saitoh S, Nishida Y, Yokota S, Ohno S, Mao X, Akiyama D, Tanaka S, Awata T, Shimada A, Oikawa Y, Shimura H, Furuya F, Takizawa S, Ichijo M, Ichijo S, Itakura J, Fujii H, Hashiguchi A, Takasawa S, Endo T, Kobayashi T (2014) Distinct cell clusters touching islet cells induce islet cell replication in association with over-expression of regenerating gene (REG) protein in fulminant type 1 diabetes. PLoS ONE 9(4):e95110. https://doi.org/10.1371/journal.pone.0095110

Aida K, Kobayashi T, Takeshita A, Jimbo E, Nishida Y, Yagihashi S, Hosoi M, Fukui T, Sugawara A, Takasawa S (2018) Crucial role of Reg I from acinar-like cell cluster touching with islets (Atlantis) on mitogenesis of beta cells in EMC virus-induced diabetic mice. Biochem Biophys Res Commun 503(2):963–969. https://doi.org/10.1016/j.bbrc.2018.06.103

Allan LA, Morrice N, Brady S, Magee G, Pathak S, Clarke PR (2003) Inhibition of caspase-9 through phosphorylation at Thr 125 by ERK MAPK. Nat Cell Biol 5:647–654

Anzalone R, Lo Iacono M, Loria T, Di Stefano A, Giannuzzi P, Farina F, La Rocca G (2011) Wharton's jelly mesenchymal stem cells as candidates for beta cells regeneration: extending the differentiative and immunomodulatory benefits of adult mesenchymal stem cells for the treatment of type 1 diabetes. Stem Cell Rev 7:342–363. https://doi.org/10.1007/s12015-010-9196-4

Arntfield ME, van der Kooy D (2011) Beta-cell evolution: how the pancreas borrowed from the brain: the shared toolbox of genes expressed by neural and pancreatic endocrine cells may reflect their evolutionary relations. Bioassays 33(8):582–587. https://doi.org/10.1002/bies.201100015

Atkinson MA, Eisenbarth GS, Michels AW (2014) Type 1 diabetes. Lancet 383:69–82. https://doi.org/10.1016/S0140-6736(13)60591-7

Berebichez-Fridman R, Montero-Olvera PR (2018) Sources and clinical applications of mesenchymal stem cells: state-of-the-art review. Sultan Qaboos Univ Med J 18(3):e264–e277. https://doi.org/10.18295/squmj.2018.18.03.002

Brissova M, Aamodt K, Brahmachary P, Prasad N, Hong JY, Dai C, Mellati M, Shostak A, Poffenberger G, Aramandla R, Levy SE, Powers AC (2014) Islet microenvironment, modulated by vascular endothelial growth factor-A signaling, promotes beta cell regeneration. Cell Metab 19:498–511. https://doi.org/10.1016/j.cmet.2014.02.001

Bronckaers A, Hilkens P, Fanton Y, Struys T, Gervois P, Politis C, Martens W, Lambrichts I (2013) Angiogenic properties of human dental pulp stem cells. PLoS ONE 8:e71104. https://doi.org/10.1371/journal.pone.0071104

Brown C, McKee C, Bakshi S, Walker K, Hakman E, Halassy S, Svinarich D, Dodds R, Govind CK, Chaudhry GR (2019) Mesenchymal stem cells: cell therapy and regeneration potential. J Tissue Eng Regen Med. 13:1738–1755. https://doi.org/10.1002/term.2914

Butler AE, Janson J, Soeller WC, Butler PC (2003) Increased beta-cell apoptosis prevents adaptive increase in beta-cell mass in mouse model of type 2 diabetes: evidence for role of islet amyloid formation rather than direct action of amyloid. Diabetes 52:2304–2314

Charan J, Kantharia ND (2013) How to calculate sample size in animal studies? J Pharmacol Pharmacother 4(4):303–306. https://doi.org/10.4103/0976-500X.119726

Datta I, Bhadri N, Shahani P, Majumdar D, Sowmithra S, Razdan R, Bhonde R (2017) Functional recovery upon human dental pulp stem cell transplantation in a diabetic neuropathy rat model. Cytotherapy 19:1208–1224

Di Gioacchino G, Di Campli C, Zocco MA, Piscaglia AC, Novi M, Santoro M, Santoliquido A, Flore R, Tondi P, Pola P, Gasbarrini G, Gasbarrini A (2005) Transdifferentiation of stem cells in pancreatic cells: state of the art. Transplant Proc 37:2662–2663. https://doi.org/10.1016/j.jcyt.2017.07.009

Donath MY, Shoelson SE (2011) Type 2 diabetes as an inflammatory disease. Nat Rev Immunol 11:98–107. https://doi.org/10.1038/nri2925

Dor Y, Brown J, Martinez OI, Melton DA (2004) Adult pancreatic beta-cells are formed by self-duplication rather than stem-cell differentiation. Nature 429:41–46

Elghazi L, Rachdi L, Weiss AJ, Cras-Meneur C, Bernal-Mizrachi E (2007) Regulation of beta-cell mass and function by the Akt/protein kinase B signalling pathway. Diabetes Obes Metab 9(Suppl 2):147–157

Figliuzzi M, Bonandrini B, Silvani S, Remuzzi A (2014) Mesenchymal stem cells help pancreatic islet transplantation to control type 1 diabetes. World J Stem Cells 6:163–172. https://doi.org/10.4252/wjsc.v6.i2.163

Gabr MM, Zakaria MM, Refaie AF, Ismail AM, Abou-El-Mahasen MA, Khater SA, El-Halawani SM, Ibrahim RY, Uin GS, Kloc M, Calne RY, Ghoneim MA (2013) Insulin producing-cells from adult human bone marrow mesenchymal stem cells control streptozotocin-induced diabetes in nude mice. Cell Transplant 22:133–145. https://doi.org/10.3727/096368912X647162

Gandia C, Arminan A, Garcia-Verdugo JM, Lledo E, Ruiz A, Minana MD, Sanchez-Torrijos J, Paya R, Mirabet V, Carbonell-Uberos F, Llop M, Montero JA, Sepulveda P (2008) Human dental pulp stem cells improve left ventricular function, induce angiogenesis, and reduce infarct size in rats with acute myocardial infarction. Stem Cells 26:638–645

Gibly RF, Graham JG, Luo X, Lowe WL, Hering BJ, Shea LD (2011) Advancing islet transplantation: from engraftment to the immune response. Diabetologia 54:2494–2505. https://doi.org/10.1007/s00125-011-2243-0

Gnecchi M, Danieli P, Malpasso G, Ciuffreda MC (2016) Paracrine mechanisms of mesenchymal stem cells in tissue repair. Methods Mol Biol 1416:123–146. https://doi.org/10.1007/978-1-4939-3584-0_7

Govindasamy V, Ronald VS, Abdullah AN, Ganesan Nathan KR, Aziz AZAC, Abdullah M, Abu MS, Kasim NH, Bhonde RR (2011) Differentiation of dental pulp stem cells into islet-like aggregates. J Dent Res 90(5):646–652. https://doi.org/10.1177/0022034510396879

Guimaraes ET, DaCruz GS, Almeida TF, Souza BS, Kaneto CM, Vasconcelos JF, Santos WL, Santos RR, Villarreal CF, Soares MB (2013) Transplantation of stem cells obtained from murine dental pulp improves pancreatic damage, renal function and painful diabetic neuropathy in diabetic type 1 mouse model. Cell Transplant 22(12):2345–2354. https://doi.org/10.3727/096368912X657972

Guo X, Liu L, Zhang M, Bergeron A, Cui Z, Dong JF, Zhang J (2009) Correlation of CD34+ cells with tissue angiogenesis after traumatic brain injury in a rat model. J Neurotrauma 26(8):1337–1344. https://doi.org/10.1089/neu.2008-0733

Hess D, Li L, Martin M, Sakano S, Hill D, Strutt B, Thyssen S, Gray DA, Bhatia M (2003) Bone marrow-derived stem cells initiate pancreatic regeneration. Nat Biotechnol 21:763–770

Hu J, Wang Y, Gong H, Yu C, Guo C, Wang F, Yan S, Xu H (2016) Long term effect and safety of Wharton's jelly-derived mesenchymal stem cells on type 2 diabetes. Exp Ther Med 12:1857–1866

Huang AH, Snyder BR, Cheng PH, Chan AW (2008) Putative dental pulp-derived stem/stromal cells promote proliferation and differentiation of endogenous neural cells in the hippocampus of mice. Stem Cells 26:2654–2663. https://doi.org/10.1634/stemcells.2008-0285

Huang XP, Sun Z, Miyagi Y, McDonald Kinkaid H, Zhang L, Weisel RD, Li RK (2010) Differentiation of allogeneic mesenchymal stem cells induces immunogenicity and limits their long-term benefits for myocardial repair. Circulation 122(23):2419–2429. https://doi.org/10.1161/CIRCULATIONAHA.110.955971

Hunt JS, Petroff MG, McIntire RH, Ober C (2005) HLA-G and immune tolerance in pregnancy. FASEB J 19:681–693

Ianus A, Holz GG, Theise ND, Hussain MA (2003) In vivo derivation of glucose-competent pancreatic endocrine cells from bone marrow without evidence of cell fusion. J Clin Invest 111:843–850

Izumoto-Akita T, Tsunekawa S, Yamamoto A, Uenishi E, Ishikawa K, Ogata H, Iida A, Ikeniwa M, Hosokawa K, Niwa Y, Maekawa R, Yamauchi Y, Seino Y, Hamada Y, Hibi H, Arima H, Ueda M, Oiso Y (2015) Secreted factors from dental pulp stem cells improve glucose intolerance in streptozotocin-induced diabetic mice by increasing pancreatic beta-cell function. BMJ Open Diabetes Res Care 3:e000128. https://doi.org/10.1136/bmjdrc-2015-000128

Kabir R, Gupta M, Aggarwal A, Sharma D, Sarin A, Kola MZ (2014) Imperative role of dental pulp stem cells in regenerative therapies: a systematic review. Niger J Surg 20:1–8

Kanafi MM, Rajeshwari YB, Gupta S, Dadheech N, Nair PD, Gupta PK, Bhonde RR (2013) Transplantation of islet-like cell clusters derived from human dental pulp stem cells restores normoglycemia in diabetic mice. Cytotherapy 15:1228–1236. https://doi.org/10.1016/j.jcyt.2013.05.008

Karnieli O, Izhar-Prato Y, Bulvik S, Efrat S (2007) Generation of insulin-producing cells from human bone marrow mesenchymal stem cells by genetic manipulation. Stem Cells 25:2837–2844. https://doi.org/10.1155/2014/832736

Kieffer TJ, Woltjen K, Osafune K, Yabe D, Inagaki N (2017) Beta-cell replacement strategies for diabetes. J Diabetes Investig 9:457–463. https://doi.org/10.1111/jdi.12758

Kim J, Park S, Kang HM, Ahn CW, Kwon HC, Song JH, Lee YJ, Lee KH, Yang H, Baek SY, Yoo SH, Kim SH, Kim H (2012a) Human insulin secreted from insulinogenic xenograft restores normoglycemia in type 1 diabetic mice without immunosuppression. Cell Transplantat 21:2131–2147

Kim B, Yoon BS, Moon JH, Kim J, Jun EK, Lee JH, Kim JS, Baik CS, Kim A, Whang KY, You S (2012b) Differentiation of human labia minora dermis-derived fibroblasts into insulin-producing cells. Exp Mol Med 44:26–35. https://doi.org/10.3858/emm.2012.44.1.002

Kim HJ, Cho YA, Lee YM, Lee SY, Bae WJ, Kim EC (2016) PIN1 Suppresses the hepatic differentiation of pulp stem cells via Wnt3a. J Dent Res 95:1415–1424. https://doi.org/10.1177/0022034516659642

Kim S, Lee S, Jung HS, Kim SY, Shin SJ, Kang MK, Kim E (2018) Evaluation of the biodistribution of human dental pulp stem cells transplanted into mice. J Endod. 44:592–598. https://doi.org/10.1016/j.joen.2017.12.007

Lee RH, Oh JY, Choi H, Bazhanov N (2011) Therapeutic factors secreted by mesenchymal stromal cells and tissue repair. J Cell Biochem 112:3073–3078. https://doi.org/10.1002/jcb.23250

Li Z, Jiang CM, An S, Cheng Q, Huang YF, Wang YT, Gou YC, Xiao L, Yu WJ, Wang J (2014) Immunomodulatory properties of dental tissue-derived mesenchymal stem cells. Oral Dis 20:25–34. https://doi.org/10.1111/odi.12086

Li L, Li F, Gao F, Yang Y, Liu Y, Guo P, Li Y (2016) Transplantation of mesenchymal stem cells improves type 1 diabetes mellitus. Cell Tissue Res 364:345–355. https://doi.org/10.1007/s00441-015-2330-5

Li X, Meng Q, Zhang L (2018) The fate of allogeneic pancreatic islets following intraportal transplantation: challenges and solutions. J Immunol Res 2018:2424586. https://doi.org/10.1155/2018/2424586

Liu C, Zhang W, Peradze N, Lang L, Straetener J, Feilen PJ, Alt M, Jager C, Laubner K, Perakakis N, Seufert J, Path G (2018) Mesenchymal stem cell (MSC)-mediated survival of insulin producing pancreatic beta-cells during cellular stress involves signalling via Akt and ERK1/2. Mol Cell Endocrinol 473:235–244. https://doi.org/10.1016/j.mce.2018.01.024

Marvasti TB, Alibhai FJ, Weisel RD, Li RK (2019) CD34+ stem cells: promising roles in cardiac repair and regeneration. Can J Cardiol 35(10):1311–1321. https://doi.org/10.1016/j.cjca.2019.05.037

Meirelles LdS, Fontes AM, Covas DT, Caplan AI (2009) Mechanisms involved in the therapeutic properties of mesenchymal stem cells. Cytokine Growth Factor Rev 20:419–427. https://doi.org/10.1016/j.cytogfr

Nakamura S, Yamada Y, Katagiri W, Sugito T, Ito K, Ueda M (2009) Stem cell proliferation pathways comparison between human exfoliated deciduous teeth and dental pulp stem cells by gene expression profile from promising dental pulp. J Endod 35:1536–1542. https://doi.org/10.1016/j.joen.2009.07.024

Niederhaus SV, Kaufman DB, Odorico JS (2013) Induction therapy in pancreas transplantation. Transpl Int 26:704–714. https://doi.org/10.1111/tri.12122

Phinney DG, Prockop DJ (2007) Concise review: mesenchymal stem/multipotent stromal cells: the state of transdifferentiation and modes of tissue repair–current views. Stem Cells 25:2896–3290

Path G, Perakakis N, Mantzoros CS, Seufert J (2019) Stem cells in the treatment of diabetes mellitus-focus on mesenchymal stem cells. Metabolism 90:1–15. https://doi.org/10.1016/j.metabol.2018.10.005

Pisciotta A, Riccio M, Carnevale G, Lu A, De Biasi S, Gibellini L, La Sala GB, Bruzzesi G, Ferrari A, Huard J, DePol A (2015) Stem cells isolated from human dental pulp and amniotic fluid improve skeletal muscle histopathology in mdx/SCID mice. Stem Cell Res Ther 6:156. https://doi.org/10.1016/j.joen.2016.11.018

JS P (2018) Mesenchymal stem cells to treat type 1 diabetes. BBA Mol Basis Dis 1866(4):165315. https://doi.org/10.1016/j.bbadis.2018.10.033

Scuteri A, Donzelli E, Foudah D, Caldara C, Redondo J, D'Amico G, Tredici G, Miloso M (2014) Mesengenic differentiation: comparison of human and rat bone marrow mesenchymal stem cells. Int J Stem Cells 7:127–134. https://doi.org/10.1186/s13287-015-0141-y

She QB, Solit DB, Ye Q, O'Reilly KE, Lobo J, Rosen N (2005) The BAD protein integrates survival signaling by EGFR/MAPK and PI3K/Akt kinase pathways in PTEN-deficient tumor cells. Cancer Cell 8:287–297

Shivakumar SB, Lee HJ, Son YB, Bharti D, Ock SA, Lee SL, Kang YH, Park BW, Rho GJ (2019) In vitro differentiation of single donor derived human dental mesenchymal stem cells into pancreatic beta cell-like cells. Biosci Rep 39:BSR 20182051. https://doi.org/10.1042/BSR20182051

Si Y, Zhao Y, Hao H, Liu J, Guo Y, Mu Y, Shen J, Cheng Y, Fu X, Han W (2012) Infusion of mesenchymal stem cells ameliorates hyperglycemia in type 2 diabetic rats: identification of a novel role in improving insulin sensitivity. Diabetes 6:1616–1625. https://doi.org/10.2337/db11-1141

Skyler JS, Fonseca VA, Segal KR, Rosenstock J, Investigators M-D (2015) Allogeneic mesenchymal precursor cells in type 2 diabetes: a randomized, placebo- controlled, dose-escalation safety and tolerability pilot study. Diabetes Care 38:1742–1749. https://doi.org/10.2337/dc14-2830

Sordi V, Pellegrini S, Krampera M, Marchetti P, Pessina A, Ciardelli G, Fadini G, Pintus C, Pante G, Piemonti L (2017) Stem cells to restore insulin production and cure diabetes. Nutr Metab Cardiovasc Dis 27:583–600. https://doi.org/10.1016/j.numecd

Suchanek J, Nasry SA, Soukup T (2017) The differentiation potential of human natal dental pulp stem cells into insulin-producing cells. Folia Biol (Praha) 63:132–138. https://doi.org/10.3727/096368914X683016

Teta M, Rankin MM, Long SY, Stein GM, Kushner JA (2007) Growth and regeneration of adult beta cells does not involve specialized progenitors. Dev Cell 12:817–826

Tsai PJ, Wang HS, Lin GJ, Chou SC, Chu TH, Chuan WT, Lu YJ, Weng ZC, Su CH, Hsieh PS, Sytwu HK, Lin CH, Chen TH, Shyu JF (2015) Undifferentiated Wharton's jelly mesenchymal stem cell transplantation induces insulin-producing cell differentiation and suppres:sion of T-cell-mediated autoimmunity in nonobese diabetic mice. Cell Transplant 24:1555–1570

Uchida N, Kushida Y, Kitada M, Wakao S, Kumagai N, Kuroda Y, Kondo Y, Hirohara Y, Kure S, Chazenbalk G, Dezawa M (2017) Beneficial effects of systemically administered human muse cells in adriamycin. Nephropathy J Am Soc Nephrol 28(10):2946–2960. https://doi.org/10.1681/ASN.2016070775

Vanikar AV, Trivedi HL, Thakkar UG (2016) Stem cell therapy emerging as the key player in treating type 1 diabetes mellitus. Cytotherapy 18:1077–1086. https://doi.org/10.3727/096368914X683016

Vendrame F, Hopfner YY, Diamantopoulos S, Virdi SK, Allende G, Snowhite IV, Reijonen HK, Chen L, Ruiz P, Ciancio G, Hutton JC, Messinger S, Burke GW, Pugliese A (2016) Risk factors for type 1 diabetes recurrence in immunosuppressed recipients of simultaneous pancreas–kidney transplants. Am J Transplant 16:235–245. https://doi.org/10.1111/ajt.13426

Wang H, Strange C, Nietert PJ, Wang J, Turnbull TL, Cloud C, Owczarski S, Shuford B, Duke T, Gilkeson G, Luttrell L, Hermayer K, Fernandes J, Adams DB, Morgan KA (2018a) Autologous mesenchymal stem cell and islet cotransplantation: safety and efficacy. Stem Cells Transl Med 7:11–19. https://doi.org/10.1002/sctm.17-0139

Wang Y, Pan J, Wang D, Liu J (2018b) The use of stem cells in neural regeneration: a review of current opinion. Curr Stem Cell Res Ther 13:608–617

Xiao X, Chen Z, Shiota C, Prasadan K, Guo P, El-Gohary Y, Paredes J, Welsh C, Wiersch J, Gittes GK (2013) No evidence for beta cell neogenesis in murine adult pancreas. J Clin Invest 123:2207–2217

Xie QP, Huang H, Xu B, Dong X, Gao SL, Zhang B, Wu YL (2009) Human bone marrow mesenchymal stem cells differentiate into insulin-producing cells upon microenvironmental manipulation in vitro. Differentiation 77:483–491. https://doi.org/10.1016/j.diff.2009.01.001

Yamada Y, Nakamura-Yamada S, Kusano K, Baba S (2019) Clinical potential and current progress of dental pulp stem cells for various systemic diseases in regenerative medicine: a concise review. Int J Mol Sci 20:1132. https://doi.org/10.3390/ijms20051132

Yamaguchi S, Shibata R, Yamamoto N, Nishikawa M, Hibi H, Tanigawa T, Ueda M, Murohara T, Yamamoto A (2015) Dental pulp-derived stem cell conditioned medium reduces cardiac injury following ischemia-reperfusion. Sci Rep 5:16295. https://doi.org/10.1038/srep16295

Zhao Y, Jiang Z, Zhao T, Ye M, Hu C, Zhou H, Yin Z, Chen Y, Zhang Y, Wang S, Shen J, Thaker H, Jain S, Li Y, Diao Y, Chen Y, Sun X, Fisk MB, Li H (2013) Targeting insulin resistance in type 2 diabetes via immune modulation of cord blood-derived multipotent stem cells (CB-SCs) in stem cell educator therapy: phase I/II clinical trial. BMC Med 11:160. https://doi.org/10.1186/1741-7015-11-160
Acknowledgement
This research was funded by the Deanship of Scientific Research at Princess Nourah bint Abdulrahman University through the Fast-track Research Funding Program.
Ethics declarations
Conflict of interest
The authors declare no conflict of interest.
Additional information
Publisher's Note
Springer Nature remains neutral with regard to jurisdictional claims in published maps and institutional affiliations.
About this article
Cite this article
El-Kersh, A.O.F.O., El-Akabawy, G. & Al-Serwi, R.H. Transplantation of human dental pulp stem cells in streptozotocin-induced diabetic rats. Anat Sci Int (2020). https://doi.org/10.1007/s12565-020-00550-2
Received:

Accepted:

Published:
Keywords
Human dental pulp stem cells

Transplantation

Streptozotocin

Rat

Type 1 diabetes mellitus