Abstract
Temperate eels are well known for partial migration where contingents may remain settled in marine habitats or move between seawater and brackish and freshwater habitats during their sub-adult life. This behaviour is less described in tropical Anguillid eels, particularly as it relates to salinity preference, habitat selection, and growth. In this study, glass eels Anguilla marmorata were collected from an estuary near the Cagayan River, northern Philippines, and observed for their behaviour and growth response in freshwater, brackish water, and seawater. A. marmorata glass eels spent most of their time in freshwater and brackish water and the least amount of time in seawater throughout the 30-min trial. Some individuals showed switching behaviour between salinity choices, but freshwater was the final selection. Growth-in-length was moderately and significantly lower for seawater-reared glass eels than those reared in freshwater and brackish water. Glass eels reared in freshwater had the highest survival, followed by those reared in brackish water and seawater. Habitat choice, growth, and survival trials all indicated that A. marmorata glass eels found in the Cagayan River have a major preference for freshwater and brackish water over seawater. These findings raise concerns with regard to the increased fishing pressure of eels, water pollution, and quarrying which is concentrated in freshwater habitats.
Access options
Buy single article
Instant access to the full article PDF.
US$ 39.95
Tax calculation will be finalised during checkout.
Subscribe to journal
Immediate online access to all issues from 2019. Subscription will auto renew annually.
US$ 79
Tax calculation will be finalised during checkout.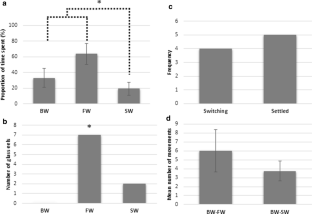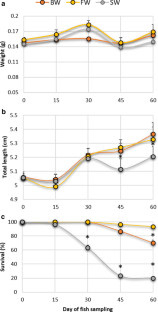 References
Ame EC, Ayson JP, Ame RB (2013) Status of elvers fisheries in Cagayan Province, Luzon, Philippines. Kur Sci 7:41–48

Aoyama J, Yoshinaga T, Shinoda A, Shirotori F, Yambot AV, Han YS (2015) Seasonal changes in species composition of glass eels of the genus Anguilla (Teleostei: Anguillidae) recruiting to the Cagayan River, Luzon Island, the Philippines. Pac Sci 69:63–270

Arai T, Chino N (2012) Diverse migration strategy between freshwater and seawater habitats in the freshwater eel genus Anguilla. J Fish Biol 81:442–455

Arai T, Chino N (2018) Opportunistic migration and habitat use of the giant mottled eel Anguilla marmorata (Teleostei: Elopomorpha). Sci Rep 8:1–10

Arai T, Kadir SRA (2017) Diversity, distribution and different habitat use among the tropical freshwater eels of genus Anguilla. Sci Rep 7:75–93

Bardonnet A, Dasse S, Parade M, Heland M (2003) Study of glass eels movements in a flume in relation to nycthemeral changes. Bulletin Francais de la Peche et de la Pisciculture 368:9–19. https://doi.org/10.1051/kmae:2003032

Bardonnet A, Riera P (2005) Feeding of glass eels (Anguilla anguilla) in the course of their estuarine migration: new insights from stable isotope analysis. Est Coast Shelf Sci 63:201–209

Boivin B, Castonguay M, Audet C, Pavey SA, Dionne M, Bernatchez L (2015) How does salinity influence habitat selection and growth in juvenile American eels Anguilla rostrata? J Fish Biol. https://doi.org/10.1111/jfb.12604

Briones AA, Yambot AV, Shiao JC, Iizuka Y, Tzeng WN (2007) Migratory pattern and habitat use of tropical eels Anguilla spp. (Teleostei: Anguilliformes: Anguillidae) in the Philippines, as revealed by otolith microchemistry. Raffles Bull Zool Suppl 14:141–149

Cairns DK, Secor DA, Morrison WE, Hallett JA (2009) Salinity-linked growth in anguillid eels and the paradox of temperate-zone catadromy. J Fish Biol 74:2094–2114

Cantor M, Aplin LM, Farine DR (2020) A primer on the relationship between group size and group performance. Anim Behav 166:139–146

Chino N, Arai T (2010) Migratory history of the giant mottled eel (Anguilla marmorata) in the Bonin Islands of Japan. Ecol Fresh Fish 19:19–25

Ciccotti BE, Macchi E, Rossi A, Cataldi E, Cataudella S (1993) Glass eel (Anguilla anguilla) acclimation to freshwater and seawater: morphological changes of the digestive tract. J App Ichthyol 9:74–81

Crean SR, Dick JTA, Evans DW, Rosell RS, Elwood RW (2005) Survival of juvenile European eels (Anguilla anguilla), transferred among salinities, and developmental shifts in their salinity preference. J Zool. https://doi.org/10.1017/S0952836905006539

Crook V (2010) Trade in Anguilla species, with a focus on recent trade in European Eel A. anguilla. TRAFFIC: Report prepared for the European Commission, p 52

Crook V (2014) Slipping away: international Anguilla eel trade and the role of the Philippines. TRAFFIC and ZSL, UK

Daverat F, Limburg KE, Thibault I, Shiao JC, Dodson JJ, Caron F, Wickström H (2006) Phenotypic plasticity of habitat use by three temperate eel species, Anguilla anguilla, A. japonica and A. rostrata. Mar Ecol Prog Ser 308:231–241

De Silva SS, Gunasekera RM, Ingram BA, Dobson JL (2001) Weaning of Australian shortfin glass eels (Anguilla australis): a comparison on the effectiveness of four types of fish roe. Aquaculture 195:133–148

Ebner BC, Morgan DL, Kerezsy A, Hardie S, Beatty SJ, Seymour JE, Espinoza T (2016) Enhancing conservation of Australian freshwater ecosystems: identification of freshwater flagship fishes and relevant target audiences. Fish Fish 17:1134–1151

Edeline E, Dufour S, Elie P (2005) Role of glass eel salinity preference in the control of habitat selection and growth plasticity in Anguilla anguilla. Mar Ecol Prog Ser 304:191–199

Edeline E, Lambert P, Rigaud C, Elie P (2006) Effects of body condition and water temperature in Anguilla anguilla glass eel migratory behavior. J Exp Mar Biol Ecol. https://doi.org/10.1016/j.jembe.2005.10.011

Elie P (1979) Contribution à l'étude des Montées de Civelles d'Anguilla anguilla Xinné (Poisson, Téléostéen, Anguilliforme), dans l'estuaire delà Loire: Pêche, Ecologie Ecophysiolologie et Elevage. PhD dissertation, University of Rennes I, Rennes

Fukuda N, Miller MJ, Aoyama J, Shinoda A, Tsukamoto K (2013) Evaluation of the pigmentation stages and body proportions from the glass eel to yellow eel in Anguilla japonica. Fish Sci 79:425–438

Fukuda N, Yokouchi K, Yamamoto T, Kurogi H, Yada T (2018) Salinity and odor preferences of Japanese eel during the first year of post-recruitment growth in saline water. J Ethol 37:93–99

Han YS, Yambot AV, Zhang H, Hung CL (2012) Sympatric spawning but allopatric distribution of Anguilla japonica and Anguilla marmorata: temperature- and oceanic current-dependent sieving. PLoS ONE. https://doi.org/10.1371/journal.pone.0037484

Ingram BA, Gooley GJ, De Silva SS, Larkin BJ, Collins RA (2001) Preliminary observations on the tank and pond culture of the Australian eel, Anguilla australis Richardson. Aquac Res 32:833–848

Kearney M, Jeffs A, Lee P (2008) Effects of salinity and temperature on the growth and survival of New Zealand shortfin, Anguilla australis, and longfin, A. dieffenbachii, glass eels. Aquac Res 39:1769–1777

Leander NJ, Shen KN, Chen RT, Tzeng WN (2012) Species composition and seasonal occurrence of recruiting glass eels (Anguilla spp.) in the Hsiukuluan River. Eastern Taiwan Zool Stud 51:59–71

Leander NJ, Wang YT, Yeh MF, Tzeng WN (2014) The largest giant mottled eel Anguilla marmorata discovered in Taiwan. Zool Stud 16:77–84

Lukas AYH, Djokosetiyanto D, Budiardi T, Sudrajat AO, Affandi R (2017) Optimization of salinity range for rearing glass eel Anguilla bicolor bicolor. J Akuak Indon 16:215–222

McCleave JD, Edeline E (2009) Diadromy as a conditional strategy: patterns and drivers of eel movements in continental habitats. Am Fish Soc Symp 69:97–119

McCleave JD, Wippelhauser GS (1987) Behavioural aspects of selective tidal stream transport in juvenile American eels. Am Fish Soc Symp 1:138–150

McDowall RM (1988) Diadromy in fishes: migrations between freshwater and marine environments. Croom-Helm, London

Morrison WE, Secor DH (2003) Demographic attributes of yellow-phase American eels (Anguilla rostrata) in the Hudson River estuary. Can J Fish Aquat Sci 60:1487–1501

Rodriguez A, Gisbert E, Rodriguez G, Castello-Orvay F (2005) Histopathological observations in European glass eels (Anguilla anguilla) reared under different diets and salinities. Aquaculture 244:203–214

Schmidt J (1909) Remarks on the metamorphosis and distribution of the larvae of the eel (Anguilla vulgaris Turt.). Medd Komm Havunders Seri Fisk 3:1–17

Secor DH (2015a) American eel: when does diversity matter? Fisheries 40:462–463

Secor DH (2015b) Migration ecology of marine fishes. JHU Press, Baltimore

Serdiati N, Ndobe S, Moore A, Wahyudi D (2013) Species composition of glass eels (Anguilla spp.) recruiting to Palu River, Central Sulawesi. J Iktiol Indon 12:109–123

Shiao JC, Iizuka Y, Chang CW, Tzeng WN (2003) Disparities in habitat use and migratory behavior between tropical eel Anguilla marmorata and temperate eel A. japonica in four Taiwanese rivers. Mar Ecol Prog Ser 261:233–242

Shiraishi H, Crook V (2015) Eel market dynamics: an analysis of Anguilla production, trade and consumption in East Asia. TRAFFIC, Tokyo

Sola C (1995) Chemoattraction of upstream migrating glass eel Anguilla anguilla to earthy and green odorants. Environ Biol Fish. https://doi.org/10.1007/BF00002489

Sola C, Tongiorgi P (1998) Behavioural responses of glass eels of Anguilla anguilla to non-protein amino acids. J Fish Biol. https://doi.org/10.1111/j.1095-8649.1998.tb00246.x

Tesch FW (2003) The eel. Blackwell Science, Oxford

Tesch FW (1977) The eel biology and management of anguillid eels. John Wiley & Sons, New York, p 434

Tongiorgi P, Tosi L, Balsamo M (1986) Thermal preferences in upstream migrating glass-eels of Anguilla anguilla L. J Fish Biol. https://doi.org/10.1111/j.1095-8649.1986.tb05186.x

Tosi L, Sola C (1993) Role of geosmin, a typical inland water odour, in guiding glass eel Anguilla anguilla L. migration. Ethology. https://doi.org/10.1111/j.1439-0310.1993.tb00468.x

Tosi L, Sala L, Sola C, Spampanato A, Tongiorgi P (1988) Experimental analysis of the thermal and salinity preferences of glass eels, Anguilla anguilla L., before and during the upstream migration. J Fish Biol. https://doi.org/10.1111/j.1095-8649.1988.tb05517.x

Tosi L, Spampanato A, Sola C, Tongiorgi P (1990) Relation of water odour, salinity and temperature to ascent of glass eels Anguilla Anguilla L.: a laboratory study. J Fish Biol. https://doi.org/10.1111/j.1095-8649.1990.tb05613.x

Trancart T, Lambert P, Rochard E, Daverat F, Coustillas J, Roqueplo C (2012) Alternative flood tide transport tactics in catadromous species: Anguilla anguilla, Liza ramada and Platichthys flesus. Estuar Coast Shelf Sci 99:191–198

Tsukamoto K, Arai T (2001) Facultative catadromy of the eel Anquilla japonica between freshwater and seawater habitats. Mar Ecol Prog Ser 220:265–276

Walsh CT, Pease BC (2002) The use of clove oil as an anaesthetic for the longfinned eel, Anguilla reinhardtii (Steindachner). Aquac Res 33:627–635

Wang FY, Fu WC, Wang IL, Yan HY, Wang TY (2014) The giant mottled eel, Anguilla marmorata, uses blue-shifted rod photoreceptors during upstream migration. PLoS ONE. https://doi.org/10.1371/journal.pone.0103953
Acknowledgements
The authors thank Renato Adolfo, Francis Kenith Adolfo, Danica May Lawagan, Sherry Lyn Grajales Sayco, and staff of the Bolinao Marine Laboratory for their assistance during the experiments, and Prof. Katsumi Tsukamoto for the constructive suggestions on the study design.
Funding
The Department of Science and Technology-Science Education Institute provided grants for thesis research to G.A.G. Aquino. Logistical support was provided in part by a grant from the Philippine Council for Agriculture, Aquatic, and Natural Resources Research and Development of the Department of Science and Technology to P.C. Cabaitan (QMSR-MRRD-MEC-295-1449).
Ethics declarations
Conflict of interest
We wish to confirm that there are no known conflicts of interest associated with this publication and there has been no significant financial support for this work that could have influenced its outcome.
Additional information
Publisher's Note
Springer Nature remains neutral with regard to jurisdictional claims in published maps and institutional affiliations.
Supplementary Information
Below is the link to the electronic supplementary material.
About this article
Cite this article
Aquino, G.A.G., Cabaitan, P.C. & Secor, D.H. Locomotor activity and growth response of glass eel Anguilla marmorata exposed to different salinity levels. Fish Sci (2021). https://doi.org/10.1007/s12562-021-01493-x
Received:

Accepted:

Published:
Keywords
Glass eel

Growth

Movement

Salinity preference

Survival