Abstract
Green tides caused by Ulvales group macroalgae have been reported from many eutrophic waters around the world. The asari clam Ruditapes philippinarum is an important fisheries resource in Japan and co-exists in coastal waters with Ulvales macroalgae. This study examined a possible impact of fresh Ulva fronds on the growth of juvenile, adult, and spat asari clams by conducting rearing experiments. Significant inhibition of juvenile and spat growth, but not adult growth, was observed when fresh Ulva fronds were floated on rearing water at 42.7 g/l (or 0.68 g/cm2), a density per area corresponding to the vegetation at Ajina flat on June 2006. This growth inhibition was experimentally observed at a level of 1.8 mg C/l (or a 0.47 mg C/l increase against blank rearing water) of dissolved organic matter (DOM) released from Ulva fronds. On the other hand, coastal waters with Ulva blooms contained higher levels of DOM (mean ± SD) at 2.3 ± 0.8 mg C/l (or 1.6 mg C/l higher than neighboring waters with sparse Ulva vegetation), suggesting that similar inhibition of asari clam growth may be occurring in the natural water environment with prevalent Ulva blooms.
Access options
Buy single article
Instant access to the full article PDF.
US$ 39.95
Tax calculation will be finalised during checkout.
Subscribe to journal
Immediate online access to all issues from 2019. Subscription will auto renew annually.
US$ 79
Tax calculation will be finalised during checkout.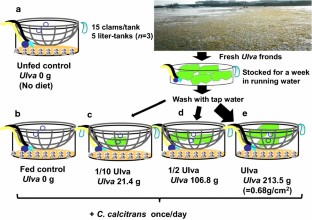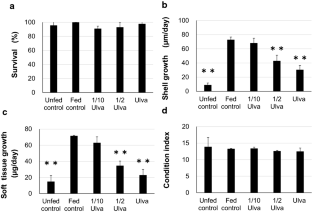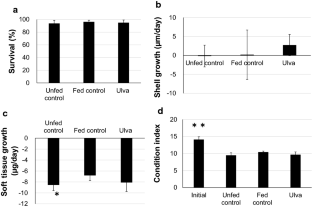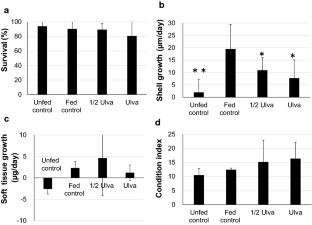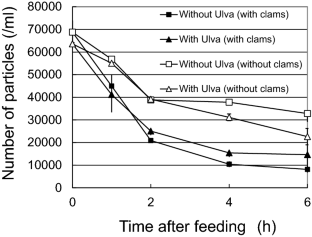 References
Arapov J, Ezgeta-Bali D, Peharda M, Gladan ZN (2010) Bivalve feeding- How and what they eat? Ribarstvo 68:105–111

Arasaki S (1984) A new aspect of Ulva vegetation along the Japanese coast. Hydrobiologia 116(117):229–232

Borowsky R, Borowsky B (1990) Feeding inhibition of the salt marsh amphipod Gammarus palustris Bousfield, 1969 by heat-labile substances in Ulva lactuca L. Crustaceana 59:299–301

Bricker SB, Longstaff B, Dennison W, Jones A, Boicourt K, Wicks C, Woerner J (2008) Effects of nutrient enrichment in the nation's estuaries: a decade of change. Harmful Algae 8:21–32

Brown JR, Hartwick EB (1988) Influences of temperature, salinity and available food upon suspended culture of the Pacific oyster, Crassostrea gigas. II. Cond Index Surv Aquac 70:253–267

Fujii A, Michiyama A, Yokoyama Y, Sekine M (2009) Verification of the effectiveness of Ulva salvage measures for preservation of Manila clam resources. J Jap Sc Water Environ 32:273–280 ((in Japanese with English abstract))

Green-Gavrielidis LA, MacKechnie F, Thornber CS, Gomez-Chiarri M (2018) Bloom-forming macroalgae (Ulva spp.) inhibit the growth of co-occurring macroalgae and decrease eastern oyster larval survival. Mar Ecol Prog Ser 595:27–37

Johnson DA, Welsh BL (1985) Detrimental effects of Ulva lactuca (L.) exudates and low oxygen on estuarine crab larvae. J Exp Mar Biol Ecol 86:73–83

Kozuki Y, Yamanaka R, Matsushige M, Saito A, Iwakumo T, Ishida T, Otani S (2011) Study on filter-feeding disability of Ruditapes philippinarum by hypoxic water. J Jap Soc Civil Engineers Ser B2 Coast Eng 67:I-1006-I–1010 ((in Japanese with English abstract))

Lahaye M, Robic A (2007) Structure and functional properties of ulvan, a polysaccharide from green seaweeds. Biomacromol 8:1765–1774

Langdon CJ, Newell RIE (1990) Utilization of detritus and bacteria as food sources by two bivalve suspension–feeders, the oyster Crassostrea virginica and the mussel Geukensia demissa. Mar Ecol Prog Ser 58:299–310

Lemee R, Pesando D, Durand-Clement M, Dubreuil A, Meinesz A, Guerriero A, Pietra F (1993) Preliminary survey of toxicity of green alga Caulerpa taxifolia introduced into Mediterranean. J Appl Phycol 5:485–493

Magre EJ (1974) Ulva lactuca L. negatively affects Balanus balanoides (L.) (Cirripedia Thoracica) in tidepools. Crustaceana 27:231–234

Merrill J, Fletcher R (1991) Green tides cause major economic burden in Venice lagoon, Italy. Appl Phycol Forum 8:1–3

Ministry of Agriculture, Forestry and Fisheries Japan Statistics Department (2017) The 92th statistical yearbook of Ministry of Agriculture, Forestry and Fisheries Japan Statistics Department. Ministry of Agriculture, Forestry and Fisheries Japan, Tokyo (in Japanese, with English index)

Nelson TA, Gregg BC (2013) Determination of EC50 for normal oyster larval development in extracts from bloom forming green seaweeds. Nautilus 127:156–159

Nelson TA, Lee DJ, Smith BC (2003) Are "green tides" harmful algal blooms? Toxic properties of water-soluble extracts from two bloom-forming macroalgae, Ulva fenestrata and Ulvaria obscura (Ulvophyceae). J Phycol 39:874–879

Onitsuka T, Takami H, Muraoka D, Matsumoto Y, Nakatsubo A, Kimura R, Ono T, Nojirig Y (2018) Effects of ocean acidification with pCO2 diurnal fluctuations on survival and larval shell formation of Ezo abalone, Haliotis discus hannai. Mar Environ Res 134:28–36

Robic A, Bertrand D, Sassi JF, Lerat Y, Lahaye M (2009) Determination of the chemical composition of ulvan, a cell wall polysaccharide from Ulva spp. (Ulvales, Chlorophyta) by FT-IR and chemometrics. J Appl Phycol 21:451–456

Shimada S, Hiraoka M, Nabata S, Iima M, Matsuda M (2003) Molecular phylogenetic analyses of the Japanese Ulva and Enteromorpha (Ulvales, Ulvophyceae), with special reference to the free-floating Ulva. Phycological Res 51:99–118

Siddhanta AK, Goswami AM, Ramavat BK, Mody KH, Mairh OP (2001) Water soluble polysaccharides of marine algal species of Ulva (Ulvales, Chlorophyta) of Indian waters. Indian J Mar Sci 30:166–172

Smetacek V, Zingone A (2013) Green and golden seaweed tides on the rise. Nature 504:84–88

Uchida M, Miyoshi T, Kanematsu M, Kobayashi Y (2020) Inhibitory feeding effect of marine silage prepared from Ulva spp. (Chlorophyta) on the asari clam Ruditapes philippinarum juveniles. Fish Sci 86:519–530

Uchimura M, Yoshida G, Hiraoka M, Komatsu T, Arai S, Terawaki T (2004) Ecological studies of green tide, Ulva spp. (Chlorophyta) in Hiroshima Bay, the Seto Inland Sea. Jap J Phycol 52(Suppl.):17–22

Wang R, Feng W, Tang X, Wang J, Dong S (2012) Allelopathic growth inhibition of Heterosigma akashiwo by the three Ulva species (Ulva pertusa, Ulva linza, Enteromorpha intestinalis) under laboratory conditions. Acta Oceanol Sin 31:138–144

Xu Q, Yang H (2007) Food sources of three bivalves living in two habitats of Jiaozhou bay (Qingdao, China): indicated by lipid biomarkers and stable isotope analysis. J Shellfish Res 26:561–567

Yabe T, Ishii Y, Amano Y, Koga T, Hayashi S, Nohara S, Tatsumoto H (2009) Green tide formed by free-floating Ulva spp. at Yatsu tidal flat. Japan Limnology 10:239–245

Yoshida G, Uchimura M, Hiraoka M (2015) Persistent occurrence of floating Ulva green tide in Hiroshima Bay, Japan: seasonal succession and growth patterns of Ulva pertusa and Ulva spp. (Chlorophyta, Ulvales). Hydrobiologia 758:223–233
Acknowledgements
This work was partially supported by the Fisheries Agency of Japan. We thank Dr. Takashi Hano for help in statistical analysis.
Additional information
Publisher's Note
Springer Nature remains neutral with regard to jurisdictional claims in published maps and institutional affiliations.
About this article
Cite this article
Uchida, M., Miyoshi, T., Niimura, Y. et al. Growth inhibitory effect of dissolved organic matter from fresh free-floating Ulva spp. fronds on asari clam Ruditapes philippinarum. Fish Sci (2021). https://doi.org/10.1007/s12562-021-01492-y
Received:

Accepted:

Published:
Keywords
Asari clam

Green tide

Growth inhibition

DOM

Ulva
Ruditapes philippinarum