Abstract
The locality of Gratkorn of early late Sarmatian age (Styria, Austria, Middle Miocene) has yielded an abundant and diverse fauna, including invertebrates, micro-vertebrates and large mammals, as well as plants. As part of the taxonomical study of the mammals, two species of suids, are described here and assigned to Listriodon splendens Von Meyer, 1846 and Parachleuastochoerus steinheimensis (Fraas, 1870). As the generic affinities of the latter species were subject to debate, we present a detailed study of the evolution of the European Tetraconodontinae. The morphometric changes that occurred in a series of fossil samples covering the known temporal ranges of the species Pa. steinheimensis are documented. It is concluded that Parachleuastochoerus includes three species, namely Pa. steinheimensis, Pa. huenermanni and Pa. crusafonti. Evolutionary changes are recognised among the Pa. steinheimensis fossil samples. In addition, it is proposed that the subspecies Pa. steinheimensis olujici was present in Croatia long before the genus dispersed further into Europe.
Access options
Buy single article
Instant access to the full article PDF.
US$ 39.95
Tax calculation will be finalised during checkout.
Subscribe to journal
Immediate online access to all issues from 2019. Subscription will auto renew annually.
US$ 79
Tax calculation will be finalised during checkout.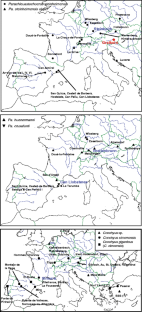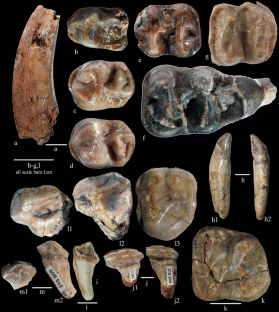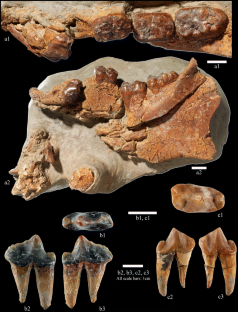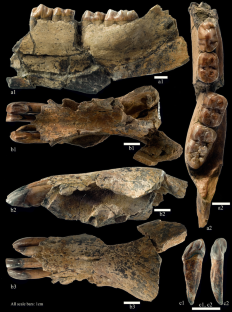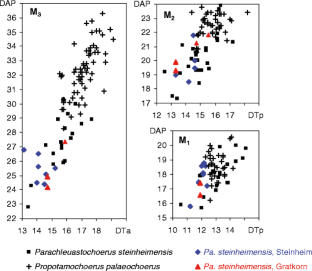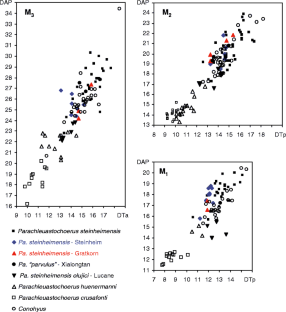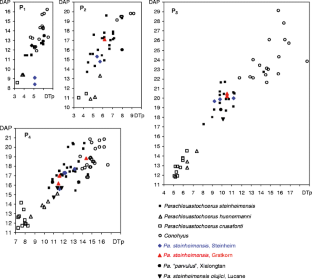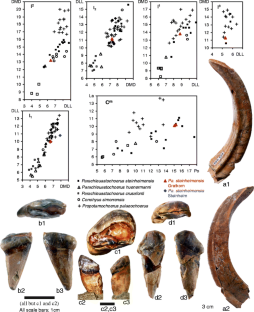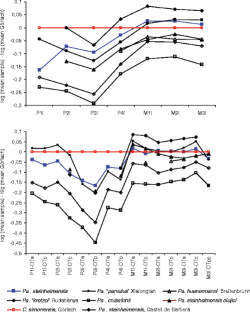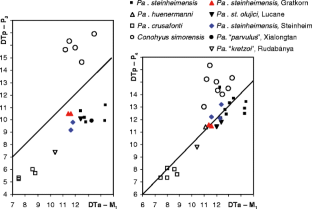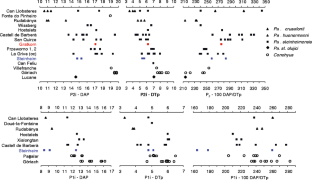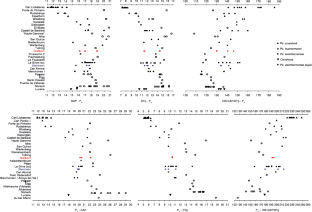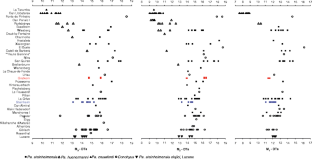 References
Aiglstorfer M, Bocherens H, Böhme M (2014) Large mammal ecology in the late Middle Miocene Gratkorn locality (Austria). In: Böhme M, Gross M, Prieto J (eds) The Sarmatian vertebrate locality Gratkorn, Styrian Basin. Palaeobio Palaeoenv 94(1). Doi: 10.1007/s12549-013-0145-5

Agustí J, Moyà-Solà S, Gibert J (1984) Mammal distribution dynamics in the eastern margin of the Iberian peninsula during the Miocene. Paléontol Cont Montpellier 14(2):33–46

Bernor RL, Bi S, Radovcic J (2004) A contribution to the evolutionary biology of Conohyus olujici n. sp. (Mammalia, Suidae, Tetraconodontinae) from the early Miocene of Lucane, Croatia. Geodiversitas 26(3):509–534

Böhme M, Vasilyan D (2014) Ectothermic vertebrates from the late Middle Miocene of Gratkorn (Austria, Styria). In: Böhme M, Gross M, Prieto J (eds) The Sarmatian vertebrate locality Gratkorn, Styrian Basin. Palaeobio Palaeoenv 94(1). Doi: 10.1007/s12549-013-0143-7

Böhme M, Gross M, Prieto J (2014) The Sarmatian vertebrate locality Gratkorn, Styrian Basin. Palaeobio Palaeoenv 94(1). (Special issue)

Chen G (1984) Suidae and Tayassuidae (Artiodactyla, Mammalia) from the Miocene of Steinheim a. A. (Germany). Palaeontogr Abt A Palaeozool-Stratigr 184(1–4):79–83

Ducrocq S, Chamanee Y, Sutheethorn V, Jaeger JJ (1998) The earliest known pig from the upper Eocene of Thailand. Palaeontology 41(1):147–156

Ewer RF (1958) Adaptive features in the skulls of African Suidae. Proc Zool Soc Lond 131:135–155

Ewer RF (1970) The head of the forest hog, Hylochoerus meinertzhageni. East Afr Wildl 8:43–52

Fortelius M, Made J van der, Bernor RL (1996) Middle and Late Miocene Suoidea of Central Europe and the Eastern Mediterranean: Evolution, biogeography and paleoecology. In: RL Bernor, V Fahlbusch, HW Mittmann (eds.) The evolution of Western Eurasian Neogene Mammal Faunas. Columbia University Press:344-377

Fortelius M, Armour-Chelu M, Bernor RL, Fessaha N (2005) Systematics and palaeobiology of the Rudabánya Suidae. Palaeontogr Ital 90:259–278

Fraas O (1870) Die Fauna von Steinheim. Mit Rücksicht auf die miocenen Säugethier- und Vogelreste des Steinheimer Beckens. Jahresh der Vereinigung vaterl Naturk Württembergs 26:145–306

Ginsburg L (1977) Sur la répartition stratigraphique de Conohyus simorrensis (Suidae, Artiodactyla, Mammalia) dans le Miocène européen. CR Somm Soc Géol France 4:203–205

Golpe-Posse JM (1972) Suiformes del Terciario Español y sus yacimientos. Pal Evol 2:1–197

Gross M, Fritz I, Piller WE, Soliman A, Harzhauser M, Hubmann B, Moser B, Schloger R, Suttner TJ (2007) The Neogene of the Styrian Basin – Guide to excursion. J Geol Paläontol 9:117–193

Gross M, Böhme M, Prieto J (2011) Gratkorn: A benchmark locality for the continental Sarmatian s.str. of the Central Paratethys. Int J Earth Sci 100:1895–1913

Gross M, Böhme M, Havlik P, Aiglstorfer M (2014) The late Miocene (Sarmatian s.str.) fossil site Gratkorn – the first decade of research, geology, stratigraphy and vertebrate fauna. Palaeobio Palaeoenv 94(1) doi: 10.1007/s12549-013-0149-1

Harzhauser M, Gross M, Binder H (2008) Biostratigraphy of Middle Miocene (Samartian) wetland systems in an Eastern Alpine intramontane basin (Gratkorn Basin, Austria): the terrestrial gastropod approach. Geol Carpathica 59(1):45–58

Herring SW (1972a) The role of canine morphology in the evolutionary divergence of pigs and peccaries. J Mammal 53(3):500–521

Herring SW (1972b) The facial musculature of the Suoidea. J Morphol 137:49–62

Heissig K (1989) Conohyus huenermanni n. sp., eine kleine Schweineart aus der Oberen Süßwassermolasse Bayerns. Mitt Bayer Staatsslg Paläont hist Geol 29:235–240

Hunter JP, Fortelius M (1994) Comparative dental occlusal morphology, facet development, and microwear in two sympatric species Listriodon (Mammalia, Suidae) from the Middle Miocene of western Anatolia (Turkey). J Vertebr Paleontol 14(1):105–126

Leeuw A de, Mandic O, Vranjković A, Paveli D, Harzhauser M, KrijgsmanW, Kuiper KF (2010) Chronology and integrated stratigraphy of the Miocene Sinj Basin (Dinaride Lake System, Croatia). Palaeogeogr Palaeoclimatol Palaeoecol 292:155–167

Made J van der (1990a) Iberian Suoidea. Pal Evol 23:83–97

Made J van der (1990b) A range chart for European Suidae and Tayassuidae. Pal Evol 23:99–104

Made J van der (1994) Suoidea from the Lower Miocene of Cetina de Aragón, Spain. Rev Esp Paleontol 9(1):1–23

Made J van der (1996) Listriodontinae (Suidae, Mammalia), their evolution, systematics and distribution in time and space. Contrib Tert Quatern Geo 33(1-4):3–254, Microfiche 54 pp

Made J van der (1997) On Bunolistriodon (=Eurolistriodon) and kubanochoeres. Proc K Ned Akad Wet 100(1–2):141–160

Made J van der (1998) Aureliachoerus from Oberdorf and other Aragonian pigs from Styria. Ann Naturhist Mus Wien 99:225–277

Made J van der (1999a) Biometrical trends in the Tetraconodontinae, a subfamily of pigs. Trans R Soc Edinb Earth Sci 89:199–225

Made J van der (1999b) Intercontinental relationship Europe-Africa and the Indian Subcontintent. In Rössner G, Heissig K(eds) The Miocene land mammals of Europe. Verlag Dr. Friedrich Pfeil, München:457–472

Made J van der (2003) Suoidea (pigs) from the hominoid locality of Çandir in Turkey. Cour Forsch-Inst Senckenberg 240:149–179

Made J van der (2004) The status of Conohyus giganteus (Nyanzachoerini, Tetraconodontinae, Suidae) - Reply to Pickford (2001). Trans R Soc Edinb Earth Sci 94:157–167

Made J van der (2010) The pigs and "Old World peccaries" (Suidae and Palaeochoeridae, Suoidea, Artiodactyla) from the Miocene of Sandelzhausen (southern Germany): phylogeny and an updated classification of the Hyotheriinae and Palaeochoeridae. Palaeontol Z 84:43–121

Made J van der, Krakhmalnaya T, Kubiak H (1999) The pig Propotamochoerus palaeochoerus from the Upper Miocene of Grytsiv, Ukraine. Estud Geol (Madr) 55(5–6):283–292

Mottl M (1970) Die jungtertiären Säugetierfaunen der Steiermark, Südösterreichs. Mitt Mus Bergbau Geol Tech Landesmus Joanneum Graz 31:1–92

Orliac MJ (2009) The differentiation of bunodont Listriodontinae (Mammalia, Suidae) of Africa: new data from Kalodirr and Moruorot, Kenya. Zool J Linn Soc 157:653–678

Orliac MJ (2006) Eurolistriodon tenarezensis, sp. nov., from Montreal-du-Gers (France): implications for the systematics of the european Listriodontinae (Suidae, Mammalia). J Vert Paleontol 26(4):967–980

Orliac MJ, Antoine PO, Ducrocq S (2010) Phylogenetic relationships of the Suidae (Mammalia, Cetartiodactyla): new insights on the relationships within Suoidea. Zool Scr 39(4):315–330

Pickford M (1981) Parachleuastochoerus (Mammalia, Suidae). Estud Geol (Madr) 37:313–320

Pickford M, Liu LP (2001) Revision of the Miocene Suidae of Xiaolongtan (Kaiyuan), China. Boll Soc Paleontol Ital 40(2):275–283

Pickford M, Morales J (2003) New Listriodontinae (Suidae, Mammalia) from Europe and a review of listriodont evolution, biostratigraphy and biogeography. Geodiversitas 25:1–58

Prieto J, Angelone C, Casanovas-Vilar I, Gross M, Hír J, Hoek Ostende L van den, Maul LC, Vasilyan D (2014) The small mammals from Gratkorn: an overview. In: Böhme M, Gross M, Prieto J (eds) The Sarmatian vertebrate locality Gratkorn, Styrian Basin. Palaeobio Palaeoenv 94(1): Doi:10.1007/s12549-013-0147-3

Sein C, Made J van der, Rössner G (2009) New material of Propotamochoerus (Suidae, Mammalia) from the Irrawaddy Formation, Myanmar. N Jb Geol Paläont, Abh 251(1):17–31

Sicuro FL, Oliveira LFB (2002) Coexistence of peccaries and feral hogs in the Brazilian Pantanal wetland: an ecomorphological view. J Mammal 83(1):207–217

Stehlin HG (1899-1900) Ueber die Geschichte des Suidengebisses. Abhandlungen der schweizerischen paläontologischen Gesellschaft. (First part, 1899, 26:1–336, second part, 1900, 27:337–527)

Thenius E (1952) Die Säugetierfauna aus dem Torton von Neudorf an der March (CSR). N Jb Geol Paläont, Abh 96(1):27–136

Thenius E (1956) Die Suiden und Tayassuiden des steirischen Tertiärs: Beiträge zur Kenntnis d. Säugetierreste d. steir. Tertiärs VIII.- Sitzungsberichte d. Österr. Akademie d. Wissenschaften. Math.-naturwiss. Klasse Abt 1165:338–382

Tong Y, Zhao Z (1986) Odoichoerus, a new Suoid (Artiodactyla. Mammalia) from the early Tertiary of Guangxi. Vert PalAsiatica 24(2):129–138, pl.l
Acknowledgements
The community of Gratkorn financially supported excavation in 2008. We are indebted to the Wietersdorfer & Peggauer Zementwerke AG (especially Josef Plank). Norbert Winkler (Joanneum) meticulously prepared the specimens. We especially thank the reviewers K. Heissig (Bayerische Staatssammlung für Paläontologie und Geologie, München) and M. Orliac (Université Montpellier 2). The excavations of the Universalmuseum Joanneum were partly financed by the Land Steiermark/Wissenschaftsreferat. For the study of NHMW material Jérôme Prieto received support from the SYNTHESYS Project (ES-TAF-624), financed by the European Community Research Infrastructure Action under the FP6 "Structuring the European Research Area" Programme and from the Spanish Ministerio de Economía y Competitividad (CGL2011-28681). Jan van der Made received support from projects CGL2008-03881 and CGL2012-38434-C0 of the Spanish Ministerio de Economia y Competitividad and its predecessor. Over many years, the following persons gave Jan van der Made and/or Manuela Aiglstorfer access to material which is studied here or used for comparison, or helped in any other way: J. Agustí, B. Alpagut, B. Azanza, S. Calzada, E. Cioppi, G. Daxner-Höck, B. Engesser, V. Fahlbusch, J. Franzen, L. Ginsburg, C. de Giuli, W. Gräf, P. Havlik, K. Heißig, E.P.J. Heizmann, K.A. Hünermann, M.S. Jaquat, T. Kaya, L. Kordos, K. Kowalski, Liu Liping, H. Lutz, S. Mayda, H. Mayr, S. Moyà Solà, R. Niederl, M. Philippe, K. Rauscher, G. Rößner, G. Saraç, G. Scharfe, F. Schrenk, P.Y. Sondaar, M. Telles Antunes, L. Via and J.F. de Villalta Comella.
Additional information
This article is an additional contribution to the special issue "The Sarmatian vertebrate locality Gratkorn, Styrian Basin".
About this article
Cite this article
van der Made, J., Prieto, J., Aiglstorfer, M. et al. Taxonomic study of the pigs (Suidae, Mammalia) from the late Middle Miocene of Gratkorn (Austria, Styria). Palaeobio Palaeoenv 94, 595–617 (2014). https://doi.org/10.1007/s12549-014-0152-1
Received:

Revised:

Accepted:

Published:

Issue Date:
Keywords
Listriodontinae

Tetraconodontinae

Middle Miocene

Sarmatian

Styrian Basin