Abstract
New collection work in Mount Flora, Hope Bay, Antarctic Peninsula, has confirmed the presence of bivalve moulds in the Jurassic Mount Flora Formation. In contrast to a twenty-first century article claiming to report the first discovery of fossil freshwater molluscs in Antarctica, evidence of these molluscs was first reported for Antarctica more than 110 years ago by J. Gunnar Andersson. The bivalve was formally described and named some 50 years later, by Camacho, as Antediplodon esperanzaensis. The species was subsequently transferred to the genus Diplodon for unknown reasons. Here, we illustrate specimens from the same locality for the first time with photographs, considering them Unionida incertae saedis, in view of the absence of diagnostic characters. In fact, two morphotypes are present, one elongated, very similar to the nominal species A. esperanzaensis, and another one subelliptical in shape.
Access options
Buy single article
Instant access to the full article PDF.
US$ 39.95
Tax calculation will be finalised during checkout.
Subscribe to journal
Immediate online access to all issues from 2019. Subscription will auto renew annually.
US$ 79
Tax calculation will be finalised during checkout.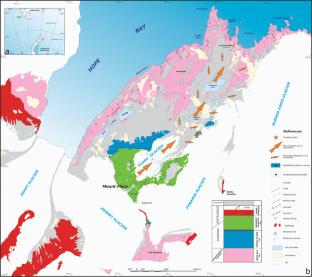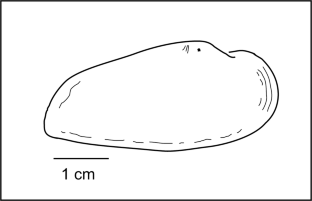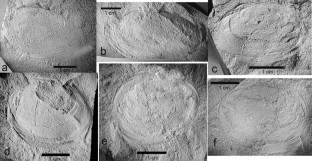 References
Andersson, J.G. 1906. On the geology of Graham Land. Geological Institution of Upsala, Bulletin 7: 19–74.

Ashworth, A.C., and R.C. Preece. 2003. The first freshwater molluscs from Antarctica. Journal of Molluscan Studies 69: 89–92.

Bibby, J.S. 1966. The stratigraphy of part of north-east Graham Land and the James Ross Island group. British Antarctic Survey Scientific Report 53: 1–37.

Bieler R., J.G. Carter, and E.V. Coan. 2010. Classification of Bivalve families. In Nomenclator of Bivalve Families, eds. P. Bouchet, and J.P. Rocroi. Malacologia 52(2): 113–133.

Birkenmajer, K. 1993. Jurassic terrestrial clastics (Mount Flora Formation) at Hope Bay, Trinity Peninsula (West Antarctica). Bulletin of the Polish Academy of Sciences: Earth Sciences 41: 23–38.

Birkenmajer, K., and A.M. Ociepa. 2008. Plant-bearing Jurassic strata at Hope Bay, Antarctic Peninsula (West Antarctica): geology and fossil-plant description. Studia Geologica Polonica 128: 5–96.

Camacho, H.H. 1957. Observaciones geológicas y paleontológicas en Bahía Esperanza, Puerto Paraíso e Islas Shetland del Sur y Melchior. 2. (Geologic and paleontologic observations in Hope Bay, Paradise Port and Southern Shetland and Melchior islands). Publicaciones del Instituto Antártico Argentino 4: 25–30.

Caminos, R., and A. Massabie. 1980. Antártida Argentina e Islas del Atlántico Sur. In Segundo Simposio de Geología Regional Argentina, ed. J.C.M. Turner. Academia Nacional de Ciencias de Córdoba 2: 1529–1575.

Cummins, R.H. 1994. Taphonomic processes in modern freshwater molluscan death assemblages: Implications for the freshwater fossil record. Palaeogeography, Palaeoclimatology, Palaeoecology 108: 55–73.

Elliot, O.H., and T.H. Gracanin. 1983. Conglomeratic strata of Mesozoic Age at Hope Bay, northern Antarctic Peninsula. In Antarctic Earth Science, eds. R.L. Oliver et al., 303–307. Canberra: Australian Academy of Science.

Farquharson, G.W. 1984. Late Mesozoic non-marine conglomeratic sequences of northern Antarctic Peninsula (the Botany Bay Group). British Antarctic Survey Bulletin 65: 1–32.

Good, S.C. 2004. Paleoenvironmental and paleoclimatic significance of freshwater bivalves in the Upper Jurassic Morrison Formation, Western Interior, USA. Sedimentary Geology 167: 163–176.

Graf, D.L., H. Jones, A.J. Geneva, J.M. Pfeiffer III, and M.W. Klunzinger. 2015. Molecular phylogenetic analysis supports a Gondwanan origin of the Hyriidae (Mollusca: Bivalvia: Unionida) and the paraphyly of Australasian taxa. Molecular Phylogenetics and Evolution 85: 1–9.

Gray, J.E. 1854. A revision of the arrangement of the families of bivalve shells (Conchifera). The Annals and Magazine of Natural History (series 2) 13(77):408–418.

Halle, T.G. 1913. The Mesozoic flora of Graham Land. In Wissenschaftliche Ergebnisse der Schwedischen Südpolar-Expedition (1901–1903), 3(14), 1–123. Stockholm: Lithographisches Institut des Generalstabs.

Herbst, R., and H.H. Camacho. 1970. Sobre el hallazgo de bivalvos de agua dulce (Unionidae y Mycetopodidae) en el Terciario Superior de Empedrado, provincia de Corrientes, Argentina. (About the finding of fresh-water bivalves (Unionidae and Mycetopodidae) in the Upper Tertiary of Empedrado, Corrientes province, Argentina). Ameghiniana 7: 335–340.

Linnaeus, C.A. 1758. Systema Naturae per Regna Tria Naturae, Secundum Classes, Ordines, Genera, Species, cum Characteribus, Different iis, Synonymis, Locis. Editio Decima, reformata, Tomus I, Regnum Ani-male, 1–823. Stockholm: Laurentii Salvii.

Marshall, W.B. 1923. New fossil land and fresh-water mollusks from the Reynosa Formation of Texas. Proceedings of the U.S. National Museum 76(2798): 1–6.

Martínez, S., and A. Figueiras. 1991. Two new Mesozoic species of Diplodon (Bivalvia: Hyriidae) from Uruguay. Walkerana 5: 217–223.

Martinez, S., and A. Rojas. 2004. Quaternary continental mollusks from Northern Uruguay: distribution and paleoecology. Quaternary International 114: 123–128.

Martínez, S., A. Figueiras, and J.S. Da Silva. 1993. A new Unionoid (Mollusca, Bivalvia) from the Tacuarembó Formation (Upper Triassic-Upper Jurassic), Uruguay. Journal of Paleontology 67: 962–965.

Martínez, S., O.F. Gallego, and N.G. Cabaleri. 2007. Nueva fauna de moluscos de la Formación Cañadón Asfalto (Jurásico Medio a Superior) Chubut, Argentina. (New molluscan fauna of the Cañadón Asfalto Formation (Middle to Upper Jurassic) Chubut, Argentina). Ameghiniana 44 (Suplemento): 96R.

Montes, M., A. Martín-Serrano, F. Nozal, and R. del Valle. 2005. Geología de la Costa Austral de Bahía Esperanza (Península Antártica). (Geology of the Austral Coast of Bahía Esperanza (Antarctic Peninsula). Geogaceta 38: 91–94.

Morton, L.S., and R. Herbst. 2001. Nuevas especies del género Diplodon Spix (Bivalvia, Unionidea) del Jurásico Medio (Formación La Matilde), provincia de Santa Cruz, Argentina. (New species of the genus Diplodon Spix Bivalvia, Unioidea) from the Middle Jurassic (La Matilde Formation), Santa Cruz province). Revista del Museo Argentino de Ciencias Naturales (n.s.) 3: 159–164.

Newell, N.D. 1965. Classification of the Bivalvia. American Museum Novitates 2206: 1–25.

Parras, A.M., and M. Griffin. 2013. Late Cretaceous (Campanian/Maastrichtian) freshwater to restricted marine mollusc fauna from the Loncoche Formation, Neuquén Basin, west-central Argentina. Cretaceous Research 40: 190–206.

Pereira, D., M.C.D. Mansur, L.D.S. Duarte, A. Schramm de Oliveira, D.M. Pimpão, C.T. Callil, C. Ituarte, E. Parada, S. Peredo, G. Darrigran, F. Scarabino, C. Clavijo, G. Lara, I.C. Miyahira, M.T.R. Rodriguez, and C. Lasso. 2014. Bivalve distribution in hydrographic regions in South America: historical overview and conservation. Hydrobiologia 735: 15–44.

Rees, P.M. 1993. Revised interpretations of Mesozoic palaeogeography and volcanic arc evolution in the northern Antarctic Peninsula region. Antarctic Science 5: 77–85.

Seward, A.C. 1913. An extinct Antarctic flora. New Phytologist 12: 188–190.

Torres, S., L. Cao, D.E. Gutiérrez Gregoric, M. de Lucía, F. Brea, and G. Darrigran. 2018. Distribution of the Unionida (Bivalvia, Paleoheterodonta) from Argentina and its conservation in the Southern Neotropical Region. PLoS ONE 13(9): e0203616. https://doi.org/10.1371/journal.pone.0203616.

Watters, G.T. 2001. The Evolution of the Unionacea in North America, and Its Implications for the Worldwide Fauna. In Ecology and Evolution of the Freshwater Mussels Unionoida, eds. G. Bauer and K. Wächtler, 281–307. Berlin/Heidelberg: Springer.
Acknowledgements
We would like to express our sincere gratitude to the Asociación Paleontológica Argentina for permission to reproduce Fig. 3 of Herbst and Camacho (1970), published in Ameghiniana; to the Instituto Antártico Argentino for the logistic support and Martín Sakamoto and the crew of the Esperanza Argentine Antarctic station for their help in the field work; and to Mike Reich and Simon Schneider (PalZ editors), Arthur E. Bogan and an anonymous reviewer, whose comments and suggestions greatly contributed to improve an early version of the paper.
Additional information
Handling Editor: Simon Schneider.
About this article
Cite this article
Martínez, S., Scasso, R.A., Elgorriaga, A. et al. The (truly) first fossil freshwater molluscs from Antarctica. PalZ 94, 513–518 (2020). https://doi.org/10.1007/s12542-019-00498-3
Received:

Accepted:

Published:

Issue Date:
Keywords
Bivalvia

Unionida

Jurassic

Mount Flora

Antarctica