Abstract
The holotype skeleton of the avian species Strigogyps sapea from the Middle Eocene of Messel preserves remains of the digestive tract that have not been studied so far. The crop content of the specimen includes numerous densely packed, tiny spherules containing large cavities. These peculiar structures match well with previously described fossil plant parenchyma cells with starch grain moulds. We hypothesize that the spherule layer represents plant parenchyma ingested by the bird, and that the spherules themselves are casts of cytoplasm with storage organelles. Our study provides a further example of exceptional soft tissue preservation in Messel vertebrates and shows that Strigogyps was at least facultatively herbivorous. A herbivorous diet of Strigogyps is also indicated by the fact that the crop content includes seed remains, and it constitutes further evidence against previously hypothesized close affinities between the taxon and the carnivorous Phorusrhacidae.
Kurzfassung
Das Skelett des Holotyps von Strigogyps sapea, einer Vogelart aus dem mittleren Eozän von Messel, enthält Reste des Verdauungstraktes, welche bisher nicht untersucht wurden. Insbesondere weist der Kropfinhalt des Fossils zahlreiche, dicht gepackte kleine Kügelchen auf, welche große Hohlräume enthalten. Diese eigenartigen Strukturen stimmen gut mit früher beschriebenen Abdrücken von fossilen, Stärkekörnern enthaltenden Pflanzenparenchymzellen überein. Wir nehmen an, dass die Körnchenschicht des Strigogyps-Fossils Pflanzenparenchym repräsentiert, welches durch den Vogel aufgenommen wurde, und dass die Körnchen selbst Abgüsse von Cytoplasma mit Speicherorganellen sind. Unsere Studie liefert ein weiteres Beispiel außergewöhnlicher Weichteilerhaltung bei Wirbeltieren aus Messel und zeigt, dass Strigogyps zumindest fakultativ pflanzenfressend war. Eine herbivore Ernährungsweise von Strigogyps wird auch durch die Tatsache gestützt, dass der Kropfinhalt Samen enthält und stellt einen weiteren Beleg dar, der gegen eine nähere Verwandtschaft zwischen diesem Taxon und den carnivoren Phorusrhacidae spricht.
Access options
Buy single article
Instant access to the full article PDF.
USD 39.95
Price includes VAT (USA)
Tax calculation will be finalised during checkout.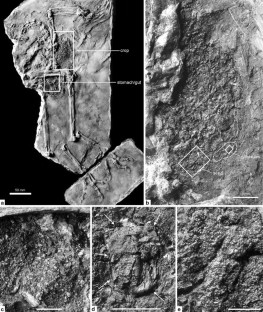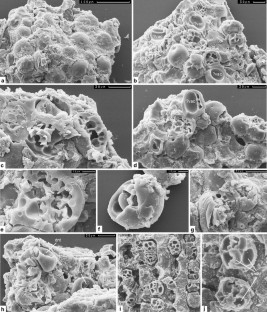 References
Alvarenga, H.M.F., and E. Höfling. 2003. Systematic revision of the Phorusrhacidae (Aves: Ralliformes). Papéis Avulsos de Zoologia 43: 55–91.

Franzen, J.L. 1985. Exceptional preservation of Eocene vertebrates in the lake deposit of Grube Messel. Philosophical Transactions of the Royal Society, London B 311: 181–186.

Gionfriddo, J.P., and L.B. Best. 1999. Grit use by birds: A review. Current Ornithology 15: 89–148.

Habersetzer, J., G. Richter, and G. Storch. 1994. Paleoecology of early middle Eocene bats from Messel, FRG. Aspects of flight, feeding and echolocation. Historical Biology 8: 235–260.

Maier, W., G. Richter, and G. Storch. 1986. Leptictidium nasutum–ein archaisches Säugetier aus Messel mit außergewöhnlichen biologischen Anpassungen. Natur und Museum 116: 1–19.

Mayr, G. 2005. "Old World phorusrhacids" (Aves, Phorusrhacidae): A new look at Strigogyps ("Aenigmavis") sapea (Peters 1987). PaleoBios 25: 11–16.

Mayr, G. 2006. New specimens of the Eocene Messelirrisoridae (Aves: Bucerotes), with comments on the preservation of uropygial gland waxes in fossil birds from Messel and the phylogenetic affinities of Bucerotes. Paläontologische Zeitschrift 80: 390–405.

Mayr, G. 2009. Paleogene fossil birds. Springer: Heidelberg.

Peters, D.S. 1987. Ein "Phorusrhacide" aus dem Mittel-Eozän von Messel (Aves: Gruiformes: Cariamae). Documents des Laboratoires de Géologie de Lyon 99: 71–87.

Peters, D.S. 2007. The fossil family Ameghinornithidae (Mourer-Chauviré 1981): A short synopsis. Journal of Ornithology 148: 25–28.

Richter, G. 1987. Untersuchungen zur Ernährung eozäner Säuger aus der Fossilfundstätte Messel bei Darmstadt. Courier Forschungsinstitut Senckenberg 91: 1–33.

Richter, G. 1988. Problems in the analysis of stomach contents of Eocene mammals from the Messel oil shale layers. Courier Forschungsinstitut Senckenberg 107: 121–127.

Richter, G. 1992. Fossilized gut contents: analysis and interpretation. In Messel—an insight into the history of life, of the earth, ed. S. Schaal, and W. Ziegler, 285–289. Oxford: Clarendon Press.

Richter, G., and G. Storch. 1980. Beiträge zur Ernährungsbiologie eozäner Fledermäuse aus der 'Grube Messel'. Natur und Museum 110: 353–367.

Schaal, S., and W. Ziegler (eds.). 1992. Messel–an insight into the history of life and of the earth. Oxford: Clarendon Press.

Taylor, T.N., and M.A. Millay. 1977. Structurally preserved fossil cell contents. Transactions of the American Microscopical Society 96: 390–393.

Vinther, J., D.E.G. Briggs, J. Clarke, G. Mayr, and R.O. Prum. 2010. Structural coloration in a fossil feather. Biology Letters 6: 128–131.

Wang, X. 2004. Plant cytoplasm preserved by lightning. Tissue and Cell 36: 351–360.

Wang, X., K.-H. Du, T.-M. Yi, and J.-H. Jin. 2010. Cytoplasmic remains in an Eocene fossil stem. IAWA Journal 31: 363–367.

Wilkinson, H.P. 1981. The anatomy of the hypocotyls of Ceriops Arnott (Rhizophoraceae); recent and fossil. Botanical Journal of the Linnean Society 82: 139–164.

Wilkinson, H.P. 1983. Starch grain casts and moulds in Eocene (Tertiary) fossil mangrove hypocotyls. Annals of Botany 51: 39–45.
Acknowledgments
We are indebted to H.-J. Gregor, who first directed our attention to the spherules in the Strigogyps fossil. We further thank S. Schaal and E. Brahm for making the specimen available for study, and S. Tränkner for taking the photographs for Fig. 1. We are most grateful to H. Wilkinson for permission to reproduce figures of Eocene starch grain moulds, drawing our attention to the article by Wang et al. (2010), and for comments on the possible identity of the spherules in the Messel bird. We further acknowledge reviews of the manuscript by S. Baszio and H. Alvarenga.
About this article
Cite this article
Mayr, G., Richter, G. Exceptionally preserved plant parenchyma in the digestive tract indicates a herbivorous diet in the Middle Eocene bird Strigogyps sapea (Ameghinornithidae). Paläontol Z 85, 303–307 (2011). https://doi.org/10.1007/s12542-010-0094-5
Received:

Accepted:

Published:

Issue Date:
Keywords
Messel

Fossil birds

Crop content

Paleoecology
Schlüsselwörter
Messel

Fossile Vögel

Kropfinhalt

Palökologie