Abstract
The characterization of changed gait patterns caused by hallux valgus (HV) has been proposed in several studies; however, most of these studies have primarily focused on univariate kinematic variables rather than on the coupled and coordinated movement of multiple body segments during walking. Human gait is a spatiotemporally complex and coordinated movement; hence, simple univariate measures cannot assess the coupled relationship between multiple joint motions. The purpose of this study was to examine how HV would change the gait dynamics of the lower extremity and whether the type of shoes worn by the subjects would affect gait behavior. In particular, the cross-correlation function (CCF) was used to determine the coupled characteristics between individual joint variables during gait. The CCF quantified the bilateral asymmetry of the lower extremities and the degree of coupling of multiple body segments. From the perspective of bilateral symmetry, the joint coupling relationship of the lower limbs had a significant deviation in the ankle and knee joint coupling (AK) instead of in the hip and knee joint coupling (HK). For low heels, the types of shoes worn by patients with HV are commonly found to have the lowest maximum CCF values for HK and AK \((p < .05)\). The ankle joints in patients with HV had the main effect, particularly with higher heels. The results of this study show that the gait performance can be characterized using the CCF and may help clinicians in examining the bilateral gait asymmetry of patients with HV and other people with gait disturbances.
Access options
Buy single article
Instant access to the full article PDF.
US$ 39.95
Tax calculation will be finalised during checkout.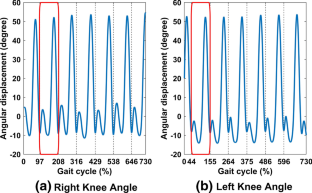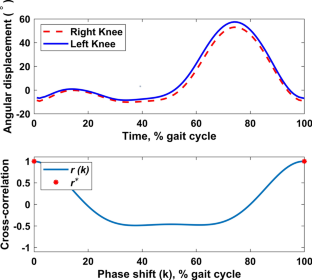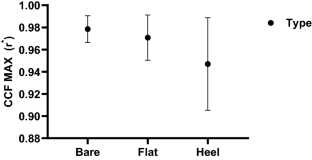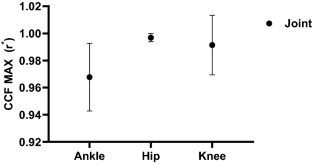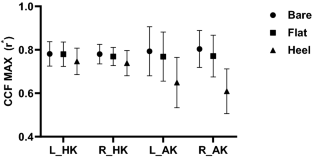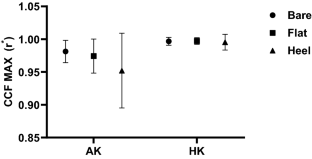 References
1.

Cronin, N. J. (2014). The effects of high heeled shoes on female gait: A review. Journal of Electromyography and Kinesiology, 24(2), 258–263.

2.

Herzog, W., Nigg, B. M., Read, L. J., & Olsson, E. (1989). Asymmetries in ground reaction force patterns in normal human gait. Medicine & Science in Sports & Exercise, 21(1), 110–114.

3.

Alex Shorter, K., Polk, J. D., Rosengren, K. S., & Hsiao-Wecksler, E. T. (2008). A new approach to detecting asymmetries in gait. Clinical Biomechanics, 23(4), 459–467.

4.

Li, L., & Caldwell, G. E. (1999). Coefficient of cross correlation and the time domain correspondence. Journal of Electromyography and Kinesiology, 9(6), 385–389.

5.

Menz, H. B., Roddy, E., Marshall, M., Thomas, M. J., Rathod, T., Peat, G. M., & Croft, P. R. (2016). Epidemiology of shoe wearing patterns over time in older women: Associations with foot pain and hallux valgus. Journals of Gerontology - Series A Biological Sciences and Medical Sciences, 71(12), 1682–1687.

6.

Menz, H. B., & Morris, M. E. (2005). Footwear characteristics and foot problems in older people. Gerontology, 51(5), 346–351.

7.

Chopra, S., Moerenhout, K., & Crevoisier, X. (2015). Characterization of gait in female patients with moderate to severe hallux valgus deformity. Clinical Biomechanics, 30(6), 629–635.

8.

Barkema, D. D., Derrick, T. R., & Martin, P. E. (2012). Heel height affects lower extremity frontal plane joint moments during walking. Gait & Posture, 35(3), 483–488.

9.

Steinberg, N., Finestone, A., Noff, M., Zeev, A., & Dar, G. (2013). Relationship between lower extremity alignment and hallux valgus in women. Foot and Ankle International, 34(6), 824–831.

10.

Snow, R. E., Williams, K. R., & Holmes, G. B. (1992). The Effects of Wearing High Heeled Shoes on Pedal Pressure in Women. Foot & Ankle International, 13(2), 85–92.

11.

DeLeo, A. T., Dierks, T. A., Ferber, R., & Davis, I. S. (2004). Lower extremity joint coupling during running: a current update. Clinical Biomechanics, 19(10), 983–991.

12.

Gefen, A., Megido-Ravid, M., Itzchak, Y., & Arcan, M. (2002). Analysis of muscular fatigue and foot stability during high-heeled gait. Gait and Posture, 15(1), 56–63.

13.

Foster, A., Blanchette, M. G., Chou, Y. C., & Powers, C. M. (2012). The influence of heel height on frontal plane ankle biomechanics: Implications for lateral ankle sprains. Foot and Ankle International, 33(1), 64–69.

14.

Deschamps, K., Birch, I., Desloovere, K., & Matricali, G. A. (2010). The impact of hallux valgus on foot kinematics: A cross-sectional, comparative study. Gait & Posture, 32(1), 102–106.

15.

Ferber, R., Davis, I. M., & Williams, D. S. (2005). Effect of foot orthotics on rearfoot and tibia joint coupling patterns and variability. Journal of Biomechanics, 38(3), 477–483.

16.

Park, K., Dankowicz, H., & Hsiao-Wecksler, E. T. (2010). Assessing spatiotemporally complex and coupled gait patterns using temporal cross-correlation. 34th Annual Meeting of the American Society of Biomechanics.

17.

Ogihara, H., Tsushima, E., Kamo, T., Sato, T., Matsushima, A., Niioka, Y., & Azami, M. (2020). Kinematic gait asymmetry assessment using joint angle data in patients with chronic stroke—A normalized cross-correlation approach. Gait and Posture, 80, 168–173.

18.

Souza, T. R., Pinto, R. Z., Trede, R. G., Kirkwood, R. N., & Fonseca, S. T. (2010). Temporal couplings between rearfoot–shank complex and hip joint during walking. Clinical Biomechanics, 25(7), 745–748.

19.

Nelson-Wong, E. A., Howarth, S. A. M., Winter, D. A., & Jack, J. P. (2009). Application of autocorrelation and cross-correlation analyses in human movement and rehabilitation research. Journal of Orthopaedic and Sports Physical Therapy, 39(4), 287–295.

20.

Park, K., Dankowicz, H., & Hsiao-Wecksler, E. T. (2012). Characterization of spatiotemporally complex gait patterns using cross-correlation signatures. Gait & Posture, 36(1), 120–126.

21.

Hong, W. H., Lee, Y. H., Chen, H. C., Pei, Y. C., & Wu, C. Y. (2005). Influence of heel height and shoe insert on comfort perception and biomechanical performance of young female adults during walking. Foot and Ankle International, 26(12), 1042–1048.

22.

Pohl, M. B., & Buckley, J. G. (2008). Changes in foot and shank coupling due to alterations in foot strike pattern during running. Clinical Biomechanics, 23(3), 334–341.

23.

Lee, Y. (2018). The Influence of Heel Height on Gait Patterns in Patients with Hallux Valgus. M.Sc. Thesis, Incheon National University.

24.

Nadeau, S. (2014). Understanding Spatial and Temporal Gait Asymmetries in Individuals Post Stroke. International Journal of Physical Medicine & Rehabilitation, 02(03), 201.

25.

Chen, C. P. C., Chen, M. J. L., Pei, Y.-C., Lew, H. L., Wong, P.-Y., & Tang, S. F. T. (2003). Sagittal Plane Loading Response During Gait in Different Age Groups and in People with Knee Osteoarthritis. American Journal of Physical Medicine & Rehabilitation, 82(4), 307–312.

26.

Ostrosky, K. M., VanSwearingen, J. M., Burdett, R. G., Gee, Z., & Eastlack, M. (1994). A comparison of gait characteristics in young and old subjects. Physical Therapy, 74(7), 637–646.

27.

Viteckova, S., Kutilek, P., Svoboda, Z., Krupicka, R., Kauler, J., & Szabo, Z. (2018). Gait symmetry measures: A review of current and prospective methods. Biomedical Signal Processing and Control, 42, 89–100.

28.

Menz, H. B., Morris, M. E., & Lord, S. R. (2006). Foot and ankle risk factors for falls in older people: A prospective study. Journals of Gerontology - Series A Biological Sciences and Medical Sciences, 61(8), 866–870.

29.

Menz, H. B., & Lord, S. R. (2005). Gait instability in older people with hallux valgus. Foot and Ankle International, 26(6), 483–489.

30.

Muir, B. C., Rietdyk, S., & Haddad, J. M. (2014). Gait initiation: The first four steps in adults aged 20–25 years, 65–79 years, and 80–91 years. Gait and Posture, 39(1), 490–494.

31.

Winter, D. A., Patla, A. E., Frank, J. S., & Walt, S. E. (1990). Biomechanical walking pattern changes in the fit and healthy elderly. Physical Therapy, 70(6), 340–347.

32.

Shin, S., Valentine, R. J., Evans, E. M., & Sosnoff, J. J. (2012). Lower extremity muscle quality and gait variability in older adults. Age and Ageing, 41(5), 595–599.

33.

Espy, D. D., Yang, F., Bhatt, T., & Pai, Y.-C. (2010). Independent influence of gait speed and step length on stability and fall risk. Gait & Posture, 32(3), 378–382.

34.

Krasovsky, T., Lamontagne, A., Feldman, A. G., & Levin, M. F. (2014). Effects of walking speed on gait stability and interlimb coordination in younger and older adults. Gait and Posture, 39(1), 378–385.
Acknowledgement
This work was supported by Incheon National University (International Cooperative) Research Grant in 2018. The authors thank Dr. N. Kang and Dr. K. Jeon for data collection.
Additional information
Publisher's Note
Springer Nature remains neutral with regard to jurisdictional claims in published maps and institutional affiliations.
About this article
Cite this article
Gong, Y., Park, K. Bilateral Gait Asymmetry in Patients with Hallux Valgus using Normalized Cross-Correlation Function. Int. J. Precis. Eng. Manuf. 22, 373–382 (2021). https://doi.org/10.1007/s12541-020-00464-z
Received:

Revised:

Accepted:

Published:

Issue Date:
Keywords
Cross-correlation

Gait stability

Hallux valgus

Heel height