Abstract
Background
People with emotional eating (EE) may experience weight gain and obesity, eating disorder psychopathology, and emotion dysregulation. Limited research has examined experiences in childhood that may be associated with EE in adulthood. Perceived parental feeding practices and emotion regulation difficulties were examined as correlates of negative and positive EE in adulthood.
Methods
A cross-sectional study using an online community sample of adults (N = 258) examined self-reported negative (Emotional Eating Scale-Revised; EE-anger/anxiety, EE-boredom, and EE-depression) and positive (Emotion Appetite Questionnaire; EE-positive) EE, perceived parental feeding practices (Child Feeding Questionnaire), and emotion regulation difficulties (Difficulties in Emotion Regulation Scale).
Results
Moderation analyses calculated in PROCESS macro examined emotion regulation difficulties as a moderator of relationships between perceived parental feeding practices and EE. Across all models tested, age, BMI, and gender were entered as covariates. Higher perceptions of parental control (monitoring and restriction) of unhealthy eating behaviors and pressure to eat were more strongly associated with EE-anger/anxiety and EE-positive when emotion regulation difficulties were high. Higher perceptions of parental restriction of unhealthy eating behaviors and pressure to eat were more strongly associated with higher EE-boredom when emotion regulation difficulties were high. No significant interactions between perceived parental feeding practices and emotion regulation difficulties emerged in relation to EE-depression.
Conclusions
Perceived controlling parental feeding practices and emotion regulation difficulties may explain meaningful variance in negative and positive EE in adulthood.
Access options
Buy single article
Instant access to the full article PDF.
US$ 39.95
Tax calculation will be finalised during checkout.
Subscribe to journal
Immediate online access to all issues from 2019. Subscription will auto renew annually.
US$ 79
Tax calculation will be finalised during checkout.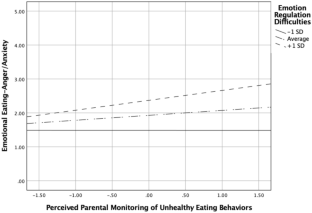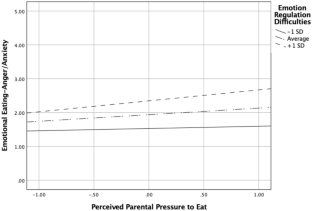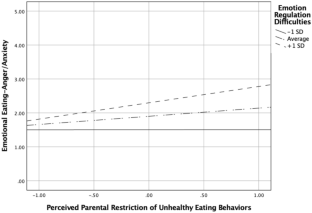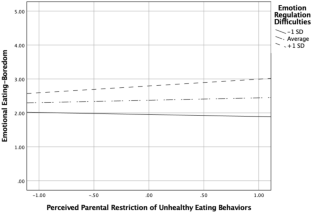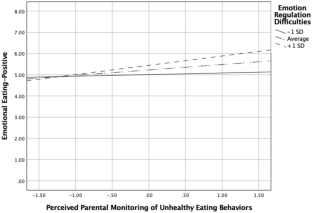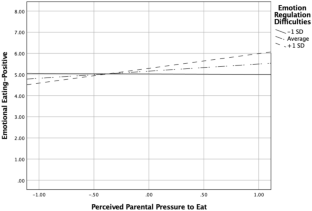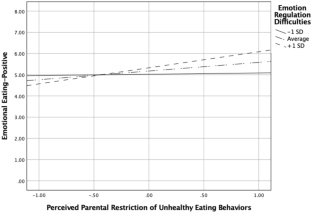 References
1.

Arnow B, Kenardy J, Agras WS. The Emotional Eating Scale: the development of a measure to assess coping with negative affect by eating. Int J Eat Disord. 1995;18(1):79–90.

2.

Gibson EL. The psychobiology of comfort eating: implications for neuropharmacological interventions. Behav Pharmacol. 2012;23(5 & 6):442–60.

3.

Koenders PG, van Strien T. Emotion eating, rather than lifestyle behavior, drives weight gain in a prospective study in 1562 employees. J Occup Environ Med. 2011;53(11):1287–93.

4.

Raman J, Smith E, Hay P. The clinical obesity maintenance model: an integration of psychological constructs including mood, emotional regulation, disordered overeating, habitual cluster behaviours, health literacy and cognitive function. J Obes. 2013:240128.

5.

Karlsson J, Persson L-O, Sjöström L, Sullivan M. Psychometric properties and factor structure of the Three-Factor Eating Questionnaire (TFEQ) in obese men and women. Results from the Swedish Obese Subjects (SOS) study. Int J Obes. 2000;24:1715–1725.

6.

Braden A, Flatt SW, Boutelle KN, Strong D, Sherwood NE, Rock CL. Emotional eating is associated with weight loss success among adults enrolled in a weight loss program. J Behav Med. 2016;39:727–32.

7.

World Health Organization. Obesity: Preventing and managing the global epidemic. https://www.who.int/nutrition/publications/obesity/WHO_TRS_894/en/. Accessed 21 Aug 2020.

8.

Wu Y-K, Berry DC. Impact of weight stigma on physiological and psychological health outcomes for overweight and obese adults: a systematic review. J Adv Nurs. 2018;74:1030–42.

9.

Lehnert T, Sonntag D, Konnopka A, Riedel-Heller S, König HK. Economic costs of overweight and obesity. Best Pract Res Cl En. 2013;27(2):105–15.

10.

Reichenberger J, Schnepper R, Arend AK, Blechert J. Emotional eating in healthy individuals and patients with an eating disorder: evidence from psychometric, experimental and naturalistic studies. P Nutr Soc. 2020;1–10.

11.

Macht M, Haupt C, Salewksy A. Emotions and eating in everyday life: application of the experience-sampling method. Ecol Food Nutr. 2004;43(4):11–21.

12.

Nolan LJ, Halperin LB, Geliebter A. Emotional Appetite Questionnaire construct validity and relationship with BMI. Appetite. 2010;54(2):314–9.

13.

van Strien T, Frijters JER, Bergers GPA, Defares PB. The Dutch Eating Behavior Questionnaire (DEBQ) for assessment of restrained, emotional and external eating behavior. Int J Eat Disord. 1986;5:295–315.

14.

Koball AM, Meers MR, Storfer-Isser A, Domoff SE, Musher-Eizenman DR. Eating when bored: Revision of the emotional eating scale with a focus on boredom. Health Psychol. 2012;31(4):521–4.

15.

Macht M. How emotions affect eating: a five-way model. Appetite. 2008;50(1):1–11.

16.

Braden A, Musher-Eizenman D, Watford T, Emley E. Eating when depressed, anxious, bored, or happy: are emotional eating types associated with unique psychological and physical health correlates? Appetite. 2018;125:410–7.

17.

Crockett AC, Myhre SK, Rokke PD. Boredom proneness and emotion regulation predict emotional eating. J Health Psychol. 2015;20(5):670–80.

18.

Evers C, Marijn Stok F, de Ridder DT. Feeding your feelings: emotion regulation strategies and emotional eating. Pers Soc Psychol Bull. 2010;36(6):792–804.

19.

Sultson H, Akkermann K. Investigating phenotypes of emotional eating based on weight categories: a latent profile analysis. Int J Eat Disord. 2019;52(9):1024–34.

20.

Wardle J, Carnell S. Parental feeding practices and children's weight. Acta Paediatr. 2007;96:5–11.

21.

Faith MS, Berkowitz RI, Stallings VA, Kerns J, Storey M, Stunkard AJ. Parental feeding attitudes and styles and child body mass index: prospective analysis of a gene-environment interaction. Pediatr. 2004;114(4):e429–36.

22.

Farrow CV, Haycraft E, Blissett JM. Teaching our children when to eat: How parental feeding practices inform the development of emotional eating—a longitudinal experimental design. Am J Clin Nutr. 2015;101(5):908–13.

23.

van Strien T, Bazelier FG. Perceived parental control of food intake is related to external, restrained and emotional eating in 7–12-year-old boys and girls. Appetite. 2007;49(3):618–25.

24.

Gratz K, Roemer L. Multidimensional assessment of emotion regulation and dysregulation: development, factor structure, and initial validation of the difficulties in emotion regulation scale. J Psychopathol Behav Assessment. 2004;26(1):41–54.

25.

Blissett J, Haycraft E, Farrow C. Inducing preschool children's emotional eating: relations with parental feeding practices. Am J Clin Nutr. 2010;92(2):359–65.

26.

Tan CC, Holub SC. Emotion regulation feeding practices link parents' emotional eating to children's emotional eating: a moderated mediation study. J Pediatr Psychol. 2015;40(7):657–63.

27.

Braden A, Anderson L, Redondo R, Watford T, Emley E, Ferrell E. Emotion regulation mediates relationships between perceived childhood invalidation, emotional reactivity, and emotional eating. J Health Psychol. 2020; 1-13.

28.

Jansen E, Mulkens S, Sanders E, Jansen A. How do children experience their parents' feeding practices? Neth J Psychol. 2009;66:26–32.

29.

Galloway AT, Farrow CV, Martz DM. Retrospective reports of child feeding practices, current eating behaviors, and BMI in college students. Obes. 2009;393:1–8.

30.

Lev-Ari L, Zohar AH. The psychometric properties of the Retrospective Child Feeding Questionnaire Questionnaire in Hebrew. Appetite. 2013;65:14–9.

31.

Kauffman EA, Xia M, Fosco G, Yaptangco M, Kidmore CR, Crowell S. The Difficulties in Emotion Regulation Scale Short Form (DERS-SF): validation and replication in adolescent and adult samples. J Psychopathol Behav Assessment. 2016;38(442):443–55.

32.

Hayes AF. Introduction to mediation, moderation, and conditional process analysis: a regression-based approach. 2nd ed. New York: The Guilford Press; 2018.

33.

Lazarevich I, Camacho MEI, Velázquez-Alva M del C, Zepeda Z. Relationship among obesity, depression, and emotional eating in young adults. Appetite. 2016;107:639–644.

34.

Nguyen-Rodriguez ST, Unger JB, Spruijt-Metz D. Psychological determinants of emotional eating in adolescence. Eat Disord. 2009;17(3):211–24.

35.

World Health Organization. Physical status: the use and interpretation of anthropometry. http://whqlibdoc.who.int/trs/WHO_TRS_854.pdf. Accessed 21 Aug 2020.

36.

Belsley DA, Kuh E, Welsch RE. Regression diagnostics: identifying influential data and sources of collinearity. New York: John Wiley; 1980.

37.

Birch LL, Fisher JO. Development of eating behaviors among children and adolescents. Pediatrics. 1998;101(Supplement 2):539–549.

38.

Barnhart WR, Braden AL, Price E. Emotion regulation difficulties interact with negative, not positive, emotional eating to strengthen relationships with disordered eating: an exploratory study. Appetite. 2021;158:105038.

39.

Meule A, Reichenberger J, Blechert J. Development and preliminary validation of the Salzburg Emotional Eating Scale. Front Psychol. 2018;9(88):1–10.

40.

Henrich J, Heine SJ, Norenzayan A. The weirdest people in the world? Behav Brain Sci. 2010;33(2–3):61–83.

41.

Simonds DJ, Shoda Y, Lindsay DS. Constraints on generality (COG): A proposed addition to all empirical papers. Perspect Psychol Sci. 2017;12:1123–8.
Ethics declarations
Ethical Approval
All procedures performed in studies involving human participants were in accordance with the ethical standards of the institutional and/or national research committee and with the 1964 Helsinki declaration and its later amendments or comparable ethical standards.
Informed Consent
Informed consent was obtained from all individual participants included in the study.
Additional information
Publisher's Note
Springer Nature remains neutral with regard to jurisdictional claims in published maps and institutional affiliations.
About this article
Cite this article
Barnhart, W.R., Braden, A.L. & Dial, L.A. Emotion Regulation Difficulties Strengthen Relationships Between Perceived Parental Feeding Practices and Emotional Eating: Findings from a Cross-Sectional Study. Int.J. Behav. Med. (2021). https://doi.org/10.1007/s12529-021-09959-z
Keywords
Negative emotional eating

Positive emotional eating

Emotional eating

Emotion regulation difficulties

Parental feeding practices