Abstract
Background
Dual-Process models of self-regulation suggest different facets of self-regulation predict adaptive (e.g., academics, exercise) and maladaptive (e.g., drinking) behaviors. Engagement in these behaviors may ultimately result in automatic habits that either promote or inhibit alcohol use and related problems.
Method
This study tested a structural equation model of relationships between self-regulation constructs, health and drinking habits and automaticity, effortful inhibition, and alcohol problems in a college student sample (N = 405).
Results
As expected, effortful control was positively associated with health habits, which were positively associated with health automaticity. Automaticity was inversely associated with effortful inhibition. Thus, effortful control was indirectly associated with less effortful inhibition, as hypothesized. Contrary to hypothesis, effortful inhibition was inversely associated with alcohol-related problems, which resulted in a positive indirect association between effortful control and alcohol problems. Reactivity was positively associated with drinking automaticity via drinking habits and positively associated with effortful inhibition and alcohol problems.
Conclusions
Results indicate effortful control and reactivity exhibit unique associations with health and drinking habits, automaticity, and effortful inhibition. Results suggest a somewhat paradoxical process whereby effortful control achieves its ends via decreased effort to engage in adaptive behaviors. Validity of using self-report and word association measures of automaticity was supported by the observed associations with predictors and outcomes.
Access options
Buy single article
Instant access to the full article PDF.
US$ 39.95
Tax calculation will be finalised during checkout.
Subscribe to journal
Immediate online access to all issues from 2019. Subscription will auto renew annually.
US$ 79
Tax calculation will be finalised during checkout.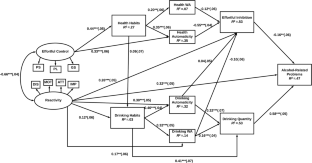 References
1.

Karoly P. Mechanisms of self-regulation - a systems view. Annu Rev Psychol. 1993;44(1):23–52.

2.

Ouellette JA, Wood W. Habit and intention in everyday life: the multiple processes by which past behavior predicts future behavior. Psychol Bull. 1998;124(1):54–74.

3.

Lally P, Gardner B. Promoting habit formation. Health Psychol Rev. 2013;7(sup1):S137–58.

4.

Evans JS, Stanovich KE. Dual-process theories of higher cognition: advancing the debate. Perspect Psychol Sci. 2013;8(3):223–41.

5.

Strack F, Deutsch R. Reflective and impulsive determinants of social behavior. Personal Soc Psychol Rev. 2004;8(3):220–47.

6.

Hofmann W, Friese M, Strack F. Impulse and self-control from a dual-systems perspective. Perspect Psychol Sci. 2009;4(2):162–76.

7.

Lally P, et al. How are habits formed: modelling habit formation in the real world. Eur J Soc Psychol. 2010;40(6):998–1009.

8.

Simons JS, Wills TA, Emery NN, Spelman PJ. Keep calm and carry on: maintaining self-control when intoxicated, upset, or depleted. Cognit Emot. 2016;30(8):1415–29.

9.

Kochanska G, Murray KT, Harlan ET. Effortful control in early childhood: continuity and change, antecedents, and implications for social development. Dev Psychol. 2000;36(2):220–32.

10.

Lieberman MD. The X-and C-systems. Social neuroscience: Integrating biological and psychological explanations of social behavior; 2007. p. 290–315.

11.

Metcalfe J, Mischel W. A hot/cool-system analysis of delay of gratification: dynamics of willpower. Psychol Rev. 1999;106(1):3–19.

12.

Wills TA, et al. Emotional self-control and dysregulation: a dual-process analysis of pathways to externalizing/internalizing symptomatology and positive well-being in younger adolescents. Drug Alcohol Depend. 2016;163(Suppl 1):S37–45.

13.

Oaten M, Cheng K. Improved self-control: the benefits of a regular program of academic study. Basic Appl Soc Psychol. 2006;28(1):1–16.

14.

DeYoung CG. Impulsivity as a personality trait. Handbook of self-regulation. Res Theory Appl. 2010;2:485–502.

15.

Sher KJ, Walitzer KS, Wood PK, Brent EE. Characteristics of children of alcoholics: putative risk factors, substance use and abuse, and psychopathology. J Abnorm Psychol. 1991;100(4):427–48.

16.

Walters KJ, Simons JS, Simons RM. Self-control demands and alcohol-related problems: within- and between-person associations. Psychol Addict Behav. 2018;32(6):573–82.

17.

Galla BM, Duckworth AL. More than resisting temptation: beneficial habits mediate the relationship between self-control and positive life outcomes. J Pers Soc Psychol. 2015;109(3):508–25.

18.

American Psychiatric Association. Diagnostic and statistical manual of mental disorders: DSM-5., ed. Washington, D.C: A.P.A; 2013.

19.

Murphy JG, Correia CJ, Barnett NP. Behavioral economic approaches to reduce college student drinking. Addict Behav. 2007;32(11):2573–85.

20.

Vuchinich RE, Tucker JA. Contributions from behavioral theories of choice to an analysis of alcohol abuse. J Abnorm Psychol. 1988;97(2):181–95.

21.

Correia CJ, Simons J, Carey KB, Borsari BE. Predicting drug use: application of behavioral theories of choice. Addict Behav. 1998;23(5):705–9.

22.

Baumeister RF, Vohs KD, Tice DM. The strength model of self-control. Curr Dir Psychol Sci. 2007;16(6):351–5.

23.

Hagger MS, et al. The strength model of self-regulation failure and health-related behaviour. Health Psychol Rev. 2009;3(2):208–38.

24.

Baumeister RF, Bratslavsky E, Muraven M, Tice DM. Ego depletion: is the active self a limited resource? J Pers Soc Psychol. 1998;74(5):1252–65.

25.

Gardner B. Habit as automaticity, not frequency. Eur Health Psychol. 2012;14(2):32–6.

26.

Labrecque JS, Wood W. What measures of habit strength to use? Comment on Gardner (2015). Health Psychol Rev. 2015;9(3):303–10.

27.

Neal DT, Wood W, Wu M, Kurlander D. The pull of the past: when do habits persist despite conflict with motives? Personal Soc Psychol Bull. 2011;37(11):1428–37.

28.

Danner UN, Aarts H, de Vries NK. Habit vs. intention in the prediction of future behaviour: the role of frequency, context stability and mental accessibility of past behaviour. Br J Soc Psychol. 2008;47(Pt 2):245–65.

29.

Ames SL, Grenard JL, Stacy AW. Dual process interaction model of HIV-risk behaviors among drug offenders. AIDS Behav. 2013;17(3):914–25.

30.

Stacy AW. Memory activation and expectancy as prospective predictors of alcohol and marijuana use. J Abnorm Psychol. 1997;106(1):61–73.

31.

Stacy AW, Leigh BC, Weingardt KR. Memory accessibility and association of alcohol use and its positive outcomes. Exp Clin Psychopharmacol. 1994;2(3):269.

32.

Rooke SE, Hine DW, Thorsteinsson EB. Implicit cognition and substance use: a meta-analysis. Addict Behav. 2008;33(10):1314–28.

33.

Gardner B. A review and analysis of the use of 'habit' in understanding, predicting and influencing health-related behaviour. Health Psychol Rev. 2015;9(3):277–95.

34.

Eagly AH, Chaiken S. The psychology of attitudes: Harcourt Brace Jovanovich College Publishers; 1993.

35.

Magid V, Maclean MG, Colder CR. Differentiating between sensation seeking and impulsivity through their mediated relations with alcohol use and problems. Addict Behav. 2007;32(10):2046–61.

36.

Jones BT, Corbin W, Fromme K. A review of expectancy theory and alcohol consumption. Addiction. 2001;96(1):57–72.

37.

Cooper ML, et al. Development and validation of a three-dimensional measure of drinking motives. Psychol Assess. 1992;4(2):123.

38.

Marks RM, et al. Temperament in the prediction of proximal versus distal expectancies: an acquired preparedness model. Exp Clin Psychopharmacol. 2019.

39.

Caspi A, Roberts BW, Shiner RL. Personality development: stability and change. Annu Rev Psychol. 2005;56:453–84.

40.

MacKillop J. The behavioral economics and neuroeconomics of alcohol use disorders. Alcohol Clin Exp Res. 2016;40(4):672–85.

41.

MacCallum RC, Browne MW, Sugawara HM. Power analysis and determination of sample size for covariance structure modeling. Psychol Methods. 1996;1(2):130.

42.

Fritz MS, MacKinnon DP. Required sample size to detect the mediated effect. Psychol Sci. 2007;18(3):233–9.

43.

Chatterjee S, Hadi AS. Influential observations, high leverage points, and outliers in linear regression. Stat Sci. 1986;1(3):379–93.

44.

Doumas DM, et al. High-risk drinking in college athletes and nonathletes across the academic year. J Coll Couns. 2007;10(2):163–74.

45.

Kendall PC, Williams CL. Assessing the cognitive and behavioral components of children's self-management. Self-management and behavior change; 1982. p. 240–84.

46.

Wills TA, Cleary S, Filer M, Shinar O, Mariani J, Spera K. Temperament related to early-onset substance use: test of a developmental model. Prev Sci. 2001;2(3):145–63.

47.

Neal DJ, Carey KB. A follow-up psychometric analysis of the self-regulation questionnaire. Psychol Addict Behav. 2005;19(4):414–22.

48.

Patton JH, Stanford MS, Barratt ES. Factor structure of the Barratt impulsiveness scale. J Clin Psychol. 1995;51(6):768–74.

49.

Eysenck SB, et al. Age norms for impulsiveness, venturesomeness and empathy in adults. Personal Individ Differ. 1985;6(5):613–9.

50.

Wood W, Neal DT. The habitual consumer. J Consum Psychol. 2009;19(4):579–92.

51.

Gardner B, et al. Towards parsimony in habit measurement: testing the convergent and predictive validity of an automaticity subscale of the self-report habit index. Int J Behav Nutr Phys Act. 2012;9(1):102.

52.

Grenard JL, Ames SL, Wiers RW, Thush C, Sussman S, Stacy AW. Working memory capacity moderates the predictive effects of drug-related associations on substance use. Psychol Addict Behav. 2008;22(3):426–32.

53.

Dimeff LA, et al. Brief Alcohol Screening and Intervention for College Students (BASICS): a harm reduction approach. New York: Guilford Press; 1999. 200-Chapter xii, 200 Pages

54.

Marlatt GA, Baer JS, Kivlahan DR, Dimeff LA, Larimer ME, Quigley LA, et al. Screening and brief intervention for high-risk college student drinkers: results from a 2-year follow-up assessment. J Consult Clin Psychol. 1998;66(4):604–15.

55.

Read JP, Kahler CW, Strong DR, Colder CR. Development and preliminary validation of the young adult alcohol consequences questionnaire. J Stud Alcohol. 2006;67(1):169–77.

56.

Treeby M, Bruno R. Shame and guilt-proneness: divergent implications for problematic alcohol use and drinking to cope with anxiety and depression symptomatology. Personal Individ Differ. 2012;53(5):613–7.

57.

Read JP, Merrill JE, Kahler CW, Strong DR. Predicting functional outcomes among college drinkers: reliability and predictive validity of the young adult alcohol consequences questionnaire. Addict Behav. 2007;32(11):2597–610.

58.

Muthén LK, Muthén BO. Mplus Statistical Modeling Software: Release 8.3. Los Angeles: Muthén & Muthén; 2019.

59.

Kline RB. Principles and practice of structural equation modeling: Guilford publications; 2015.

60.

Hu LT, Bentler PM. Cutoff criteria for fit indexes in covariance structure analysis: conventional criteria versus new alternatives. Struct Equ Model Multidiscip J. 1999;6(1):1–55.

61.

Browne MW, Cudeck R. In: Bollen KA, Long JS, editors. Alternative ways of assessing model fit in testing structural equation models. Newbury Park: Sage; 1993. p. 136–62.

62.

StataCorp. Stata statistical software: release 14. College Station: StataCorp LP; 2018.

63.

MacKinnon DP, et al. A comparison of methods to test mediation and other intervening variable effects. Psychol Methods. 2002;7(1):83–104.

64.

Wills TA, Bantum EO, Pokhrel P, Maddock JE, Ainette MG, Morehouse E, et al. A dual-process model of early substance use: tests in two diverse populations of adolescents. Health Psychol. 2013;32(5):533–42.

65.

Simons JS, Carey KB, Wills TA. Alcohol abuse and dependence symptoms: a multidimensional model of common and specific etiology. Psychol Addict Behav. 2009;23(3):415–27.

66.

Coskunpinar A, Dir AL, Cyders MA. Multidimensionality in impulsivity and alcohol use: a meta-analysis using the UPPS model of impulsivity. Alcohol Clin Exp Res. 2013;37(9):1441–50.

67.

de Ridder DT, Lensvelt-Mulders G, Finkenauer C, Stok FM, Baumeister RF. Taking stock of self-control: a meta-analysis of how trait self-control relates to a wide range of behaviors. Personal Soc Psychol Rev. 2012;16(1):76–99.

68.

Fujita K. On conceptualizing self-control as more than the effortful inhibition of impulses. Personal Soc Psychol Rev. 2011;15(4):352–66.

69.

Adriaanse MA, et al. Effortless inhibition: habit mediates the relation between self-control and unhealthy snack consumption. Front Psychol. 2014;5:444.

70.

Gillebaart M, Ridder DT. Effortless self-control: a novel perspective on response conflict strategies in trait self-control. Soc Personal Psychol Compass. 2015;9(2):88–99.

71.

Steinberg L. A social neuroscience perspective on adolescent risk-taking. Dev Rev. 2008;28(1):78–106.

72.

Wiers RW, et al. Automatic and controlled processes and the development of addictive behaviors in adolescents: a review and a model. Pharmacol Biochem Behav. 2007;86(2):263–83.

73.

Verplanken B, Orbell S. Reflections on past behavior: a self-report index of habit Strength1. J Appl Soc Psychol. 2003;33(6):1313–30.

74.

Thush C, Wiers RW. Explicit and implicit alcohol-related cognitions and the prediction of future drinking in adolescents. Addict Behav. 2007;32(7):1367–83.

75.

Sheeran P, Bosch JA, Crombez G, Hall PA, Harris JL, Papies EK, et al. Implicit processes in health psychology: diversity and promise. Health Psychol. 2016;35(8):761–6.

76.

Bryant AL, et al. How academic achievement, attitudes, and behaviors relate to the course of substance use during adolescence: a 6-year, multiwave national longitudinal study. J Res Adolesc. 2003;13(3):361–97.

77.

Wang DS, et al. Impact of physical exercise on substance use disorders: a meta-analysis. PLoS One. 2014;9(10):e110728.

78.

Simons JS, Christopher MS, Oliver MN, Stanage EJ. A content analysis of personal strivings: associations with substance use. Addict Behav. 2006;31(7):1224–30.

79.

Simons JS, Christopher MS, McLaury AE. Personal strivings, binge drinking, and alcohol-related problems. Addict Behav. 2004;29(4):773–9.

80.

Heckhausen J, Wrosch C. Challenges to developmental regulation across the life course: what are they and which individual differences matter? Int J Behav Dev. 2016;40(2):145–50.

81.

Gardner B. Modelling habit formation and itds determinants. In: Verplanken B, editor. The psychology of habit. Cham: Springer; 2018.

82.

Fleig L, et al. From intentions via planning and behavior to physical exercise habits. Psychol Sport Exerc. 2013;14(5):632–9.
Ethics declarations
Conflict of Interest
The authors declare that they have no conflict of interest.
Informed Consent
Informed consent was obtained from all individual participants included in the study.
Ethical Approval
All procedures performed in studies involving human participants were in accordance with the ethical standards of the institutional and/or national research committee and with the 1964 Helsinki declaration and its later amendments or comparable ethical standards.
Force of Habit
The role of routinized, automatic behaviors along the path of self-regulation and alcohol-related problems.
Additional information
Publisher's Note
Springer Nature remains neutral with regard to jurisdictional claims in published maps and institutional affiliations.
About this article
Cite this article
Walters, K.J., Simons, J.S. Force of Habit: the Role of Routinized, Automatic Behaviors along the Path of Self-Regulation and Alcohol-Related Problems. Int.J. Behav. Med. 27, 52–64 (2020). https://doi.org/10.1007/s12529-019-09845-9
Keywords
Habits

Automaticity

Alcohol

Effortful inhibition

Self-regulation