Abstract
The population genetic structure of a species is frequently shaped by biogeographic barriers that prevent the movement of individuals from one genetic population to another. Although Octopus mimus Gould, 1852 was reported to inhabit the shallow marine waters of the Peruvian province, recent studies suggest its synonymy with O. hubbsorum Berry, 1953 from the Panamanian and the Cortez provinces where it is the main octopus species caught in the artisanal fishery. The aim of the present study was to assess the genetic variability of O. mimus and to determine the presence of population structure across three sampled regions of the eastern Pacific Ocean using the mitochondrial marker cytochrome c oxidase subunit I. The hypothesis that the biogeographic boundary between the Panamanian and Peruvian provinces acts as a genetic break was further tested and recognized by the conformation of two phylogenetic clades and two haplogroups. Results indicate that these lineages are demographically independent populations of O. mimus and do not represent different species as evidenced by the Generalized Mixed Yule Coalescent method. The oceanographic processes have apparently allowed enough genetic flow along the Pacific coast yielding low but significant levels of genetic structure (FST = 0.16, p < 0.05) as seen in some fish populations.
This is a preview of subscription content, log in to check access.
Access options
Buy single article
Instant access to the full article PDF.
US$ 39.95
Price includes VAT for USA
Subscribe to journal
Immediate online access to all issues from 2019. Subscription will auto renew annually.
US$ 99
This is the net price. Taxes to be calculated in checkout.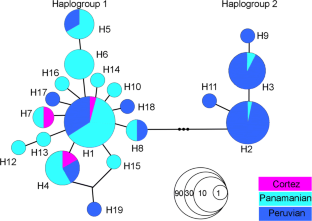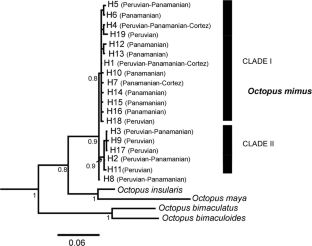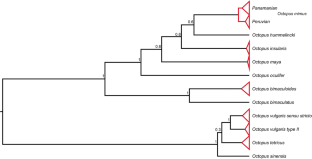 References
Acosta-Jofré M, Sahade R, Laudien J, Chiappero MB (2012) A contribution to the understanding of phylogenetic relationships among species of the genus Octopus (Octopodidae: Cephalopoda). Sci Mar 76(2):311–318

Adam W (1936) Notes sur les cephalopodes. VI. Une nouvelle espece d'Octopus (Octopus hummelincki) des Indes Occidentales Neerlandaises. Bull Mus r hist nat Belg 12(40):1–3

Amor MD, Norman MD, Cameron HE, Strugnell JM (2014) Allopatric speciation within a cryptic species complex of Australasian octopuses. PLoS ONE 9(6):e98982

Bandelt HJ, Forster P, Röhl A (1999) Median-joining networks for inferring intraspecific phylogenies. Mol Biol Evol 16(1):37–48

Bernardi G, Findley L, Rocha-Olivares A (2003) Vicariance and dispersal across Baja California in disjunct marine fish populations. Evol 57(7):1599–1609

Berry SS (1953) Preliminary diagnoses of six west American species of octopus. Leafl in Malacol 1(10):51–58

Brante A, Fernández M, Viard F (2012) Phylogeography and biogeography concordance in the marine gastropod Crepipatella dilatata (Calyptraeidae) along the Southeastern Pacific Coast. J Hered 103:630–637

Briggs JC, Bowen BW (2012) A realignment of marine biogeographic with particular reference to fish distributions. J Biogeogr 39:12–30

Cárdenas L, Castilla JC, Viard F (2009) A phylogeographical analysis across three biogeographical provinces of the south-eastern Pacific: the case of the marine gastropod Concholepas concholepas. J Biogeogr 36:969–981

Cardoso F, Hochberg FG (2013) Revision of the genus Lolliguncula Steenstrup, 1881 (Cephalopoda: Loliginidae) off the Pacific Coast of South America. Rev Peru Biol 20(2):129–136

Castro R, Mascarenhas AS, Durazo R, Collins CA (2000) Seasonal variation of the temperature and salinity at the entrance to the Gulf of California, Mexico. Cienc Mar 26(4):561–583

Cuvier GL (1798) Tableau élementaire de l'Histoire Naturelle des Animaux. Paris, Baudouin. 710 pp

Darriba D, Taboada GL, Doallo R, Posada D (2012) jModelTest 2: more models, new heuristics and parallel computing. Nat Methods 9(8):772

Diario Oficial de la Federación (2017). Carta Nacional Pesquera. 11/06/2018

Domínguez-Contreras JF, Munguia-Vega A, Ceballos-Vazquez BP, Arellano-Martínez M, García-Rodriguez FJ, Culver M, Reyes-Bonilla H (2018) Life histories predict genetic diversity and population structure within three species of octopus targeted by small-scale fisheries in Northwest Mexico. Peer J 6:e4295

D´Orbigny A (1834) Histoire naturelle générale et particulière des céphalopodes acétabulifères. Tome 1. In: Férussac AE, D´Orbigny A (eds) Histoire naturelle générale et particulière des céphalopodes acétabulifères vivants et fossiles. Baillière, Paris, pp 68-69

D´Orbigny A (1840) Histoire naturelle générale et particulière des céphalopodes acétabulifères. Tome 1. In: Férussac AE, D´Orbigny A (eds) Histoire naturelle générale et particulière des céphalopodes acétabulifères vivants et fossiles. Baillière, Paris, pp 29-30

Ewers-Suacedo C, Pringle JM, Sepúlveda HH, Byers JE, Navarrete SA, Wares JP (2016) The oceanic concordance of phylogeography and biogeography: a case study in Notochthamalus. Ecol Evol 6(13):4403–4420

Excoffier L, Lischer HE (2010) Arlequin suite ver 3.5: a new series of programs to perform population genetics analyses under Linux and Windows. Mol Ecol Resour 10(3):564–567

Excoffier L, Smouse PE, Quattro JM (1992) Analysis of molecular variance inferred from metric distances among DNA haplotypes: application to human mitochondrial DNA restriction data. Genet 131(2):479–491

Ezard T, Fujisawa T, Barraclough T (2009) Splits: species' limits by threshold statistics. R package version 1.0. Available: http://R-Forge.R-project.org/projects/splits/. Accessed on April 4, 2019

Férussac AE, d´Orbigny A (1834-1848) Histoire naturelle générale et particulière des céphalopodes acétabulifères vivants et fossiles. Baillière, Paris

Flores-Valle A, Pliego-Cárdenas R, Jiménez-Badillo ML, Arredondo-Figueroa JL, Barriga-Sosa IA (2018) First record of Octopus insularis Leite and Haimovici, 2008 in the octopus fishery of a marine protected area in the Gulf of Mexico. J Shellfish Res 37(1):221–227

Folmer O, Black M, Hoeh W, Lutz R, Vrijenhoek R (1994) DNA primers for amplification of mitochondrial cytochrome c oxidase subunit from diverse metazoan invertebrates. Mol Mar Biol Biotechnol 3(5):294–299

Fujisawa T, Barraclough TG (2013) Delimiting species using single-locus data and the Generalized Mixed Yule Coalescent approach: a revised method and evaluation on simulated data sets. Syst Biol 62(5):707–724

Fujita MK, Leaché AD, Burbrink FT, McGuire JA, Moritz C (2012) Coalescent-based species delimitation in an integrative taxonomy. Trends Ecol Evol 27(9):480–488

García-De León FJ, Galván-Tirado C, Velasco LS, Silva-Segundo C, Guzmán RH, Barriga-Sosa IDLA, Jaimes PD, Canino M, Cruz-Hernández P (2018) Role of oceanography in shaping the genetic structure in the North Pacific hake Merluccius productus. Plos ONE 13(3):e0194646

González-Gómez R, Barriga-Sosa IA, Pliego-Cárdenas R, Jiménez-Badillo L, Markaida U, Meiners-Mandujano C et al (2018) An integrative taxonomic approach reveals Octopus insularis as the dominant species in the Veracruz Reef System (southwestern Gulf of Mexico). Peer J 6:e6015

Gould AA (1852) Reports of the United States Exploring Expedition. 1838-1842. Vol. I. Mollusca and Shells. Philadelphia. 12:1–510

Haye PA, Segovia NI, Muñoz-Herrera NC, Gálvez FE, Martínez A, Meynard A et al (2014) Phylogeographic structure in benthic marine invertebrates of the Southeast Pacific Coast of Chile with differing dispersal potential. PLoS ONE 9(2):e88613

Hickman CP Jr (2009) Evolutionary responses of marine invertebrates to insular isolation in Galapagos. Galapagos Res 66:32–42

Hoyle WE (1904) Reports on the Cephalopoda (expedition to the west coast of central America to the Galapagos, to the west coast of Mexico, and in the Gulf of California, in charge of Alexander Agassiz, carried on by the U. S. Fish Commission Steamer •Albatross• during 1891). Bull Mus Comp Zool 43(1):1−31

Hurtado LA, Frey M, Gaube P, Pfeiler E, Markow TA (2007) Geographical subdivision, demographic history and gene flow in two sympatric species of intertidal snails, Nerita scabricosta and Nerita funiculata, from the tropical eastern Pacific. Mar Biol 151:1863–1873

Juárez OE, Rosas C, Arena-Ortiz ML (2012) Phylogenetic relationships of Octopus maya revealed by mtDNA sequences. Cienc Mar 38(3):563–575

Kaneko N, Kubodera T, Iguchis K (2011) Taxonomic study of shallow-water octopuses (Cephalopoda: Octopodidae) in Japan and adjacent waters using mitochondrial genes with perspectives on octopus DNA barcoding. Malacologia 54(2):97–108

Keigwin L (1982) Isotopic paleoceanography of the Caribbean and East Pacific: role of Panama uplift in late neogene time. Science 217(4557):350–353

Kumar S, Stecher G, Tamura K (2015) MEGA7: molecular evolutionary genetics analysis version 7.0. for bigger data sets. Mol Biol Evol 33(7):1870–1874

Librado P, Rozas J (2009) DnaSP v5: a software for comprehensive analysis of DNA polymorphism data. Bioinform 25:1451–1452

Lima FD, Bervel-Filho WM, Leite TS, Rosas C, Lima SM (2017) Occurrence of Octopus insularis Leite and Haimovici, 2008 in the Tropical Northwestern Atlantic and implications of species misidentification to octopus fisheries management. Mar Biodivers 47(3):7123–7734

Marin A, Serna J, Robles C, Ramírez B, Reyes-Flores LE, Zelada-Mázmela E et al (2018) A glimpse into the genetic diversity of the Peruvian seafood sector: unveiling species substitution, mislabeling and trade of threatened species. PLoS ONE 13(11):e0206596

Markaida U, Gilly WF (2016) Cephalopods of Pacific Latin America. Fish Res 173(2):113–121

Markaida U, Flores L, Arias E, Mora E (2018) Reproduction and population structure of Octopus mimus fished in a marine protected area of Ecuador. J Mar Biol Assoc UK 98(6):1383–1389

Monaghan MT, Wild R, Elliot M, Fujisawa T, Balke M, Inward DJ et al (2009) Accelerated species inventory on Madagascar using coalescent-based models of species delineation. Syst Biol 58(3):298–311

Montecinos A, Purca S, Pizarro O (2003) Interannual to interdecadal sea surface temperature variability along the western coast of South America. Geophys Res Lett 30(11):1150

Muss A, Robertson DR, Stepien CA, Wirtz P, Bowen BW (2001) Phylogeography of Ophioblennius: the role of ocean currents and geography in reef evolution. Evolution 55(3):561–572

Pardo-Gandarillas MC, Ibañez CM, Yamashiro C, Méndez MA, Poulin E (2018) Demographic inference and genetic diversity of Octopus mimus (Cephalopoda: Octopodidae) throughout the Humboldt Current System. Hydrobiologia 808(1):125–135

Paredes C, Tarazona J, Canahuire E, Romero L, Cornejo O, Cardoso F (1998) Presencia de moluscos tropicales de la Provincia Panameña en la costa central del Peru y su relacion con los eventos "el Niño". Rev Peru Biol 5(2):123–128

Paredes C, Cardoso F, Tarazona J (2004) Distribución temporal de moluscos y crustáceos tropicales en la Provincia Peruana y su relación con los eventos El Niño. Rev Peru Biol 11(2):213–218

Pickford GE, McConnaughey BH (1949) The Octopus bimaculatus problem: a study in sibling species. Bull Bingham Oceanogr Coll 12(4):1–66

Pliego-Cárdenas R, García-Domínguez FA, Ceballos-Vázquez BP, Villalejo-Fuerte M, Arellano-Martínez M (2011) Reproductive aspects of Octopus hubbsorum (Cephalopoda: Octopodidae) from Espíritu Santo Island, southern Gulf of California, Mexico. Cienc Mar 37(1):23–32

Pliego-Cárdenas R, Hochberg F, García De León F, Barriga-Sosa I (2014) Close genetic relationships between two American octopuses: Octopus hubbsorum Berry, 1953, and Octopus mimus Gould, 1852. J Shellfish Res 33(1):293–303

Pliego-Cárdenas R, Flores L, Markaida U, Barriga-Sosa IA, Mora E, Arias E (2016) Genetic evidence of the presence of Octopus mimus in the artisanal fisheries of octopus in Santa Elena Peninsula, Ecuador. Am Malacol Bull 34(1):51–55

Rambaut A, Drummond AJ, Xie D, Baele G, Suchard MA (2018) Posterior summarisation in Bayesian phylogenetics using Tracer 1.7. Syst Biol 67(5):901–904

Ronquist F, Teslenko M, van der Mark P, Ayres DL, Darling A, Höhna S et al (2012) MrBayes 3.2: efficient Bayesian phylogenetic inference and model choice across a large model space. Syst Biol 61(3):539–542

Saarman NP, Louie KD, Hamilton H (2010) Genetic differentiation across eastern Pacific oceanographic barriers in the threatened seahorse Hippocampus ingens. Conserv Genet 11:1989–2000

Sales J, Rego P, Hilsdorf A, Moreira A, Haimovici M, Tomás AR et al (2013) Phylogeographical features of Octopus vulgaris and Octopus insularis in the Southeastern Atlantic based on the analysis of mitochondrial markers. J Shellfish Res 32(2):325–339

Sauer WHH, Gleadall IG, Downey-Breedt N, Doubleday Z, Gillespie G, Haimovici M, Ibáñez CM, Katugin ON et al (2019) World octopus fisheries. Rev Fish Sci Aquac. https://doi.org/10.1080/23308249.2019.1680603

Söller R, Warnke K, Saint-Paul U, Blohm D (2000) Sequence divergence of mitochondrial DNA indicates cryptic biodiversity in Octopus vulgaris and supports the taxonomic distinctiveness of Octopus mimus (Cephalopoda: Octopodidae). Mar Biol 139:29–35

Strugnell JM, Norman MD, Vecchione M, Guzik M, Allcock AL (2014) The ink sac clouds octopod evolutionary history. Hydrobiologia 725:215–235

Suchard MA, Lemey P, Baele G, Ayres DL, Drummond AJ, Rambaut A (2018) Bayesian phylogenetic and phylodynamic data integration using BEAST 1.10. Virus Evol 4(1):vey016

Talavera G, Dinca V, Vila R (2013) Factors affecting species delimitations with the GMYC model: insights from a butterfly survey. Methods Ecol Evol 4:1101–1110

Thompson JD, Higgins GD, Gibson TJ (1994) CLUSTAL W: improving the sensitivity of progressive multiple sequence alignment through sequence weighting, position-specific gap penalties and weight matrix choice. Nucleic Acids Res 22(22):4673–4680

Verrill AE (1883) Descriptions of two species of octopus from California. Bull Mus Comp Zool 11(6):117–123

Vidigal TH, Coscarelli D, Paixao H, Bernardes S, Montresor LC, Pepato AR (2018) Integrative taxonomy of the neotropical genus Omalonix (Elasmognatha: Succineidae). Zool Scr 47:174–186

Villanueva R, Norman MD (2008) Biology of the planktonic stages of benthic octopuses. Oceanogr Mar Biol 46:105–202

Voss GL, Solís-Ramírez M (1966) Octopus maya, a new species from the Bay of Campeche, Mexico. Bull Mar Sci 16(3):615–625

Warnke K (1999) Observations on the embryonic development of Octopus mimus (Mollusca: Cephalopoda) from northern Chile. The Veliger 42(3):211–217

Warnke K, Söller R, Blohm D, Saint-Paul U (2002) Assessment of the phylogenetic relationship between Octopus vulgaris Cuvier, 1797 and O. mimus Gould 1852, using mitochondrial 16S rDNA in combination with morphological characters. Abh Geol B-A 57:401–405
Acknowledgments
RPC and SMP thank Consejo Nacional de Ciencia y Tecnología (CONACyT) for the scholarships received. UM thanks SENESCYT for supporting his research at the Instituto Nacional de Pesca of Ecuador through the PROMETEO Program. We thank Frederick Hochberg for donating samples from Colombia and Jose A. García for his assistance in editing the English version of the manuscript. We also thank to two anonymous reviewers and the editor for constructive comments.
Funding
This study was supported by Universidad Autónoma Metropolitana with grant nos. 147.09.01, 147.09.04, and 147.09.07 to IDLABS.
Ethics declarations
Conflict of interest
The authors declare that they have no conflict of interest.
Ethical approval
All applicable international, national, and/or institutional guidelines for the care and use of animals were followed by the authors.
Sampling and field studies
All samples were obtained by fishermen who have the necessary permits for sampling.
Data availability
The data sets generated during and/or analyzed during the current study are available from the corresponding author on reasonable request.
Author contribution
RPC, UM, and IBS conceived and designed research. RPC, SMP, and MAA conducted experiments. RPC and IBS contributed new reagents or analytical tools. RPC and SMP analyzed data. RPC, IBS, and SMP wrote the manuscript. All authors read and approved the manuscript.
Additional information
Publisher's note
Springer Nature remains neutral with regard to jurisdictional claims in published maps and institutional affiliations.
Communicated by M. Vecchione
Electronic supplementary material
About this article
Cite this article
Pliego-Cardenas, R., Prieto, S.M., Apon, M.A. et al. Genetic structure of Octopus mimus Gould, 1852 along three biogeographic marine provinces. Mar. Biodivers. 50, 46 (2020). https://doi.org/10.1007/s12526-020-01078-4
Received:

Revised:

Accepted:

Published:
Keywords
COI

Biogeography

Dispersion

Octopodidae