Abstract
The objective of much promotional material is to create attitudes about a product or service with existing and prospective consumers. The effectiveness of the promotion in generating such attitudes is partly dependent upon the ability of these actual and prospective consumers to process the information provided in the promotional material, which then impacts on their decision. The aim of this research is to analyze the effectiveness of a promotional website under different information load conditions, for consumers from countries that differ in their digital information literacy. To achieve this goal, an experiment was conducted which was designed to manage the amount of information shown to participants from two different countries (the United Kingdom and Spain). The results suggest that both the main and interaction effect of information load and digital literacy have an impact on a website's effectiveness. This implies that promotional websites need to be not only culturally but also cognitively adapted.
This is a preview of subscription content, log in to check access.
Access options
Buy single article
Instant access to the full article PDF.
US$ 39.95
Tax calculation will be finalised during checkout.
Subscribe to journal
Immediate online access to all issues from 2019. Subscription will auto renew annually.
US$ 79
Tax calculation will be finalised during checkout.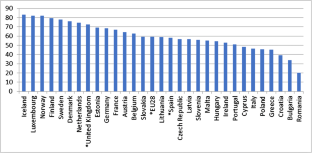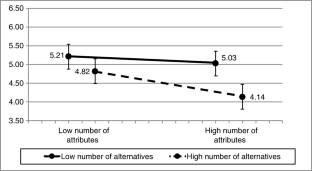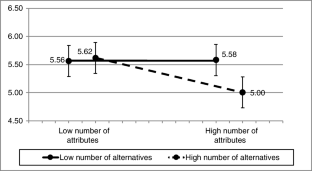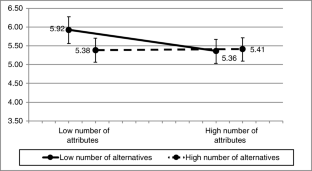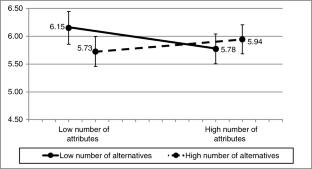 References
Ahuja, J. S., & Webster, J. (2001). Perceived disorientation: an examination of a new measure to assess web design effectiveness. Interacting with Computers, 14, 15–29.

ALA (1989). Presidential Committee on Information Literacy: Final Report. Retrieved February 20, 1989 from http://www.ala.org/acrl/publications/whitepapers/presidential.

Bawden, D. (2008). Origins and concepts of digital literacy. In C. Lankshear & M. Knobel (Eds.), Digital literacies: Concepts, policies and practices (pp. 17–32). New York: Peter Lang.

Bawden, D., & Robinson, L. (2009). The dark side of information: overload, anxiety and other paradoxes and pathologies. Journal of Information Science, 35(2), 180–191.

Bettman, J. R. (1979). Memory factors in consumer choice: A review. Journal of Marketing, 43(2), 37-53.

Birru, M. S., Monaco, V. M., Charles, L., Drew, H., Njie, V., Bierria, T., Detlefsen, E., & Steinman, R. A. (2004). Internet usage by low-literacy adults seeking health information: an observational analysis. Journal of Medical Internet Research, 6(3).

Biswas, D. (2004). Economics of information in the web economy: towards a new theory? Journal of Business Research, 57(7), 724–733.

Buhalis, D., & Law, R. (2008). Progress in information technology and tourism management: 20 years on and 10 years after the Internet—The state of eTourism research. Tourism management, 29(4), 609–623.

Castaneda, J. A., Rodríguez, M. A., & Luque, T. (2009). Attitudes' hierarchy of effects in online user behavior. Online Information Review, 33(1), 7–21.

Catts, R., & Lau, J. (2008). Towards information literacy indicators. Paris: UNESCO Retrieved February 20, 2019 from https://dspace.stir.ac.uk/bitstream/1893/2119/1/cattsandlau.pdf.

Chatterjee, A. (2016). Elements of information organization and dissemination. Chandos Publishing.

Chen, C. Y., Pedersen, S., & Murphy, K. L. (2011). Learners' perceived information overload in online learning via computer-mediated communication. Research in Learning Technology, 19(2).

Chewning Jr., E. G., & Harrell, A. M. (1990). The effect of information load on decision makers' cue utilization levels and decision quality in a financial distress decision task. Accounting, Organizations and Society, 15(6), 527–542.

Craik, F. I., & Lockhart, R. S. (1972). Levels of processing: A framework for memory research. Journal of verbal learning and verbal behavior, 11(6), 671–684.

Cyr, D. (2008). Modeling web site design across cultures: relationships to trust, satisfaction, and e-loyalty. Journal of Management Information Systems, 24(4), 47–72.

Eppler, M. J., & Mengis, J. (2004). The concept of information overload: A review of literature from organization science, accounting, marketing, MIS, and related disciplines. The information society, 20(5), 325–344.

European Commission (2014). Individuals with basic or above basic digital skills. Digital Agenda Scoreboard. Retrieved February 20, 2019 from http://digital-agenda-data.eu/datasets/digital_agenda_scoreboard_key_indicators/indicators

European Parliament and European Council (2006). Key competences for lifelong learning (2006/962/EC). Offi cial Journal of the European Union L 394/10. Retrieved July 04, 2019 from https://eur-lex.europa.eu/LexUriServ/LexUriServ.do?uri=OJ:L:2006:394:0010:0018:en:PDF.

Frau-Meigs, D., Velez, I., & Michel, J. F. (Eds.). (2017). Public policies in media and information literacy in Europe: cross-country comparisons. London and New York: Routledge.

Frias, D. M., Rodriguez, M. A., & Castañeda, J. A. (2008). Internet vs. travel agencies on pre-visit destination image formation: An information processing view. Tourism management, 29(1), 163–179.

Furner, C. P., & Zinko, R. A. (2017). The influence of information overload on the development of trust and purchase intention based on online product reviews in a mobile vs. web environment: an empirical investigation. Electronic Markets, 27(3), 211–224.

Garcia-Retamero, R., Cokely, E. T., & Ghazal, S. (2014). Comparing risk literacy in 31 countries: New results from the Berlin Numeracy Test. Manuscript in preparation.

Gilster, P. (1997). Digital literacy. New York: Wiley Computer Pub.

Goodwin, S., & Etgar, M. (1980). An experimental investigation of comparative advertising: Impact of message appeal, information load, and utility of product class. Journal of Marketing Research, 17(2), 187–202.

Hargittai, E. (2005). Survey measures of web-oriented digital literacy. Social Science Computer Review, 23(3), 371–379.

Hobbs, R., & Jensen, A. (2009). The past, present, and future of media literacy education. Journal of media literacy education, 1(1), 1–11.

Hult, G. T. M., Ketchen, D. J., Griffith, D. A., Finnegan, C. A., Gonzalez-Padron, T., Harmancioglu, N., Huang, Y., Talay, M. B., & Cavusgil, S. T. (2008). Data Equivalence in Cross-cultural International Business Research: Assessment and Guidelines. Journal of International Business Studies, 39(6), 1027–1044.

Iannuzzi, P. (2000). Information literacy competency standards for higher education. Community & Junior College Libraries, 9(4), 63–67.

Im, H., & Ha, Y. (2011). The effect of perceptual fluency and enduring involvement on situational involvement in an online apparel shopping context. Journal of Fashion Marketing and Management: An International Journal, 15(3), 345–362.

Ivanitskaya, L., O'Boyle, I., & Casey, A. M. (2006). Health information literacy and competencies of information age students: results from the interactive online Research Readiness Self-Assessment (RRSA). Journal of medical Internet research, 8(2).

Jackson, T. W., & Farzaneh, P. (2012). Theory-based model of factors affecting information overload. International Journal of Information Management, 32(6), 523–532.

Jacoby, J. (1977). Information load and decision quality: Some contested issues. Journal of Marketing Research, 14(4), 569–573.

Jacoby, J., Speller, D. E., & Berning, C. K. (1974a). Brand choice behavior as a function of information-load: Replication and extension. Journal of Consumer Research, 1, 33–43.

Jacoby, J., Speller, D. E., & Kohn, C. A. (1974b). Brand choice behavior as a function of information load. Journal of Marketing Research, 11(1), 63–69.

Jae, H., DelVecchio, D. S., & Childers, T. L. (2011). Are low-literate and high-literate consumers different? Applying resource-matching theory to ad processing across literacy levels. Journal of Consumer Psychology, 21(3), 312–323.

Karson, E. J., & Fisher, R. J. (2005). Predicting intentions to return to the web site: extending the dual mediation hypothesis. Journal of Interactive Marketing, 19(3), 2–14.

Kessels, R. P. (2003). Patients' memory for medical information. Journal of the Royal Society of Medicine, 96(5), 219–222.

Knobel, M., & Lankshear, C. (2006). Digital literacy and digital literacies: Policy, pedagogy and research considerations for education. Nordic Journal of digital literacy, 1(01), 12–24.

Ko, D., Seo, Y., & Jung, S. U. (2015). Examining the effect of cultural congruence, processing fluency, and uncertainty avoidance in online purchase decisions in the US and Korea. Marketing Letters, 26(3), 377–390.

Koltay, T. (2011). The media and the literacies: Media literacy, information literacy, digital literacy. Media, Culture & Society, 33(2), 211–221.

Lee, B. K., & Lee, W. N. (2004). The effect of information overload on consumer choice quality in an on-line environment. Psychology & Marketing, 21(3), 159–183.

Liao, C., Palvia, P., & Lin, H. N. (2010). Stage antecedents of consumer online buying behavior. Electronic Markets, 20(1), 53–65.

Loh, K. K., & Kanai, R. (2016). How has the Internet reshaped human cognition? The Neuroscientist, 22(5), 506–520.

Lurie, N. (2004). Decision making in information-rich environments: the role of information structure. Journal of Consumer Research, 30, 473–486.

MacKenzie, S. B., & Lutz, R. J. (1989). An empirical examination of the structural antecedents of attitude toward the ad in an advertising pretesting context. Journal of marketing, 53(2), 48–65.

MacKenzie, S. B., Lutz, R. J., & Belch, G. E. (1986). The role of attitude toward the ad as a mediator of advertising effectiveness: A test of competing explanations. Journal of marketing research, 23(2), 130–143.

Madon, S. (2000). The Internet and socio-economic development: exploring the interaction. Information technology & people, 13(2), 85–101.

Malhotra, N. K. (1982). Information load and consumer decision making. Journal of consumer research, 8(4), 419–430.

Miller, G. A. (1994). The magical number seven, plus or minus two: Some limits on our capacity for processing information. Psychological Review, 101(2), 343–352.

Muehling, D. D. (1987). An investigation of factors underlying attitude-toward-advertising-in-general. Journal of Advertising, 16(1), 32–40.

Nelson, D. L., Reed, V. S., & McEvoy, C. L. (1977). Encoding strategy and sensory and semantic interference. Memory & cognition, 5(4), 462–467.

OECD (2015). PISA results in focus. Retrieved February 20, 2019 from http://www.oecd.org/pisa/pisa-2015-results-in-focus.pdf.

Olson, J. C. (1980). Encoding processes: levels of processing and existing knowledge structures. Advances in Consumer Research, 7(1), 154–160.

Payne, J. W. (1982). Contingent decision behavior. Psychological Bulletin, 92(2), 382–402.

Payne, J. W., Bettman, J. R., & Johnson, E. J. (1993). The adaptive decision maker. New York: Cambridge University Press.

Petty, R. E., Cacioppo, J. T., & Schumann, D. (1983). Central and peripheral routes to advertising effectiveness: The moderating role of involvement. Journal of consumer research, 10(2), 135–146.

Prensky, M. (2001). Digital natives, digital immigrants part 1. On the horizon, 9(5), 1–6.

Rodríguez-Molina, M. A., Frías-Jamilena, D. M., & Castañeda-García, J. A. (2015). The contribution of website design to the generation of tourist destination image: The moderating effect of involvement. Tourism Management, 47, 303–317.

Roetzel, P. G. (2018). Information overload in the information age: a review of the literature from business administration, business psychology, and related disciplines with a bibliometric approach and framework development. Business Research, 1-44.

Scheibehenne, B., Greifeneder, R., & Todd, P. M. (2010). Can there ever be too many options? A meta-analytic review of choice overload. Journal of consumer research, 37(3), 409–425.

Schwartz, B. (2004). The paradox of choice: Why more is less. New York, NY, US: Harper Collins Publishers.

Sicilia, M., & Ruiz, S. (2010). The effects of the amount of information on cognitive responses in online purchasing tasks. Electronic Commerce Research and Applications, 9(2), 183–191.

Simon, H. A. (1956). Rational choice and the structure of the environment. Psychological Review, 63(2), 129.

Simon, H. A. (1972). Theories of bounded rationality. Decision and organization, 1(1), 161–176.

Singh, N., Zhao, H., & Hu, X. (2005). Cultural Adaptation on the Web: A Study of American Companies'. Advanced Topics in Global Information Management, 203.

Singh, S. N., & Dalal, N. P. (1999). Web home pages as advertisements. Communications of the ACM, 42(8), 91–91.

Sthapit, E. (2018). The more the merrier: Souvenir shopping, the absence of choice overload and preferred attributes. Tourism Management Perspectives, 26, 126–134.

Sweller, J. (1994). Cognitive load theory, learning difficulty, and instructional design. Learning and instruction, 4(4), 295–312.

Thai, N. T., & Yuksel, U. (2017). Choice overload in holiday destination choices. International Journal of Culture, Tourism and Hospitality Research, 11(1), 53–66.

UK Office for National Statistics (2017). Internet users. Retrieved February 20, 2019 from https://www.ons.gov.uk/businessindustryandtrade/itandinternetindustry/datasets/internetusers.

Van Dijk, J. A. (2006). Digital divide research, achievements and shortcomings. Poetics, 34(4), 221–235.

Voorveld, H. A., Neijens, P. C., & Smit, E. G. (2009). Consumers' responses to brand websites: An interdisciplinary review. Internet Research, 19(5), 535–565.

Wan, Y., Menon, S., & Ramaprasad, A. (2009). The Paradoxical Nature of Electronic Decision Aids on Comparison-Shopping: The Experiments and Analysis. Journal of Theoretical and Applied Electronic Commerce Research, 4(3), 80–96.

Wang, K. C., Chou, S. H., Su, C. J., & Tsai, H. Y. (2007). More information, stronger effectiveness? Different group package tour advertising components on web page. Journal of Business Research, 60(4), 382–387.

Warschauer, M. (2009). Digital literacy studies: Progress and prospects. In M. Prinsloo & M. Baynham (Eds.), The future of literacy studies (pp. 123–140). London: Palgrave Macmillan.

Webber, S., & Johnston, B. (2000). Conceptions of information literacy: new perspectives and implications. Journal of information science, 26(6), 381–397.

Wickens, C. D. (1991). Processing resources and attention. Multiple-task performance, 1991, 3–34.

Xiao, B., & Benbasat, I. (2007). E-commerce product recommendation Agents: Use, Characteristics, and Impact. MIS Quarterly., 31(1), 137–209.
Additional information
Publisher's note
Springer Nature remains neutral with regard to jurisdictional claims in published maps and institutional affiliations.
Responsible Editor: Ulrike Lechner
Appendix 1
Appendix 1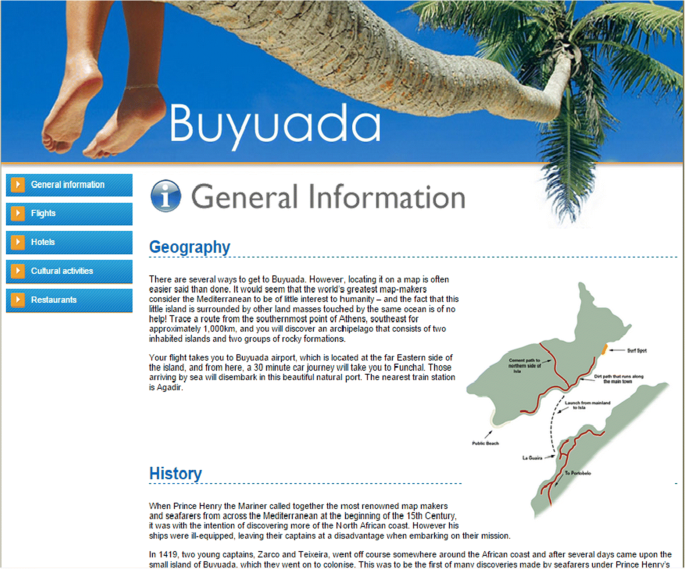 Sample Fly information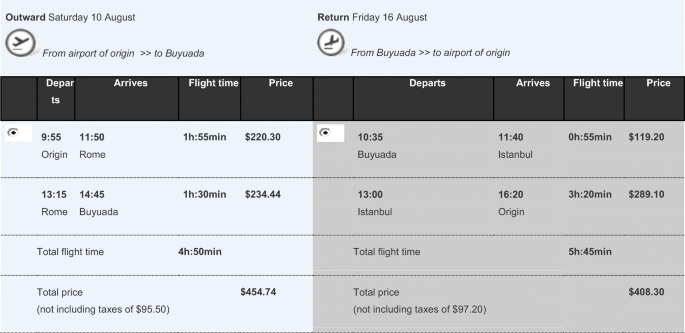 Sample Hotel information
Hotel Paradise 5*
Address: Paradise Beach, Plot 18, Buyuada.
Telephone: 733 723 100
Fax: 733 723 300
Hotel type: Beach and business
Guest rating:

Thanks to its excellent sea-front location, this beach hotel, built in 2002, has spectacular sea views on one side, and mountain views on the other. In total it has 488 rooms of which 422 are twin/double and 66 are junior suites. Located in the main hall are the 24-hour reception, a currency exchange service, a lounge area and a bar. Other facilities include lifts, other bars, buffet-style restaurant (non-smoking), three a la carte restaurants (Italian, international and Japanese), and Internet access (charged separately). Additional features include room service and laundry service, car park and garage. The hotel also offers a Kids Club (for children between 4 and 12 years old), and a play area where tots can play safely.
Rooms
Rooms are luxurious and elegant, each with en suite bathroom with hairdryer. All have direct telephone line, Internet connection, mini-bar, fridge, central heating and safety deposit box.
Entertainment and sports
The hotel's elegant exterior is equally well cared-for and boasts a large bathing area with two swimming pools and a pool for children, sun loungers, sun shades and a bar. Also available are a sauna, solarium, gymnasium and a professional massage service (the latter charged direct to your room). Alongside the hotel complex is a thalassotherapy spa and pampering suite. Other activities include aerobics, beach-ball and (for a small surcharge) billiards, mini-golf and tennis (there are two courts). Water sports are organised on the beach (charged to your room). To round off the range of services and facilities, the hotel provides a varied programme of activities for guests of all ages, with live shows and music.
Methods of payment
Visa, Mastercard and Diners Club
| | | | |
| --- | --- | --- | --- |
| Accommodation | Low season | Mid-season | High season |
| Standard double room including breakfast | $95 | $125 | $136 |
Sample Restaurant information
Art & Curio
JL. Raden Raya, 47, Buyuada.

315 06 46 (24-hour advance booking necessary)
International cuisine is what characterizes this restaurant, based on a blend of creative Mediterranean-style cooking and French technique. Presentation is imaginative and meticulous. Cuisine is based on creative, Mediterranean-style cooking and French technique. The restaurant is open continuously from 11.30am in summer. The rest of the year it is open from 11.30am to 5pm and from 7pm to midnight. The average price per head is $70.00. The establishment has two spacious lounges and an external terrace. Circular tables help the conversation flow. The décor is discrete and well maintained.
In a recent poll amongst two diners the Art & Curio was awarded a rating of 4 out of 5.
About this article
Cite this article
Castañeda, JA., Frías-Jamilena, D.M., Rodríguez-Molina, M.A. et al. Online Marketing Effectiveness - the influence of information load and digital literacy, a cross-country comparison. Electron Markets 30, 759–773 (2020). https://doi.org/10.1007/s12525-019-00372-9
Received:

Accepted:

Published:

Issue Date:
Keywords
Website effectiveness

Information load

Digital literacy

Tourism
JEL classification