Abstract
The aim of this study is to identify the main barriers to smart energy information systems (SEIS) diffusion. We used the grounded theory method (GTM), with its repetitive cycles, to develop a theoretical model that illustrates these barriers. As a starting point, we discussed the discrepancy between the potential and the actual status of smart energy information systems diffusion. Having conducted a literature review and 23 interviews, we discovered that the main barriers to SEIS diffusion are adoption costs, switching costs, a collective action dilemma, and a lack of business cases for all stakeholders. Our study contributes to the literature on IS-enabled smart energy solutions in the industrial sector by deriving propositions for SEIS diffusion and by developing a theoretical model of the main barriers to SEIS diffusion that explains the discrepancy between the advantages and the actual diffusion of such systems.
Access options
Buy single article
Instant access to the full article PDF.
USD 39.95
Price includes VAT (USA)
Tax calculation will be finalised during checkout.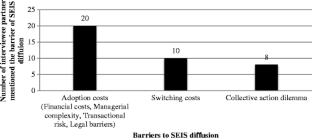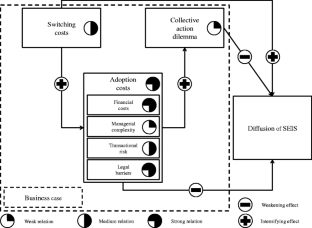 References
Akella, R., Tang, H., & McMillin, B. M. (2010). Analysis of information flow security in cyber–physical systems. International Journal of Critical Infrastructure Protection, 3(3–4), 157–173. doi:10.1016/j.ijcip.2010.09.001.

Allcott, H., & Greenstone, M. (2012). Is there an energy efficiency gap? The Journal of Economic Perspectives, 26(1), 3–28. doi:10.2307/41348804.

Beggs, A., & Klemperer, P. (1992). Multi-period competition with switching costs. Econometrica, 60(3), 651–666. doi:10.2307/2951587.

Caves, R. E., & Porter, M. E. (1977). From entry barriers to mobility barriers: conjectural decisions and contrived deterrence to new competition. The Quarterly Journal of Economics, 91(2), 241–261. doi:10.2307/1885416.

Cavoukian, A., Polonetsky, J., & Wolf, C. (2010). Smart privacy for the smart grid: embedding privacy into the design of electricity conservation. Identity in the Information Society, 3(2), 275–294. doi:10.1007/s12394-010-0046-y.

Charmaz, K. (2006). Constructing grounded theory. London: SAGE Publications Ltd.

Chau, P. Y. K., & Tam, K. Y. (1997). Factors affecting the adoption of open systems: an exploratory study. MIS Quarterly, 21(1), 1–24. doi:10.2307/249740.

Clastres, C. (2011). Smart grids: another step towards competition, energy security and climate change objectives. Energy Policy, 39(9), 5399–5408. doi:10.1016/j.enpol.2011.05.024.

Depuru, S. S. S. R., Wang, L., & Devabhaktuni, V. (2011). Smart meters for power grid: challenges, issues, advantages and status. Renewable and Sustainable Energy Reviews, 15(6), 2736–2742. doi:10.1016/j.rser.2011.02.039.

Eisenhardt, K. M. (1989). Building theories from case study research. Academy of Management Review, 14(4), 532–550. doi:10.5465/amr.1989.4308385.

ERGEG (2010). Position paper on smart grids. E10-EQS-38-05E10-EQS-38-05.

Fang, X., Misra, S., Xue, G., & Yang, D. (2012). Smart Grid - the new and improved power grid: a survey. IEEE Communications Surveys & Tutorials, 14(4), 944–980. doi:10.1109/surv.2011.101911.00087.

Farhangi, H. (2010). The path of the smart grid. IEEE Power and Energy Magazine, 8(1), 18–28. doi:10.1109/mpe.2009.934876.

Farrell, J., & Shapiro, C. (1988). Dynamic competition with switching costs. The RAND Journal of Economics, 19(1), 123–137. doi:10.2307/2555402.

Fiedler, M., Blank, C., & Picot, A. (2010). Antecedents of intentionally incomplete inter-firm contracts. zfbf Schmalenbachs Zeitschrift für betriebswirtschaftliche Forschung Sonderheft, 62/10, 133–157.

Freeman, R. E. (1984). Strategic management: A stakeholder approach. Cambridge: Cambridge University Press. 2010.

Gallant, A. R., & Koenker, R. W. (1984). Costs and benefits of peak-load pricing of electricity: a continuous-time econometric approach. Journal of Econometrics, 26(1–2), 83–113. doi:10.1016/0304-4076(84)90014-9.

Gasson, S., & Waters, J. (2013). Using a grounded theory approach to study online collaboration behaviors. European Journal of Information Systems, 22(1), 95–118.

Gioia, D. A., Corley, K. G., & Hamilton, A. L. (2013). Seeking qualitative rigor in inductive research: notes on the Gioia methodology. Organizational Research Methods, 16(1), 15–31. doi:10.1177/1094428112452151.

Glachant, J.-M., & Pignon, V. (2005). Nordic congestion's arrangement as a model for Europe? Physical constraints vs. economic incentives. Utilities Policy, 13(2), 153–162. doi:10.1016/j.jup.2004.12.009.

Glaser, B. G. (1978). Theoretical sensitivity: Advances in the methodology of grounded theory. Mill Valley: Sociology Press.

Glaser, B. G. (1992). Basics of grounded theory analysis. Mill Valley: Sociology Press.

Glaser, B. G., & Holton, J. (2004). Remodeling grounded theory. Forum: Qualitative Social Research, 5(2), 1–17.

Glaser, B. G., & Strauss, A. (1967). The discovery of grounded theory: Strategies for qualitative research (Vol. 11). New York: Aldine De Gruyter.

Graebner, M. E., Martin, J. A., & Roundy, P. T. (2012). Qualitative data: cooking without a recipe. Strategic Organization, 10(3), 276–284. doi:10.1177/1476127012452821.

Greening, L. A. (2010). Demand response resources: who is responsible for implementation in a deregulated market? Energy, 35(4), 1518–1525. doi:10.1016/j.energy.2009.12.013.

Heiskanen, E., Johnson, M., Robinson, S., Vadovics, E., & Saastamoinen, M. (2010). Low-carbon communities as a context for individual behavioural change. Energy Policy, 38(12), 7586–7595. doi:10.1016/j.enpol.2009.07.002.

Huibin, S., Ying, S., & Wei-Jen, L. (2011). A demand side management model based on advanced metering infrastructure. In: 4th International Conference on Electric Utility Deregulation and Restructuring and Power Technologies, 2011, 1586–1589. doi:10.1109/drpt.2011.5994150.

Iacovou, C. L., Benbasat, I., & Dexter, A. S. (1995). Electronic data interchange and small organizations: adoption and impact of technology. MIS Quarterly, 19(4), 465–485. doi:10.2307/249629.

IEEE (2011). IEEE guide for smart grid interoperability of energy technology and information technology operation with the electric power system (EPS), end-use applications, and loads. IEEE Std, 2030–2011, 1–126. doi:10.1109/ieeestd.2011.6018239.

Jick, T. D. (1979). Mixing qualitative and quantitative methods: triangulation in action. Administrative Science Quarterly, 24(4), 602–611.

Kim, J.-H., & Shcherbakova, A. (2011). Common failures of demand response. Energy, 36(2), 873–880. doi:10.1016/j.energy.2010.12.027.

Klemperer, P. (1987). Markets with consumer switching costs. The Quarterly Journal of Economics, 102(2), 375–394. doi:10.2307/1885068.

Klemperer, P. (1995). Competition when consumers have switching costs: an overview with applications to industrial organization, macroeconomics, and international trade. Review of Economic Studies, 62(4), 515–539.

Klemperer, P. (2005). Network effects and switching costs: Two short essays for the new New Palgrave.

Locke, K. D. (2001). Grounded theory in management research. London: SAGE Publications Ltd.

Madnick, S. E. (1999). Metadata Jones and the Tower of Babel: The challenge of large-scale semantic heterogeneity. Proceedings of the 3rd IEEE Meta-Data Conference, Bethesda (Maryland).

March, S., Hevner, A., & Ram, S. (2000). Research commentary: an agenda for information technology research in heterogeneous and distributed environments. Information Systems Research, 11(4), 327–341. doi:10.2307/23011041.

Markus, M. L., Steinfield, C. W., & Wigand, R. T. (2006). Industry-wide information systems standardization as collective action: the case of the U.S. residential mortgage industry. MIS Quarterly, 30, 439–465. doi:10.2307/25148768.

McCann, T. V., & Clark, E. (2004). Grounded theory in nursing research: part 2 – critique. Nurse Researcher, 11(2).

Meeus, L., Saguan, M., Glachant, J.-M., & Bellmans, R. (2010). Smart regulation for smart grids. EUI Working Paper, 45.

Miles, M. B., & Huberman, M. A. (1994). Qualitative data analysis: An expanded sourcebook (vol. 2). Thousand Oaks: SAGE Publications Inc.

Niekerk, J. C. v., & Roode, J. D. (2009). Glaserian and Straussian grounded theory: Similar or completely different? Proceedings of the 2009 Annual Research Conference of the South African Institute of Computer Scientists and Information Technologists, Vanderbijlpark, Emfuleni, South Africa.

Park, J., & Ram, S. (2004). Information systems interoperability: what lies beneath. ACM Transactions on Information Systems, 22(4), 595–632.

Rogers, E. M. (1995). Diffusion of innovations (4th ed.). New York: Free Press.

Römer, B., Reichhart, P., Kranz, J., & Picot, A. (2012). The role of smart metering and decentralized electricity storage for smart grids: the importance of positive externalities. Energy Policy, 50, 486–495. doi:10.1016/j.enpol.2012.07.047.

Shi, M., Chiang, J., & Rhee, B.-D. (2006). Price competition with reduced consumer switching costs: the case of "wireless number portability" in the cellular phone industry. Management Science, 52(1), 27–38. doi:10.2307/20110481.

Strauss, A., & Corbin, J. M. (1998). Basics of qualitative research: Techniques and procedures for developing grounded theory (2nd ed.). Thousend Oaks: Sage Publications Ltd.

Tornatzky, L. G., & Klein, K. J. (1982). Innovation characteristics and innovation adoption-implementation: a meta-analysis of findings. IEEE Transactions on Engineering Management, EM-29(1), 28–45. doi:10.1109/tem.1982.6447463.

Torriti, J., Hassan, M. G., & Leach, M. (2010). Demand response experience in Europe: policies, programmes and implementation. Energy, 35(4), 1575–1583. doi:10.1016/j.energy.2009.05.021.

Uslar, M., Rohjans, S., Bleiker, R., Gonzalez, J., Specht, M., Suding, T., et al. (2010). Survey of Smart Grid standardization studies and recommendations. In IEEE Innovative Smart Grid Technologies Conference Europe, 1–6. doi:10.1109/isgteurope.2010.5638886.

Wang, J., Bloyd, C. N., Hu, Z., & Tan, Z. (2010). Demand response in China. Energy, 35(4), 1592–1597. doi:10.1016/j.energy.2009.06.020.

Wasserman, J. A., Clair, J. M., & Wilson, K. L. (2009). Problematics of grounded theory: innovations for developing an increasingly rigorous qualitative method. Qualitative Research, 9(3), 355–381. doi:10.1177/1468794109106605.

Whetten, D. A. (1989). What constitutes a theoretical contribution? The Academy of Management Review, 14(4), 490–495. doi:10.2307/258554.

Williamson, O. E. (1985). The economic institutions of capitalism.

Wilson, H. S., & Hutchinson, S. A. (1991). Triangulation of qualitative methods: Heideggerian hermeneutics and grounded theory. Qualitative Health Research, 1(2), 263–276. doi:10.1177/104973239100100206.

Wissner, M. (2011). The Smart Grid – a saucerful of secrets? Applied Energy, 88(7), 2509–2518. doi:10.1016/j.apenergy.2011.01.042.

Wolff, C. (2005). Stabilität und Flexibilität von Kooperationen. DUV.

Zarnikau, J. W. (2010). Demand participation in the restructured Electric Reliability Council of Texas market. Energy, 35(4), 1536–1543. doi:10.1016/j.energy.2009.03.018.

Zhu, K., Kraemer, K. L., Gurbaxani, V., & Xu, S. X. (2006a). Migration to open-standard interorganizational systems: network effects, switching costs, and path dependency. MIS Quarterly, 30, 515–539. doi:10.2307/25148771.

Zhu, K., Kraemer, K. L., & Xu, S. (2006b). The process of innovation assimilation by firms in different countries: a technology diffusion perspective on e-business. Management Science, 52(10), 1557–1576. doi:10.1287/mnsc.1050.0487.
Additional information
Responsible Editor: Johann Kranz
Appendices
Appendix 1
Process memo 1: Based on the research question, we focus on the barriers to SEIS.
Theoretical memo 1: First, we need to define SEIS → SEIS is a bidirectional electricity and information network.
Process memo 2: We need to agree on special terms. The general terms are often too vague and require further adjustment. We need to create a catalog of used terms and how we define them.
Theoretical memo 2: Legal barriers and uncertainty seem to be the main barriers to SEIS. These barriers are well investigated in IS literature. Furthermore, the interviewees provide no new insights from an energy perspective.
Appendix 2
Appendix 3
Appendix 4
Appendix 5
Appendix 6
Appendix 7
Appendix 8
Relation between adoption costs, switching costs, and the collective action dilemma as well as their individual effects on SEIS diffusion.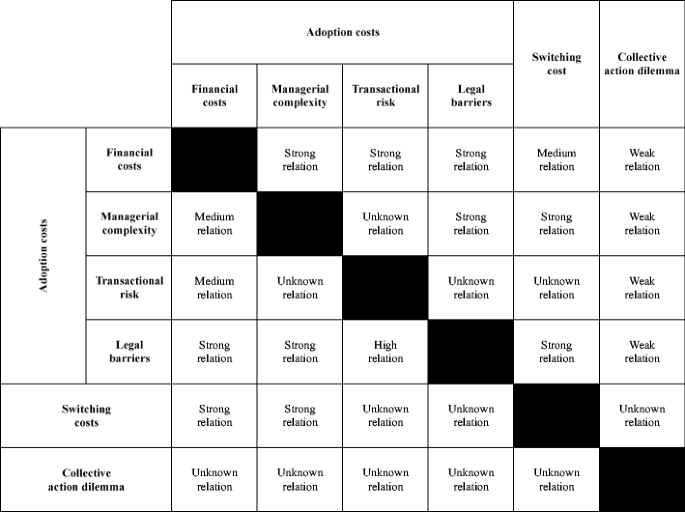 Appendix 9
"For smart homes, the utilization is still difficult, because it costs 200 euros to install. The question is how to get that money back, because the advantages are not that great. So I don't think anything is going to happen there." (Interview 3)
Appendix 10
"We have a producer, a network provider/transmission, a measuring point operator, and a supplier, and it is necessary to develop processes between the individual market participants, not only in terms of data, but also in terms of administration, purchasing management, mistake clarification, etc., to create standards for data exchanges." (Interview 3)
Appendix 11
"Data formats, aggregations of real-time readings — these have enormous data volumes." (Interview 3)
"At the moment, we have a problem involving the large amount of data — there are no mechanisms to analyze and generate added value from this data. However, this will change in the future and it is an interesting application to increase forecast quality." (Interview 4)
Appendix 12
"The data streams will increase exorbitantly. The speed of data exchanges will increase. The need for information will increase. Consequently, the reaction rate must be increased." (Interview 14)
"I must say, I do not consider it appropriate. If the customer wishes to have SEIS installed, that is fine. However, it should not be forced, because the flood of data will be so immense that, in the end, it will be impossible to process all of it." (Interview 16)
Appendix 13
"That is why I say we need legal clarity. We need to know where the journey is going." (Interview 14)
Appendix 14
"We have survived the nationwide telecommunications history from which various horror stories arose. Today, nearly everyone is willing to share private data or banking details via the internet. No one really worries about his or her data. In the near future, the same development will occur in the energy industry." (Interview 22)
Appendix 15
"[The components that are] going to cost money are the computing systems, data processing systems, and data security." (Interview 19)
Appendix 16
"I think everything must take place within a certain legal framework for two main reasons. On the one hand, everything that concerns data protection and data security must be placed in a meaningful framework for the customer. On the other hand, I think investment security is provided by appropriate regulations." (Interview 23)
Appendix 17
"No, the processing (of data) has not yet been standardized in Germany." (Interview 1)
"As far as I can see, each corporation or supplier is still using its original systems, be it power plant control or grid control or others. I'm not aware of any discussions about a comprehensive standard." (Interview 2)
"I'm not aware of any standard. At the moment, there is a wide range of solutions on the market. However, I assume that sooner or later a system will prevail. Although I cannot judge which systems, as the protocols that are currently traded on the market are still completely different." (Interview 10)
Appendix 18
"There is currently no standard. However, I would like to see a standard applied." (Interview 19)
Appendix 19
"I do not see a business case." (Interview 7)
Other interviewees mentioned the added value for each stakeholder.
"I think a business case, which consists of a profitability analysis and potential efficiency, should be seen as a whole. However, one also needs to calculate the effects for individual actors." (Interview 18)
"I consider these the biggest barriers: First of all the acceptance of SEIS on the client side. Often the clients choose the analog technology, as they cannot see any added benefit of the higher priced technology. Furthermore, the energy sector needs to determine whether there is any benefit at all, or whether it is just a prestige object that they desire." (Interview 13)
Another interviewee mentioned the need for smart grids in business cases.
"Following this line of thought, I think there will be areas in which business cases will develop. When it comes to network management and intelligent networks, there will be a business case." (Interview 19)
Interviewee 16 considered a business case necessary for energy providers.
"Energy providers are only interested in a business case if they reach at least a two-digit percentage return. Smaller energy utilities are satisfied earlier and therefore I would imagine that they will create a successful business case at an earlier stage." (Interview 16)
Others mentioned that SEIS have not yet been applied.
"The application is missing. It is a technology-triggered innovation that requires commercial legitimization." (Interview 4)
"Basically, it's a conceptual approach or a new direction, which, at this point, is driven thematically and strategically and not yet by IT. I think IT follows strategy. … But one of the reasons may be that it is still not clear how the market for which comprehensive software might be developed can be defined." (Interview 2)
About this article
Cite this article
Schwister, F., Fiedler, M. What are the main barriers to smart energy information systems diffusion?. Electron Markets 25, 31–45 (2015). https://doi.org/10.1007/s12525-014-0162-x
Received:

Accepted:

Published:

Issue Date:
Keywords
Barriers to smart energy information systems

Adoption costs

Switching costs

Collective action dilemma

Grounded theory method
JEL classification