Abstract
The purpose of this study is to propose and test an integrative model of relational benefit and trustworthiness development process by conceptualizing that trustworthiness in electronic catalog markets is influenced by relational commitment and relational satisfaction. To capture the full picture of trustworthiness in electronic markets, relational benefit is divided into three main categories: trust benefit, economic benefit and social benefit. From 1762 obtained data, hypotheses are tested using structural equation modeling. The results show that the three categories influence trustworthiness from different angles. Trust benefit affects the trustworthiness with both relational loyalty and relational satisfaction. Economic benefit can affect the trustworthiness directly and indirectly with relational satisfaction and relational commitment. Social benefit does not affect the trustworthiness directly, but through relational satisfaction and relational commitment ultimately. Generally, trust benefit affects the trustworthiness most in electronic markets, economic benefit in the next place and social benefit influences least.
Access options
Buy single article
Instant access to the full article PDF.
US$ 39.95
Tax calculation will be finalised during checkout.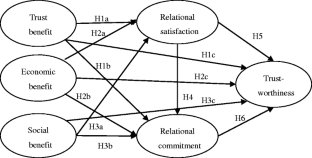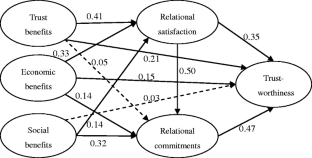 References
Abdul-Ghani, E., Hyde, K. F., & Marshall, R. (2011). Emic and etic interpretations of engagement with a consumer-to-consumer online auction site. Journal of Business Research, 64(10), 1060–1066.

Achrol, R. S., & Gundlach, G. T. (1999). Legal and social safeguards against opportunism in exchange. Journal of Retailing, 75(1), 107–124.

Anderson, H., Havila, V., & Salmi, A. (2001). Can you buy a business relationship?: on the importance of customer and supplier relationships in acquisitions. Industrial Marketing Management, 30(7), 575–586.

Andreu, L., Aldás, J., Bigné, J. E., & Mattila, A. S. (2010). An analysis of e-business adoption and its impact on relational quality in travel agency-supplier relationships. Tourism Management, 31(6), 777–787.

Banerjee, P., & Ma, L. C. K. (2011). Partial assimilation of technology: prognosis and remedial measures. Journal of Organizational Computing and Electronic Commerce, 21(2), 93–110.

Barnes, D., & Hampson, P. J. (1997). Chapter 26 Connectionist models of arbitrarily applicable relational responding: A possible role for the hippocampal system. In Donahoe, J. W. & Dorsel, V. P. (Eds.), Advances in Psychology, 121, North-Holland, 496–521.

Baron, R. A. (2002). OB and entrepreneurship: the reciprocal benefits of closer conceptual links. Research in Organizational Behavior, 24, 225–269.

Bettencourt, L. A., & Brown, S. W. (1997). Contact employees: relationships among workplace fairness, job satisfaction and prosocial service behaviors. Journal of Retailing, 73(1), 39–61.

Boles, J. S., Johnson, J. T., & Barksdale, H. C. (2000). How salespeople build quality relationships: a replication and extension. Journal of Business Research, 48(1), 75–81.

Bove, L. L., & Johnson, L. W. (2006). Customer loyalty to one service worker: should it be discouraged? International Journal of Research in Marketing, 23(1), 79–91.

Cronin, J., Baker, L., & Hawes, M. (1994). An assessment of the role performance measurement of power-dependency in marketing channels. Journal of Business Research, 30(3), 201–210.

Davis, R., & Buchanan-Oliver, M. (1999). Marketing relationships in a computer-mediated environment. Australasian Marketing Journal (AMJ), 7(1), 89–101.

Davis, A., & Khazanchi, D. (2008). An empirical study of online word of mouth as a predictor for multi-product category e-Commerce sales. Electronic Markets, 18(2), 130–141.

Dwyer, P. D. (2006). People, pigs and parasites in New Guinea: relational contexts and epidemiological possibilities. Parasitology International, 55(Supplement 1), S167–S173.

Eggert, A., & Helm, S. (2003). Exploring the impact of relationship transparency on business relationships: a cross-sectional study among purchasing managers in Germany. Industrial Marketing Management, 32(2), 101–108.

Flight, R. L., Henley, J. R., & Robicheaux, R. A. (2008). A market-level model of relationship regulation. Journal of Business Research, 61(8), 850–858.

Fullerton, G. (2011). Creating advocates: the roles of satisfaction, trust and commitment. Journal of Retailing and Consumer Services, 18(1), 92–100.

Gal-Or, E., & Ghose, A. (2005). The economic incentives for sharing security information. Information Systems Research, 16(2), 186–208.

Gwinner, K. P., Gremler, D. D., & Bitner, M. J. (1998). Relational benefits in services industries: the customer's perspective. Journal of the Academy of Marketing Science, 26(2), 101–114.

Halldórsson, Á., & Aastrup, J. (2003). Quality criteria for qualitative inquiries in logistics. European Journal of Operational Research, 144(2), 321–332.

Hartman, C. L., & Price, L. L. (1995). Special issue on interpersonal buyer behavior in marketing. Journal of Business Research, 32(3), 185–188.

Kalaignanam, K., Kushwaha, T., & Varadarajan, P. (2008). Marketing operations efficiency and the internet: an organizing framework. Journal of Business Research, 61(4), 300–308.

Kang, I., Lee, K. C., Lee, S., & Choi, J. (2007). Investigation of online community voluntary behavior using cognitive map. Computers in Human Behavior, 23(1), 111–126.

Kim, D. J., Ferrin, D. L., & Rao, H. R. (2008). A trust-based consumer decision-making model in electronic commerce: the role of trust, perceived risk, and their antecedents. Decision Support Systems, 4(2), 544–564.

Kingshott, R. P. J. (2006). The impact of psychological contracts upon trust and commitment within supplier–buyer relationships: a social exchange view. Industrial Marketing Management, 35(6), 724–739.

Kramer, R. M. (1999). Trust and distrust in organizations: emerging perspective, enduring questions. Annual Review of Psychology, 50(2), 569–598.

Lancastre, A., & Lages, L. F. (2006). The relationship between buyer and a B2B e-marketplace: cooperation determinants in an electronic market context. Industrial Marketing Management, 35(6), 774–789.

Lippert, S., & Spagnolo, G. (2011). Networks of relations and Word-of-Mouth Communication. Games and Economic Behavior, 72(1), 202–217.

Liu, D. (2010). Study on improvement of dynamic reputation evaluation model in C2C market. Journal of Hangzhou Dianzi University, 5(2), 11–16.

Malone, T. W., Yates, J., & Benjamin, R. I. (1987). Electronic markets and electronic hierarchies. Communications of the ACM, 30(6), 484–497.

Mitrega, M., & Katrichis, J. M. (2010). Benefiting from dedication and constraint in buyer-seller relationships. Industrial Marketing Management, 39(4), 616–624.

Morgan, J. J. B., & Carrington, D. H. (1944). Graphic instruction in relational reasoning. Journal of Educational Psychology, 35(9), 536–544.

Morgan, R. M., & Hunt, S. (1999). Relationship-based competitive advantage: the role of relationship marketing in marketing strategy. Journal of Business Research, 46(3), 281–290.

Morgan, N. A., Clark, B. H., & Gooner, R. (2002). Marketing productivity, marketing audits, and systems for marketing performance assessment: integrating multiple perspectives. Journal of Business Research, 55(5), 363–375.

Pavlou, P. A. (2003). Consumer acceptance of electronic commerce: integrating trust and risk with the technology acceptance model. International Journal of Electronic Commerce, 7(3), 101–134.

Pitt, L. F., & Berthon, P. (2011). Just when you thought it was safe to go back into the Web: marketing meets Web 2.0, social media, and creative consumers. Business Horizons, 54(3), 181–183.

Podsakoff, P. M., MacKenzie, S. B., Lee, J.-Y., & Podsakoff, N. P. (2003). Common method biases in behavioral research: a critical review of the literature and recommended remedies. Journal of Applied Psychology, 88(5), 879–903.

Rallis, S. F., Rossman, G. B., & Gajda, R. (2007). Trustworthiness in evaluation practice: an emphasis on the relational. Evaluation and Program Planning, 30(4), 404–409.

Rauyruen, P., & Miller, K. E. (2007). Relationship quality as a predictor of B2B customer loyalty. Journal of Business Research, 60(1), 21–31.

Robinson, E. P., Sahin, F., & Gao, L. L. (2005). The impact of E-replenishment strategy on make-to-order supply chain performance. Decision Sciences, 36(1), 33–64.

Schubert, P. (2002). Extended web assessment method (EWAM) - evaluation of electronic commerce applications from the customer's viewpoint. International Journal of Electronic Commerce, 7(2), 51–80.

Shankar, V., Urban, G. L., & Sultan, F. (2002). Online trust: a stakeholder perspective, concepts, implications, and future directions. Journal of Strategic Information Systems, 11(3–4), 325–344.

Singh, R., & Koshy, A. (2011). Does salesperson's customer orientation create value in B2B relationships? Empirical evidence from India. Industrial Marketing Management, 40(1), 78–85.

Standing, S., Standing, C., & Love, P. E. D. (2010). A review of research on e-marketplaces 1997–2008. Decision Support Systems, 49(1), 41–51.

Sweeney, J., & Swait, J. (2008). The effects of brand credibility on customer loyalty. Journal of Retailing and Consumer Services, 15(3), 179–193.

Tsai, S. (2011). Fostering international brand loyalty through committed and attached relationships. International Business Review, 20(5), 521–534.

Vázquez-Carrasco, R., & Foxall, G. R. (2006). Influence of personality traits on satisfaction, perception of relational benefits, and loyalty in a personal service context. Journal of Retailing and Consumer Services, 13(3), 205–219.

Williams, M. L., Malos, S. B., & Palmer, D. K. (2002). Benefit system and benefit level satisfaction: an expanded model of antecedents and consequences. Journal of Management, 28(2), 195–215.

Wulf, K. D., & Odekerken-Schröder, G. (2003). Assessing the impact of a retailer's relationship efforts on consumers' attitudes and behavior. Journal of Retailing and Consumer Services, 10(2), 95–108.

Xu, L. D., Swanson, G. A., & Samuelson, K. (2009). Analysing relational benefits in e-Business environment from behavioural perspective. Systems Research and Behavioral Science, 26(2), 123–127.

Young, J. A., Gilbert, F. W., & McIntyre, F. S. (1996). An investigation of relationalism across a range of marketing relationships and alliances. Journal of Business Research, 35(2), 139–151.

Zhang, M., Jansen, B., & Chowdhury, A. (2011). Business engagement on Twitter: a path analysis. Electronic Markets, 21(3), 161–175.

Zhou, X., Zhang, Y., & Orlowska, M. E. (1996). Parallel transitive closure computation in relational databases. Information Sciences, 92(1–4), 109–135.
Acknowledgment
The research of this paper has been financially supported by Humanities and Social Science Fund of Education Department of China by Project No. 09YJC630051. We appreciate the suggestions and patience of the editor and reviewers on our paper, which make the manuscript more integrative and readable.
The research on which this paper reports has been financially supported by Natural Science Foundation of Zhejiang Province with Project Y6110648 and Center for Research of Network Economy & Network Culture of Zhejiang Province.
Additional information
Responsible Editor: Rainer Alt
Appendix
Appendix
About this article
Cite this article
Gao, H., Liu, D. Relationship of trustworthiness and relational benefit in electronic catalog markets. Electron Markets 24, 67–75 (2014). https://doi.org/10.1007/s12525-013-0142-6
Received:

Accepted:

Published:

Issue Date:
Keywords
E-commerce

Relational benefit

Commitment

Satisfaction
JEL classification