Abstract
Mummification was considered one of the most important processes used for the preservation of the body through ages in ancient Egypt for long times. Some natural materials were used to achieve the preservation goal. Some of these materials are natural resins which can be used alone as separate or as a mixture with others such as fat, wax, and oils. Some environmental factors (interior or exterior) were affecting these mixture components and lead to its degradation. This study aims to identify the chemical composition by gas chromatography mass spectrometry (GC/MS) and explain the deterioration mechanism of some mixture materials used in the preservation process of Late Period mummy. The results revealed that the preservative mixture samples contained resins pine pitch and mastic mixed with some biochemical substances such as fat and wax. The results also showed that the packing of the mummy's remains in plastic bags led to the presence of phthalate compounds as contaminants. Moreover, the degradation compounds of acetonitrile and 2-amino-n-isopropylbenzamide in the ancient tissue have been demonstrated with the sample taken from the cranial cavity. Additionally, phenanthrene compounds and its derivatives were identified, and this may be due to the use of pine pitch in the embalming mixture.
Graphical abstract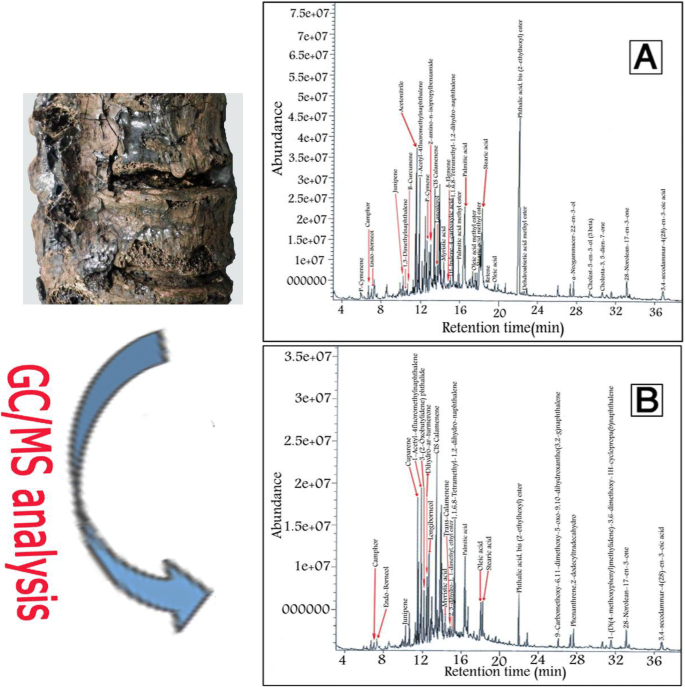 Access options
Buy single article
Instant access to the full article PDF.
US$ 39.95
Tax calculation will be finalised during checkout.
Subscribe to journal
Immediate online access to all issues from 2019. Subscription will auto renew annually.
US$ 79
Tax calculation will be finalised during checkout.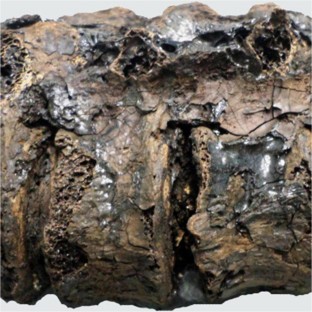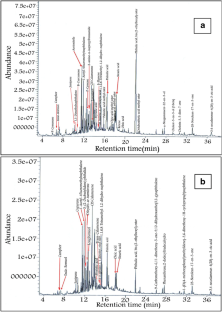 References
Abd Elhay RKI (2013) Next generation sequencing of DNA extracted from mummified tissue Dissertation, PhD thesis, University of der Eberhard Karls, Tübingen, Germany PP 11

Abdel-Maksoud G, El-Amin A (2011) A review on the materials used during the mummification processes in Ancient Egypt. MAA 11:129–150

Abdel-Maksoud G, El-Amin A (2013) The investigation and conservation of a gazelle mummy from the Late Period in Ancient Egypt. MAA 13:45–67

Abdel-Maksoud G, El-Shemy H, Abdel-Hamied M (2019) Investigation methods for evaluating the preservative organic mixtures applied on a Late Period mummy. Archaeol Anthropol Sci 11:843–1850

Assimopoulou AN, Papageorgiou VP (2005) GC-MS analysis of penta- and tetra-cyclic triterpenes from resins of Pistacia species. Part I. Pistacia lentiscus var. Chia. Biomed Chromatogr 19:285–311

Aufderheide AC, Cartmell L, Zlonis M, Sheldrick P (2004) Mummification practices at Kellis site in Egypt's Dakhleh Oasis. JSSEA 31:63–77

Backmann S (2009) Resin and ritual purification: terebinth in Eastern Mediterranean Bronze Age Cult, Athanasia International Archaeological Conference, Rhodes, Greece PP 29-42

Ben-Yehoshua S, Ondřej Hanuš L (2014) Apharsemon, Myrrh and Olibanum: Ancient medical plants. World Res J Med Aromat Plant 2:67–150

Brettell RC, Schotsmans EMJ, Walton Rogers P, Reifarth N, Redfern RC, Stern B, Heron CP (2015) 'Choicest unguents': molecular evidence for the use of resinous plant exudates in late Roman mortuary rites in Britain. J Archaeol Sci 53:639–648

Brettell R, Martin W, Atherton-Woolham S, Stern B, McKnight L (2017) Organic residue analysis of Egyptian votive mummies and their research potential. Stud Conservat 62:68–82

Bruni S, Guglielmi V (2014) Identification of archaeological triterpenic resins by the non-separative techniques FTIR and 13C NMR: the case of Pistacia resin (mastic) in comparison with frankincense. Spectrochim Acta A 121:613–622

Buckley SA, Evershed RP (2001) Organic chemistry of embalming agents in Pharaonic and Graeco-Roman mummies. Nature 413:837–841

Colombini MP, Modugno F (2009) Organic materials in art and archaeology. In: Colombini MP, Modugno F (eds) Organic mass spectrometry in art and archaeology. John Wiley & Sons, Ltd, Chichester, UK, pp 12–17

Colombini MP, Modugno F, Silvano F, Onor M (2000) Characterization of the balm of an Egyptian mummy from the seventh century BC. Stud Conservat 45:19–29

Egenberg IM, Aasen JA, Holtekjølen AK, Lundanes E (2002) Characterisation of traditionally kiln produced pine tar by gas chromatography-mass spectrometry. J Anal Appl Pyrolysis 62:143–155

Evershed RP, van Bergen PF, Peakman TM, Leigh-Firbank EC, Horton MC, Edwards D, Biddle M, Kjølbye-Biddle B, Rowley-Conwy PA (1997) Archaeological frankincense. Nature 390:667–668

Evershed RP, Dudd SN, Copley MS, Berstan R, Stott AW, Mottram H, Buckley SA, Crossman Z (2002) Chemistry of archaeological animal fats. Acc Chem Res 35:660–668

Facchetti F, Ribechini E, Betrò M, Colombini MP (2012) Organic residues analysis: the case of a beaker found in Theban necropolis, Egypt. Int J Conserv Sci 3:259–264

Gimeno P, Thomas S, Bousquet C, Maggio A, Civade C, Brenier C, Bonnet P (2014) Identification and quantification of 14 phthalates and 5 non-phthalate plasticizers in PVC medical devices by GC–MS. J Chromatogr B 949– 950:99– 108, 949-950

Haloui T, Fadil M, Jennan S, Farah A, Alaoui AB (2015) Application of Plackett-Burman design in the essential oil extraction by hydro-distillation process of Pistacia lentiscus L. leaves. J Mater Environ Sci 6:942–948

Hanuš LO, Ben-Yehoshua S (2013) Analysis of resinous material present on an alabaster lid excavated from Nabataean Moa in the Arava valley. Arabian archaeology and epigraphy 24:232–236

Izzo FC, Zendri E, Bernardi A, Balliana E, Sgobbi M (2013) The study of pitch via gas chromatography-mass spectrometry and Fourier-transformed infrared spectroscopy: the case of the Roman amphoras from Monte Poro, Calabria (Italy). J Archaeol Sci 40:595–600

Jaworek K, Czaplicka M (2013) Determination of phthalates in polymer materials – comparison of GC/MS and GC/ECD methods. Polímeros 23:718–724

Jones J, Higham TFG, Oldfield R, O'Connor TP, Buckley SA (2014) Evidence for prehistoric origins of Egyptian mummification in Late Neolithic burials. PLOS ONE 9:1–13

Jones J, Higham TFG, Chivall D, Bianucci R, Kayd GL, Pallend MJ, Oldfield R, Ugliano F, Buckley S (2018) A prehistoric Egyptian mummy: evidence for an 'embalming recipe' and the evolution of early formative funerary treatments. J Archaeol Sci 100:191–200

Kelegkouri L (2014) Study of the aging of various paint varnishes using nonlinear imaging microscopy techniques, Diploma thesis, Specialization Β: "Preservation and restoration of mechanisms and works of art", Studies on Preservation and Restoration of Cultural Monuments Programme, Faculty of Engineering, Aristotle University of Thessaloniki Vii-12

Khairat R, Ball M, Hsieh Chang C, Bianucci R, Nerlich AG, Trautmann M, Ismail S, Shanab GML, Karim AM, Gad YZ, Pusch CM (2013) First insights into the metagenome of Egyptian mummies using next-generation sequencing. J Appl Genet 54:309–325

Koller J, Baumer U, Kaup Y, Weser U (2005) Herodotus' and Pliny's embalming materials identified on Ancient Egyptian mummies. Archaeometry 47:609–628

Koutsoudaki C, Krsek M, Rodger A (2005) Chemical composition and antibacterial activity of the essential oil and the gum of Pistacia lentiscus Var. chia. J Agric Food Chem 53:7681–7685

Landau S, Muklada H, Markovics A, Azaizeh H (2014) Traditional uses of Pistacia lentiscus in veterinary and human medicine. Med Aromat Plant World 2:163

Łucejko JJ, Modugno F, Ribechini E, Colombini MP (2010) Proceedings of 4th International Conference of Cost Action IE0601, Interaction between Wood Science and Conservation of Cultural Heritage, Izmir, Turkey, 20-22 October

Munson TO, Fetterolf DD (1987) Evidence for the formation of 2,4-imidazolidinediones and pyrrolidino [1,2a]-3,6-piperazinediones in human hair pyrolyzate by pyrolysis-gas chromatography mass spectrometry. J Anal Appl Pyrolysis 11:15–24

Özen AC, Ludwig U, Öhrström LM, Rühli FJ, Bock M (2016) Comparison of ultrashort echo time sequences for MRI of an ancient mummified human hand. Magn Reson Med 75:701–708

Posh JC (2015) Technical limitations on the use of traditional magnetic resonance imaging in the evaluation of mummified remains: a view from a hands-on radiologic technologist's perspective. Anat Rec 298:1116–1124

Presti ML, Sciarrone D, Crupi ML, Costa R, Ragusa S, Dugo G, Mondello L (2008) Evaluation of the volatile and chiral composition in Pistacia lentiscus L. essential oil. Flavour Fragr J 23:249–257

Pulaj B, Mustafa B, Nelson K, Quave CL, Hajdari A (2016) Chemical composition and in vitro antibacterial activity of Pistacia terebinthus essential oils derived from wild populations in Kosovo, BMC Complement Altern. Med 16:1–9

Reunanen M, Ekman R, Heinonen M (1989) Analysis of Finnish pine tar and tar from the wreck of frigate St. Nikolai. Holzforschung 43:33–39

Sharifi M, Hazell S (2009) Fractionation of mastic gum in relation to antimicrobial activity. Pharmaceuticals 2:2–10

Spangenberg JE, Jacomet S, Schibler J (2006) Chemical analyses of organic residues in archaeological pottery from Arbon Bleiche 3, Switzerland e evidence for dairying in the late Neolithic. J Archaeol Sci 33:1–13

Steigenberger G (2013) The Vigani Cabinet –analysis of historical resinous materials by gas chromatography - mass spectrometry and infrared spectroscopy, PhD thesis, Department of Mathematics and Natural Sciences at the Technical University Dresden, Germany PP 30

Tsokou A, Georgopoulou K, Melliou E, Magiatis P, Tsitsa E (2007) Composition and enantiomeric analysis of the essential oil of the fruits and the leaves of Pistacia vera from Greece. Molecules 12:1233–1239

Tumen I, Aydemir D, Gunduz G, Uner B, Cetin H (2010) Changes in the chemical structure of thermally treated wood. BioResources 5:1936–1944

Xie M, Wu Y, Little JC, Marr LC (2016) Phthalates and alternative plasticizers and potential for contact exposure from children's backpacks and toys. J Expo Sci Environ Epidemiol 26:119–124

Zesch S, Panzer S, Rosendahl W, Nance JW Jr, Schönberg SO, Henzler T (2016) From first to latest imaging technology: revisiting the first mummy investigated with X-ray in 1896 by using dual-source computed tomography. Eur J Radiol Open:172–181

Zou Y, Cai M (2013) Determination of phthalate concentration in toys and children's products (gas chromatography/mass spectrometry). Agilent Technologies, Shanghai, China:1–10
Additional information
Publisher's note
Springer Nature remains neutral with regard to jurisdictional claims in published maps and institutional affiliations.
Highlights
- GC/MS is an effective analysis technique for the identification of resins used in mummification processes in the Late Period in Egypt.
- Compounds of organic mixtures such as pine tar and mastic resins, as well as their essential oils, fat, and wax, were identified.
- Acetonitrile and 2-amino-n-isopropylbenzamide indicated the degradation of the ancient tissue taken from cranial cavity.
- The identification of phthalate compounds indicated contamination resulted from plastic bags used for the preservation of mummy's remains.
About this article
Cite this article
Abdel-Maksoud, G., Abdel-Hamied, M., Abou-Elella, F. et al. Detection of deterioration for biochemical substances used with Late Period mummy by GC-MS. Archaeol Anthropol Sci 13, 51 (2021). https://doi.org/10.1007/s12520-021-01299-z
Received:

Accepted:

Published:
Keywords
Mummification

Preservation

Resins

Biochemical substances

Gas chromatography mass spectrometry

Deterioration