Abstract
This article presents a new anthracological sequence from the archeological site of Niğde-Kınık Höyük, in southern Cappadocia (Turkey), spanning from the Late Bronze Age to the Ottoman Period, which provides important insights into the vegetation history of Cappadocia and its change through time. The local woody vegetation was composed of deciduous oaks, with an important contribution, especially in the earlier periods, of riparian trees (Salicaceae). Conifers played a minor role but indicate the possible presence of cedar and fir stands in the site's vicinity. Starting in the mid-1st millennium BCE, wood charcoal data shows a well-defined and coherent anthracological phase characterized by abundant evidence of arboreal crops, especially grapevine. This evidence is here connected to the Beyşehir Occupation Phase phenomenon, and its economic and historic implications are discussed.
Access options
Buy single article
Instant access to the full article PDF.
US$ 39.95
Tax calculation will be finalised during checkout.
Subscribe to journal
Immediate online access to all issues from 2019. Subscription will auto renew annually.
US$ 79
Tax calculation will be finalised during checkout.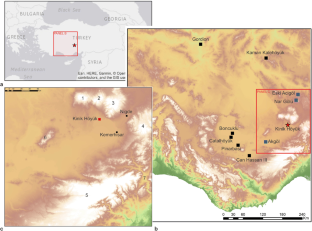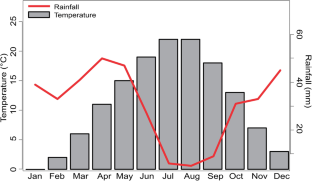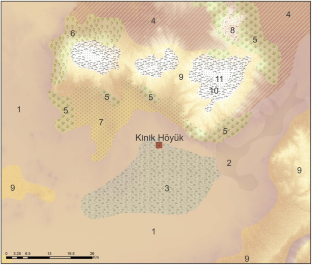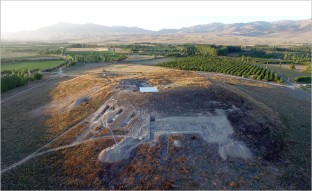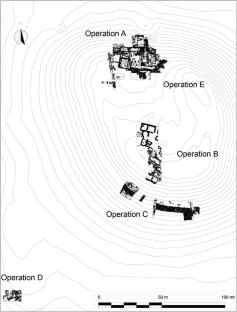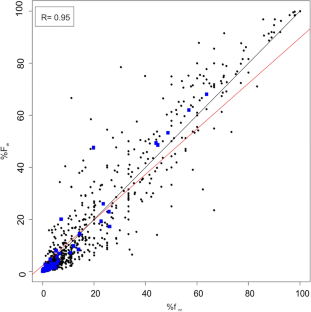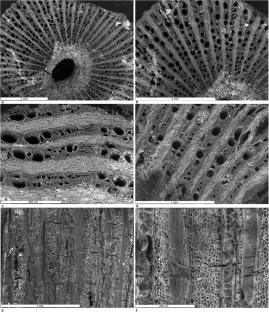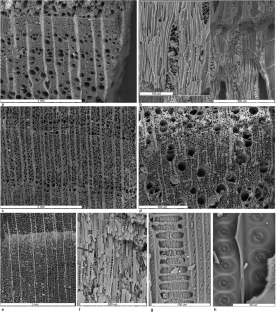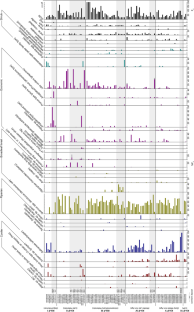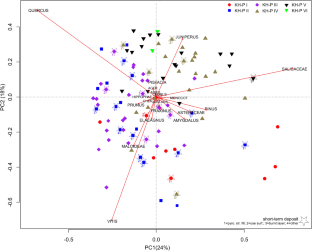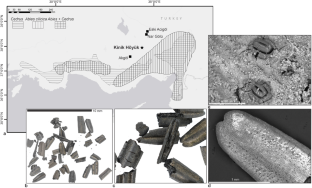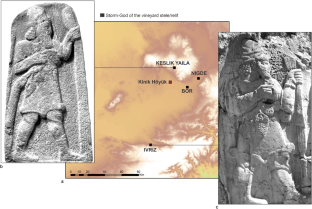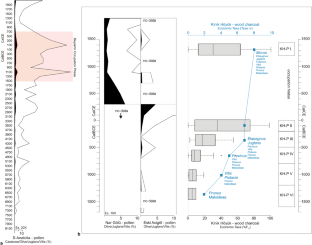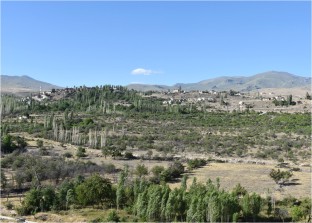 References
Akkemik Ü, Barbanos Y (2012) Wood anatomy of Eastern Mediterranean species. Verlag, Kessel

Allcock SL (2017) Long-term socio-environmental dynamics and adaptive cycles in Cappadocia, Turkey during the Holocene. Quaternary International 446:66–82

Asouti E (2003) Woodland vegetation and fuel exploitation at the prehistoric campsite of Pınarbası, south-central Anatolia, Turkey: the evidence from the wood charcoal macro-remains. Journal of Archaeological Science 30:1185–1201

Asouti E (2005) Woodland vegetation and the exploitation of fuel and timber at Neolithic Çatalhöyük: report on the wood charcoal macro-remains. In: Hodder I (ed) Inhabiting Çatalhöyük: Reports from the 1995–99 Seasons. British Institute at Ankara, London, UK, pp 213–258

Asouti E, Austin P (2005) Reconstructing woodland vegetation and its exploitation by past societies, based on the analysis and interpretation of archaeological wood charcoal macro-remains. Environmental archaeology 10(1):1–18

Asouti E, Hather J (2001) Charcoal analysis and teh reconstruction of ancient woodland vegetation in the Konya Basin, south-central Anatolia, Turkey: results from the Neolithic site of Çatalhöyük East. Veget Hist ARchaeobot 10:23–32

Asouti E, Kabukcu C (2014) Holocene semi-arid oak woodlands in the Irano-Anatolian region of Southwest Asia: Natural or anthropogenic? Quaternary science reviews 90:158–182

Atalay I, Efe R, Öztürk M (2014) Ecology and classification of forest in Turkey. Procedia 120:788–805

Baird D, Fairbairn A, Jenkins E, Martin L, Middleton C (2018) Agricultural origins on the Anatolian plateau. PNAS 115(14):E3077–E3086

Bakker J, Paulissen E, Kaniewski D, de Laet V, Verstraeten G, Waelkens M (2012) Man, vegetation and climate during the Holocene in the territory of Sagalassos, Western Taurus Mountains, SW Turkey. Vegetation history and archaeobotany 21:249–266

Balta E (2017) From Ypolenion to Bolum: the viticultural transition in Cappadocia through Ottoman sources and oral tradition. In: Thys-Senocak L (ed) Of vines and wines. the production and consumption of wine in Anatolian civilizations through the ages. Ancient Near Eastern Studies, Supplement 51, Peeters: Luben, Paris, Bristol, pp 155–168

Barjamovic G, Fairbairn A (2018) Anatolian Wine in the Middle Bronze Age. Die welt des orients 48(2):249–284

Başköse I, Dural H (2011) The Flora of Hasan (Aksaray Region, Turkey) Mountain. BioDiCon 4:125–148

Bayer Altın T (2008) Melendiz ve Keçiboyduran Dağları'nda yanlış arazi kullanımının vejetasyon dağılışı uzerindeki etkileri. Türk coğrafya dergisi 51:13–32

Bayer Altın T, El Ouahabi M, Fagel N (2015) Environmental and climatic changes during the Pleistocene–Holocene in the Bor Plain, Central Anatolia, Turkey. Palaeogeography, palaeoclimatology, palaeoecology 440:564–578

Berges D, Nollé J (2000) Tyana. Archäologisch-historische Untersuchungen zum südwestlichen Kappadokien. Inschriften griechischer Städte aus Kleinasien, 55. Habelt.

Bogaard A, Filipović D, Fairbairn A, Green L, Stroud E, Fuller D, Charles M (2017) Agricultural innovation and resilience in a long-lived early farming community: the 1,500-year sequence at Neolithic to early Chalcolithic Çatalhöyük, central Anatolia. Anatolian studies 67:1–28

Borcard D, Gillet F, Legendre P (2011) Numerical Ecology with R. Springer

Bottema S (2000) The Holocene history of walnut, sweet chestnut, manna-ash and plane tree in the Eastern Mediterranean. Pallas 52:35–59

Bottema S, Woldring H, Aytug B (1986) Palynological investigations on the relation between prehistoric man and vegetation in Turkey: The Beyşehir Occupation Phase. In: Demiriz H, Özhatay N (eds) Proceedings of the 5th OPTIMA Congress, Istanbul 1986, pp 315–328

Bottema S, Entjes-Niebörg G, Van Zeist W (eds) (1990) Man's Role in the Shaping of the Eastern Mediterranean Landscape. A.A. Balkema, Rotterdam

Cammarosano M (2018) Hittite Local Cults. SBL press

Castellano L (2018) Staple economies and storage in post Hittite Anatolia: considerations in Light of New Data from Niğde-Kınık Höyük (Southern Cappadocia). Journal of Eastern Mediterranean Archaeology & Heritage Studies 6(4):259–284

Chabal L (1992) La représentativité paléo-écologique des charbons de bois archéologiques issus du bois de feu. Bulletin de la Société Botanique de France. Actualités botaniques 139(2-4):213–236

Chabal L, Fabre L, Terral JF, Thery-Pariot I (1999) L'anthracologie. In: Bourquin-Mignot C, Brochier JE, Chabal L (eds) La Botanique. Errance, Paris, pp 43–104

Crabtree PJ, Campana DV (2014) Animal use at medieval Kınık Höyük, a 12th – 13th century site in Southern Cappadocia, Turkey. In: Stull SS (ed) From West to East: Current Approaches to Medieval Archaeology. Cambridge Scholars Publisher, pp 155–162

d'Alfonso L, Castellano L (2018) Kınık Höyük in South Cappadocia: Addendum to: A Comparative Stratigraphy of Cilicia. Altorientalische forschungen 45:84–93

d'Alfonso L, Mora C (2008) Viaggi anatolici dell'Università di Pavia: Rapporto preliminare della seconda campagna di ricognizione archeologica nella Tyanide settentrionale. Athenaeum 96(1/2):825–841

d'Alfonso L, Trameri A, Mantovan A, Lovejoy N, Castellano L, Dalkiliç E, Casagrande R, Highcock N, Yolaçan B, Derada M (2019) Archaeological excavations at Niğde Kınık Höyük (TR): excavation report 2018. Kazı Sonuçları Toplantısı 41(3):463–485

d'Alfonso L, Yolaçan B, Castellano L, Highcock N, Casagrande C, Gorrini ME, Trameri A (2020) Niğde Kınık Höyük: New evidence on Central Anatolia during the first millennium BCE. Near Eastern Archaeology 83(1):16–29

d'Alfonso L (2010) Geo-Archaeological Survey in Northern Tyanitis and the Ancient History of Southern Cappadocia. In: d'Alfonso L, Balza ME, Mora C (eds) Geo-Archaeological Activities in Southern Cappadocia, Turkey. Italian University Press, Lugano, pp 27–54

d'Alfonso L, Balza ME, Mora C (2017) Ten Years of Research in Southern Cappadocia: History, Archaeological Investigations, and Ancient Landscapes. News from the Land of Hatti 1:15–32

Davis PH (1965-1985) Flora of Turkey. Edinburgh University Press

Dickmann D, Kuzovkina YA (2014) Poplars and Willows in the World. In: Richardson J (ed) Isebrands JG. Poplars and Willows, Trees for Society and the Environment. FAO and CABI, pp 8–91

Dogan Y, Ugulu I, Durkan N (2004) Wild edible plants sold in the local markets of Izmir. Turkey. Pak. J. Bot. 45(S1):177–184

Eastwood WJ, Roberts N, Lamb HF (1998) Palaeoecological and archaeological evidence for human occupance in southwest Turkey: the Beysehir Occupation phase. Anatolian studies 48:69–86

Eastwood WJ, Gümüsçü O, Yiğitbaşıoğlu H, Haldon JF, England A (2009) Integrating Palaeoecological and Archaeo-Historical records: Land use and Landscape change in Cappadocia (central Turkey) since late Antiquity. In: Vorderstrasse T, Roodenberg J (eds) Archaeology of the Countryside in medieval Anatolia. Nederlands Instituut voor het Nabije Oosten, Leiden, pp 45–69

Emery-Barbier A, Thiebault S (2005) Preliminary conclusions on the Late Glacial vegetation in south-west Anatolia (Turkey): the complementary nature of palynological and anthracological approaches. Journal of Archaeological Science 32:1232–1251

England A, Eastwood WJ, Roberts NC, Turner R, Haldon J (2008) Historical landscape change in Cappadocia (central Turkey): a palaeoecological investigation of annually-laminated sediments from Nar lake. The Holocene 18(8):229–245

Ergun M, Tengberg M, Willcox G, Douche C (2018) Plants of Aşıklı Höyük and Changes through Time: First Archaeobotanical Results from the 2010-14 Excavation Seasons. In: Duru G, Stiner M (eds) Özbaşaran M. The Early Settlement at Aşıklı Höyük. Essays in Honor of Ufuk Esin, Ege Yayınları, pp 191–219

Fahn A, Werker E, Baas P (1986) Wood anatomy and identification of trees and shrubs from Israel and adjacent regions. The Israel Academy of Sciences and Humanities, Jerusalem

Fairbairn AS, Wright NJ (2017) Grinding, burning and trading at Kültepe: Archaeobotanical evidence for economic differences between settlements in Anatolia's Middle Bronze Age. Subartu 39:9–27

Fairbairn AS, Wright NJ, Weeden M, Barjamovic G, Matsumura K, Rasch R (2019) Ceremonial plant consumption at Middle Bronze Age Büklükale, Kırıkkale Province, central Turkey. Veget Hist Archaeobot 28:327–346

Fall P, Falconer SE, Lines L (2002) Agricultural intensification and the secondary products revolution along the Jordan Rift. Human ecology 30(4):445–481

Fick SE, Hijmans RJ (2017) WorldClim 2: new 1-km spatial resolution climate surfaces for global land areas. International Journal of Climatology 37:4302–4315

Fontugne M, Kuzucuoglu C, Karabıyıkoglu M, Hatte C, Pastre J-F (1999) From Pleniglacial to Holocene: a 14C chronostratigraphy of environmental changes in the Konya plain, Turkey. Quaternary science reviews 18:573–591

Forlanini M (2017) South Central: The Lower Land and Tarḫuntašša. In: Weeden M, Ullmann LZ (eds) Hittite Landscape and Geography. Handbook of Oriental Studies. Section 1 The Near and Middle East, vol 121, pp 239–252

Gaillard MJ, Sugita S, Bunting J, Dearing J, Bittmann F (2008) Human impact on terrestrial ecosystems, pollen calibration and quantitative reconstruction of past land-cover. Vegetation History and Archaeobotany 17:415–418

Gorny RL (1995) Viticulture in ancient Anatolia. In: McGovern PE et al (eds) The origins and ancient history of wine. Gordon and Breach, Philadelphia, pp 133–175

Guarcello R, Gaglio R, Todaro A, Alfonzo A, Schicchi R et al (2019) Insights Into the Cultivable Microbial Ecology of "Manna" Ash Products Extracted From Fraxinus angustifolia (Oleaceae) Trees in Sicily, Italy. Frontiers in microbiology 10:1–12

Hawkins JD (2000) Corpus of Hieroglyphic Luwian Inscriptions, I. Inscriptions of the Iron Age. De Gruyter, Berlin – New York

Highcock N, Matessi A (forthcoming) The Early Bronze Age at Kınık Höyük (Niğde). In: Kulakoğlu F, Michel C, Kryszat G (eds) Proceedings of the 4th Kültepe International Meeting. Subartu, Brepols

Highcock N, Crabtree P, Campana DV, Capardoni M, Lanaro A, Matessi A, Miller NF, Strosahal P, Trameri A, d'Alfonso L (2015) Kınık Höyük, Niğde: A New Archaeological Project in Southern Cappadocia. In: Steadman S, Mc Mahon G (eds) The Archaeology of Anatolia: Recent Discoveries (2011-2014), vol I, pp 98–127

Hoffner HA (1974) Alimenta Hethaeorum. Food Production in Hittite Asia Minor. AOS55, New Haven.

Hoffner HA (1997) The Laws of the Hittites: a Critical Edition. DMOA 23, Leiden, New York, Köln.

Hovsepyan R, Willcox G (2008) The earliest finds of cultivated plants in Armenia: evidence from charred remains and crop processing residues in pisé from the Neolithic settlements of Aratashen and Aknashen. Vegetation history and archaeobotany 17(1):63–71

Jones HL (1928) Strabo. Geography, Volume V: Books 10-12. Loeb Classical Library 211. Harvard University Press, Cambridge, MA

Kabukcu C (2017) Woodland vegetation history and human impacts in south-central Anatolia 16,000-6500 cal BP: Anthracological results from five prehistoric sites in the Konya plain. Quaternary science review 176:85–100

Keepax CA (1988) Charcoal Analysis with Particular Reference to Archaeological Sites in Britain, Archaeology. University of London, London

Kenar N (2014) Notes and contributions on the flora of Melendiz Mountains and its surroundings (Niğde, Turkey). Flora Mediterranea 24:109–138

Kenar N, Katenoğlu H (2016) The phytosociology of Melendiz Mountain in the Cappadocian part of Central Anatolia (Niğde, Turkey). Phytocoenologia 46(2):141–183

Kučan D (2000) Rapport synthétique sur les recherches archéobotaniques dans le sanctuaire d'Héra de l'île de Samos. In: Paysage et alimentation dans le monde grec, Les innovations du premier millénaire av. J.C. Pallas 52:99–108

Kürschner H (1984) Der östliche Orta Toroslar (Mittlerer Taurus) und angrenzende Gebiete. Eine formationskundliche Darstellung der Vegetation Südost-Anatoliens. Tübinger Atlas Vorderer Orient (TAVO) 15

Kuzucuoğlu C, Bertaux J, Black S, Denefle M, Fontugne M, Karabiyikoğlu M, Kashima K, Limondin-Lozouet N, Mouralis D, Orth P (1999) Reconstruction of climatic changes during the Late Pleistocene, based on sediment records from the Konya Basin (Central Anatolia, Turkey). Geological Journal 34:175–198

Lanaro A, Castellano L, Highcock N, Mantovan A, d'Alfonso L (2020) South-Central Anatolia during the Iron Ages: a diachronic view from Kınık Höyük (Niğde). In: Otto A, Herles M, Kaniuth K (eds) Proceedings of the 11th International Congress on the Archaeology of the Ancient Near East, vol 2. Harrassowitz Verlag Wiesbaden, pp 215–228

Legendre P, Birks HJB (2012) From classical to canonical ordination. In: Birks HJB, Lotter AF, Juggins S, Smol JP (eds) Tracking Environmental Change Using Lake Sediments. Volume 5: Data Handling and Numerical Techniques. Springer, Dordrecht, pp 201–248

Legendre P, Gallagher ED (2001) Ecologically meaningful transformations for ordination of species data. Oecologia 129:271–280

Limier B, Ivorra S, Bouby L, Figueiral I, Chabal L, Cabanis M, Ater M, Lacombe T, Ros J, Brémond L, Terral JF (2018) Documenting the history of the grapevine and viticulture: A quantitative eco-anatomical perspective applied to modern and archaeological charcoal. Journal of archaeological science 100:45–61

Liphshitz N, Bigger G (1991) Cedar of Lebanon ("Cedrus libani") in Israel during Antiquity. Israel Exploration Journal 41(1/3):167–175

Livarda A (2008) New temptations? Olive, cherry and mulberry in Roman and Medieval Europe. In: Baker S, Allen M, Middle S, Poole K (eds) Food and Drinks in Archaeology 1. Prospect Books, Totnes, pp 73–83

Marston JM (2017) Agricultural Sustainability and Environmental Change at Ancient Gordion. Gordion Special Studies VII. University of Pennsylvania, Museum monography 145.

Masetti-Rouault M (2004) Pour le bien du mon people: continuité et innovation dans l´idéologie du pouvoir au Proche-Orient à l´aĝe du Fer. In: Mazoyer M, Casabonne O (eds) . Studia Anatolica et varia. Mélange offerts au Prof. R, Lebrun, pp 113–132

Masi A, Balossi Restelli F, Sabato S, Vignola C, Sadori L (2018) Timber exploitation during the 5th–3rd millennia BCE at Arslantepe (Malatya, Turkey): environmental constraints and cultural choices. Archaeol Anthropol Sci 10:465–483

Matessi A (2016) The Making of Hittite Imperial Landscapes: Territoriality and Balance of Power in South-Central Anatolia during the Late Bronze Age. Journal of Ancient Near Eastern History 3(2):117-162

Matessi A, Dalkilic E, d'Alfonso L (2018) Settlement patterns, ancient routes and environmental change in South Cappadocia (Turkey), during the Holocene. Omer Halisdemir journal of engineering sciences 7(3):1007–1112

Matessi A, Gürel A, Kuzucuoğlu C, d'Alfonso L (2019) East of Konya: Settlements, Routes and Environment in Southern Cappadocia, and the Political Landscape of South Central Anatolia during the Second Millennium BCE. In: Hazirlayan Y, Maner C (eds) . Crossroads. Konya Plain from Prehistory to the Byzantine Period. Zero Prod. Ltd, Instanbul, pp 131–160

Miller NF (2010) Botanical Aspects of Environment and Economy at Gordion, Turkey. University of Pennsylvania Museum of Anthropology and Archaeology, Philadelphia

Mora C, d'Alfonso L (2012) Anatolia after the end of the Hittite Empire: new evidence from Southern Cappadocia. Origini 34:385–398

Nelle O, Dreibrodt S, Dannath Y (2010) Combining pollen and charcoal: evaluating Holocene vegetation composition and dynamics. Journal of Archaeological Science 37:2126–2135

Nesbitt M, Samuel D (1996) Archaeobotany in Turkey: a review of current research. Orient-Express 1996(3):91–96

Novak M (1999) Herrschaftsform und Stadtbaukunst. Programmatik im mesopotamischen Residenzstadtbau von Agade bis Surra man ra'ai (Schriften zur Vorderasiatischen Archaologie 7). Saarbruick.

Oksanen J, Blanchet G, Frienfly M, Kindt R, Legendre P, et al. (2019) Vegan: Community Ecology Package. R Package Version 2.5-6. http:// https://cran.r-project.org/web/packages/vegan/vegan.pdf.

Pan C, Zhao H, Zhao X, Liu J, Liu L, Hou Y, Zhang L (2011) Pollination ecology and breeding system of Elaeagnus angustifolia. 2011 International Conference on Multimedia Technology. Hangzhou 2011:4507–4509

Parolly G (2015) The high-mountain flora and vegetation of the Western and Central Taurus Mts. (Turkey) in the times of climate change. In: Öztürk M, Hakeem KR, Faridah-Hanum I, Efe R (eds) Climate change impacts on high-altitude ecosystems. Springer, Berlin, pp 99–133

Peacock ACS (2015) The Great Seljuk Empire. Edinburgh University Press

Pearsall D (2000) Paleoethnobotany. A Handbook of Procedures, 2nd edn. Academic Press, London

Pfeifer W (1957) Die PaBlandschaft von Niğde. Gieben.

Pidek I, Svitavská-Svobodová H, van der Knaap W, Magyari E (2013) Pollen percentage thresholds of Abies alba based on 13-year annual records of pollen deposition in modified Tauber traps: perspectives of application to fossil situations. Rev Palaeobot Palynol. 195:26–36

Prentice CI (1988) Records of vegetation in time and space: the principles of pollen analysis. Huntley B, Webb III T (eds) Vegetation History. Handbook of Vegetation Science (7). Kluwer Academic Publishers, pp. 17-42.

Reynolds AG, Vanden Heuvel JE (2009) Influence of Grapevine Training Systems on Vine Growth and Fruit Composition: A Review. American Journal of Enology and Viticulture 60(3):251–268

Roberts N (2018) Revisiting the Beysheir Occupation Phase: Land-Cover change and the rural economy in the Eastern Mediterranean during the 1st millennium AD. In: Izdebski A, Mulryan M (eds) Environment and Society in the long late antique. Brill, Laiden, pp 53–68

Roberts N, Allcock AL, Arnaud F, Dean JR, Eastwood WJ et al (2016) A tale of two lakes: a multi-proxy comparison of Lateglacial and Holocene environmental change in Cappadocia, Turkey. Journal of Quaternary Science 31(4):348–362

Roberts N, Cassis M, Doonan O, Eastwood W, Elton H, Haldon J, Izdebski A, Newhard J (2018) Not the End of the World? Post-Classical Decline and Recovery in Rural Anatolia. Human Ecology 46:305–322

Schweingruber FH (1990) Anatomy of European Woods. Paul Haupt Berne and Stuttgart Publisher

Sherratt S, Sherratt A (1993) The Growth of the Mediterranean Economy in the Early First Millennium BC. World Achaeology 24:361–378

Smith A, Bagoyan T, Gabrielyan I, Pinhasi R, Gasparyan B (2014) Late Chalcolithic and Medieval Archaeobotanical Remains from Areni-1 (Birds' Cave), Armenia. In: Gasparyan B, Arimura M (eds), Stone Age of Armenia. A Guide-book to the Stone Age Archaeology in the Republic of Armenia. Monograph of the JSPS-Bilateral Joint Research Project, Center for Cultural Resource Studies, Kanazawa University, pp. 233-260.

Spengler RN, Willcox G (2013) Archaeobotanical results from Sarazm, Tajikistan, an Early Bronze Age Settlement on the edge: Agriculture and exchange. Journal of environmental archaeology 18(3):211–221

Spengler RN, Maksudov F, Bullion E, Merkle A, Hermes T, Frachetti M (2018) Arboreal crops on the medieval Silk Road: Archaeobotanical studies at Tashbulak. PLOS ONE 13(9):e0204582

Tadono T, Ishida H, Oda F, Naito S, Minakawa K, Iwamoto H (2014) Precise Global DEM Generation by ALOS PRISM, ISPRS. Annals of the Photogrammetry, Remote Sensing and Spatial Information Sciences II: 71-76.

Turchetto J (2017) Moving landscapes. I Califfi, i vulcani e i cambiamenti ambientali della Cappadocia tra VII e X secolo. In Asolati M, Turchetto J (eds) Paesaggi in movimento, Ricerche dedicate a Guido Rosada. Padova, pp. 317-328.

Turkes M (2003) Spatial and temporal variations in precipitation and aridity index series of Turkey. In: Nolle H J (ed) Mediterranean Climate. Variability and Trends. Regional Climate Studies. Springer Verlag, Heidelberg, pp 181–213

Turner S, Brown T (2004) Vitis pollen dispersal in and from organic vineyards. I. Pollen trap and soil pollen data. Review of palaeoboany and palynology 129:117–132

van Zeist W, Bottema S (1991) Late Quaternary Vegetation of the Near East. Reichert, Rochester

van Zeist W, Woldring H, Stapert D (1975) Late Quaternary vegetation and climate of southwestern Turkey. Palaeohistoria 17:55–143

Waelkens M (1977) Phrygian votive and tombstones as sources of the social and economic life in Roman antiquity. Ancient Society 8:277–315

Weeden M (2018) The Good God, the Wine-god and the Storm-god of the Vineyard. Die Welt des Orients 48(2):330–356

White C, Miller NF (2018) The Archaeobotany of Grape and Wine in Hittite Anatolia. Die Welt des Orients 48(2):249–284

Willcox G (1974) A history of deforestation as indicated by charcoal analysis of four sites in eastern Anatolia. Anatolian studies 24:117–133

Willcox G (1991) Cafer Höyük (Turquie): Les Charbons de bois Néolithiques. In: Cauvin J (ed) Cahiers de l'Euphrate 5-6. Editions. Recherche sur les Civilisations, Paris, pp 139–150

Williams D (1973) Flotation at Siraf. Antiquity 47:288–292

Woldring H, Bottema S (2003) The vegetation history of east-central Anatolia in relation to Archaeology: the Eski Acgöl pollen evidence compared with the Near Eastern environment. Palaeohistoria 43(44):1–3

Woodbridge J, Roberts N, Palmisano A, Bevan A, Shennan S, Fyfe R et al (2019) Pollen-inferred regional vegetation patterns and demographic change in Southern Anatolia through the Holocene. The Holocene 29(5):728–741

Wright NJ (2018) Examining dendrological features of oak as possible signals of systematic woodland management in the central Anatolian bronze and iron ages. Quaternary International 463:298–311

Wright NJ, Fairbairn AS, Faith JT, Matsumura K (2015) Woodland modification in Bronze and Iron Age central Anatolia: an anthracological signature for the Hittite state? Journal of archaeological science 55:219–230

Wright NJ, Fairbairn AS, Üstünkaya MC, Faith JT (2017) Explaining changing patterns of wood presence across the Bronze and Iron Age at Kaman-Kalehöyük, central Anatolia. Quaternary international 431:90–102

Yeniocak M, Göktaş O, Erdil YZ, Özen E, Alma HM (2014) Investigating the use of vine pruning stalks (Vitis vinifera L. CV sultani) as raw material for particleboard manufacturing. Wood research 59(1):167–176

Yilmaz O, Erturk YE, Coskun F, Wilson RT, Ertugrul M (2015) History of Sericulture in Turkey. Asian journal of agriculture and food sciences 3(2):237–242

Zohary M (1973) Geobotanical Foundations of the Middle East. G. Fisher Verlag, Stuttgart

Zohary M, Hopf D, Weiss E (2012) Domestication of Plants in the Old World: The Origin and Spread of Domesticated Plants in Southwest Asia, Europe, and the Mediterranean Basin. Oxford University Press USA
Acknowledgements
I am thankful to John M. Marston (Boston University), Naomi F. Miller (Penn Museum), and Lorenzo d'Alfonso (Institute for the Study of the Ancient World) for providing comments on early drafts of the manuscript. Thanks are due also to Peter Kovacik (Boston University) for discussing some of the identifications, and to Hannelore Roemich (NYU-Conservation Center, Institute of Fine Arts) for permitting and facilitating access to SEM analysis. This work would have been impossible without the help of the other members of the Niǧde-Kınık Höyük excavation team. I am deeply grateful to Michael Purugganan (NYU-Center for Genomics and Systems Biology) for having facilitated this research by welcoming and hosting archeobotany in the Purugganan Lab. I thank the anonymous reviewer whose comments have greatly improved this manuscript.
Funding
This research has been carried out with the financial support of the Institute for the Study of the Ancient World (New York University).
Additional information
Publisher's note
Springer Nature remains neutral with regard to jurisdictional claims in published maps and institutional affiliations.
Supplementary information
Samples metadata and metrics. For dating of the KH Periods see Table 1. In the columns 4, 2, 1, 0.5, 0.25 mm it is reported the volume of the floated debris for each sieving fraction. In the column status, "all" indicates that all the charcoal fragments > 4 mm have been analyzed. (PDF 616 kb)
The anthracological flora identified at Kınık Höyük: identification criteria and candidates in the current Turkish flora. (PDF 651 kb)
Anthracological results (PDF 1000 kb)
About this article
Cite this article
Castellano, L. A new anthracological sequence from Niğde-Kınık Höyük (Turkey): woodland vegetation and arboriculture in southern Cappadocia from the Late Bronze Age to the Ottoman Period. Archaeol Anthropol Sci 13, 49 (2021). https://doi.org/10.1007/s12520-021-01284-6
Received:

Accepted:

Published:
Keywords
Anthracology

Arboriculture

Vitis vinifera

Pruning

Deforestation

Beyşehir Occupation Phase