Abstract
Bronze vessels are the hallmark of the Chinese Bronze Age, and the formation of the Western Zhou's (1046–772 BC) extensive metallurgical network has been the subject of much scholarly interest. However, what remains unclear is the dynamic circulation of metal within the Zhou realm and its connections with neighbouring regions. Here, the authors utilise published lead isotope data from artefacts and ore bodies to elucidate important spatial-temporal changes in metal supply. While the early Western Zhou demonstrate centralised control over metal resources (primarily lead) taken from its previous Shang Dynasty (1250–1046 BC) as well as from new mining regions in the Yangtze River basin, a major change occurred from the mid-Western Zhou onward, when metal sources in the Yangtze River basin were increasingly exploited, resulting in a shift in bronze-producing system to regional powers. These findings regarding metal circulation broaden our understanding of processes contributing to Zhou politics and the economy, as well as the relationships between the constituent parts of the Zhou realm in addition to neighbouring communities.
We're sorry, something doesn't seem to be working properly.
Please try refreshing the page. If that doesn't work, please contact support so we can address the problem.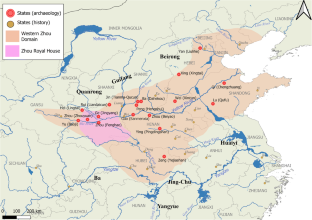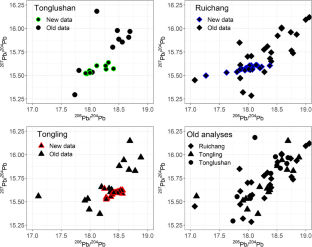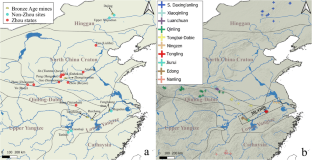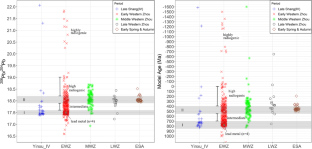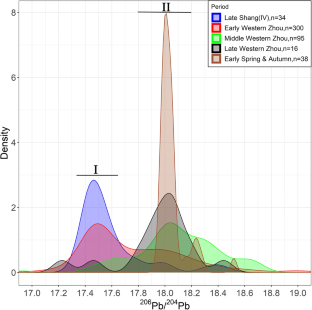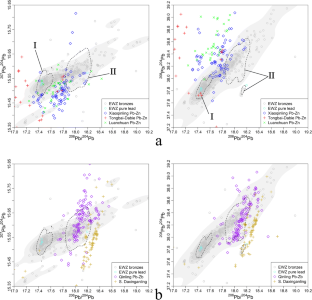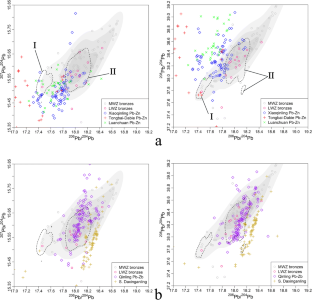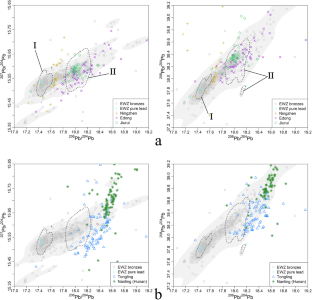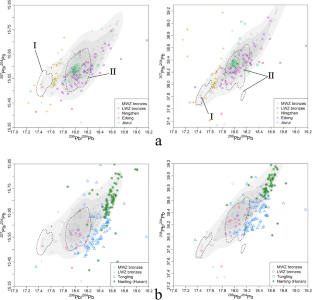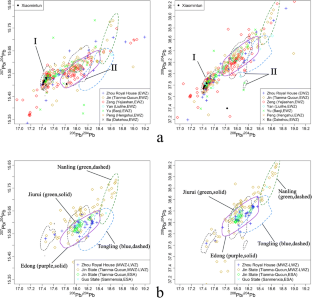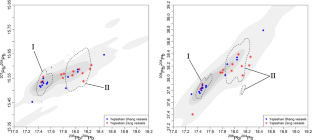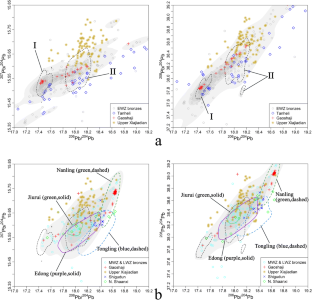 References
Barnes, I.L., Chase, W.T., Holmes, L.L. & E.V. Joel, E.C., Meyers, P. & Sayre. 1988. The technical examination, lead isotope determination, and elemental analysis of some Shang and Zhou dynasty bronze vessels, in R. Maddin (ed.) The beginning of the use of metals and alloys: 296–306. Cambridge: The MIT Press

Chen J (2014) Zongguo gudai jinshu yezhu wenming xiantan. Kexue chubanshe, Beijing

Chen K, Liu S, Li Y, Mei J, Shao A, Yue L (2017) Evidence of arsenical copper smelting in Bronze Age China: a study of metallurgical slag from the Laoniupo site, central Shaanxi. J Archaeol Sci 82:31–39

Cui, C. 2016. Changjiang zhongxiayou zaoqi kuangye yizhi kaocha yanjiu. Unpublished PhD dissertation. University of Science and Technology Beijing

Cui J, Wu X (2008) Qian tongweisu kaogu yanjiu-yi zhongguo Yunnan he Yuenan chutu qingtongqi weili. Wenwu, Beijing

Dong, L. 2012. Xiajiadian Shangcheng wenhua kuangye yizhi de kaocha yanjiu. Unpublished PhD dissertation. University of Science and Technology Beijing

Duong, T. 2020.Feb.11. ks: kernel smoothing. R package version 1.11.7. https://CRAN.R-project.org/package=ks. Accessed 11 Feb 2020

Falkenhausen, L. von. 2006. Chinese society in the age of Confucius (1000–250 BC): the archaeological evidence. Cotsen Institue of Archaeology. Ideas, Debates and Perspectives 2. Los Angeles: Cotsen Institute of Archaeology at UCLA

Fang Q (2014) Zengguo lishi de kaoguxue guancha. Jianghan kaogu 4:109–115

Feng L (2018) The Western Zhou state. In: Goldin PR (ed) Routledge handbook of early Chinese history. Taylor & Francis Ltd., London, pp 84–107

Hsu C-Y (1984) Xizhou shi. Lianjing chuban shiye gongsi, Taibei

Hsu Y-K, Sabatini BJ (2019) A geochemical characterization of lead ores in China: an isotope database for provenancing archaeological materials. PLOS ONE 14:e0215973

Hwang, M. 2012. Cong kaogu faxian kan Xizhou muzang de 'fenqi' xianxiang yu Xizhou shidai liqi zhidu de leixing yu jieduan (shangpian).' Zhongyang yanjiuyuan lishi yuyan yanjiusuo jikan 83: 607–670

IA CASS (1984–1994) Yin Zhou jinwen jicheng. Zhonghua shuju, Beijing

IA CASS (2004) Zhongguo kaoguxue·Liangzhou juan. Zhongguo Kaoguxue 9. Zhongguo shehui kexue chubanshe, Beijing

Jin Z, Chase WT, Hirao Y, Mabuchi H (2000) Tianma-Qucun yizhi xizhou mudi qingtongqi de qiantongweisu bizhi yanjiu. In: Zou H (ed) Tianma-Qucun (1980–1989). Kexue chubanshe, Beijing, pp 1174–1177

Jin Z, Liu R, Rawson J, Pollard AM (2017) Revisiting lead isotope data in Shang and Western Zhou bronzes. Antiquity 91:1574–1587

Khayutina M (2008) Western "capitals" of the Western Zhou dynasty (1046/5–771 BC): historical reality and its reflections until the time of Sima Qian. Oriens Extremus 4:25–65

Khayutina M (2010) Royal hospitality and geopolitical constitution of the Western Zhou polity. T'oung Pao 96:1–73. https://doi.org/10.1163/156853210X517114

Khayutina M (2014) Marital alliances and affinal relatives (sheng 甥 and hungou 婚購) in the society and politics of Zhou China in the light of bronze inscriptions. Early China 37:39–99

Khayutina M (2017) The tombs of the rulers of Peng and relationships between Zhou and northern non-Zhou lineages (until the early ninth century B.C.). In: Shaughnessy EL (ed) Imprints of kinship: studies of recently discovered bronze inscriptions from ancient China: 71–132. Chinese University of Hong Kong Press, Hong Kong

Lei X (2008) Lun xinshi de yizhong Zhouxi zhutong gongju. Zhongyuan wenwu 6:73–78

Lei, X, Wang, X. & Zhao, F. 1996. 1995-nian Liulihe Zhoudai juzhi fajue jianbao. Wenwu, no. 6: 4–15 & plates

Li F (2006) Landscape and power in early China: the crisis and fall of the Western Zhou 1045–771 BC. Cambridge: Cambridge University Press. https://doi.org/10.1017/CBO9780511489655

Li H, Cui J, Wang H, Ren Z (2020a) Lun Yuguo bendi fengge tongqi de shengchan wenti. Kaogu 1:106–116

Li H, Cui J (2018) Shilun Jin Chu jian de tongliao liutong. Kaogu yu wenwu 2:96–101

Li Y, Xian Y, Cheng K, Yang Q, Shao A, Zhang D, Tan Y (2016) Shaanxi Luonankekou lusongshikuang yizhi diaocha baogao. Kaogu yu wenwu 3:11–17

Li H (2016) Changjiang zhongxiayou Shang Zhou shiqi caikuang yizhi yanjiu. Kaogu 10:78–88

Li H, Chen J, Cui J, Wu, X., Yang, Y., Huang, F., Xu, T. (2020b) Production and circulation of bronzes among the regional states in the Western Zhou Dynasty. J Archaeol Sci 121:105191. https://doi.org/10.1016/j.jas.2020.105191

Li X (1985) Yihou ce gui yu wuguo. Wenwu 7:13–16

Liu, Y., Tang, J., Liu, J. & Jing, Z. 2018. Pursuing the mineral resources of Yinxu bronze objects (13th–11th BC): study on the lead ingots from Anyang China, in S. Davis, L Zhang & D. Zhao (ed.) The Eighth Worldwide Conference of the Society for East Asian Archaeology: 111. Nanjing: Nanjing University Press

Liu L (2000) Guanyu Zhou Zhaowang nanzheng Jianghan diqu youguan wenti de tantao. Jianghan kaogu 3:66–71

Pollard AM, Bray P, Cuénod A, Hommel P, Hsu Y-K, Liu R, Perucchetti L, Pouncett J, Saunders M (2018) Beyond provenance: new approaches to interpreting the chemistry of archaeological copper alloys. Leuven University Press, Leuven

Qiu X (1978) Shiqiangpan ming jieshi. Wenwu 3:25–32

R core team. 2017. R: a language and environment for statistical computing. R Foundation for Statistical Computing, Vienna. R version 3.4.2

Rawson J (1990) Western Zhou ritual bronzes from the Arthur M. Sackler collections. Harvard University Press, Cambridge

Rawson J (1999) Western Zhou archaeology. In: Shaughnessy EL, Loewe M (eds) The Cambridge history of ancient China: from the origins of civilization to 221 BC. Cambridge University Press, Cambridge, pp 352–449. https://doi.org/10.1017/CHOL9780521470308.008

Rawson J (2013) Ordering the exotic: ritual practices in the late Western and early Eastern Zhou. Artibus Asiae 73:5–76

Rawson J (2019) Ordering the material world of the Western Zhou. Archaeological Research in Asia 19:1–11. https://doi.org/10.1016/j.ara.2018.01.002

Shaughnessy EL (1991) Sources of Western Zhou history: inscribed bronze vessels. University of California Press, Berkeley

Shelach-Lavi G (2015) The archaeology of early China: from prehistory to the Han dynasty. Cambridge University Press, Cambridge

Sun Y (2017) Inscribed bronzes, gift-giving and social networks in the Early Western Zhou: a case study of the Yan cemetery at Liulihe. In: Shaughnessy EL (ed) Imprints of kinship: studies of recently discovered bronze inscriptions from ancient China. The Chinese University Press, Hong Kong, pp 47–70

Tang J, Jing Z, He Y (2018) Henan Anyangshi Yinxu Liujiazhuang beide qianding zhucangkeng fajue jianbao. Kaogu 10:32–41

Tian, C. 1992. Zhongguo gudai guojuia xingtai gaishuo, in Zhongguo gudai shehui fazhan shi lun: 385–415. Jinan: Qilu shushe

Thote A (2014) Zhou bronze workshops and the creative work of design and decoration. Jao Tsung-I guoxueyuan yuankan, no 1:27–54

Wickham H (2016) ggplot2: elegant graphics for data analysis. Springer, New York

Wu Y, Zheng Y (2013) Tectonic evolution of a composite collision orogen an overview on the Qinling-Dabie-Sulu orogenic belt in Central China. Gondwana Res 23:1402–1428

Xu L (2017) Jia guo Tianxia: Xizhou de shehui yu zhengti. Sandai Kaogu 7:476–494

Yang, Y.L. 2005. Jinhou mudi chutu qingtongqi de hejin chengfen, xianwei jiegou he qiantongweisu bizhi yanjiu. Unpublished PhD dissertation. Peking University

Yi, D. 2011. Shang Zhou qingtong kuangliao kaifa jiqi yu Shang Zhou wenming de guanxi yanjiu. Unpublished PhD dissertation. Wuhan University

Yu Y, Chen J, Mei J, Chen K, Chang H, Huang F (2016) Guanyu Yejiashan qingtongqi qiantongweishu bizhi yanjiu de jige wenti. Nanfang Wenwu 1:94–102

Yu Y, Chen J, Mei J, Chen K, Chang H, Huang F (2019) Shixi xizhou zaoqi shehui qingtong gongye shengchan jizhi–yi Hubei Suizhou Yejiashan mudi chutu tongqi wei zhongxin. Wenwu 5:82–93

Zhang CP (2019) Shang Zhou zhiji de fengniaowen you-cong Xiaomintun dao Shigushan. Kaogu yu wenwu 4:72–79

Zhao B (1990) Zhoudai guojia xingtai yanjiu. Hunan jiaoyu chubanshe, Changsha

Zhao J (2019) Yinxu wanglingqu damu beidao niandai de taolun. Zhongguo guojia bowuguan guankan 1:50–59

Zhu B (1995) The mapping of geochemical provinces in China based on Pb isotopes. J Geochem Explor 55:171–181

Zhu F (1988) Cong Zhouyuan chutu qingtongqi kan Xizhou guizu jiazu. Nankai xuebao (Zhexue shehui kexue ban) 4:34–35
Funding
This study was sponsored by Professor Thomas Stöllner's project 'Resources in Societies', funded by Leibniz-Gemeinschaft (SAW-2017-DBM-3). We also received financial support from the China Postdoctoral Science Foundation (No. 2019T120832) and Office of China Postdoc Council/Jilin University (No. 20204A1289).
Additional information
Publisher's note
Springer Nature remains neutral with regard to jurisdictional claims in published maps and institutional affiliations.
About this article
Cite this article
Hsu, YK., O'Sullivan, R. & Li, H. Sources of Western Zhou lead: a new understanding of Chinese Bronze Age supply networks. Archaeol Anthropol Sci 13, 30 (2021). https://doi.org/10.1007/s12520-021-01279-3
Received:

Accepted:

Published:
Keywords
Chinese Bronze Age

Western Zhou

Lead isotope geochemistry

Provenance

Bronze metallurgy