Abstract
Although studies of production traces and use-wear in copper and bronze artefacts have been conducted already for a few decades, the influence of the conservation on these items did not receive much scholarly attention. It seems quite surprising, as traceological analyses focus most often on conserved artefacts from museum collections. In the following article, the authors examine the impact the conservation has on traces of production and use-wear in bronze artefacts coming from three Bronze Age hoards: Karmin IV, Paszowice and Lubnowy Wielkie. All deposits have been analysed both before and after the conservation. Our results show that traces of production and use-wear might either become highlighted or fade in the conservation process. Thus, we should be extremely cautious when examining copper and bronze artefacts for the presence of these traces. The problem is especially critical for items which were not examined directly after the discovery but come from the already conserved museum collections.
This is a preview of subscription content, log in to check access.
Access options
Buy single article
Instant access to the full article PDF.
US$ 39.95
Price includes VAT for USA
Subscribe to journal
Immediate online access to all issues from 2019. Subscription will auto renew annually.
US$ 99
This is the net price. Taxes to be calculated in checkout.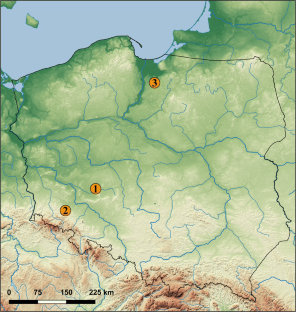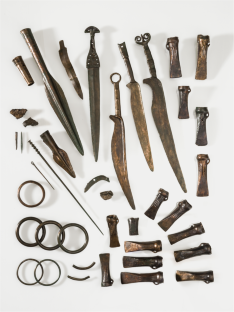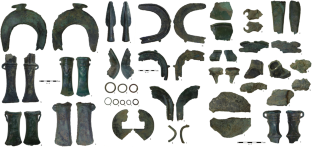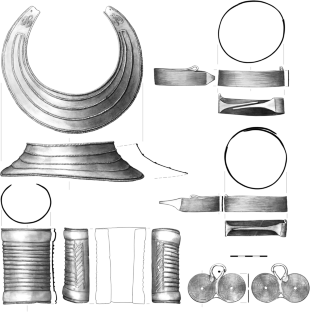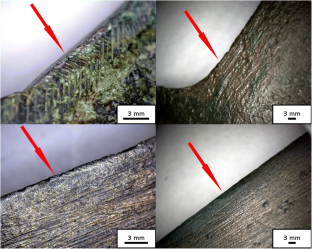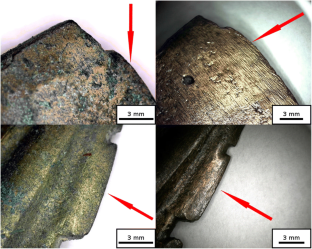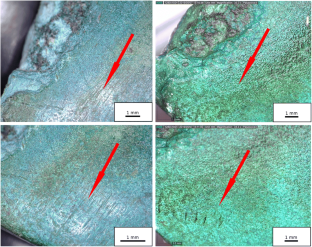 References
Baron J, Maciejewski M, Jarysz R, Kuźbik R, Łaciak D, Łucejko JL, Mackiewicz M, Miazga B, Nowak K, Sych D (2019) Phenomenon of repetition. deposits from Karmin (Karmin. Fenomen powtarzalności). Uniwersytet Wrocławski, Wrocław

Baron J, Maciejewski M, Miazga B, Nowak K, Sych D (in press) More bronze age, less bronze: copper axes in the late bronze age hoard from Karmin in SW Poland. Antiquity

Coloquhoun I (2011) Irish swords: use and abuse. In: Uckelmann M, Mödlinger M (eds) Bronze Age Warfare: Manufacture and Use of Weaponry. British archaeological reports international series no. 2255, Oxford, pp 107–116

Crittenden CJ, Rhodes TR, Hand DW, Howe KJ, Tchobanoglous G (2012) Appendix C. Physical properties of water. MWH's water treatment: principles and design, 3rd edn. Wiley, Hoboken

Cronyn JM (1990) The elements of archaeological conservation. Routledge, London and New York

Dolfini A, Crellin RJ (2016) Metalwork wear analysis: the loss of innocence. J Archaeol Sci 66:78–87

Domasłowski W (2011) Zabytki kamienne i metalowe, ich niszczenie i konserwacja profilaktyczna. Wydawnictwo Naukowe Uniwersytetu Mikołaja Kopernika, Toruń

Fogel J (1988) "Import" nordyjski na ziemiach polskich u schyłku epoki brązu. Wydawnictwo Uniwersytetu im. Adama Mickiewicza w Poznaniu, Poznań

Gener M (2011) Integrating form, function and technology in ancient swords. The concept of quality. In: Uckelmann M, Modlinger M (eds) Bronze Age Warfare: Manufacture and Use of Weaponry. British archaeological reports international series no. 2255, Oxford, pp 117–124

Goffer Z (2007) Archaeological chemistry, 2nd edn. Wiley, Hoboken

Hamilton DL (1999) Methods of conserving archaeological material from underwater sites. Revision number 1. January 1, 1999. Anthropology 605. Conservation of archaeological resources I. nautical archaeology program. Department of Anthropology. Texas A&M University. College Station, Texas 77807. https://nautarch.tamu.edu/CRL/conservationmanual/ConservationManual.pdf. Accessed 14 January 2020

Horn C (2013) Weapons, Fighters and Combat: Spears and Swords in Early Bronze Age Scandinavia. Danish J Archaeol. https://doi.org/10.1080/21662282.2013.838832

Horn C, Holstein ICC (2017) Dents in our confidence: the interaction of damage and material properties in interpreting use-wear on copper-alloy weaponry. J Archaeol Sci 81:90–100

Kuijpers MHG (2015) Contradicting context: understanding early bronze axes from the perspective of production. In: Suchowska-Ducke P, Reiter SS, Vandkilde H (eds) Forging Identities. The Mobility of Culture in Bronze Age Europe: Volume 1. British Archaeological Reports International Series No. S2771, Oxford, pp 203–212

Kuśnierz J (1998) Die Beile in Polen III (Tüllenbeile). Prähistorische Bronzefunde, IX(21), Stuttgart.

Maciejewski M, Szczepański Ł, Miazga B, Kosiński T (in press) Późnobrązowy skarb ozdób z Lubnowych Wielkich na Powiślu (gmina Susz). Wiadomości Archeologiczne

Megahed M (2014) A comparative characterization and practical study of Bronze patinas and corrosion mechanism, applied on some ancient objects from Egypt and Yemen. Int J Conservation Sci 5(2):161–176

Nørgaard HW (2011) Die Halskragen der Bronzezeit im nördlichen Mitteleuropa und Südskandinavien. Verlag Dr. Rudolf Habelt GmbH, Bonn

Nosek E (2008) Konserwacja zabytków metalowych. Pomoc dydaktyczna dla słuchaczy Podyplomowego Studium Konserwacji Zabytków Architektury i Urbanistyki Wydziału Architektury Politechniki Krakowskiej. Wydawnictwo Politechniki Krakowskiej, Kraków

Nowak K, Sielicka K (in press) Znalezisko depozytu z epoki brązu z Paszowic, pow. Jaworski. Silesia Antiqua

Nowak K, Baron J, Puziewicz J, Ziobro M (2019) Multi-faceted analysis of metal sickles from the late Bronze Age scrap deposit found in Paszowice, SW Poland. Geochemistry 79:446–452

Oudbashi O (2015) Multianalytical study of corrosion layers in some archaeological copper alloy artefacts. Surface Interface Anal 47:1133–1147

Robbiola L, Fiaud Ch, Pennec S (1993) New model of outdoor bronze corrosion and its implications for conservation. ICOM Committee for Conservation tenth triennial meeting. Aug 1993, 796–802. Washington DC, United States. https://hal.archives-ouvertes.fr/hal-00975704/PDF/93Robbiola-ICOM_CC-Washington-New_model_of_outdoor_bronze_corrosion_and_its_implication_for_conservation-LR.pdf. Accessed 14 January 2020.

Roberts B, Ottaway BS (2003) The use and significance of socketed axes during the Late Bronze Age. Eur J Archaeol 6:119–140

Rodgers BA (2004) The archaeologist's manual for conservation. A guide to non-toxic, minimal intervention artefact stabilization. Kluwer Academic/Plenum Publishers, New York

Scott DA (2002) Copper and bronze in Art. Corrosion, colorants, conservation. Getty Trust Publications: Getty Conservation Institute; 1 edition.

Szczepański Ł (2017) Opracowanie wyników sondażowych badań archeologiczne na stanowisku IV w m. Lubnowy Wielkie, gm. Susz (AZP 24–50/26) (excavation report).

Turner-Walker G (2008) A practical guide to the care and conservation of metals. Headquarters Administration for Cultural Heritage Council for Cultural Affairs, Taipei

Welsh F (2002) A bronze seal from Meroe in the Petrie Museum, London. J Egypt Archaeol 88(2002):243–246
Acknowledgements
We owe special thanks to M. Konczewska who participated in the conservation of the artefacts from Karmin hoard IV, K. Sielicka and A. Muła from the Regional Museum of Jawor as well as Ł. Szczepański from the Ostróda Museum for providing the artefacts from Paszowice and Lubnowy Wielkie hoards for the analyses. Last but not least, we would like to give our thanks to the reviewers who provided invaluable input and guidelines to ensure that the quality of this article meets highest standards.
Funding
The project was financially supported by the Polish Ministry of Culture and National Heritage (no. 3469/18/FPK/NID) and the National Science Centre, Poland (project no. 2017/27/N/HS3/01097).
Ethics declarations
Conflict of interest
The authors declare that they have no conflict of interest.
Additional information
Publisher's note
Springer Nature remains neutral with regard to jurisdictional claims in published maps and institutional affiliations.
About this article
Cite this article
Sych, D., Nowak, K., Maciejewski, M. et al. Influence of conservation of copper and bronze artefacts on traces of production and use-wear. Archaeol Anthropol Sci 12, 141 (2020). https://doi.org/10.1007/s12520-020-01115-0
Received:

Accepted:

Published:
Keywords
Bronze Age

Metal hoards

Metalwork wear analysis

Use-wear

Traceology

Production technology

Conservation