Abstract
This study investigates how the technology of Coptic Glazed Ware (CGW) – which is one of the earliest examples of Islamic glazed pottery – was developed, allowing for an insight into the mechanisms that contributed to the making of early Islamic material culture. The range of technologies of 20 CGW samples recovered from different sites in Israel was reconstructed, based on the characterisations by thin-section petrography, optical microscopy, and scanning electron microscopy energy-dispersive spectrometry. Our results show that the samples were originated from Aswan, Egypt. The procurement of kaolinitic clay from local deposits to form the ceramic body and slip, as well as the preference of painting as the principal mode of decoration, represents a continuation of the local fine ware tradition (Egyptian red and white slip ware and Coptic painted ware). The use of lead glaze was more akin to the Byzantine glaze technology. The CGW technology is further distinguished by the use of a diverse range of colourants and how the coloured glazes were prepared. Although individual elements of the CGW technology display influences from preceding and contemporaneous pottery technologies, it was not until the production of CGW that all these elements were combined together for the first time, highlighting the innovative character of the CGW technology. We argue that such innovation was born out of a strong local fine ware tradition that was embedded in the landscape of highly specialized craft production, while stimulating by a desire to establish new identities and new material representations by the Arab-Muslim newcomers.
Access options
Buy single article
Instant access to the full article PDF.
US$ 39.95
Tax calculation will be finalised during checkout.
Subscribe to journal
Immediate online access to all issues from 2019. Subscription will auto renew annually.
US$ 79
Tax calculation will be finalised during checkout.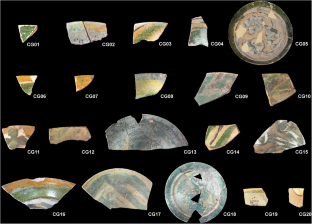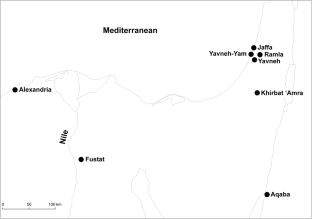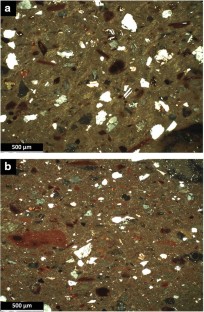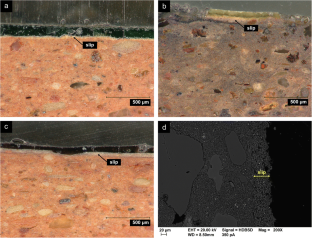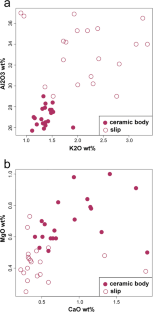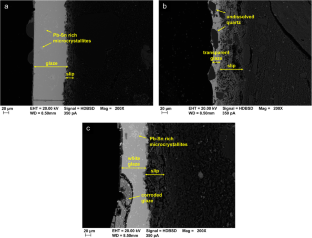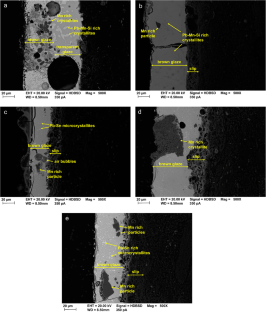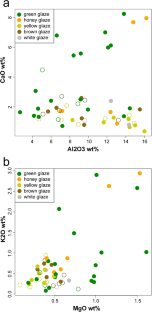 Notes
1.

The Tel Aviv University excavations in Jaffa were directed by Alexander Fantalkin in 2000–2001. The final report is in preparation by Fantalkin and Taxel.

2.

The IAA excavations in Yavneh were directed by Eli Yannai in 2010–2012. The final report is in preparation by Yannai and Taxel.

3.

The Tel Aviv University excavations in Yavneh-Yam were directed by Moshe Fischer in 1992–1999 and by Fischer and Taxel in 2005–2011. The final report is in preparation by Fischer and Taxel.

4.

The IAA excavations in Khirbat 'Amra were directed by Gil Tahal in 1993–1994. The final report is in preparation by Noé David Michael and Taxel.
References
Adlington LW (2017) The corning archaeological reference glasses: new values for 'old' compositions. Papers Institute Archaeol 27:1–8. https://doi.org/10.5334/pia-515

Armstrong P, Hatcher H, Tite M (1997) Changes in byzantine glazing technology from the ninth to thirteenth centuries. In: d'Archimbaud GD (ed) La Céramique Médievale en Méditerranée, Actes du 6e Congrès. Narration Éditions, Aix-en-Provence, pp 225–229

Avni G (2014) The Byzantine-Islamic transition in Palestine: an archaeological approach. Oxford University Press, Oxford

Ballet P, Mahmoud F, Vichy M, Picon M (1991) Artisanat de la céramique dans l'Égypte romaine tardive et byzantine: prospections d'ateliers de poteiers de Minia à Assuan. Cah Céramique Égyptienne 2:129–143

Brukbaker L, Haldon JF (2011) Byzantium in the iconoclast era c. 680-850: a history. Cambridge University press, Cambridge

Craddock PT (1979) The copper alloys of the medieval Islamic world – inheritors of the classical tradition. World Archaeol 11:68–79. https//doi.org/https://doi.org/10.1080/00438243.1979.9979750

Damjanovic L, Bikic V, Saric K, Eric S, Holclajtner-Antunovic I (2014) Characterisation of the early Byzantine pottery from Varivin Grad (South Serbia) in terms of composition and firitng temperature. J Archaeol Sci 46:156–172. https://doi.org/10.1016/j.jas.2014.02.031

Fischer G (2011) Between empires: Arabs, Romans and Sasanians in late antiquity. Cambridge University Press, Cambridge

Foy D, Picon M, Vichy M (2003) Verres Omeyyades et Abbasides d'origine Egyptienne: les temoignages de l'archéologie et de l'archéometrie. In: Annales du 15e Congrès de l'Association Internationale pour l'Histoire du Verre, vol 15. AIHV, New York and Corning, pp 138–143

Foss C (1997) Syria in transition, a.D. 550–750: an archaeological approach. Dumbarton Oaks Papers 51:189–269. https://doi.org/10.2307/1291765

Freestone IC (2006) Glass production in late antiquity and the early Islamic period: a geochemical perspective. In: Magetti M, Messiga B (eds) Geomaterials in cultural heritage, geological society special publications 257. Geological Society, London, pp 201–216

Freestone IC, Goren-Rosen Y, Hughes MJ (2000) Primary glass from Israel and the production of glass in late antiquity and the early Islamic period. In: Nenna M-D (ed) La route du verre: ateliers primaires et secondaires du second millenaire Av. J.-C. au moyen age. Masion de l'Orient Méditerranéen, Lyon, pp 65–83

Freestone IC, Politis KD, Stapleton CP (2001) The byzantine glazed pottery from Deir 'Ain 'Abata, Jordan. In: Villeneuve E, Watson PM (eds) Le céramique Byzantine et proto-Islamique en Syrie-Jordanie (IVe – VIIIe siècles apr. J.-C.), Actes du Colloque tenu à Amman les 3, 4 et 5 décembre, vol 1994. Bibliothèque archéologique et historique, Beirut, pp 197–205

Grossman P, Brooks Hedstrom DL, Osman AMM, Noeske H-C, Al-Rahim AA, Al-Fatah TSA, Al-Mugdi MA, Wolfgang J (2009) Second report on the excavation in the monastery of Apa Shenute (Dayr Anba Shinuda) at Suhag. Dumbarton Oaks Papers 63:167–219

Haldon JF (2012) Commerce and exchange in the seventh and eighth centuries: regional trade and the movement of goods. In: Morrisson C (ed) Trade and markets in Byzantium. Dumbarton Oaks Research Library and Collection, Washington DC, pp 99–122

Heck M, Rehren T, Hoffmann P (2003) The production lead-tin yellow at Merovingian Schleitheim (Switzerland). Archaeometry 45:33–44. https://doi.org/10.1111/1475-4754.00095

Katzjäger D, Peloschek L, Rembart L (2016) The multiplicity of Aswan pink clay pottery (Roman times to late antiquity): synchronising shape repertoire, clay pastes and firing properties. REI Certeraiæ Romanæ Favtorvm Acta 44:731–736

Kennedy H (1998) Egypt as a province in the Islamic caliphate, 641-868. In: Petry CF (ed) The Cambridge history of Egypt, vol 1. Cambridge University Press, Cambridge, pp 62–85

Kohn-Tavor A (2017) Excavations at Ramla (white mosque street): ceramic finds. NGSBA Archaeology 4:23–129

Konstantinidou A (2015) The monasteries of the Wadi-al-Natrun between Alexandria and Fustat: a long transitional period viewed from the pottery (sixth to tenth centuries). In: Hoyland R (ed) The late antique world of early Islam: Muslims among Christians and Jews in the East Mediterranean. The Darwin Press Inc., Princeton, pp 231–257

Mason RB (1997) Medieval Egyptian lustre-painted and associated wares: typology in a multidisciplinary study. J Am Res Centre Egypt 34:201–242

Mason RB (2004) Shine like the sun: lustre-painted and associated pottery from the medieval Middle East. Mazda Publishers, Costa Mesa

Mason RB, Keall EJ (1990) Petrography of Islamic pottery from Fustat. J Am Res Centre Egypt 27:165–184

Mason RB, Tite MS (1997) The beginnings of tin-opacification of pottery glazes. Archaeometry 39:41–58. https://doi.org/10.1111/j.1475-4754.1997.tb00789.x

Matin M (2018) Tin-based opacifiers in archaeological glass and ceramic glazes: a review and new perspectives. Archaeol Anthropol Sci 11:1155–1167. https://doi.org/10.1007/s12520-018-0735-2

Matin M, Tite M, Watson O (2018) On the origins of tin-opacified ceramics glazes: new evidence from early Islamic Egypt, the Levant, Mesopotamia, Iran, and Central Asia. J Archaeol Sci 97:42–66. https://doi.org/10.1016/j.jas.2018.06.011

Matthews AJ, Woods AJ, Oliver C (1991) Spots before the eyes: new comparison charts for visual percentage estimation in archaeological material. In: Middleton A, Freestone I (eds) Recent developments in ceramic. British Museum Research Laboratory, London, pp 211–264

McNally S, Schrunk I (2000) The impact of Rome on the Egyptian pottery industry. J Am Res Centre Egypt 37:91–114

Milwright M (2010a) An introduction to Islamic archaeology. Edinburgh University Press, Edinburgh

Milwright M (2010b) Archaeology and material culture. In: Robinson C (ed) Islam, the formation of the Islamic world, sixth to eleventh centuries. Cambridge University Press, Cambridge, pp 664–682

Molera J, Carvajal López JC, Molina G, Pradell T (2018) Glazes, colourants and decorations in early Islamic glazed ceramics from the Vega of Granada (9th to 12th centuries CE). J Archaeol Sci reps 21:1141–1151. https://doi.org/10.1016/j.jasrep.2017.05.017

Molera J, Coll J, Labrador A, Pradell T (2013) Manganese brown decorations in the 10th to 18th century Spanish tin glazed ceramics. Appl Clay Sci 82:86–90. https://doi.org/10.1016/j.clay.2013.05.018

Molera J, Pradell T, Salvadó N, Vendrell-Saz M (1999) Evidence of tin oxide recrystallisation in opacified lead glazes. J Am Ceram Soc 82:2871–2875. https://doi.org/10.1111/j.1151-2916.1999.tb02170.x

Molera J, Martinez Ferreras V, Fusaro A, Gurt Esparraguera JM, Gaudenzi Asinelli M, Pidaev SR, Pradell T (2020) Islamic glazed wares from ancient Termez (southern Uzbekistan): raw materials and techniques. J Archaeol Sci Rep 29. https://doi.org/10.1016/j.jasrep.2019.102169

Morony M (1995) Material culture and urban identities: the evidence of pottery from the early Islamic period. In: Bierman I (ed) Identity and material culture in the early Islamic world. Centre for Near East Studies. University of California Los Angeles, Los Angeles, pp 2–46

Ownby MF, Giomi E, Williams G (2016) Glazed ware from here and there: petrographic analysis of the technological transfer of glazing knowledge. J Archaeol Sci reps 16:616–626. https://doi.org/10.1016/j.jasrep.2016.04.019

Pace M, Bianoc Prevot A, Mirti P, Venco Ricciardi R (2008) The technology of production of Sasanian glazed pottery from Veh Ardashir (Central Iraq). Archaeometry 50:591–605. https://doi.org/10.1111/j.1474-4754.2007.00369.x

Peake JRN, Freestone IC (2014) Opaque yellow glass production in the early medieval period: new evidence. In: Keller D, Price J, Jackson C (eds) Neighbours and successors of Rome: tradition of glass production and use in Europe and the Middle East in the later 1st millennium AD. Oxbow Books, Oxford, pp 15–21

Pelphs M, Freestone IC, Gorin-Rosen Y, Gratuze B (2016) Natron glass production and supply in the late antique and early medieval near east: the effect of the Byzantine-Islamic transition. J Archaeol Sci 75:57–71. https://doi.org/10.1016/j.jas.2016.08.006

Ponting MJ (2003) From Damascus to Denia: scientific analysis of three groups of Fatimid period metalwork. Hist Metall 37:85–105

Reynolds P (2016) From Vandal Africa to Arab Ifrīqiya: tracing ceramic and economic trends through the fifth to the eleventh centuries. In: Stevens ST, Conant JP (eds) North Africa under Byzantium and early Islam. Dumbarton Oaks Research Library and Collection, Washington DC, pp 129–171

Robinson Ch F (2005) Abd al-Malik. Oneworld, Oxford

Rodziewicz M (1976) Alexandrie I: La céramique Romaine tardive d'Alexandrie. Editions Scientifiques de Pologne, Warsaw

Salinas E, Pradell T (2018) The transition from lead transparent to tin-opacified glaze productions in the western Islamic lands: al-Andalus, c. 875–929 CE. J Archaeol Sci 94:1–11. https://doi.org/10.1016/j.jas.2018.03.010

Salinas E, Pradell T, Matin M, Tite S (2019) From tin- to antimony-based yellow opacifiers in the early Islamic Egyptian glazes: regional influences and ruling dynasties. J. Arch. Sci.: reps 26. https://doi.org/10.1016/j.jasrep.2019.101923

Schibille N, Gradtuze B, Ollivier E, Blondeau É (2019) Chronology of early Islamic glass compositions from Egypt. J Archaeol Sci 104:10–18. https://doi.org/10.1016/j.jas.2019.02.001

Schrunk ID (2003) Spiritual economy and spiritual craft: monastic pottery production and trade. In: Sellew P (ed) living for eternity: the white monastery and its neighbourhood. Proceedings of a symposium at the University of Minnesota, Minneapolis, march 6–9 2003. http://egypt.umn.edu/Egypt/1-pb%20pdfs/steart.pdf

Sijpesteijn PM (2007) The Arab conquest of Egypt and the beginning of Muslim rule. In: Bagnall RS (ed) Egypt in the byzantine world, 300–700. Cambridge University Press, Cambridge, pp 437–459

Tal O, Taxel I (2008) Ramla (south). An early Islamic industrial site and remains of previous periods (salvage excavation reports 5). Emery and Claire Yass publications in archaeology of the Institute of Archaeology, Tel Aviv University, Tel Aviv

Taxel I (2014) Luxury and common wares: socio-economic aspects of the distribution of glazed pottery in early Islamic Palestine. Levant 46:118–139. https://doi.org/10.1179/0075891413Z.00000000036

Taxel I, Cohen-Weinberger A (2019) A newly-identified type of late antique Palestinian amphora: production, evolution and use of the Mediterranean globular amphora. J Mediterr Archaeol 32(1):3–31

Tite M, Pradell T, Shortland A (2008) Discovery, production and use of tin-based opacifiers in glasses, enamels and glazes from the late Iron age onwards: a reassessment. Archaeometry 50:67–84. https://doi.org/10.1111/j.1475-4754.2007.00339.x

Tite MS, Watson O, Pradell T, Matin M, Molina G, Domoney K, Bouquillon A (2015) Revisiting the beginnings of tin-opacified Islamic glazes. J Archaeol Sci 57:80–91. https://doi.org/10.1016/j.jas.2015.02.005

Tobia S, Sayre EV (1974) An analytical comparison of various Egyptian soils, clays, shales and some ancient pottery by neutron activation. In: Bishay A (ed) Recent advances in science and technology of materials III. Plenum Press, New York, pp 99–128

Vroom J (2017) Ceramics. In: Niewohner P (ed) The archaeology of Byzantine Anatolia: from the end of late antiquity until the coming of the Turks. Oxford University Press, Oxford, pp 176–193

Waksman SY, Bouquillon A, Cantin N, Katona I (2007) The first byzantine 'glazed white wares' in the early medieval technological context. In: Waksman Y (ed) Archaeometric and archaeological approaches to ceramics: papers presented at EMAC'05, 8th European meeting on ancient ceramics, Lyon 2005. Archaeopress, Oxford, pp 129–135

Waksman SY, Capelli C, Cabella R (2017) Études en laboratoire de céramiques islamiques du Caire: l'aaport des fouilles recentes. In: Gayraud R-P, Vallauri L (ed) Fustat II. Fouilles d'Istl 'Antar. céramiques d'ensembles de IXe et Xe siècles. Institute Français d'archaeologie Orientale, Cairo, pp 383-414

Walmsley A (2000) Production, exchange and regional trade in the Islamic East Mediterranean: old structures, new systems? In: Hansen IL, Wickham C (eds) The long eighth century. Brill, Leiden, pp 265–344

Walmsley A (2007) Early Islamic Syria: an archaeological assessment. Gerald Duckworth & Co. Ltd., London

Walton MS, Tite MS (2010) Production technology of Roman lead-glazed pottery and its continuance into late antiquity. Archaeometry 52:733–759. https://doi.org/10.1111/j.1476-4754.2009.00506.x

Watson O (2004) Ceramics from Islamic lands. Thames and Hudson, London

Watson O (2014) Revisiting Samarra: the rise of Islamic glazed pottery. In: Gonnella J, Abdellatif R, Struth S (ed) Beiträge zur Islamischen Kunst und Archäologie 4:125–44

Watson O (2017) Ceramics and circulation. In: Flood FB, Necipoğlu G (eds) A companion to Islamic art and architecture. Wiley, Hoboken, pp 478–500

Whitcomb D (1989) Coptic glazed ceramics from the excavations at Aqaba, Jordan. J Am Res Centre Egypt 26:167–182

Zavagno L (2017) Cyprus between late antiquity and the early middle ages (ca. 600-800). An island in transition. Routledge, London and New York
Acknowledgements
This research was carried out with funding provided by the European Commission Horizon 2020 Marie Skłodowska Curie Actions Individual Fellowship 2016 (Grant agreement no.: 750904; Project acronym: GLAZE). We would like to thank Professor Ian Freestone for this expertise and insightful comments on the interpretation of the data used to reconstruct the CGW glaze technology. We are grateful to the directors of excavation, who have kindly granted us with the permission to sample the materials from their respective project. We are equally grateful to the Israel Antiquities Authority for granting us with the permission to extract and export the materials for further analyses. We would also like to thank Tom Gregory at the UCL Wolfson Archaeological Sciences Laboratories for his technical support, Catherine Kneale at the Pitts-River Laboratory for Archaeological Science, University of Cambridge, for the training on digital microscopy, and Emil Aladjem of the Israel Antiquities Authority for preparing Fig. 2.
Additional information
Publisher's note
Springer Nature remains neutral with regard to jurisdictional claims in published maps and institutional affiliations.
Electronic supplementary material
Appendix 1
Appendix 1
About this article
Cite this article
Ting, C., Taxel, I. Indigeneity and innovation of early Islamic glaze technology: the case of the Coptic Glazed Ware. Archaeol Anthropol Sci 12, 27 (2020). https://doi.org/10.1007/s12520-019-01007-y
Received:

Accepted:

Published:
Keywords
Glaze technology

Mediaeval ceramics

Early Islamic period

Egypt

Levant

Technological change