Abstract
We investigated the contribution of freshwater resources to the diet of seven Late Mesolithic hunter-gatherers (ca. 5300–7000 BC) from Northern France and Luxembourg using stable isotope ratios. In addition to the carbon and nitrogen stable isotope ratios (δ13C, δ15N), we explored the potential of the sulphur isotopic ratios (δ34S) to detect and quantify the proportion of protein derived from aquatic foodstuff. In only two sites, animal remains from an associated settlement were available and subsequently examined to decipher the isotopic differential between terrestrial and freshwater resources. The quantification of their relative contribution was simulated using a Bayesian mixing model. The measurements revealed a significant overlap in δ13C values between freshwater and terrestrial resources and a large range of δ15N values for each food category. The δ34S values of the aquatic and terrestrial animals were clearly distinct at the settlement in the Seine valley, while the results on fish from Belgium demonstrated a possible overlap in δ34S values between freshwater and terrestrial resources. Local freshwater ecosystem likely contributed to ca. 30–40 % of the protein in the diet of the individuals found in the Seine settlement. Out of this context, the isotopic signature and thus contribution of the available aquatic foods was difficult to assess. Another potential source of dietary protein is wild boar. Depending on the local context, collagen δ34S values may contribute to better assessment of the relative contribution of freshwater and terrestrial resources.
Access options
Buy single article
Instant access to the full article PDF.
US$ 39.95
Tax calculation will be finalised during checkout.
Subscribe to journal
Immediate online access to all issues from 2019. Subscription will auto renew annually.
US$ 79
Tax calculation will be finalised during checkout.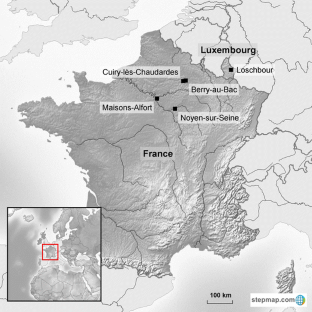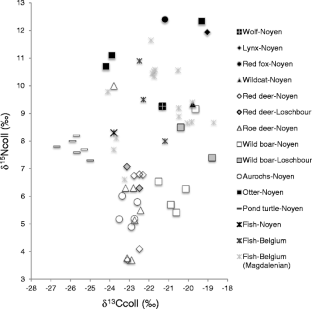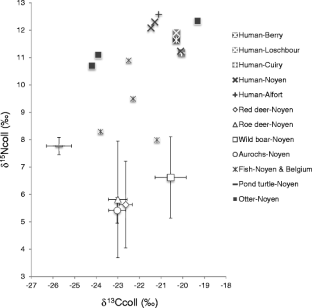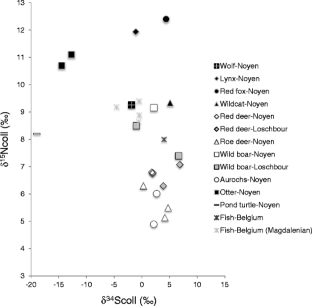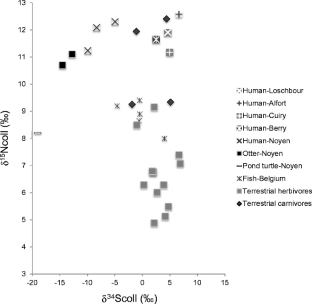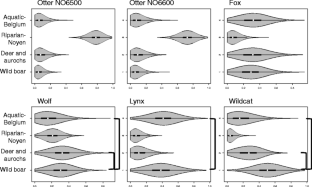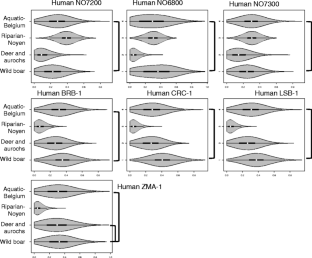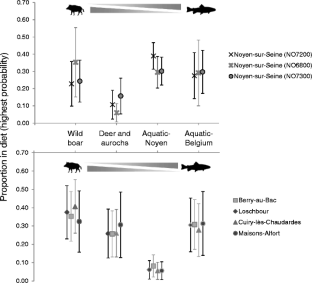 References
Ambrose SH (1990) Preparation and characterization of bone and tooth collagen for isotopic analysis. J Archeol Sci 17(4):431–451

Amundson R, Austin AT, Scuur EAG, Yoo K, Matzek V, Kendall C, Uerbersax A, Brenner D, Baisden WT (2003) Global patterns of the isotopic composition of soil and plant nitrogen. Glob Biogeochem Cycles 17:1031

Arneson LS, MacAvoy SE (2005) Carbon, nitrogen, and sulfur diet-tissue discrimination in mouse tissues. Can J Zool 83(7):989–995

Ascough PL, Cook GT, Church MJ, Dugmore AJ, McGovern TH, Dunbar E, Einarsson Á, Friðriksson A, Gestsdóttir H (2007) Reservoirs and radiocarbon: 14C dating problems in Mývatnssveit, Northern Iceland. Radiocarbon 49:947–961

Auboire G (1991) Les restes humains mésolithiques de Noyen-sur-Seine (Seine-et-Marne, France). l'Anthropologie 95(1):229–236

Ballari SA, Barrios García MN (2014) A review of wild boar Sus scrofa diet and factors affecting food selection in native and introduced ranges. Mammal Rev 44:124–134

Barnes C, Jennings S (2007) Effect of temperature, ration, body size and age on sulphur isotope fractionation in fish. Rapid Commun Mass Spectrom 21:1461–1467

Boaretto E, Thorling L, Sveinbjornsdottir AE, Yechielis Y, Heinemeieri J (1998) Study of the effect of fossil organic carbon on 14C in groundwater from Hvinningdal, Denmark. Radiocarbon 40:915–920

Bocherens H, Drucker D (2003) Trophic level isotopic enrichments for carbon and nitrogen in collagen: case studies from recent and ancient terrestrial ecosystems. Int J Osteoarchaeol 13:46–53

Bocherens H, Billiou D, Patou-Mathis P, Bonjean D, Otte M, Mariotti A (1997) Paleobiological implications of the isotopic signature (13C, 15N) of fossil mammal collagen in Scladina cave (Sclayn, Belgium). Quat Res 48:370–380

Bocherens H, Polet C, Toussaint M (2007) Palaeodiet of Mesolithic and Neolithic populations of Meuse Basin (Belgium): evidence from stable isotopes. J Archaeol Sci 34:10–27

Bocherens H, Drucker DG, Taubald H (2011) Preservation of bone collagen sulphur isotopic compositions in an early Holocene river-bank archaeological site. Palaeogeogr Palaeoclimatol Palaeoecol 310:32–38

Bocherens H, Drucker DG, Madelaine S (2014) Evidence for a 15N positive excursion in terrestrial foodwebs at the Middle to Upper Palaeolithic transition in south-western France: implications for early modern human palaeodiet and palaeoenvironment. J Hum Evol 69:31–43

Bocherens H, Drucker DG, Germonpré M, Lázničková-Galetová M, Naito YI, Wissing C, Brůžek J, Oliva M (2015) Reconstruction of the Gravettian food-web at Předmostí I using multi-isotopic tracking (13C, 15N, 34S) of bone collagen. Quat Int 359:211–228

Bollongino R, Nehlich O, Richards MP, Orschiedt J, Thomas MG, Sell C, Fajkošová Z, Powell A, Burger J (2013) 2000 Years of parallel societies in Stone Age Central Europe. Science 342:479–481

Bonafini M, Pellegrini M, Ditchfield P, Pollard AM (2013) Investigation of the 'canopy effect' in the isotope ecology of temperate woodlands. J Archaeol Sci 40:3926–3935

Bonsall C, Cook GT, Hedges REM, Higham TFG, Pickard C, Radovanović I (2004) Radiocarbon and stable isotope evidence of the dietary change from the Mesolithic to the Middle Ages in the Iron Gates: new results from Lepenski Vir. Radiocarbon 46:293–300

Borić D, Grupe G, Peters J, Mikić Ž (2004) Is the Mesolithic-Neolithic subsistence dichotomy real? New stable isotope evidence from the Danube Gorges. Eur J Archaeol 7:221–248

Bosset G, Valentin F (2013) Mesolithic burial practices in the northern half of France: isolated burials and their spatial organization. In: Valentin B, Souffi B, Ducrocq T, Fagnart J-P, Séara F, Verjux C (eds) Palethnographie du Mésolithique : recherches sur les habitats de plein-air entre Loire et Neckar / Mesolithic palethnography : Research on open-air campsites from the river Loire to the Neckar (Actes bilingues de la table-ronde internationale de Paris, 26-27 novembre 2010). Société préhistorique française, Paris, pp 207-216

Bridault A (1997) Broadening and diversification of hunted resources, from the Late Palaeolithic to the late Mesolithic, in the North and East of France and the bordering areas: Old world hunters and gatherers. Anthropozoologica 25–26:295–308

Broadmeadow MSJ, Griffiths H, Maxwell C, Borland AM (1992) The carbon isotope ratio of plant organic material reflects temporal and spatial variations in CO2 within tropical forest formations in Trinidad. Oecologia 89:435–441

Bronk Ramsey C, Lee S (2013) Recent and planned developments of the program OxCal. Radiocarbon 55:720–730

Brooks JR, Flanagan LB, Buchmann N, Ehleringer JR (1997) Carbon isotope composition of boreal plants: functional grouping of life forms. Oecologia 110:301–311

Carvalho JC, Gomez P (2001) Food habits and trophic niche overlap of the red fox, European wild cat and common genet in the Peneda-Gerês National Park. Galemys 13:39–48

Clavero M, Prenda J, Delibes M (2003) Trophic diversity of the otter (Lutra lutra L.) in temperate and Mediterranean freshwater habitats. J Biogeogr 30:761–769

Cordy J-M (1982) La faune mésolithique du gisement de Loschbour près de Reuland (G. D. de Luxembourg). In: Gob A, Spier F (eds) Le Mésolithique entre Rhin et Meuse. Actes du Colloque sur le Paléolithique supérieur final et le Mésolithique dans le Grand-Duché de Luxembourg et dans les régions voisines (Ardenne, Eifel, Lorraine) tenu à Luxembourg le 18 et 19 mai 1981. Publication de la Soc. Préhist. Luxembourgeoise, Luxembourg, pp 119–128

Craine JM, Elmore AJ, Aidar MPM, Bustamante M, Dawson TE, Hobbie EA, Kahmen A, Mack MC, McLauchlan KK, Michelsen A, Nardoto GB, Pardo LH, Peñuelas J, Reich PB, Schuur EAG, Stock WD, Templer PH, Virginia RA, Welker JM, Wright IJ (2009) Global patterns of foliar nitrogen isotopes and their relationships with climate, mycorrhizal fungi, foliar nutrient concentrations, and nitrogen availability. New Phytol 183:980–992

Delibes-Mateos M, Redpath SM, Angulo E, Ferreras P, Villafuerte R (2007) Rabbits as a keystone species in southern Europe. Biol Conserv 137(1):149–156

Delsate D, Guinet JM, Saverwyns S (2009) De l'ocre sur le crâne mésolithique (haplogroupe U5a) de Reuland-Loschbour (Grand-Duché de Luxembourg). Bull Soc Préhist Luxembourgeoise 31:7–30

Delsate D, Brou L, Spier F (2011) L'inhumation mésolithique de Loschbour (Loschbour 1) - résultats des analyses récentes. In: Sous nos pieds/Unter unseren Füßen: Archäologie in Luxemburg - Archéologie au Luxembourg - 1995-2010. Musée National d'Histoire et d'Art, Luxembourg, pp 138-142

DeNiro MJ (1985) Postmortem preservation and alteration of in vivo bone collagen isotope ratios in relation to palaeodietary reconstruction. Nature 317:806–809

Drucker D (2001) Validation méthodologique de l'analyse isotopique d'ossements fossiles et apports aux reconstitutions paléoécologiques du Paléolithique supérieur du sud-ouest de la France. Dissertation, University of Paris 6 Pierre et Marie Curie

Drucker DG, Bocherens H, Billiou D (2003) Evidence for shifting environmental conditions in Southwestern France from 33,000 to 15,000 years ago derived from carbon-13 and nitrogen-15 natural abundances in collagen of large herbivores. Earth Planet Sci Lett 216:163–173

Drucker DG, Bridault A, Hobson KA, Szuma E, Bocherens H (2008) Can collagen carbon-13 abundance of large herbivores reflect the canopy effect in temperate and boreal ecosystems? Evidence from modern and ancient ungulates. Palaeogeogr Palaeoclimatol Palaeoecol 266:69–82

Drucker DG, Bridault A, Cupillard C, Hujic A, Bocherens H (2011) Evolution of habitat and environment of red deer (Cervus elaphus) during the Late-glacial and early Holocene in eastern France (French Jura and the western Alps) using multi-isotope analysis (δ13C, δ15N, δ18O, δ34S) of archaeological remains. Quat Int 245:268–278

Drucker DG, Hobson KA, Münzel SC, Pike-Tay A (2012) Intra-individual variation in stable carbon (δ13C) and nitrogen (δ15N) isotopes in mandibles of modern caribou of Qamanirjuaq (Rangifer tarandus groenlandicus) and Banks Island (Rangifer tarandus pearyi): implications for tracing seasonal and temporal changes in diet. Int J Osteoarchaeol 22:494–504

Drucker DG, Rosendahl W, Van Neer W, Weber M-J, Görner I, Bocherens H (2016) Environment and subsistence in northwestern Europe during the Younger Dryas: an isotopic study of the human of Rhünda (Germany). J Archaeol Sci Rep 6:690–699

Ducrocq T, Ketterer I (1995) Le gisement mésolithique du "Petit Marais", La Chaussée-Tirancourt (Somme). Bull Soc préhist fr 92:249–259

Ducrocq T, Bridault A, Coutard S (2008) Le gisement mésolithique de Warluis: approche préliminaire. Mém Soc préhist fr 45:85–106

Dufour E, Bocherens H, Mariotti A (1999) Palaeodietary implications of isotopic variability in Eurasian lacustrine fish. J Archaeol Sci 26:627–637

Ficetola GF, Padoa-Schioppa E, Monti A, Massa R, De Bernardi F, Bottoni L (2014) The importance of aquatic and terrestrial habitat for the European pond turtle (Emys orbicularis): implications for conservation planning and management. Can J Zool 82:1704–1712

Fischer A, Olsen J, Richards M, Heinemeier J, Sveinbjörnsdóttir ÁE, Bennike P (2007) Coast-inland mobility and diet in the Danish Mesolithic and Neolithic: evidence from stable isotope values of humans and dogs. J Archaeol Sci 34:2125–2150

Francey RJ, Gifford RM, Sharkey TD, Weir B (1985) Physiological influences on carbon isotope discrimination in huon pine (Lagarostrobos franklinii). Oecologia 66:211–218

Fry B, Gest H, Hayes JM (1986) Sulfur isotope effects associated with protonation of HS- and volatilization of H2S. Chem Geol (Isot Geosci Sect) 58(3):253–258

Geyh MA, Schotterer U, Grosjean M (1998) Temporal changes of the 14C reservoir effect in lakes. Radiocarbon 40:921–931

Gob A (1982) L'occupation mésolithique de l'abri du Loschbour près de Reuland (G.-D. de Luxembourg). In: Gob A, Spier F (eds) Le Mésolithique entre Rhin et Meuse, Actes du colloque sur le Paléolithique final et le Mésolithique dans le Grand-Duché de Luxembourg et dans les régions voisines (Ardenne, Eifel, Lorraine), Luxembourg, 18 et 19 mai 1981. Société préhistorique luxembourgeoise, Luxembourg, pp 91–117

Guiry EJ, Hillier M, Richards MP (2015) Mesolithic Dietary Heterogeneity on the European Atlantic Coastline. Curr Anthropol 56(3):460–70

Hall BL, Henderson GM (2001) Use of uranium-thorium dating to determine past 14C reservoir effects in lakes: examples from Antarctica. Earth Planet Sci Lett 193:565–577

Helldin JO, Danielsson AV (2007) Changes in red fox Vulpes vulpes diet due to colonisation by lynx Lynx lynx. Wildl Biol 13(4):475–480

Higham TFG, Bronk Ramsey C, Brock F, Baker D, Ditchfield P (2007) Radiocarbon dates from the Oxford AMS system archaeometry datelist 32. Archaeometry 49:1–60

Holmer M, Storkholm P (2001) Sulphate reduction and sulphur cycling in lake sediments: a review. Freshw Biol 46(4):431–451

Ilett M (1998) Cuiry-lès-Chaudardes, les Fontinettes. Bilan scientifique de la région Picardie. Service régional de l'Archéologie, Amiens, pp 26–27

Jędrzejewski W, Jędrzejewska B (1992) Foraging and diet of the red fox Vulpes vulpes in relation to variable food resources in Biatowieza National Park, Poland. Ecography 15(2):212–220

Jędrzejewski W, Jędrzejewska B, Szymura A (1989) Food niche overlaps in a winter community of predators in Białowieża primeval forest, Poland. Acta Theriol 34:487–496

Jędrzejewski W, Schmidt K, Theuerkauf J, Jędrzejewska B, Selva N, Zub K, Szymura L (2002) Kill rates and predation by wolves on ungulate populations in Białowieża primeval forest (Poland). Ecology 83:1341–1356

Katzenberg MA, Bazaliiskii VI, Goriunova OI, Savel'ev NA, Weber AW (2010) Diet reconstruction of prehistoric hunter-gatherers in the Lake Baikal Region. Prehistoric hunter-gatherers of the Baikal Region, Siberia. University of Pennsylvania Museum of Archaeology and Anthropology, Philadelphia, pp 175–191

Keaveney EM, Reimer PJ (2012) Understanding the variability in freshwater radiocarbon reservoir offsets: a cautionary tale. J Archaeol Sci 39:1306–1316

Lanszki J (2005) Diet composition of red fox during rearing in a moor: a case study. Folia Zool 54(1/2):213–216

Lanszki J, Molnár T (2003) Diet of otters living in three different habitats in Hungary. Folia Zool 52:378–388

Lanszki J, Molnár M, Molnár T (2006) Factors affecting the predation of otter (Lutra lutra) on European pond turtle (Emys orbicularis). J Zool 270:219–226

Lanting JN, van der Plicht J (1998) Reservoir effects and apparent 14C-ages. J Irish Archaeol 9:151–165

Leduc C, Bridault A, Souffi B, David E, Drucker DG (2013) Apports et limites de l'étude des vestiges fauniques à la caractérisation d'un site mésolithique de plein air à Paris : « 62 rue Henry-Farman » (15e arrondissement). Bull Soc préhist fr 110:257–280

Léotard JM, Straus LG, Otte M (1999) L'Abri du Pape. Bivouacs, enterrements et cachettes sur la Haute Meuse belge: du Mésolithique au Bas Empire Romain. Etudes et Recherches Archéologiques de l'Université de Liège, ERAUL

Lightfoot E, Boneva B, Miracle PT, Šlaus M, O'Connell TC (2011) Exploring the Mesolithic and Neolithic transition in Croatia through isotopic investigations. Antiquity 85:73–86

Lillie MC, Richards M (2000) Stable isotope analysis and dental evidence of diet at the Mesolithic-Neolithic transition in Ukraine. J Archaeol Sci 27:965–972

Lillie M, Budd C, Potekhina I (2011) Stable isotope analysis of prehistoric populations from the cemeteries of the Middle and Lower Dnieper Basin, Ukraine. J Archaeol Sci 38(1):57–68

Longin R (1971) New method of collagen extraction for radiocarbon dating. Nature 230:241–242

Lubell D, Jackes M, Schwarcz H, Knyf M, Meiklejohn C (1994) The Mesolithic–Neolithic transition in Portugal: isotopic and dental evidence of diet. J Archaeol Sci 21:201–216

Marinval-Vigne M-C, Mordant D, Auboire G, Augereau A, Bailon S, Dauphin C, Delibrias G, Krier V, Leclerc A-S, Leroyer C, Marinval P, Mordant C, Rodriguez P, Vilette P, Vigne J-D (1989) Noyen-sur-Seine, site stratifié en milieu fluviatile: une étude multidisciplinaire intégrée. Bull Soc Préhi Fr 86:370–379

McCutchan JH, Lewis WM, Kendall C, McGrath CC (2003) Variation in trophic shift for stable isotope ratios of carbon, nitrogen, and sulfur. Oikos 102(2):378–90

Meiklejohn C, Bosset G, Valentin F (2010) Radiocarbon dating of Mesolithic human remains in France. Mesolithic Miscellany 21:10–56

Meiklejohn C, Miller R, Toussaint M (2014) Radiocarbon dating of Mesolithic human remains in Belgium and Luxembourg. Mesolithic Miscellany 22:10–39

Mordant D, Mordant C (1992) Noyen-sur-Seine: a Mesolithic waterside settlement. In: Coles B (ed) The Wetland Revolution in Prehistory. The Prehistoric Society, Exeter, pp 55–64

Mordant D, Valentin B, Vigne J-D (2013) Noyen-sur-Seine, twenty-five years on. In: Valentin B, Souffi B, Ducrocq T, Fagnart J-P, Séara F, Verjux C (eds) Palethnographie du Mésolithique : recherches sur les habitats de plein-air entre Loire et Neckar / Mesolithic palethnography : Research on open-air campsites from the river Loire to the Neckar (Actes bilingues de la table-ronde internationale de Paris, 26-27 novembre 2010). Société préhistorique française, Paris, pp 37-49

Naito YI, Chikaraishi Y, Ohkouchi N, Drucker DG, Bocherens H (2013) Nitrogen isotopic composition of collagen amino acids as an indicator of aquatic resource consumption: insights from Mesolithic and Epipalaeolithic archaeological sites in France. World Archaeol 45:338–359

Nehlich O (2015) The application of sulphur isotope analyses in archaeological research: a review. Earth-Sci Rev 142:1–17

Nehlich O, Richards MP (2009) Establishing collagen quality criteria for sulphur isotope analysis of archaeological bone collagen. Archaeol Anthropol Sci 1:59–75

Nehlich O, Borić D, Stefanović S, Richards MP (2010) Sulphur isotope evidence for freshwater fish consumption: a case study from the Danube Gorges, SE Europe. J Archaeol Sci 37:1131–1139

Nehlich O, Fuller BT, Jay M, Mora A, Nicholson RA, Smith CI, Richards MP (2011) Application of sulphur isotope ratios to examine weaning patterns and freshwater fish consumption in Roman Oxfordshire, UK. Geochim Cosmochim Acta 75(17):4963–4977

Nielsen H, Pilot J, Grinenko LN, Grinenko VA, Lein AY, Smith JW, Pankina RG (1991) Lithospheric sources of sulfur. In: Krouse HR, Grinenko VA (eds) Stable Isotopes in the Assessment of Natural and Anthropogenic Sulfur in the Environment. John Wiley & Sons, Chichester, pp 65–132

Okarma H, Jędrzejewski W, Schmidt K, Kowalczyk R, Jędrzejewska B (1997) Predation of Eurasian lynx on roe deer in Białowieża primeval forest, Poland. Acta Theriol 42:203–224

Ottonello D, Salvidio S, Rosecchi E (2005) Feeding habits of the European pond terrapin Emys orbicularis in Camargue (Rhône delta, Southern France). Amphibia-Reptilia 26:562–565

Parnell AC, Inger R, Bearhop S, Jackson AL (2010) Source partitioning using stable isotopes: coping with too much variation. PLoS ONE 5, e9672

Peterson BJ, Fry B (1987) Stable isotopes in ecosystem studies. A Rev Ecol Syst 18:293–320

Posth C, Renaud G, Mittnik A, Drucker DG, Rougier H, Cupillard C, Valentin F, Thevenet C, Furtwängler A, Wißing C, Francken M, Malina M, Bolus M, Lari M, Gigli E, Capecchi G, Crevecoeur I, Beauval C, Flas D, Germonpré M, van der Plicht J, Cottiaux R, Gély B, Ronchitelli A, Wehrberger K, Grigorescu D, Svoboda J, Semal P, Caramelli D, Bocherens H, Harvati K, Conard NJ, Haak W, Powell A, Krause J (2016) Pleistocene mitochondrial genomes suggest a single major dispersal of non-Africans and a late glacial population turnover in Europe. Curr Biol 26:1–7

Poupin N, Bos C, Mariotti F, Huneau J-F, Tomé D, Fouillet H (2011) The nature of the dietary protein impacts the tissue-to-diet 15N discrimination factors in laboratory rats. PLoS ONE 6, e28046

Privat KL, O'Connell TC, Hedges RE (2007) The distinction between freshwater-and terrestrial-based diets: methodological concerns and archaeological applications of sulphur stable isotope analysis. J Archaeol Sci 34(8):1197–1204

Reid N, Thompson D, Hayden B, Marnell F, Montgomery WI (2013) Review and quantitative meta-analysis of diet suggests the Eurasian otter (Lutra lutra) is likely to be a poor bioindicator. Ecoll Indicators 26:5–13

Reimer PJ, Bard E, Bayliss A, Beck JW, Blackwell PG, Bronk Ramsey C, Grootes PM, Guilderson TP, Haflidason H, Hajdas I, Hatte C, Heaton TJ, Hoffmann DL, Hogg AG, Hughen KA, Kaiser KF, Kromer B, Manning SW, Niu M, Reimer RW, Richards DA, Scott EM, Southon JR, Staff RA, Turney CSM, Van der Plicht J (2013) IntCal13 and Marine13 radiocarbon age calibration curves 0-50,000 years cal BP. Radiocarbon 55:1869–1887

Richards MP, Mellars PA (1998) Stable isotopes and the seasonality of the Oronsay middens. Antiquity 72(275):178–184

Richards MP, Fuller BT, Hedges REM (2001) Sulphur isotopic variation in ancient bone collagen from Europe: implications for human palaeodiet, residence mobility, and modern pollutant studies. Earth Planet Sci Lett 191:185–190

Richards MP, Douglas TD, Koch E (2003a) Mesolithic and Neolithic subsistence in Denmark: new stable isotope data. Curr Anthropol 44:288–295

Richards MP, Fuller BT, Sponheimer M, Robinson T, Ayliffe L (2003b) Sulphur isotopes in palaeodietary studies: a review and results from a controlled feeding experiment. Int J Osteoarchaeol 13(1-2):37–45

Richards MP, Schulting RJ, Hedges RE (2003c) Archaeology: sharp shift in diet at onset of Neolithic. Nature 425(6956):366–366

Robbins CT, Felicetti LA, Florin ST (2010) The impact of protein quality on stable nitrogen isotope ratio discrimination and assimilated diet estimation. Oecologia 162:571–579

Schoeninger MJ, DeNiro MJ (1984) Nitrogen and carbon isotopic composition of bone collagen from marine and terrestrial animals. Geochim Cosmochim Acta 48:625–639

Schulting RJ, Richards MP (2001) Dating women and becoming farmers: new palaeodietary and AMS dating evidence from the Breton Mesolithic cemeteries of Téviec and Hoëdic. J Anthropol Archaeol 20(3):314–344

Smits L, van der Plicht H (2009) Mesolithic and Neolithic human remains in the Netherlands: physical anthropological and stable isotope investigations. J Archaeol Low Countries 1:55–85

Tanz N, Schmidt H (2010) δ34S value measurements in food origin assignments and sulfur isotope fractionations in plants and animals. J Agric Food Chem 58:3139–3146

Team R Core (2013) R: a language and environment for statistical computing. 409

Toussaint M, Brou L, Le Brun-Ricalens F, Spier F (2009) The Mesolithic site of Heffingen-Loschbour (Grand Duchy of Luxembourg). A yet undescribed human cremation possibly from the Rhine-Meuse-Schelde culture: anthropological, radiometric and archaeological implications. In: Crombé P, Van Strydonck M, Sergant J, Boudin M, Bats M (eds) Chronology and evolution within the Mesolithic of North-West Europe. Cambridge Scholars Publishing, Cambridge, pp 239–260

Valentin F, Cottiaux R, Buquet-Marcon C, Confalonieri J, Delattre V, Lang L, Le Goff I, Lawrence-Dubovac P, Verjux C (2008) Découvertes récentes d'inhumations et d'incinération datées du Mésolithique en Ile de France. Revue Archéologique d'Ile-de-France 1:21–42

van der Merwe NJ, Medina E (1991) The canopy effect, carbon isotope ratios and foodwebs in Amazonia. J Archaeol Sci 18:249–259
Acknowledgements
We acknowledge the financial support provided by the PCR 'Paléolithique final et Mésolithique dans le Bassin Parisien et ses marges' (dir. B. Valentin). The European Social Fund and the Ministry of Science, Research and Arts of Baden-Württemberg funded the current position of D.G. Drucker. The contribution of Wim Van Neer to this paper presents research results of the Interuniversity Attraction Poles Programme—Belgian Science Policy. Thanks are due to A. Bridault, M.-C. Marinval-Vigne, H. Bocherens and D. Billiou for the initial sampling of the animal remains of Noyen-sur-Seine. We are grateful to Michaël Ilett, Lamys Hachem and Bruno Robert (Trajectoires, CNRS-UMR8215) for allowing the study of Cuiry-les-Chaudardes and Berry-au-Bac. We thank Foni Le Brun-Ricalens, Laurent Brou, François Valotteau (Centre National de Recherche Archéologique, Luxembourg), Jean-Michel Guinet, Edmée Engel and Alain Faber (Musée National d'Histoire Naturelle, Luxembourg) for allowing sampling of faunal remains from the Loschbour 1 excavation. The isotopic analysis benefited from the technical support of Bernd Steinhilber, Catherine Bauer, Christoph Wißing and the team of Biogeologie (Department of Geoscience, University of Tübingen). We are grateful to Thomas Tütken and an anonymous reviewer for their valuable comments. Furthermore, we wish to thank Sophia Haller for English proofreading.
About this article
Cite this article
Drucker, D.G., Valentin, F., Thevenet, C. et al. Aquatic resources in human diet in the Late Mesolithic in Northern France and Luxembourg: insights from carbon, nitrogen and sulphur isotope ratios. Archaeol Anthropol Sci 10, 351–368 (2018). https://doi.org/10.1007/s12520-016-0356-6
Received:

Accepted:

Published:

Issue Date:
Keywords
Mesolithic

Stable isotopes

Freshwater

Northern France

Luxembourg