Abstract
Water erosion is a serious problem that threatens more and more soils in northern Algeria and particularly in Jijel region. The potential of its natural and tourist resources makes this region an important ecological and socio-economic area that deserves to be preserved. The main objective of this work is to apply a weighted-sum model to water erosion sensitivity mapping in Jijel region by integrating geographical information system (GIS). Four layers of data modeling factors responsible for soil erosion vulnerability were combined: precipitation, topography, lithology, and vegetation cover. The resulting water-erosion sensitivity map enabled distinguishing areas most threatened by erosion; 77% of the total area was found to be highly susceptible to water erosion, mainly caused by steep slopes and vegetation cover degraded by summer fires. The sensitivity map was validated by the high statistically significant value of chi-square test and is, therefore, a solid tool on which local decision-makers can rely to define priority protection areas.
This is a preview of subscription content, log in to check access.
Access options
Buy single article
Instant access to the full article PDF.
US$ 39.95
Price includes VAT for USA
Subscribe to journal
Immediate online access to all issues from 2019. Subscription will auto renew annually.
US$ 99
This is the net price. Taxes to be calculated in checkout.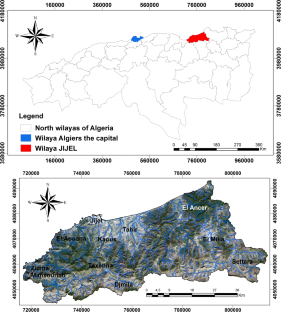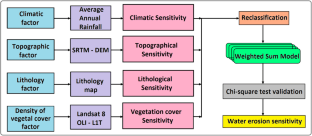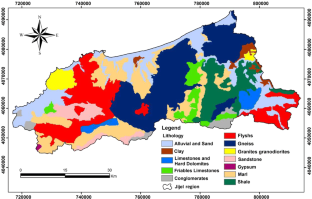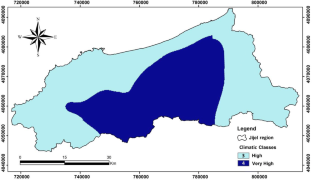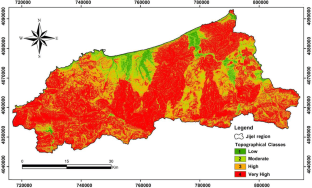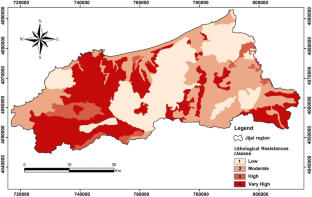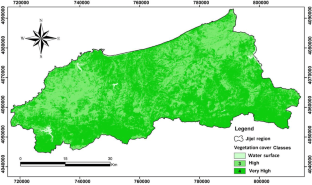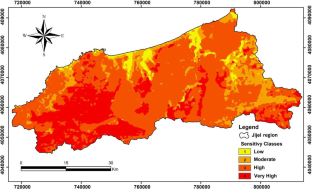 References
Achite M, Touaibia B, Ouillon S (2006) Erosion hydrique en Algérie du Nord: Ampleur, Conséquences & Perspectives. In: 14th International Soil Conservation Organization Conference. Water Management and Soil Conservation in Semi-Arid Environments. Marrakech, Morocco, May 14-19 (ISCO 2006). p 1–6

Achouri M (1995) La conservation des eaux et du sol en Tunisie : bilan et perspectives. Cahiers Options Méditerranéennes, CIHEAM-IAMZ. 9:35–47

Agharmiou RN (2013) La planification urbaine à travers les PDAU-POS et la problématique de la croissance et de l'interaction villes / villages en Algérie. Référence empirique à la wilaya de Tizi-Ouzou. Thèse de Doctorat en Sciences Economiques, Commerciales et des Sciences de Gestion, Université Mouloud Mammeri Tizi-Ouzou, Algérie, p.401

Anavberokhai IO (2008) Introducing GIS and multi-criteria analysis in road path planning process in Nigeria: a case study of Lokoja, Kogi State. Unpublished Thesis for a Degree of Master of Science in Geomatics, University of Gävle, Sweden, p. 29

ANRH (1993) Agence National des Ressources Hydrauliques. Carte pluviométrique de l'Algérie du Nord Ministère de l'équipement – Alger. Une carte au 1/500000e et sa notice, p. 49

Arabi M, Roose E (1991) Influence du système de production et du sol sur le ruissellement (station Ouzera, Algérie). Orstom Bulletin Réseau érosion n°9: 123–129

Arfa AMT (2008) Les incendies de forêt en Algérie : Stratégies de prévention et plans de gestion. Mémoire de Magistère en Ecologie et Environnement, Université Mentouri Constantine, Algérie, p. 115

Arora K, Mickelson SK, Baker JL (2003) Effectiveness of vegetated buffer strips in reducing pesticide transport in simulated runof. Agric Biosyst Eng 46(3):635–644

Ashiagbor G, Forkuo EK, Laari P, Aabeyir R (2013) Modeling soil erosion using RUSLE and GIS tools. Int J Remote Sens Geosci (IJRSG) 2(4):7–17

Assefa TT, Jha MK, Tilahun SA, Yetbarek E, Adem A (2015) Wale A (2015) Identification of erosion hotspot area using GIS and MCE technique for Koga Watershed in the Upper Blue Nile Basin, Ethiopia. Am J Environ Sci 11(4):245.255

Baillargeon S (2005) Le krigeage: revue de la théorie et application à l'interpolation spatiale de données de précipitations. Mémoire de maitrise en statistique, Université Laval Québec, Canada, p. 137. Available on: http://archimede.mat.ulaval.ca/theses/S-Baillargeon_05.pdf

Baruti JHM (2004) Soil of study moisture in relation to soil erosion in the proposed Tancitari Geopark, Central Mexico: A case of the Zacandaro sub-watershed. Thesis for the degree of Master of Science in Geo-information Science and Earth Observation, land degradation and conservation specialisation, Enschede, The Netherlands, p. 92. Available on: http://www.itc.nl/library/papers_2004/msc/ereg/baruti.pdf

Belkendil A (2014) Etude du transport solide dans le bassin versant du Guir. Mémoire de Magistère en aménagement, Université de Béchar, Algérie p. 170

Benkaci S, Abir D, Oumellal A, Remini B (2018) Modélisation de l'érosion du bassin haut et moyen Cheliff par l'application Model builder sur ArcGis. J Mater Eng Struct 5:81–93

Benslimane M, Hamimed A, El Zerey W, Khaldi A, Mederbal K (2008)Analyse et suivi du phénomène de la désertification en Algérie du nord. VertigO 8(3):1–9

Benzer N (2010) Using the geographical information system and remote sensing techniques for soil erosion assessment. Pol J Environ Stud 19(5):881–886

Bergeron M (2000) Caractérisation du recouvrement végétal et des pratiques agricoles à l'aide d'une image TM de Landsat au nord du Viêt Nam. Mémoire ès sciences en géographie, cheminement Télédétection, Université de Sherbrooke, p. 60

Blanchart E, Albrecht A, Brownc G, Decaens T, Duboisset E, Lavelle P, Mariani L, Roose E (2004) Effects of tropical endogeic earthworms on soil erosion. Agric Ecosyst Environ 104:303–315

Blanchart E, Bernoux M (2005) Déterminants des stocks de carbone des sols des petites Antilles (Martinique, Guadeloupe) - Alternatives de séquestration du carbone et spatialisation des stocks actuels et simules. Montpellier, IRD, p. 104

BNEDER (2008) Rapport sur la caractérisation des formations forestières de la wilaya de Jijel. Bureau National d'Etudes pour le Développement Rural, p. 30.

Boudjedjou L (2010) Etude de la flore adventice des cultures de la région de Jijel. Mémoire pour l'obtention de grade de Magistère en Biologie et Physiologie Végétale, Faculté des Sciences. Université de Ferhat Abbas -Setif, Algérie, p 155

Boughalem M, Mazour M, Grecu F, Abdellaoui A, Hamimed A (2013) Évaluation par analyse multicritères de la vulnérabilité des sols à l'érosion : cas du bassin versant de l'Isser-Tlemcen Algérie. Analele Universităţii Bucureşti, Geografie, LXII, pp 5–26

Bouguerra S, Bouanani A (2016) Cartographie qualitative de la sensibilité du sol à l'érosion hydrique : cas du bassin versant oued Boukiou (nord ouest de l'Algérie). Étude Gestion Sols 23:91–100

Boukheir R, Cerdan O, Chadi A (2006) Regional soil erosion risk mapping in Lebanon. Geomorphology 82:347–359

Boukheir R, Girard MC, Shaban A, Khawle M, Faour G, Darwish T (2001) Apport de la télédétection pour la modélisation de l'érosion hydrique des sols dans la région côtière du Liban. Télédétection 2(2):79–90

Bourouba M (1988) Hydrologie et érosion actuelle dans Tell oriental : le cas du bassin versant de l'oued Djendjen. Thèse de 3ème cycle, Aix - Marseille II, p. 404

Brabant P (2008) Activités humaines et dégradation des terres : Indicateurs et indices. IRD, Paris 357 p. (Atlas Cédérom. Indicateurs et Méthode). ISBN 978-2-7099-1644-8

Colmar A, Walter C, Le Bissonnais Y, Daroussin J (2010) Démarche de validation régionale par avis d'experts du modèle Mesales d'estimation de l'alea érosif. Etude Gestion Sols 17(1):19–32

Cruse R, Flanagan D, Frankenberger J, Gelder B, Herzmann D, James D, Krajewski W, Kraszewski M, Laflen J, Opsomer J, Todey D (2006) Daily estimates of rainfall, water runoff and soil erosion in Iowa. J Soil Water Conserv 61(4):191–199

Csáfordia P, Pődörb A, Bugc J (2012) Gribovszkia Z (2012) Soil erosion analysis in a small forested catchment supported by ArcGIS model builder. Acta Silv Lign Hung 8:39–55

De Lima CA, Palácio HA d Q, De Andrade EM, Dos Santos JCN, Brasil PP (2013) Characteristics of rainfall and erosion under natural conditions of land use in semiarid regions. Rev Bras Eng Agrícol Ambient 17(11):1222–1229

Dillaha TA, Sherrard JH, Lee D (1986) Long-term effectiveness and maintenance of vegetative filter strips. VPI-VWRRC Bull 153:1–39

Douzet JM, Scopel E, Muller B, Rakotoarisoa J, Albrecht A, Drazafindramanana NC (2010) Effets des systèmes de cultures en semis direct avec couverture végétale sur le ruissellement et l'érosion des cultures pluviales des hautes terres de Madagascar. Étude Gestion Sols 17(2):131–142

El Garouani A (2003) Cartographie et évaluation quantitative de l'érosion hydrique au pré-Rif marocain. Hydrology of the Mediterranean and Semiarid Regions (Proceedings of an international symposium held at Montpellier, IAHS Publ). (278)380–386

El Hage HH (2011) Les apports d'un S.I.G. dans la connaissance des évolutions de l'occupation du sol et de la limitation du risque érosif dans la plaine de la Bekaa (Liban) : exemple d'un secteur du Bekaa el Gharbi. Géographie. Université d'Orléans, 2011, p. 42

Emama Ligdi E, Morgan RPC (1995) Contour grass strips: a laboratory simulation of their role in soil erosion control. Soil Technol 8:109–117

Estifanos A (2014) Assessment of micro-watershed vulnerability for soil erosion in Ribb watershed using GIS and remote sensing. Thesis in Master of Sciences in a geography and environmental study specialization in GIS and RS, Mekelle University, Ethiopia, p 72

Ezeabasili ACC, Okoro BU, Emengini EJ (2014) Relative erodibilities of some soils from Anambra basin. Sky J Soil Sci Environ Manag 3(8):83–90

Farr TG, Rosen PA, Caro E, Crippen R, Duren R, Hensley S, Kobrick M, Paller M, Rodriguez E, Roth L, Seal D, Shaffer S, Shimada J, Umland J, Werner M, Oskin M, Burbank D, Alsdorf D (2007) The shuttle radar topography mission. Rev Geophys 45:1–43

Fenazi B, Derraji EF (2013) La qualité chimique des eaux du bassin versant de l'oued Djendjen (W.Jijel). In: Proceeding du Séminaire International sur l'Hydrogéologie et l'Environnement SIHE 5-7 Novembre 2013 Ouargla, Algérie. pp 440–443

Fernández C, Vega JA (2016) Evaluation of USLE and PESERA models for predicting soil erosion losses in the first year after wildfire in NW Spain. Geoderma 273:64–72

Findeling A, Ruy S, Scopel E (2003) Modeling the effects of a partial residue mulch on runoff using a physically based approach. J Hydrol 275:49–66

GETIC (2008) Geological map of northern Algeria, 1 / 1000000e. Geo-inf Commun Technol Office

Ghadiri H (2004) Crater formation in soils by raindrop impact. Earth Surf Process. Landforms 29:77–89

Gumiere SJ, Le Bissonnais Y, Raclot D, Cheviron B (2011) Vegetated filter effects on sedimentological connectivity of agricultural catchments in erosion modeling: a review. Earth Surf. Process. Landforms 36:3–19

Haboudane D, Bonn F, Royer A (2007) Evaluation and predictability of terrain susceptibility to hillslope erosion at the regional scale using DEM-derived indices and remotely sensed information. Rev Télédétect 7:373–391

Haoues C (2008) Évaluation par analyse multicritères du risque d'érosion dans la vallée de l'oued Labiod (approche systémique). Mémoire de Magistère en aménagement du territoire, Université de Batna Algérie, p. 132.

Heddadj D (1997) La lutte contre l'érosion en Algérie. Bull Réseau Érosion 17:168–175

Herbreteau V, Bouchetal B, Commagnac L, Lee A, Chery P (2003) Evaluation de la sensibilité à l'érosion des zones viticoles. Influence des pratiques culturales (exemple du Fronsadais). In: Actes des journées 2003, Association internationale pour l'écologie du paysage 8-10 Octobre 2003, Gap, France, éd. Cemagref, p. 31–38

Holz DJ, Williard KWJ, Edwards PJ, Schoonover JE (2015) Soil erosion in humid regions: a review. J Contemp Water Res Educ, 154, n°1: 48-59.

Jafari Shalamzari M, Gholami A, Khalighi Sigaroudi S, Alizadeh Shabani A, Arzani H (2018) Multi-criteria evaluation (MCE) technique and GIS in the Kavir National Park, Iran. J Rangel Sci, Vol. 8, n°1: 77-92.

Jakab G, Németh T, Csepinszky B, Madarász B, Szalai Z, Kertész Á (2013) The influence of short term soil sealing and crusting on hydrology and erosion at balaton uplands, hungary. Carpath J Earth Environ Sci 8(1):147–155

Jiang Z, Huete AR, Chen J, Chen Y, Yan G, Zhang X (2006) Analysis of NDVI and scaled difference vegetation index retrievals of vegetation fraction. Remote Sens Environ 101(3):366–378

Karydas CG, Panagos P, Gitas IZ (2014) A classification of water erosion models according to their geospatial characteristics. Int J Dig Earth 7(3):229–250

Labani D, Mederbal K, Gliz M (2014) Contribution à l'évaluation et à la cartographie de la sensibilité à l'érosion hydrique des sols du sous bassin versant de l'oued de Saïda (ouest de l'Algérie). European Scientific Journal édition, Vol.10 n°27 : 142-153. ISSN: 1857 – 7881 (Print) e - ISSN 1857- 7431

Laouina A, Nafaa R, Coelho C, Miloud C, Carvalho T, Boulet AK, Ferreira A (2000) Gestion des eaux et des terres et phénomènes de dégradation dans les collines de Ksar El Kebir, Maroc. Bull Réseau Erosion 20:256–274

Larue JP (2000) Contribution du ruissellement concentre a l'érosion des sols sableux cultives de l'ouest du bassin parisien : l'exemple des bassins du due et du narais. Ingenieries-EAT, n° 21:51 à 62

Lavabre J, Martin C (1997) Impact d'un incendie de forêt sur l'hydrologie et l'érosion hydrique d'un petit bassin versant méditerranéen. Human Impact on Erosion and Sedimentation (Proceedings of Rabat Symposium S6, April 1997), IAHS Publ. N°245: 39–47.

Le Bissonnais Y, Benkhadra H, Chaplot V, Fox D, King D, Daroussin J (1998) Crusting, runoff and sheet erosion on silty loamy soils at various scales and upscaling from m2 to small catchments. Soil Tillage Res 46:69–80

Le Bissonnais Y, Lecomte V, Cerdan O (2004a) Grass strip effects on runoff and soil loss. Agronomie 24:129–136

Le Bissonnais Y, Dubreuil N, Daroussin J, Gorce M (2004b) Modélisation et cartographie de l'aléa d'érosion des sols à l'échelle régionale Exemple du département de l'Aisne. Étude Gestion Sols 11(3):307–321

Lech-hab BHK, Khali Issa L, Raissouni A, El Arrim A, Afailal Tribak A, Moussadek R (2015) Effects of vegetation cover and land use changes on soil erosion in Kalaya watershed (north western Morocco). Int J Geosci 6(12):1353–1366

Maimouni S, El-Harti A, Bannari A, Bachaouia EM (2012) Water erosion risk mapping using derived parameters from digital elevation model and remotely sensed data. Geo-spatial Inf Sci 15(3):157–169

Mathieu C, Subra-Durand M (2000) Érosion hydrique en Haute-Garonne vue a travers la sédimentation dans les retenues collinaires état des lieux et perspectives d'action. Étude Gestion Sols, Vol. 7, n°3: 231-247.

Mazour M (2004) Etude des facteurs de risque du ruissellement et de l'érosion en nappe et conservation de l'eau et du sol dans le bassin versant de l'Isser-Tlemcen, Algérie. Thèse de Doctorat d'Etat, Université de Tlemcen, Algérie, p. 184

Mazour M, Roose E (2002) Influence de la couverture végétale sur le ruissellement et l'érosion des sols sur parcelles d'érosion dans des bassins versants du Nord – Ouest de l'Algérie. Bulletin Réseau Erosion 21, IRD, Montpellier (France): 320-330

Mcsaveney MJ, Whitehouse IE (1989) Anthropic erosion of mountain land in Canterbury. N Z J Ecol 12(supplement):151–163

Meghraoui M, Habi M, Morsli B, Regagba M, Seladji A (2017) Mapping of soil erodibility and assessment of soil losses using the RUSLE model in the Sebaa Chioukh Mountains (northwest of Algeria). J Water Land Dev 34(VII–IX):205–213

Meliho M, Khattabi A, Mhammdi N, Hongming Z (2016) Impact of land use and vegetation cover on risks of erosion in the Ourika Watershed (Morocco). Am J Eng Res (AJER) 5(9):75–82

Merdas S (2007) Bilan des incendies de forêts dans quelques wilayas de l'Est algérien; cas de Bejaia, Jijel, Sétif et Bordj Bou-Arréridj. Mémoire de Magistère en Ecologie et Environnement, Université Mentouri Constantine, Algérie, p. 54

Merzouk A, Fenjiro I, Laouina A (1996) Cartographie de l'évolution des formes d'érosion dans le Rif occidental (Maroc) : étude multi-date utilisant un SIG bassin versant. Réseau Erosion 16:444–456

Meusburger K, Bänninger D, Alewell C (2010) Estimating vegetation parameter for soil erosion assessment in an alpine catchment by means of QuickBird imagery. Int J Appl Earth Obs Geoinf 12:201–207

Miller BI, Brown LC, Tollner EW, Hayes JC, Franti TG, Tim US (1997) Critical review of data from research on vegetative control systems, ASAE Annual International Meeting, Minneapolis, Minnesota, USA, 10–14 August, 1997, American Society of Agricultural Engineers (ASAE), St Joseph, USA, n° 972058, 13 p

Morsli B, Habi M, Mazour M, Hamoudi A, Halitim A (2012) Erosion et ruissellement en montagnes méditerranéennes d'Algérie du Nord: analyse des facteurs conditionnels sous pluies naturelles et artificielles. Rev Mar Sci Agron Vét 1:33–40

Morsli B, Mazour M, Mededjel N, Hamoudi A, Roose E (2004) Influence de l'utilisation des terres sur les risques de ruissellement et d'érosion sur les versants semi-arides du nord-ouest de l'Algérie. Sécheresse 15(1):96–104

Mostefaoui L (2014) Caractéristiques géologiques, minéralogiques, pétrographiques et sédimentologiques des sables côtiers des secteurs : oued Zhour, oued El Kébir et oued Ziama Mansouria (Wilaya de Jijel, Algérie). Mémoire de Magistère en géologie et ressources minérales, Université Ferhat Abbas-Sétif, Algérie, p. 113

Mostephaoui T, Merdas S, Sakaa B, Hanafi MT, Benazzouz MT (2013) Cartographie des risques d'érosion hydrique par l'application de l'équation universelle de pertes en sol à l'aide d'un système d'information géographique dans le bassin-versant d'el Hamel (Boussaâda) Algérie. J Algérien Régions Arides Spécial 2013:131–147

Nyeko M (2012) GIS and Multi-criteria decision analysis for land use resource planning. J Geogr Inf Syst 4:341–348

Olivares B, Verbist K, Lobo D, Vargas R, Silva O (2011) Evaluation of the USLE model to estimate water erosion in an alfisol. J Soil Sci Plant Nutr 11(2):71–84

Parveen R, Kumar U (2012) Integrated approach of universal soil loss equation (USLE) and geographical information system (GIS) for soil loss risk assessment in upper South Koel Basin, Jharkhand. J Geogr Inf Syst 4:588–596

Patil RJ, Sharma SK, Tignath S (2015) Remote sensing and GIS based soil erosion assessment from an agricultural watershed. Arab J Geosci 8 : 6967 – 6984.

Phinzi K, Ngetar NS (2019) The assessment of water-borne erosion at catchment level using GIS-based RUSLE and remote sensing: A review. Int Soil Water Conserv Res 7:27–46

Rahman A, Rahman S, Cihacek L (2012) Efficacy of vegetative filter strips (VFS) installed at the edge of feedlot to minimize solids and nutrients from runoff. Agric Eng Int: CIGR J, Vol. 14, n°4: 9-21.

Raissouni A, Khali Issa L, El Arrim A, Maâtouk M, Passalacqua R (2012) GIS-based model to assess erosion Sensitivity in Northern Morocco. Laou Watershed Case Study. Int J Geosci 3:610–626

Roose E, Arabi M, Brahamia K, Chebbani R, Mazour M, Morsli B (1993) Érosion en nappe et ruissellement en montagne méditerranéenne algérienne, réduction des risques érosifs et intensification de la production agricole par la GCES : synthèse des campagnes 1984-1995 sur un réseau de 50 parcelles d'érosion. Cah Orstom Sér Pédol xxviii(2):289–308

Roose E, Lelong F (1976) Les facteurs de l'érosion hydrique en Afrique tropicale. Études sur petites parcelles expérimentales de sol. Rev Géogr Phys Géol Dyn xviii, fasc. 4 paris(2):365–374

Roose E, Sabir M, Arabi M, Morsli B, Mazour M (2012) Soixante années de recherches en coopération sur l'érosion hydrique et la lutte antiérosive au Maghreb. Physio-Géo 6:43–69

Rouse JW, Haas RH, Schell JA, Deering DW (1974) Monitoring vegetation systems in the Great Plains with ERTS. In: Freden SC, Mercanti EP, Becker M (eds) Third Earth Resources Technology Satellite–1 Syposium. Vol. I: Technical Presentations, NASA SP-351. NASA, Washington DC, pp 309–317

Ryżak M, Bieganowski A (2012) Using the image analysis method for describing soil detachment by a single water drop impact. Sensors 12:11527–11543

Saadoud D (2018) Modeling and assessment of wind erosion risk by geomatics approach. Case of Laghouat (Algeria). Thesis of PHD in Geomorphology, University of Sciences and Technology Houari Boumediene, Algeria, p. 178

Saadoud D, Guettouche MS, Hassani M, Peinado FJM (2017) Modeling wind-erosion risk in the Laghouat region (Algeria) using geomatics approach. Arab J Geosci 10(363):2–19

Saaty TL (1980) The analytic hierarchy process, New York: McGraw Hill. International, Translated to Russian, Portuguese, and Chinese, Revised editions, Paperback (1996, 2000). RWS Publications, Pittsburgh

Sabir M (1987) L'érosion hydrique et sa quantification. Mémoire de DEA Hydrologie et Géochimie Isotopique, Université de Paris 11, France ORSTOM, p. 300

Saini SS, Jangra R, Kaushik SP (2015) Vulnerability assessment of soil erosion using geospatial techniques - a pilot study of upper catchment of markanda river. IJARSGG 3(1):9–21

Sharma UC, Datta M, Sharma V (2014) Soil fertility, erosion, runoff and crop productivity affected by different farming systems. ECOPERSIA 2(3):629–650

Souadi T (1993) Érosion hydrique des terres agricoles en France. Potentiel des images radars du satellite ers-1 à apprécier des surfaces potentiellement ruisselantes dans le Nord-Pas-de-Calais. Mémoire de Master en système d'informations localises. BRGM service géologique national, département télédétection, p. 121

Souadi Y (2011) L'érosion hydrique au Maghreb étude d'un cas: le bassin versant de l'Oued Barbara (Tunisie septentrionale). Mémoire de Maitrise en géographie. Université du Québec, Canada, p 112

Souidi Z, Hamimed A, Zaagane M, Donze F (2017) Cartographie des zones à risque d'érosion hydrique : Application au bassin versant d'oued Fergoug dans les monts des Béni-Chougranes en Algérie. SAGREN 1(1):1–8

Stuart GW, Edwards PJ (2006) Concepts about forests and water. North J Appl For 23:11–19

Tingle CH, Shaw DR, Boyette M, Murphy GP (1998) Metolachlor and metribuzin losses in runoff as affected by width of vegetative filter strips. Weed Sci 46:175–479

Toumi S, Meddi M, Mahé G, Télesphore Brou Y (2013) Cartographie de l'érosion dans le bassin versant de l'Oued Mina en Algérie par télédétection et SIG. Hydrol Sci J 58(7):1542–1558

United Nations (UN) (2002). Global environement outlouk GEO-3. [Cited 2009 Janvier 20]. Available from: http://www.unep.org/geo/ge03/french/index.htm.

Van Caillie X (1989-90) Érodabilité des terrains sableux du zaïre et contrôle de l'érosion. Cah Orstom Sér Pédol xxv(1-2):197–208

Van Dijk PM, Kwaad FJPM (1996) Runoff generation and soil erosion in small agricultural catchments with loess-derived soils. Hydrol Process 10:1049–1059

Van Lynden GWJ, Mantel S (2001) The role of GIS and remote sensing in land degradation assessment and conservation mapping: some user experiences and expectations. Int J Appl Earth Obs Geoinf 3:61–68

Vulević T, Dragović N (2017) Multi-criteria decision analysis for sub-watersheds ranking via the PROMETHEE method. Int Soil Water Conserv Res 5(1):50–55

Wischmeier WH, Smith DD (1965) Predicting rainfall—erosion losses from cropland east of the Rocky Mountains. Guide for selection of practices for soil and water conservation. Agric Handb n° 282, USDA, Washington, 67p

Woo MK, Fang G, DiCenzo PT (1997) The role of vegetation in the retardation of rill erosion. Catena 29:145–159

Zhao X, Dai J, Wang J (2013) GIS-based evaluation and spatial distribution characteristics of land degradation in Bijiang watershed. SpringerPlus 2(Supplement 1)
Acknowledgments
We would like to show our gratitude to Mr. Cok David for his assistance with the English revision. We would also like to thank the Editors-in-Chief Capra A. and Roberts G. and the anonymous reviewer for its constructive comments and suggestions on an earlier version of the manuscript that greatly improved the final version of the original manuscript
About this article
Cite this article
Nehai, S.A., Guettouche, M.S. & Saadoud, D. Regional modeling of soil sensitivity to water erosion in JIJEL region (Algeria) using MCA and GIS. Appl Geomat (2020). https://doi.org/10.1007/s12518-020-00316-5
Received:

Accepted:

Published:
Keywords
Modeling

Sensitivity

Weighted-sum

Water erosion

GIS

Jijel region