Abstract
The stimulated reservoir volume (SRV) fracturing is used to consider the effects of natural fractures in the fracture network formation. Meanwhile, the importance of the operation itself is often disregarded. To improve the oil and gas recovery factor, a reservoir reconstruction technique based on induced stress is examined. In this paper, we applied the theory of elastic–plastic mechanics to evaluate the induced stress of net pressure on the fracture plane during the fracturing process. A mathematical model of a fracture-induced stress field was established and combined with the distribution of the in situ stress field. The stress field around the fracture during fracturing is thereby elucidated. Based on this research, it is evident that fracture-induced stress has disparate variation regularity in different directions. Overall, the induced stress is the largest in the direction perpendicular to the fracture plane. It gradually decreases along the farther distance from the fracture plane until it disappears. This induced stress can change the stress field distribution around the fracture by enhancing the net pressure on the fracture plane. A method applied in stages to change the treatment pressure fully leverages the characteristics of induced stress, thereby causing the stress relations to change around the fracture plane. This provides good conditions for a new crack formation and a wider range of fracture network transformations.
Access options
Buy single article
Instant access to the full article PDF.
US$ 39.95
Tax calculation will be finalised during checkout.
Subscribe to journal
Immediate online access to all issues from 2019. Subscription will auto renew annually.
US$ 79
Tax calculation will be finalised during checkout.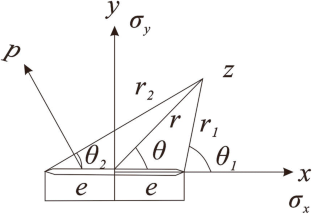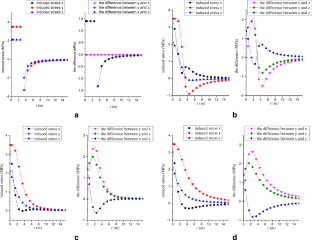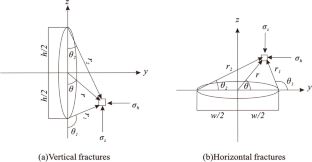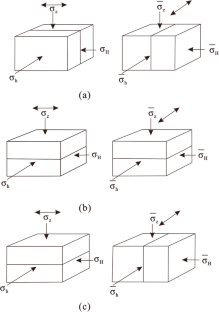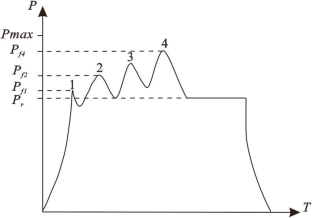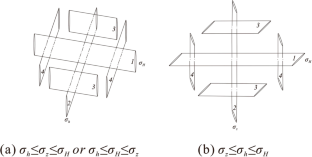 References
An FH, Yuan Y, Chen XJ, Li ZQ, Li LY (2019) Expansion energy of coal gas for the initiation of coal and gas outbursts. Fuel 235:551–557

Castro Dantas TN, Santanna VC, Dantas Neto AA, Alencar Moura MCP (2005) Hydraulic gel fracturing. J Dispers Sci Technol 26(1):1–4

Choo LQ, Zhao ZY, Chen HM, Tian Q (2016) Hydraulic fracturing modeling using the discontinuous deformation analysis (DDA) method. Comput Geotech 76:12–22

Daneshy AA (2003) Off–balance growth: a new concept in hydraulic fracturing. J Pet Technol 55(4):78–85

Delay F, Porel G, Bernard S (2004) Analytical 2D model to invert hydraulic pumping tests in fractured rocks with fractal behavior. Geophys Res Lett 31(16):371–375

Dutler N, Valley B, Gischig V, Villiger L, Amann F (2019) Hydraulic fracture propagation in a heterogeneous stress field in a crystalline rock mass. Solid Earth 10(6):1877–1904

Embacher RA, Snyder MB (2003) Refinement and validation of the hydraulic fracture test. Transp Res Rec 1837:80–88

Fan TG, Zhang GQ (2014) Laboratory investigation of hydraulic fracture networks in formations with continuous orthogonal fractures. Energy 74:164–173

Ge ZL, Li SH, Zhou Z, Lu YY, Xia BW, Tang JR (2019) Modeling and experiment on permeability of coal with hydraulic fracturing by stimulated reservoir volume. Rock Mech Rock Eng 52(8):2605–2615

Ghosh S, Busetti S, Slatt RM (2019) Analysis and prediction of stimulated reservoir volumes through hydraulic fracturing: examples from western Arkoma Basin. J Pet Sci Eng 182:106338

Hou B, Chen M, Cheng W, Diao C (2016) Investigation of hydraulic fracture networks in shale gas reservoirs with random fractures. Arab J Sci Eng 41(7):2681–2691

Ishida T, Chen Q, Mizuta Y, Roegiers J (2004) Influence of fluid viscosity on the hydraulic fracturing mechanism. J Energy Resources Technol 126(3):190–200

Ji SH, Lee KK, Park YC (2004) Effects of the correlation length on the hydraulic parameters of a fracture network. Transp Porous Media 55(2):153–168

Jin L, Veltri D, Krause D, Weller T (2003) Large–scale hydraulic fracturing in a frontier area in China. J Pet Technol 55(3):50–56

Jia ZS, Li ZF, Yang ZY, Ren GG, Lin J (2015) Design and implementation of a coal–bed methane fracture monitoring system based on virtual instrument technology. Instrum Sci Technol 43(3):290–302

Jiang TT, Ye HW, Ren GF, Zhang JH, Li YB, Wang JW, Wu H, Zhang CY, Huang G, Ke B, Liu W (2019) Crack initiation and propagation in coalbed gas reservoir during hydraulic fracturing. Sādhanā 44(2):43

Khanna A, Kotousov A (2016) Controlling the height of multiple hydraulic fractures in layered media. SPE J 21(1):256–263

Lakirouhani A, Detournay E, Bunger AP (2016) A reassessment of in situ stress determination by hydraulic fracturing. Geophys J Int 205(3):1859–1873

Lecampion B, Desroches J (2015) Robustness to formation geological heterogeneities of the limited entry technique for multi–stage fracturing of horizontal wells. Rock Mech Rock Eng 48(6):2637–2644

Leven C, Sauter M, Teutsch G, Dietrich P (2004) Investigation of the effects of fractured porous media on hydraulic tests—an experimental study at laboratory scale using single well methods. J Hydrol 297(1–4):95–108

Li ZF, Xu HF, Zhang CY (2016) Liquid nitrogen gasification fracturing technology for shale gas development. J Pet Sci Eng 138:253–256

Li Z, Wu XD, Han GQ, Ma GQ, Zhang LF, Wang B, Shi SZ (2019) Transient pressure analysis of volume-fractured horizontal wells considering complex fracture networks and stress sensitivity in tight reservoirs. ACS Omega 4:14466–14477

Liu H, Lan ZX, Wang SL, Xu JG, Zhao CX (2015) Hydraulic fracture initiation mechanism in the definite plane perforating technology of horizontal well. Pet Explor Dev 42(6):869–875

Pan JN, Niu QH, Wang K, Shi XH, Li M (2016a) The closed pores of tectonically deformed coal studied by small-angle X-ray scattering and liquid nitrogen adsorption. Microporous Mesoporous Mater 224:245–252

Pan JN, Wang K, Hou QL, Niu QH, Wang HC, Ji ZM (2016b) Micro-pores and fractures of coals analysed by field emission scanning electron microscopy and fractal theory. Fuel 164:277–285

Rahman MM, Rahman MK, Rahman SS (2003) Multicriteria hydraulic fracturing optimization for reservoir stimulation. Pet Sci Technol 21(11):1721–1758

Ren JJ, Guo P, Peng S, Ma ZL (2018a) Performance of multi-stage fractured horizontal wells with stimulated reservoir volume in tight gas reservoirs considering anomalous diffusion. Environ Earth Sci 77(22):768

Ren L, Lin R, Zhao JZ, Rasouli V, Zhao JY, Yang H (2018b) Stimulated reservoir volume estimation for shale gas fracturing: mechanism and modeling approach. J Pet Sci Eng 166:290–304

Ren L, Su YL, Zhan SY, Meng FK, Zhao GY (2019) Fully coupled fluid-solid numerical simulation of stimulated reservoir volume (SRV)-fractured horizontal well with multi-porosity media in tight oil reservoirs. J Pet Sci Eng 174:757–775

Roshan H, Rahman SS (2013) The effect of water content on stress changes around a wellbore drilled in a chemically active elastoplastic formation. Pet Sci Technol 31(20):2118–2126

Smith MB (1981) Stimulation design for short, precise hydraulic fractures. Soc Pet Eng J 25(3):371–379

Veatch RW (1983a) Overview of current hydraulic fracturing design and treatment technology–part 1. J Pet Technol 35(4):677–687

Veatch RW (1983b) Overview of current hydraulic fracturing design and treatment technology–part 2. J Pet Technol 35(5):853–864

Wang XZ (2015) Practical application of liquid–CO2 /slick–water hybrid fracturing technology in the lacustrine shale gas reservoir in Ordos Basin, China. Interpretation 3(2):SJ75–SJ80

Wang H, Liao X, Ding H (2015) Monitoring and evaluating the volume fracturing effect of horizontal well. J Nat Gas Sci Eng 22:498–502

Wang XL, Liu C, Wang H, Liu H, Wu HA (2016) Comparison of consecutive and alternate hydraulic fracturing in horizontal wells using XFEM–based cohesive zone method. J Pet Sci Eng 143:14–25

Yang TH, Tham LG, Tang CA, Liang ZZ, Tsui Y (2004) Influence of heterogeneity of mechanical properties on hydraulic fracturing in permeable rocks. Rock Mech Rock Eng 37(4):251–275

Zhang X, Jeffrey RG, Detournay E (2005) Propagation of a hydraulic fracture parallel to a free surface. Int J Numer Anal Methods Geomech 29(13):1317–1340

Zhao L (2008) Repeated fracturing technology. China University of Petroleum Press, Shan Dong (In Chinese)

Zhao X, Jiang B, Xu Q, Liu JG, Zhao Y, Duan PP (2016a) Well pattern design and optimal deployment for coalbed methane development. Pet Explor Dev 43(1):89–96

Zhao YL, Zhang LH, Feng GQ, Zhang BN, Kang B (2016b) Performance analysis of fractured wells with stimulated reservoir volume in coal seam reservoirs. Oil Gas Sci Technol – Revue D'ifp Energies Nouvelles, 71(1).

Zhao X, Ju Y, Yang Y, Su S, Gong WB (2016c) Impact of hydraulic perforation on fracture initiation and propagation in shale rocks. SCIENCE CHINA Technol Sci 59(5):756–762

Zhao YL, Zhang LH, Shan BC (2018) Mathematical model of fractured horizontal well in shale gas reservoir with rectangular stimulated reservoir volume. J Nat Gas Sci Eng 59:67–79

Zhou DS, Zheng P, He P, Peng J (2016) Hydraulic fracture propagation direction during volume fracturing in unconventional reservoirs. J Pet Sci Eng 141:82–89

Zhu LT, Liao XW, Chen ZM, Cheng XY (2018) Pressure-transient analysis of a vertically fractured well in a tight oil reservoir with rectangular stimulated reservoir volume. SPE Prod Oper 33(4):697–717
Acknowledgments
This study was sponsored by the National Natural Science Foundation of China (Grant No. 41772162), the National Science and Technology Major Project of the Ministry of Science and Technology of China (2016ZX05067006-002), the Fundamental Research Funds for the Universities of Henan Province (NSFRF180103), and the Program for Innovative Research Team of Henan Polytechnic University (T2015-1).
Ethics declarations
Conflict of Interests
The authors declare that they have no conflict of interest.
Additional information
Responsible Editor: Murat Karakus
About this article
Cite this article
Wang, R., Yang, Y., Pan, J. et al. Network fracturing technology of hydraulic fracturing in coalbed methane reservoir based on induced stress. Arab J Geosci 14, 351 (2021). https://doi.org/10.1007/s12517-021-06658-7
Received:

Accepted:

Published:
Keywords
Fracture plane net pressure

Induced stress

Hydraulic fracturing

Fracture network reconstruction