Abstract
The ability of radial vertical electrical sounding (RVES) to detect anisotropy caused geologically by fracturing, jointing, layering, and rock fabrics was employed to investigate the structure of hard rock aquifers in Oyun-Asa basin. This was facilitated by the need to hydrogeologically characterize the aquifers in an attempt to meet increased demands on the potable water supply due to population explosion, increasing industrialization, and agricultural growth in the area. This was accomplished by using the anisotropy models obtained from the variation of computed coefficient of anisotropy and its orientation with depth to characterize hydrogeological properties of the weathering profile developed over different lithology in the area. The geometric mean resistivity values were also computed and calibrated to assess the degree of weathering.
The coefficient of anisotropy values obtained from best-fit ellipses of the polar apparent resistivity plots of RVES data varied between 1.01 and 3.00 along different directions. The lower and upper range values, 1.01–1.20 and 1.21–3.00, were attributed to heterogeneous and homogeneous anisotropy, respectively. The heterogeneous anisotropy revealed pre-existing heterogeneities within the lithology at different depths and could have enhanced the weathering process locally. The homogeneous anisotropy indicated the fissured layers comprise three fissure sets: horizontal or stratified fissured layer (SFL), sub-vertical, and vertical. Six types of homogeneous anisotropy models whose coefficient of anisotropy (homogeneous) values and orientations vary with fracture intensity and depth were also identified. The geometric mean resistivity ranged between 82 and 2337 Ωm indicating varied degrees of weathering and its dependency of different lithologies in the study area.
Aquifers in Oyun-Asa basin are localized, depending on extent of weathering and fissuring of the underlying rocks. The presence of SFL known for its contemporaneity with weathering process indicates the hard rocks in Oyun-Asa are in different weathering phases.
Access options
Buy single article
Instant access to the full article PDF.
US$ 39.95
Tax calculation will be finalised during checkout.
Subscribe to journal
Immediate online access to all issues from 2019. Subscription will auto renew annually.
US$ 79
Tax calculation will be finalised during checkout.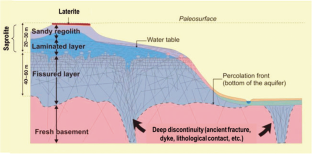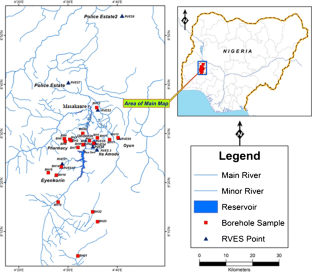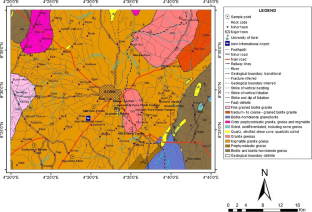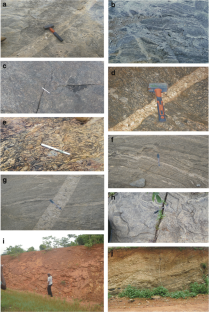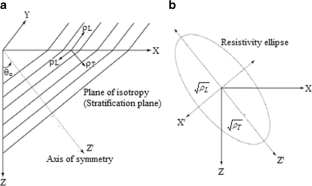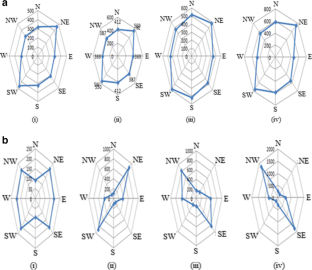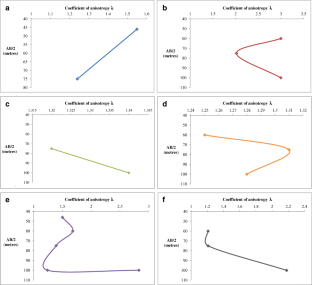 References
Acworth RI (1987) The development of crystalline basement aquifers in a tropical environment. Quart J Eng Geol 20:265–272. https://doi.org/10.1144/GSL.QJEG.1987.020.04.02

Bernard J (2003) Shortnote on the depth of investigation of electrical methods

Boadu FK, Gyamfi J, Owusu E (2005) Determining subsurface fracture characteristics from azimuthal resistivity surveys: a case study at Nsawam, Ghana. Geophysics 70(5):B35–B42. https://doi.org/10.1190/1.2073888

Bolshakov DK, Modin IN, Pervago E, Shevnin VA (1997). Separation of anisotropy and inhomogeneity influence by the spectral analysis of azimuthal resistivity diagrams. Proceedings of the 3rd EEGS-ES Meeting Aarhus Denmark Sept. 1997, p 147–150. https://doi.org/10.3997/2214-4609.201407299

Busby JP, Peart RJ (1997) Azimuthal resistivity and seismic measurements for the determination of fracture orientations. In: McCann DM, Eddleston M, Fenning PJ, Reeves GM (eds). Modern geophysics in engineering geology Geological Society Engineering Geology Special Publication 12: 273-281 https://doi.org/10.1144/GSL.ENG.1997.012.01.24

Busby JP (2000) The effectiveness of azimuthal apparent-resistivity measurements as a method for determining fracture strike orientations. Geophys Prospect 48:677–695. https://doi.org/10.1046/j.1365-2478.2000.00208.x

Burger HT, Sheehan AF, Jones CH (2006) Introduction to applied geophysics: exploring the shallow subsurface. W.W. Norton & Company, London

Chambers JE, Gunn DA, Wilkinson PB, Ogilvy RD, Ghataora GS, Burrow MPN, Smith RT (2008) Non-invasive time-lapse imaging of moisture content changes in earth embankments using electrical resistivity tomography (ERT). In: Ellis E, Yu HS, McDowell G, Dawson A, Thom N (eds) Advances in transportation geotechnics. CRC Press-Taylor & Francis Group, Boca Raton, pp 475–480

Chambers J, Kuras O, Meldrum P, Gunn DA (2011) Long-term time-lapse geoelectrical monitoring. First Break 29:77–84

Chandra S, Dewandel B, Dutta S, Ahmed S (2010) Geophysical model of geological discontinuities in a granitic aquifer: analyzing small scale variability of electrical resistivity for groundwater occurrences. J Appl Geophys 71:137–148. https://doi.org/10.1016/j.jappgeo.2010.06.003

Chandra S, Nagaiah E, Reddy DV, Rao VA, Ahmed S (2012) Exploring deep aquifer potential in water scarce crystalline rocks. J Earth Syst Sci 121(6):455–1468

Chandra S, Auken E, Murya PK, Ahmed S, Verma SK (2019) Large scale mapping of fractures and groundwater pathways in crystalline hard rock by AEM. Sci Report 9. https://doi.org/10.1038/s41598-018-36153-1

Chilton PJ, Foster SSD (1995) Hydrogeological characterization and water-supply potential of basement aquifers in tropical Africa. Hydrogeol J 3(1):36–49. https://doi.org/10.1007/s100400050061

Chilton PJ, Smith-Carington AK (1984) Characteristics of the weathered basement aquifer in Malawi in relation to rural water supplies. In: Walling DE, Foster SSD, Wurzel P (eds) Challenges in African hydrology and water resources, proceedings of the Harare Symposium, July IAHS Publ. no, vol 144, pp 57–72

Cho M, Ha K-M, Choi Y-S, Kee W-S, Lachassagne P, Wyns R (2003) Relationship between the permeability of hard-rock aquifers and their weathered cover based on geological and hydrogeological observation in South Korea. IAH Conference on "Groundwater in Fractured Rocks", 15–19 September 2003 Prague.

Comte J-C, Ofterdinger U, Legchenko A, Culfield J, Cassidy R, Mezquita Gonzalez JA (2018) Catchment-scale heterogeneity of flow and storage properties in a weathered/fractured hard rock aquifer from resistivity and magnetic resonance surveys: implications for groundwater flow paths and the distribution of residence times. In: Ofterdinger U, MacDonald A, Comte J-C, Young M (eds), Groundwater in fractured bedrock environments Geological Society Special Publication Series vol. 479 https://doi.org/10.1144/SP479.11

Courtois N, Lachassagne P, Wyns R, Blanchin R, Bougaïré FD, Somé S, Tapsoba A (2010) Large-scale mapping of hard-rock aquifer properties applied to Burkina Faso. Ground Water 48(2):269–283. https://doi.org/10.1111/j.1745-6584.2009.00620.x

Dewandel B, Lachassagne P, Wyns R, Mar´echal JC, Krishnamurthy NS (2006) A generalized 3-D geological and hydrogeological conceptual model of granite aquifers controlled by single or multiphase weathering. J Hydrol 330:260–284

Durand V, Deffontaines B, Léonardi V, Guérin R, Wyns R, de Marsily G, Bonjour J-L (2006) A multidisciplinary approach to determine the structural geometry of hard-rock aquifers. Application to the Plancoët migmatitic aquifer (NE Brittany, W France). Bull Soc Géol Fr 177:227–237

Durand V, Léonardi V, de Marsily G, Lachassagne P (2015) The two-layer conceptual model of hard-rock aquifers: validation with a deterministic hydrogeological model. Vingtièmes journées techniques du Comité Français d'Hydrogéologie de l'Association Internationale des Hydrogéologues, Aquifères de socie: le point sur les concepts et les applications opérationnelles, La Roche-sur-Yon, juin 2015 8pp

Ellis MH, Sinha MC, Minshull TA, Sothcott J, Best AI (2010) An anisotropic model for the electrical resistivity of two-phase geologic materials. Geophysics 75(6):E161–E170. https://doi.org/10.1190/1.3483875

Gleeson T, Wada Y, Bierkens MFR, van Bleek LPH (2012) Water balance of global aquifers revealed by groundwater foot print. Nature 448:197–200. https://doi.org/10.1038/nature11295

Greenlagh S, Wiese T, Marescot L (2010) Comparison of DC sensitivity patterns for anisotropic and isotropic media. J Appl Geophys 70(2):103–112. https://doi.org/10.1016/j.jappgeo.2009.10.003

Habberjam GM (1972) The effects of anisotropy on square array resistivity measurements. Geophys Prospect 20:249–266. https://doi.org/10.1111/j.1365-2478.1972.tb00631.x

Habberjam GM (1975) Apparent resistivity anisotropy and strike measurements. Geophys Prospect 23:211–247. https://doi.org/10.1111/j.1365-2478.1975.tb01525.x

Hagrey SA (1994) Electric study of fracture anisotropy at Falkenberg, Germany. Geophysics 59(6):881–888. https://doi.org/10.1190/1.1443647

Herwanger JV, Pain CC, Binley A, De Oliveira CRE, Worthington MH (2004) Anisotropic resistivity tomography. Geophys J Int 158(2):409–425. https://doi.org/10.1111/j.1365-246X.2004.02314.x

Huisman JA, Bouten W, Ferre TP (2004) Bridging the gap between geophysical measurements and hydrological modelling. American Geophysical Union, Fall Meeting, abstract #H14C-01.

JICA, (2014) The project for review and update of Nigeria national water resources master plan. Japan International Cooperation Agency (JICA) vol. 2: Yachiyo Engineering Company limited, CTI Engineering International Company limited.

Keller GV, Frischknecht FC (1966) Electrical methods in geophysical prospecting. Pregamon Press Inc, First edition

Lachassagne P, Wyns R, B´erard P, Bruel T, Chéry L, Coutand T, Desprats JF, Le Strat P (2001) Exploitation of high-yield in hard-rock aquifers: downscaling methodology combining GIS and multicriteria analysis to delineate field prospecting zones. Ground Water 39(4):568–581. https://doi.org/10.1111/j.1745-6584.2001.tb02345.x

Lachassagne P, Wyns R, Dewandel B (2011) The fracture permeability of hard rock aquifers is due neither to tectonics, nor to unloading, but to weathering processes. Terra Nova 23:145–161. https://doi.org/10.1111/j.1365-3121.2011.00998.x

Maréchal J-C, Dewandel B, Subrahmanyam K (2004) Use of hydraulic tests at different scales to characterize fracture network properties in the weathered-fissured layer of a hard rock aquifers. Water Resour Res 40(11). https://doi.org/10.1029/2004WR003137

Matias MJS, Habberjam GM (1986) The effect of structure and anisotropy on resistivity measurements. Geophysics 51(4):964–971. https://doi.org/10.1190/1.1442154

Matias MJS (2008) Electrical strike imaging and anisotropy diagnosis from surface resistivity measurements. Near Surface Geophysics 6(1):49–58. https://doi.org/10.3997/1873-0604.2007031

Owen R, Maziti A, Dahlin T (2007) The relationship between regional stress field, fracture orientation and depth of weathering and implications for groundwater prospecting in crystalline rocks. Hydrogeol J 15(7):1231–1238. https://doi.org/10.1007/s10040-007-0224-7

Rey E, Jongmans D (2007) A 2D numerical study of the effect of particle shape and orientation of resistivity in shallow formations. Geophysics 72(1):F9–F17. https://doi.org/10.1190/1.2399453

Skinner D, Heinson G (2004) A comparison of electrical and electromagnetic methods for the detection of hydraulic pathways in fractured rock aquifer, Claire Valley South Australia. Hydrogeol J 12(5):576–590

Tardy Y (1993) Petrologié des latérites et des sols tropicaux. Masson, Paris, 459 pp

Tardy Y (1998) Dérive des continents, latérites et paléoclimats tropicaux. BRGM, Orléans, 472 pp

Taylor RW, Fleming AH (1988) Characterizing jointed systems by azimuthal resistivity surveys. Ground Water 26:464–474

Taylor R, Howard K (2000) A tectono-geomorphic model of the hydrogeology of deeply weathered crystalline rock: evidence from Uganda. Hydrogeol J 3(8):279–294

Udosen NI, George NJ (2018) Characterization of electrical anisotropy in North Yorkshire, England using square arrays and electrical resistivity tomography. Geomech Geophys Geo-energ Geo-resour 4:215–233. https://doi.org/10.1007/s40948-018-0087-5

Watson KA, Barker RD (1999) Differentiating anisotropy and lateral effects using azimuthal resistivity offset Wenner soundings. Geophysics 64:739–745. https://doi.org/10.1190/1.1444583

Wiese TC, Greenhalgh SA, Marescot L (2012) DC resistivity sensitivity patterns for tilted transversely isotropic media. Near Surface Geophysics 7:125–139

Wiese TC (2012) DC anisotropic resistivity sensitivity and inversion. PhD thesis The University of Adelaide, Australia.

Wright EP (1992) The hydrogeology of crystalline basement aquifers in Africa. In: Wright EP, Burgess WG (eds) Hydrogeology of crystalline basement aquifers in Africa, 1–27. London, UK: Geological Society, Special Publication no. 66.

Wyns R (1991) Use of continental paleosurfaces for thematic probability mapping (in French). Ge´ologie de la. France 3:3–9

Wyns R, Gourry J-C, Baltassat J-M, Lebert F (1999) Caracte´risation multiparame`tres des horizons de subsurface (0–100 m) en contexte de socle alte´re´. In: I. BRGM, IRD, UPMC (Eds.), 2éme Colloque GEOFCAN, Orle´ans, France, pp. 105–110.

Wyns R, Baltassat JM, Lachassagne P, Legchenko A, Vairon J, Mathieu F (2004) Application of proton magnetic resonance soundings to groundwater reserve mapping in weathered basement rocks (Brittany, France). Bulletin de la Société Géologique de France 175(1):21–34
Acknowledgements
The authors appreciate the constructive and thoughtful contributions of the anonymous reviewers, Associate Editor, and the Chief Editor, Abdullah M. Al-Amri, for the wonderful editing.
Additional information
Responsible Editor: Narasimman Sundararajan
About this article
Cite this article
Adabanija, M.A., Kolawole, L.L., Afolabi, A.O. et al. Investigating aquifer structure in a low-latitude crystalline basement complex of southwestern Nigeria using radial vertical electrical sounding. Arab J Geosci 14, 238 (2021). https://doi.org/10.1007/s12517-021-06622-5
Received:

Accepted:

Published:
Keywords
Radial vertical electrical sounding

Anisotropy

Weathering profile

Hard rock aquifers