Abstract
Sulfate radicals (SO4•−) based advanced oxidation processes (AOPs), with high efficiency and selectivity toward degradation of refractory organic contaminants, have captured increasing worldwide attention. Here, an efficient advanced oxidation process based on SO4•− (i.e., a CRI/S(IV) process), induced by commercial reduced iron (CRI) powder-induced aqueous sulfite [S(IV)] activation for favorable degradation of refractory organics, is reported. The CRI/S(IV) coupled system efficiently decomposes rhodamine B (RhB) and 4-chlorophenol (4-CP) at weakly acidic and even neutral pHs. The distributions of active sulfur and iron species distribution in the CRI/S(IV) system were investigated and implied that HSO3−, FeHSO3+ and FeSO3+ were the main active species for S(IV), Fe(II), and Fe(III), respectively. In addition, radical quenching experiments show that both SO4•− and hydroxyl radicals (•OH) are present in this CRI/S(IV) system with SO4•− as the dominant reactive radical for contamination removal. Furthermore, this novel process surpassed both CRI/Oxone and CRI/persulfate systems towards the organic degradation. This work might provide an implication for an efficient practical route for SO4•− activation for wastewater decontamination, particularly for sulfite contaminated wastewaters with recalcitrant organic contaminants.
We're sorry, something doesn't seem to be working properly.
Please try refreshing the page. If that doesn't work, please contact support so we can address the problem.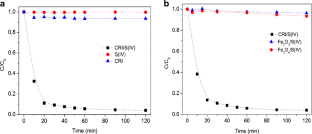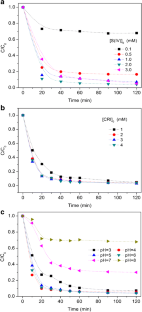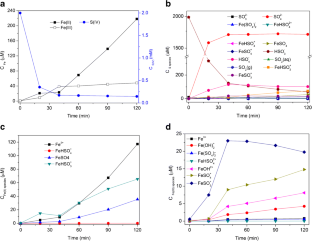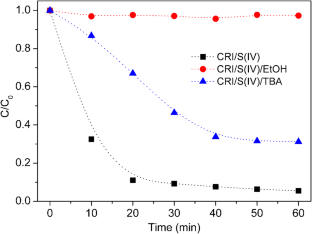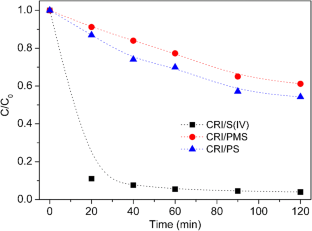 Acknowledgments
The present work was financially supported by Shanghai Sailing Program (18YF1429900, 19YF1459900, and 15YF1404300), Natural Science Foundation of China (51678353, 52070127), Shanghai Natural Science Foundation (20ZR1421100), Central Public-interest Scientific Institution Basal Research Fund, ECSFR, CAFS (2019T14, 2019T13), Cultivation Discipline Fund of Shanghai Polytechnic University (XXKPY1601), and Gaoyuan Discipline of Shanghai-Environmental Science and Engineering (Resource Recycling Science and Engineering). Dr. Guo also acknowledges the Shanghai Teacher Professional Development Project (A11NH190713), Project of Key Undergraduate Courses (Instrumental Analysis) from Shanghai Municipal Education Committee.
Ethics declarations
Conflict of interest
The authors declare no conflict of interest.
Additional information
Responsible Editor: Santanu Banerjee
Supplementary Information
About this article
Cite this article
Lou, X., Fang, C., Guo, Y. et al. Implications for practical application of commercial reduced iron powders to activate aqueous sulfite for decontamination of organics. Arab J Geosci 14, 221 (2021). https://doi.org/10.1007/s12517-021-06589-3
Received:

Accepted:

Published:
Keywords
Sulfate radicals

Advanced oxidation processes

Decontamination

Radical quenching