Abstract
For tight oil reservoirs, the reservoir movable fluid saturation is at the same level as the reservoir porosity and permeability, which is the inherent property of reservoirs and has a significant effect on the development of tight oil. But the microscopic pore structures of tight oil reservoirs are complex, and the distributions of movable fluids are quite different from those of conventional reservoirs. In this work, quantitative evaluation of the movable fluids in tight reservoirs in Ordos Basin was carried out by means of nuclear magnetic resonance (NMR), and combined with other microscopic experiments, the occurrence characteristic and influencing factors of movable fluids were studied. The result showed that the morphology of T2 spectrum, which could reflect the occurrence characteristic of movable fluids, could be manifested by three patterns with diverse amplitudes of left and right peaks. Based on this three T2 spectrum patterns, pore structures could be divided into three types, and they were characterized by distinct occurrence characteristic of movable fluids. There were various factors affecting movable fluid saturation; among them, throat radius, pore-throat radius ratio, and contents of clay minerals were the dominant controlling factors.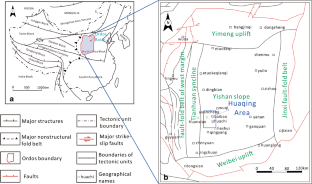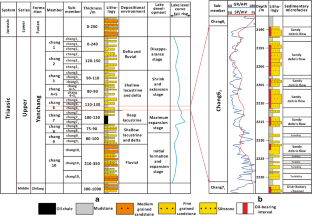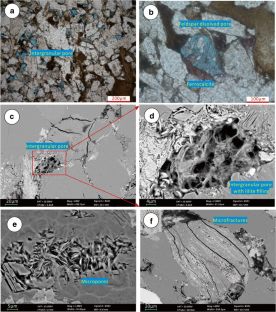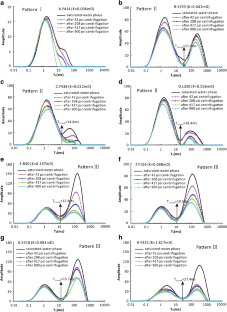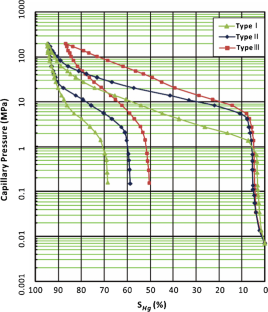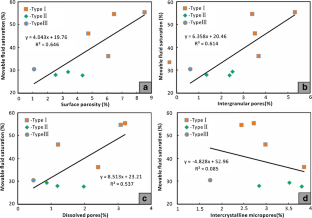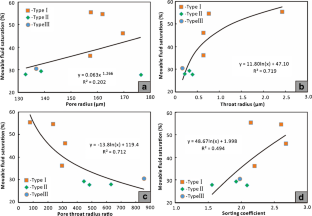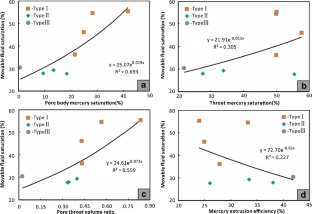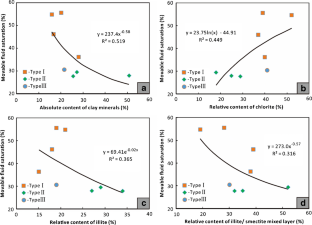 References
Appel M, Stallmach F, Thomann H (1998) Irreducible fluids saturation determined by pulsed field gradient NMR. J Pet Sci Eng 19:45–54

Cao L, Sun W, Sheng J, Huo L, Chen Q, Xie C (2016) A method to determine movable fluids saturation of low-permeability and tight oil reservoirs-by taking tight oil reservoirs in sixth member of Yanchang formation in Banqiao area as an example. J South Yangtze Univ (Natural Science Edition) 13(20):1–8

Carr MB, Ehrlich R, Bowers MC, Howard JJ (1996) Correlation of porosity types derived from NMR data and thin section image analysis in a carbonate reservoir. J Pet Sci Eng 14:115–131

Clarkson CR, Jensen JL, Pedersen PK, Freeman M (2012) Innovative methods for flow-unit and pore-structure analyses in a tight siltstone and shale gas reservoir. AAPG Bull 96:355–374

Daigle H, Dugan B (2009) Extending NMR data for permeability estimation in fine-grained sediments. Mar Pet Geol 26(8):1419–1427

Dillinger A, Esteban L (2014) Experimental evaluation of reservoir quality in Mesozoic formations of the Perth Basin (Western Australia) by using a laboratory low field nuclear magnetic resonance. Mar Pet Geol 57:455–469

Eslami M, Ilkhchi AK, Sharghi Y, Golsanami N (2013) Construction of synthetic capillary pressure curves from the joint use of NMR log data and conventional well logs. J Pet Sci Eng 111:50–58

Gao H, Li H (2015) Determination of movable fluids percentage and movable fluids porosity in ultra-low permeability sandstone using nuclear magnetic resonance (NMR) technique. J Pet Sci Eng 133:258–267

Gao H, Song G, Gao J, Sun W, Lu Y, Ren G (2008) The influences of microscopic pore structure on waterflooding effectiveness in Xifeng oilfield. J Northwest Univ (Nat Sci Ed) 38:121–125

Guan H, Brougham D, Sorbie KS, Packer KJ (2002) Wettability effects in a sandstone reservoir and outcrop cores from NMR relaxation time distributions. J Pet Sci Eng 34:35–54

Higgs KE, Zwingmann H, Reyes AG, Funnell RH (2007) Diagenesis, porosity evolution, and petroleum emplacement in tight gas reservoirs, Taranaki Basin, New Zealand. J Sediment Res 77(12):1003–1025

Hu Q, Zhang Y, Meng X, Zheng LI, Xie Z, Maowen LI (2017) Characterization of micro-nano pore networks in shale oil reservoirs of Paleogene Shahejie formation in Dongying sag of Bohai Bay Basin. East China Petrol Explor Dev 44(5):720–730

Hu Q, Liu H, Li M, Li Z, Yang R, Zhang Y et al (2018) Wettability, pore connectivity and fluids-tracer migration in shale oil reservoirs of Paleogene Shahejie formation in Dongying sag of Bohai Bay Basin, east China. Acta Pet Sin 39(3):278–289

Jia CZ, Zou CN, Li JZ, Li DH, Zheng M (2012) Assessment criteria, main types, basic features and resource prospects of the tight oil in China. Acta Pet Sin 33:343–350

Kenyon WE (1992) Nuclear magnetic resonance as petrophysical measurement. Int J Radiat Appl Instrum Part E Nucl Geophys 6(2):153–171

Kleinberg RL, Kenyon WE, Mitra PP (1994) Mechanism of NMR relaxation of fluids in rock. J Magn Reson 108(2):206–214

Krinsley D, Nagy B, Dypvik H, Rigali M (1993) Microtextures in mudrocks as revealed by backscattered electron imaging. Precambrian Res 61:191–207

Li JJ, Yin JX, Zhang YN, Lu SF, Wang WM, Li JB (2015) A comparison of experimental methods for describing shale pore features: a case study in the Bohai Bay Basin of eastern China. Int J Coal Geol 152:39–49

Li P, Jia CZ, Jin ZJ, Liu QY, Zheng M, Huang ZK (2019) The characteristic of movable fluids in the Triassic lacustrine tight oil reservoir: a case study of the Chang 7 member of Xin'anbian Block, Ordos Basin. China Mar Pet Geol 102:126–137

Liu Z, Zhu X, Liao J (2013) Sequence stratigraphy and genesis of sand bodies of the upper Triassic Yanchang formation in the southwestern margin of Ordos Basin. Earth Sci Front 20(2):001–009

National Development and Reform Commission, China (NDRCC) (2005) SY/T5346-2005: Rock capillary pressure measurement.

National Development and Reform Commission, China (NDRCC) (2006) SY/T5336-2006: Practices for core analysis.

Nelson PH (2009) Pore-throat sizes in sandstones, tight sandstones, and shales. AAPG (Am. Assoc. Pet. Geol.). Bull. 93(3):329–340

Qu XF, Sun W, Lei QH, Huang H, Huo L (2016) Study on saturation of movable fluids in the low-permeability sandstone reservoirs of Huaqing Oilfield and its influencing factors. J. Xi'an Shiyou Univ. (Nat. Sci. Ed.) 31(2):93–98

Ren DZ, Sun W, Dong FJ, Hang H, Qu XF (2015) Characteristic of movable fluids in the Chang 81 reservoir, Yanchang Formation in Huaqing oilfield, Ordos Basin and the influencing factors. Geol Explor 51:797–804

Rezaee R, Saeedi A, Clennell B (2012) Tight gas sands permeability estimation from mercury injection capillary pressure and nuclear magnetic resonance data. J Pet Sci Eng 88:92–99

Talabi O, AlSayari S, Lglauer S, Blunt MJ (2009) Pore-scale simulation of NMR response. J Pet Sci Eng 67:168–178

Timur A (1969) Pulsed nuclear magnetic resonance studies of porosity, movable fluids, and permeability of sandstones. J Pet Technol 21(6):775–786

Wang RF, Chen MQ (2008) Characteristic and influencing factors of movable fluids in ultra-low permeability sandstone reservoir. Act Pet Sin 29:558-561+566

Wang R, Chen J, Sun W (2008) Application of CT image technique to the research of oil displacement with water drive in ultra-low permeability sandstone reservoir. Prog Geophys 23:864–870

Wu H, Zhang CL, Ji YL, Liu RE, Wu H, Zhang YZ, Geng Z, Zhang YL, Yang JQ (2018) An improved method of characterizing the pore structure in tight oil reservoirs: integrated NMR and constant-rate-controlled porosimetry data. J Pet Sci Eng 166:778–796

Xie R, Xiao L, Deng K (2006) NMR logging porosity activation and data processing method. Chin J Geophys 49:1567–1572

Yang YT, Li W, Ma L (2005) Tectonic and stratigraphic controls of hydrocarbon systems in the Ordos Basin: a multicycle cratonic basin in central China. AAPG Bull 89:255–269

Yang H, Dou WT, Liu XY, Zhang CL (2010) Analysis on sedimentary facies of Member 7 in Yanchang Formation of Triassic in Ordos Basin. Acta Sedimentol Sin 28(2):254–263

Yao YB, Liu DM, Che Y, Tang DZ, Tang SH, Huang WH (2010) Petrophysical characterization of coals by low-field nuclear magnetic resonance (NMR). Fuel 89(7):1371–1380

Yuan HH, Swanson BF (1998) Resolving pore-space characteristic by rate-controlled porosimetry. SPE Form Eval 4:17–24

Zhang P, Lu S, Li J, Chen C, Xue H, Zhang J (2017) Petrophysical characterization of oil-bearing shales by low-field nuclear magnetic resonance (NMR). Mar Pet Geol S026481721730449X

Zheng RC, Wang CY, Li H, Lei GM, Xie CH (2007) Provenance analysis of Chang 6 oil-bearing formation of Baibao-Huachi region in Ordos Basin. Lithologic Reservoirs 01:32–38

Zhou Y, Ji YL, Xu LM, Che SQ, Niu XB, Wan L, Zhou YQ, Li ZC, You Y (2016) Controls on reservoir heterogeneity of tight sand oil reservoirs in Upper Triassic Yanchang Formation in Longdong Area, southwest Ordos Basin, China: implications for reservoir quality prediction and oil accumulation. Mar Pet Geol 78:110–135

Zhu XM, Pan R, Zhu SF, Wei L, Ye L (2018) Research progress and core issues in tight reservoir exploration. Earth Sci Front 25:141–146

Zou CN, Yang Z, Tao SZ, Yuan XJ, Zhu RK, Hou LH, Wu ST, Sun L, Zhang GS, Bai B, Wang L, Gao XH, Pang ZL (2013) Continuous hydrocarbon accumulation over a large area as a distinguishing characteristic of unconventional petroleum: the Ordos Basin, North-Central China. Earth-Sci Rev 126:358–369
Acknowledgements
We thank PetroChina Changqing Oilfield Company for supporting the completion of this research and allowing the publication of the results.
Funding
This work was funded by the National Major Science and Technology Projects of China (No. 2017ZX05009001).
Additional information
Responsible Editor: François Roure
About this article
Cite this article
Wang, J., Wu, S. & Guo, Q. The occurrence characteristic and dominant controlling factors of movable fluids in tight oil reservoirs: a case study of the Triassic tight sandstone in Ordos Basin, China. Arab J Geosci 14, 205 (2021). https://doi.org/10.1007/s12517-021-06570-0
Received:

Accepted:

Published:
Keywords
Tight sandstone reservoirs

Nuclear magnetic resonance technique

Microscopic pore structures

Movable fluids

Ordos Basin