Abstract
Oil shale deposits of the mid-Eocene Wadi Shallala Formation in northern Jordan consist of organic-rich limestones and chalks. These organic-rich deposits are exposed at the surface near Wadi Ash Shajara, in a 12-m-thick outcrop. For this study, a total of 21 oil shale samples were analysed for bulk elemental geochemistry, inorganic geochemistry, organic geochemistry and microfacies analysis. Three microfacies types were recognised: pelagic mudstone/wackestone, foraminiferal packstone and bioclastic packstone/wackestone. The observed cyclicity of these microfacies in the study area indicates fluctuations in depositional conditions in Neo-Tethys during the mid-Eocene. A shallow-water, calm, restricted marine environment with limited water circulation and low energy currents evolved into a deeper-water environment with open circulation at or just below the wave base. Wadi Shallala Formation in Wadi Ash Shajara composes mainly of chalk (CaCO3 = ~92 wt%) with a TOC of up to 5 wt % and comprises abundant calcareous nannofossils, foraminifera and ostracods as well as non-clastic components like calcitic fragments. The sulphur content of the analysed samples is significant (1.24 wt %) and is associated with the organic matter. Redox-sensitive elements (Fe, Ni, Zn, S and Zr) are enriched in the oil shale samples, indicating an anoxic depositional environment fluctuating between euxinic and sub-euxinic. These fluctuations in depositional conditions of the basin are a result of many factors such as climate, and tectonisms affected deposition of oil shales during Middle Eocene time.
Access options
Buy single article
Instant access to the full article PDF.
US$ 39.95
Tax calculation will be finalised during checkout.
Subscribe to journal
Immediate online access to all issues from 2019. Subscription will auto renew annually.
US$ 79
Tax calculation will be finalised during checkout.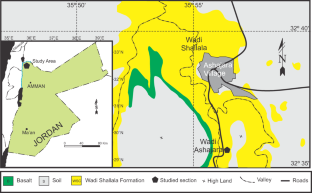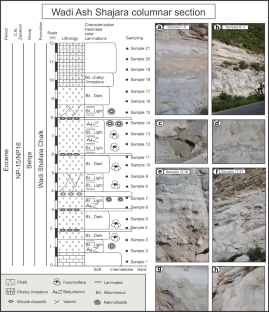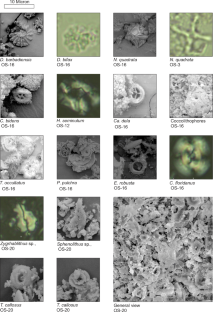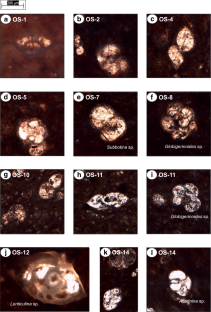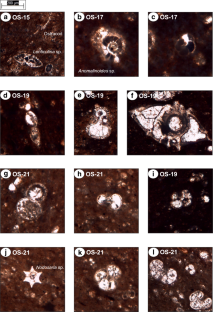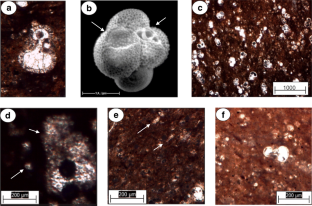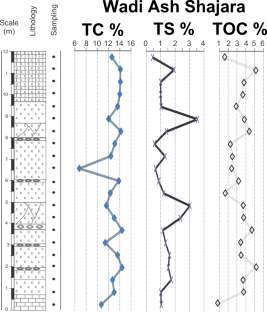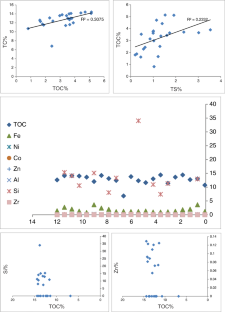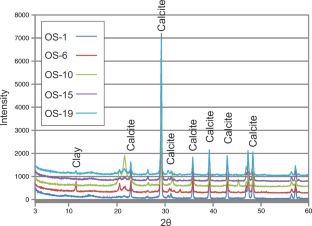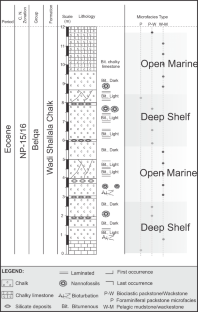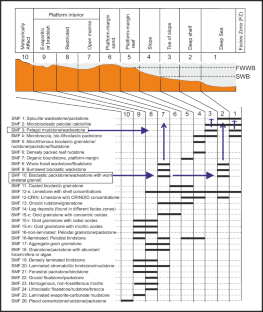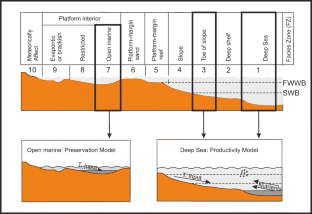 References
Abd El-motaal E, Kusky T (2003) Tectonic evolution of the intraplate s-shaped Syrian Arc Fold-Thrust Belt of the Middle East region in the context of plate tectonics. In: The Third International Conference of the Geology of Africa, vol 2, pp 139–157

Abed AM (2013) The eastern Mediterranean phosphorite giants: an interplay between tectonics and upwelling. Geoarabia 18(2):67–94

Abed AM, Amireh B (1983) Petrography and geochemistry of some Jordanian oil shales from north Jordan. J Pet Geol 5(3):261–274

Abed AM, Arouri KH, Boreham CJ (2005) Source rock potential of the phosphorite-bituminous chalk-marl sequence in Jordan. Mar Pet Geol 22:413–425

Alali J (2006) Oil shale. Natural Resources Authority, Amman

Ali Hussein M, Alqudah M, Van Den Boorn S, Podlaha OG, Mutterlose J (2014) Ichnofabrics of Eocene oil shales from central Jordan and their use in paleoenvironmental reconstructions. GeoArabia 19(1):143–158

Ali Hussein M, Alqudah,M, Blessenohl M, Podlaha OG, Mutterlose J (2015) Depositional environment of Late Cretaceous to Eocene organic rich marls from Jordan. GeoArabia 20(1):191–200

Almogi-Labin A, Bein A, Sass E (1993) Late Cretaceous upwelling system along thesouthern Tethys margin (Israel): interrelationship betweenproductivity, bottomwater environments, and organic matter preservation. Paleoceanography 8(5):671–690

Alqudah M, Ali Hussein M, Van Den Boorn S, Podlaha OG, Mutterlose J (2014) Calcareous nannofossils biostratigraphy of oil shales from Jordan. GeoArabia 19(1):117–140

Alqudah M, Ali Hussein M, Podlaha OG, Van Den Boorn S, Mutterlose J (2015) Biostratigraphy and depositional setting of Maastrichtian – Eocene oil shales from Jordan. Mar Pet Geol 60:87–104

Aqleh S, Van Den Boorn S, Podlaha OG, Marz C, Wagner T, Poulton S, Kolonic S (2013) Reconstruction of redox conditions during deposition of Jordan oil shale using inorganic geochemical records. Mineral Mag 77(5):603

Böning P, Brumsack H-J, Böttcher ME, Schnetger B, Kriete C, Kallmeyer J, Borchers SL (2004) Geochemistry of Peruvian near-surface sediments. Geochim Cosmochim Acta 68(21):4429–4451

Böning P, Cuypers S, Grunwald M, Schnetger B, Brumsack H-J (2005) Geochemical characteristics of Chilean upwelling sediments at ~36°S. Mar Geol 220:1–21

Bromley RG, Ekdale AA (1986) Composite ichnofabrics and tiering of burrows. Geol Mag 123:59–65

Calvert SE, Pedersen TF (1993) Geochemistry of recent oxic and anoxic marine sediments:implications for the geological record. Mar Geol 113:67–88

Darwish S (1993) Evaluation of organic matter of oil shale deposits from Amman formation (Upper cretaceous) - NW. Yarmouk University, Irbid, Jordan. Master thesis

Dellwig O, Hinrichs J, Hild A, Brumsack HJ (2000) Changing sedimentation in tidal flat sediments of the southern North Sea from the Holocene to the present: a geochemical approach. J Sea Res 44:195–208

Demaison GJ, Moore GT (1980) Anoxic environments and oil source bed genesis. Org Geochem 2:9–31

Dunham RJ (1962) Classification of carbonate rocks according to their depositional texture. In: Ham WE (ed) Classification ofCarbonate Rocks - a symposium, vol 1. American Association of Petroleum Geologists Memoir, Tulsa, OK, pp 108–121

Dyni J (2010) Geology and resources of some world oil-shale deposits. Oil Shale 20(3):193–252

El Aouidi S, Fakhi S, Laissaoui A, Malek OA, Benmansour M, Ayach A, El Batal Y, Aadjour M, Tahri M, El Yahyaoui A, Benkdad A (2017) Geochemical characterization of the black shale from the Ama Fatma coastal site in the Southwest of Morocco. Am J Chem 7(5):153–162

El-Hasan T (2008) Geochemistry of redox-sensitive trace elements and its implication on the mode of formation of the Upper Cretaceous oil shales, Central Jordan. Neues Jahrb Geol Palaontol Abh 249(3):333–344

Fleurance S, Cuney M, Malartre F, Reyx J (2013) Origin of the extreme polymetallic enrichment (Cd, Cr, Mo, Ni, U, V, Zn) of the Late Cretaceous–Early Tertiary Belqa Group, central Jordan. Palaeoecology 369:201–209

Fluegel E (2004) Microfacies of carbonate rocks. Analysis, interpretation and application. Springer-Verlag. Berlin, Heidelberg, New York.

Flügel E (1982) Microfacies analysis of limestone. Springer-Verlag, Berlin

Flügel E (2010) Microfacies of carbonate rocks: analysis, interpretation and application, 2nd edn. Springer-Verlag, Berlin

Folk RL (1962) Spectral subdivision of limestone types. In: Ham WE (ed) Classification of Carbonate Rocks - A symposium, vol 1. American Association of Petroleum Geologists Memoir, Tulsa, OK, pp 62–84

Hakimi M, Abdullah W, Alqudah M, Makeen Y, Mustapha K (2016) Reducing marine and warm climate conditions during the Late Cretaceous, and their influence on organic matter enrichment in the oil shale deposits of North Jordan. Int J Coal Geol 165:173–189

Hakimi M, Abdullah W, Alqudah M, Hatem B., Makeen Y, Mustapha K (2018). Pyrolysis analyses and bulk kinetic models of the Late Cretaceous oil shales in Jordan and their implications for early mature sulphur-rich oil generation potential. Mar Pet Geol 91:764–775

Hay WW (1995) Paleoceanography of marine organic carbon rich sediments. In: Huc A-Y (ed) Paleoceanography, Paleoclimate, and source rocks, vol 40. American Association of the Petroleum Geologists Studies in Geology, pp 21–59

Holbourn A, Kuhnt W, Clemens C, Prell L, Nils A (2013) Middle to Late Miocene stepwise climate cooling: evidence from a high-resolution deep water isotope curve spanning 8 million years. Paleoceanography 28:1–12

Jarrar M (1989) Composition, stratigraphy and depositional environment of kerogenous limestone of Wadi Esh-Shallalla. Yarmouk University, Irbid, Master thesis

Jenkyns HC (2010) Geochemistry of oceanic anoxic events. Geochem Geophys Geosyst 11:1–30

Kolonic S, Wagner T, Forster A, Sinninghe Damsté JS, Walsworth-Bell B, Erba E, Turgeon S, Brumsack H-J, Chellai EH, Tsikos H, Kuhnt W, Kuypers MM (2005) Black shale deposition on the northwest African Shelf during the Cenomanian/Turonian oceanic anoxic event: Climate coupling and global organic carbon burial. Paleoceanography 20(1):PA1006

Loeblich AR, Tappan JH (1987) Foraminiferal genera and their classification. Van Nostr and Reinhold, New York

Magharbeh M, Fayyad M, Batarseh M (2012) Preparation of natural standard reference material (SRM) for El-lajjun oil shale/Jordan. J Earth Environ Sci 4(2):15–22

Mihdawi HS, Mustafa HA (2006) Petrography and geochemistry of the upper Cretaceous lower Tertiary oil shale, NW-Jordan. Abhath Al-Yarmouk, Pure Science and Engineering Series 16(2):293–318

Nijenhuis IA, Brumsack H-J, De Lange GJ (1999) The trace element budget of the eastern Mediterranean during Pliocene sapropel formation. In: Robertson AHF, Emeis K-C, Richter C, Camerlenghi A (eds) Proceedings of the Ocean Drilling Program. Scientific Results, 160. Ocean Drilling Program, College Station, TX:199–206

Orr WL (1974) Changes in sulfur content and isotopic ratios of sulfur during petroleum maturation-study of Big Horn basin Paleozoic oils. Am Assoc Pet Geol Bull 50(11):2295–2318

Pemberton SG, Spila M, Pulham AJ, Saunders T, Maceachern JA, Robbins D, Sinclair IK (2001) Ichnology and sedimentology of shallow to marginal marine systems: Ben Nevis and Avalon reservoirs, Jeanne d'Arc Basin. Geological Association of Canada, Short Course Notes 15:343

Summons RE (1993) Biogeochemical cycles. In: Engel MH, Macko SA (eds) Organic geochemistry: principles and applications. Plenum Press, New York, pp 3–21

Tribovillard N, Riboulleau A, Lyons T, Baudin F (2006) Enhanced trapping of molybdenum bysulphurised marine organic matter of marine originin. Mesozoic limestones and shales: Chemical Geology 213:385–401

Wagner T (1998, 1998) Pliocene–Pleistocene deposition of carbonate and organic carbon at site 959: paleoenvironmental implications for the Eastern Equatorial Atlantic off the ivory coast/Ghana. In: Mascle J, Lohmann GP, Moullade M (eds) . Proceedings of the Ocean Drilling Program, Scientific Results, p 159

Wilson JL (1975) Carbonate facies in geologic history. Springer-Verlag, New York
Acknowledgements
The authors of this article received financial support from Deanship of Scientific Research and Graduate Studies in Yarmouk University. All SEM photos are performed at the Central Research Science Laboratory of the American University of Beirut.
Additional information
Responsible Editor: Santanu Banerjee
About this article
Cite this article
Al-Tamimi, M.H., Alqudah, M., Al-Atawneh, M.S. et al. Depositional environment of Eocene oil shales of Wadi Shallala Formation from northern Jordan. Arab J Geosci 14, 209 (2021). https://doi.org/10.1007/s12517-021-06565-x
Received:

Accepted:

Published:
Keywords
Oil shales

Bituminous chalk

Eocene

Palaeoenvironment

Microfacies

Redox-sensitive elements