Abstract
Mechanised depillaring (MD) has been proved to be a panacea for faster extraction of the developed pillars which is blocking access to deeper deposits and locking more than 3200 Mt of coal, developed by Bord and Pillar mining method in Indian coalfields. Depillaring of these square/rectangular-shaped developed pillars by continuous miner creates irregular-shaped ribs/snooks. Stability assessment of such ribs/snooks becomes a challenging task due to various issues faced in estimation of load acting upon it and their strength. Area-based approach for the design of rib/snook is found to be the most suitable criteria during MD. Field investigations supported for parametric investigation for a competent size of rib/snook with varying nature of roof and depth of cover. Taking help from previous studies to design such ribs/snooks on numerical models using FLAC3D, a parametric study is carried out using 3DEC. Strength of such ribs/snooks and load acting upon them is calculated with the help of calibrated numerical models in order to estimate their factor of safety. This paper presents a review of the previous researches and a novel numerical simulation technique for estimation of a competent size of rib/snook in a given geo-mining condition.
Access options
Buy single article
Instant access to the full article PDF.
US$ 39.95
Tax calculation will be finalised during checkout.
Subscribe to journal
Immediate online access to all issues from 2019. Subscription will auto renew annually.
US$ 79
Tax calculation will be finalised during checkout.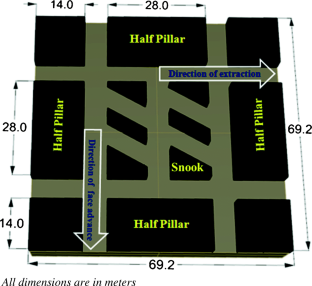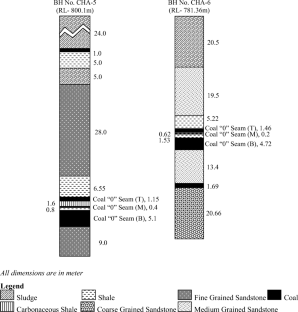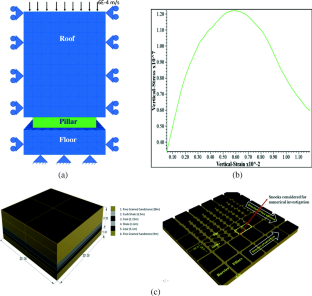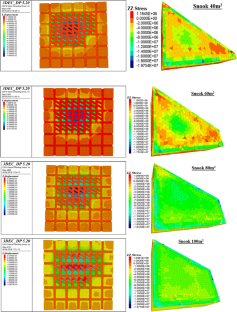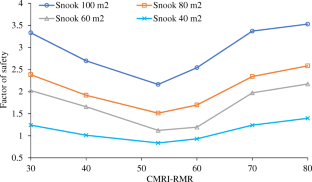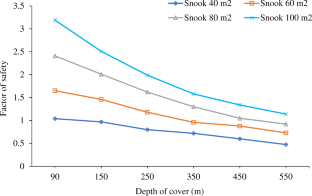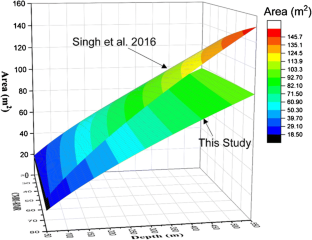 References
Coggan J, Gao F, Stead D, Elmo D (2012) Numerical modelling of the effects of weak immediate roof lithology on coal mine roadway stability. Int J Coal Geo 90:100–109

Dixit MP, Mishra K (2010) A unique experience of on shortwall mining in Indian coal mining industry. In: Proceedings of 3rd Asian Mining Congress. Kolkata, India, pp 25–37

Ghasemi E, Ataei M, Shahriar K, Sereshki F, Jalali SE, Ramazanzadeh A (2012) Assessment of roof fall risk during retreat mining in room and pillar coal mines. Int J Rock Mech Min Sci 54:80–89

Itasca (2012) FLAC3D 5.0 (Fast Lagrangian Analysis of Continua in 3Dimensions). Itasca Consulting Group Inc., Minneapolis, Minnesota, 55401, USA.

Itasca (2017) 3DEC 5.2 (3-Dimensional Distinct Element Code). Itasca Consulting Group Inc, Minneapolis, Minnesota, 55401, USA.

Kumar A, Kumar R, Singh AK, Ram S, Singh PK, Singh R (2017) Numerical modelling-based pillar strength estimation for an increased height of extraction. Arab J Geo 10(18):411

Kumar A, Kumar D, Verma AK, Singh AK, Ram S, Kumar R (2018) Influence of overlying roof strata on rib design in mechanised depillaring. Journal of the Geological Society of India 91(3):341–347

Kumar A, Waclawik P, Singh R, Ram S, Korbel J (2019a) Performance of a coal pillar at deeper cover: field and simulation studies. International Journal of Rock Mechanics and Mining Sciences 113:322–332

Kumar A, Kumar D, Singh AK, Ram S, Kumar R, Gautam A, Singh R, Singh AK (2019b) Roof sagging limit in an early warning system for safe coal pillar extraction. Int J Rock Mech Min Sci 123:104131

Kumar A, Singh AK, Kumar D, Ram S, Kumar R, Singh R, Singh AK (2019c) Caveability assessment of a hanging overlying massive deccan trap and its effect on underground working: a case study. Insights in Mining Science and Technology 1(3):50–60

Kumar A, Kumar D, Singh AK, Ram S, Kumar R, Singh AK, Raja M, Singh R (2020) Rock mechanics challenges and advances in continuous miner based mechanised depillaring of coal pillars. In: Proceedings of National Conference on Advances in Mining. February 14-15, 2020, CSIR-CIMFR, Dhanbad, India, pp.32-46.

Leeming JJ (2003) Joy introduce continuous miner: technology into India. Coal International/Mining and Quarry World 203-206.

Maiti J, Mandal PK, Singh R, Kunar BM (2006) Impact of stress redistribution on stability of workings during depillaring. Journal of Institution of Engineers (India) 87:10–22

Mark C (1999) Ground Control in South African Coal Mines- A U. S. Perspective. In: Proceedings of 18th International Conference 0n Ground Control in Mining, Morgantown, WV, pp. 186-193.

Mark C, Zelanko JC (2001) Sizing of final stumps for safer pillar extraction. In: Proceedings of the 20th International Conference on Ground Control in Mining. West Virginia University, USA, Morgantown, pp 59–66

Mishra AK, Mishra AK, Rout M (2013) Blast induced caving from surface over continuous miner panel at a 110 m cover in an Indian mine. Arab J Sci Engg 38(7):1861–1870

Murali Mohan G, Sheorey PR, Kushwaha A (2001) Numerical estimation of pillar strength in coal mines. Int J Rock Mech Min Sci 38:1185–1192

Ram S, Kumar D, Singh AK, Kumar A, Singh R (2017) Field and numerical modelling studies for an efficient placement of roof bolts as breaker line support. Int J Rock Mech Min Sci 93:152–162

Salamon MD, Munro AH (1967) A study of the strength of coal pillars. Journal of the South African Institute of Mining and Metallurgy 68(2):55–67

Sheorey PR (1992) Pillar strength considering in situ stresses. Information circular (IC), 9315, United States Department of the Interior, Bureau of Mines, pp 122–127.

Sheorey PR (1994) A theory for in situ stresses in isotropic and transversely isotropic rock. Int J Rock Mech Min Sci Geomech Abst 31(1):23–34

Sheorey PR (1997) Empirical Rock Failure Criteria. Balkema, Rotterdam, p 176

Shepherd J and Singh SK (1998) Investigation of feather edging caving and bolted breakerlines in split and lift pillar extraction at Blue Mountains Colliery, NSW. UMRC Research Report RR6/98, Sydney: UNSW School of Mining Engineering/Joint Coal Board OH & S Trust, pp. 104.

Sherizadeh T, Kulatilake PH (2016) Assessment of roof stability in a room and pillar coal mine in the US using three-dimensional distinct element method. Tunneling and Underground Space Technology 59:24–37

Singh R (2004) Staggered development of a thick coal seam for full height working in single lift by blasting gallery method. Int J Rock Mech Min Sci 41(5):745–759

Singh R, Kumar A, Singh AK, Coggan J, Ram S (2016a) Rib/snook design in mechanised depillaring of rectangular/square pillars. Int J Rock Mech Min Sci 84:119–129

Singh SK, Agrawal H, Singh AP (2016b) Rib geomechanics: its impacts in coal pillar extraction. In: Proceeding of International Conference on Recent Advances in Rock Engineering, Bengaluru, India, pp 50-55.

Singh SK, Agrawal H, Singh AP (2017) Rib stability: a way forward for safe coal extraction in India. Int J Min Sci Tech 27(6):1087–1091

The Coal Mines Regulations (2017) Published in The Gazette of India: Extraordinary issued by Ministry of Labour and Employment. Part- II Section 3(i):160–280

van der Merwe JN (2005) Fundamental analysis of the interaction between overburden behaviour and snook stability in coalmines. The Journal of the South African Institute of Mining and Metallurgy 105(1):63–73

Venkateswarlu V, Ghose AK, Raju NM (1989) Rock mass classification for design of roof support - a statistical evaluation of parameters. Mining Science and Technology 8(2):97–107
Acknowledgements
The authors express their gratitude to the Directors of CSIR-CIMFR, IIT(ISM) Dhanbad, and IIT(BHU) Varanasi for their permission to publish this paper. This paper is a part of PhD work being carried out by Ashok Kumar who is the communicating author. The views expressed in the paper are those of the authors, and not necessarily of the institutes to which they belong. The cooperation provided by the management of different coal companies is thankfully acknowledged.
Ethics declarations
Conflict of interest
The authors whose names are listed in the author list of this paper certify that they do not have any conflict of interest.
Additional information
Responsible Editor: Zeynal Abiddin Erguler
About this article
Cite this article
Sharma, P., Kumar, A., Shams, N. et al. Parametric study to design competent irregular-shaped remnants in mechanised depillaring. Arab J Geosci 14, 247 (2021). https://doi.org/10.1007/s12517-021-06555-z
Received:

Accepted:

Published:
Keywords
Ribs/snooks

Mechanised depillaring

Stress-strain characteristics

Factor of safety

Numerical modelling

Area-based design