Abstract
In-pit crushing and conveying (IPCC) systems are currently receiving more attention as a result of the existing characteristics of open-pit mining operations and what is likely to happen in the future. The use of trucks and shovels for loading and hauling has been used as a dominant system in open-pit and open-cast mines due to their large-scale operations compared with other mining methods. Presently, it has become more required than ever to minimise the cost of truck haulage, which reports for approximately half of the operating costs of the mining operation. Therefore, trucking costs can be considerably minimised by installing the crushers inside the pits. With the increased popularity of IPCC systems, it is necessary to investigate the overall performance and productivity of the systems. This paper employs mine productivity index (MPi) to determine the productivity of semi-mobile IPCC. From this study, it is evident that a reduction of number of loading equipment necessitated an increase in shovel's bucket size and reduction of the trucks by 33%. Additionally, this study found that the scenario with more than one loading equipment has a higher MPi of 71% compared with the scenario with one loading equipment having an MPi of 67%. Further, SMIPCC scenarios record better MPi compared with the current truck-shovel transportation system which has an MPi of 67.14%.
Access options
Buy single article
Instant access to the full article PDF.
US$ 39.95
Tax calculation will be finalised during checkout.
Subscribe to journal
Immediate online access to all issues from 2019. Subscription will auto renew annually.
US$ 79
Tax calculation will be finalised during checkout.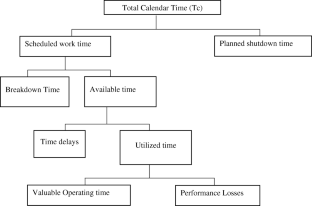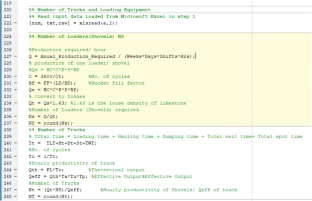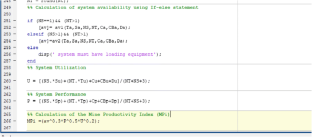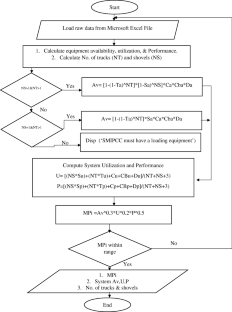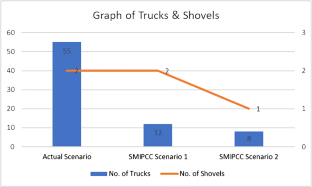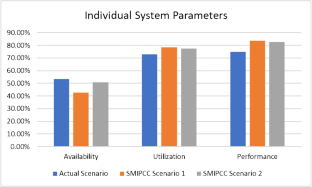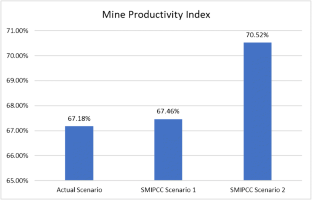 References
Abbaspour H, Drebenstedt C (2019a) IPCC systems as a bulk material handling method in mines : a review regarding the technical , economic , environmental , Safety, and Social Factors. VIII International Symposium of Young Researchers TRANSPORT PROBLEMS, June 2019, Katowice, Poland

Abbaspour H, Drebenstedt C (2019b) Truck-shovel vs IPCC systems : a technical evaluation in open pit mines, 1–14

Anvari F, Edwards R, Starr A (2010) Methodology and theory evaluation of overall equipment effectiveness based on market. J Qual Maint Eng 16(3):256–270. https://doi.org/10.1108/13552511011072907

Arputharaj MEM (2015) Studies on availability and utilisation of mining equipmente - an overview. International Journal of Advanced Research in. Eng Technol 6(3):14–21

Atchison T, Morrison D (2011) In-pit crushing and conveying bench operations'. In: Proceedings of the tenth Iron Ore Conference, July 2011. The Australasian Institute of Mining and Metallurgy, Perth, pp 123–131

Chadwick J (2010) New IPCC ideas. International Mining, 33-41

Dean M, Knights P, Kizil MS, Nehring M (2015) Selection and planning of fully mobile in-pit crusher and conveyor systems for deep open pit metalliferous applications. AusIMM 2015 3rd International Future Mining Conference, Sydney, NSW, Australia, 4-6 Nov 2015. VIC, Australia: AusIMM

Dzakpata I, Aminossadati SM, Kizil MS, Knights P, Nehring M (2016) Truck and shovel versus in-pit conveyor systems: a comparison of valuable operating time. In Proceedings of the 16th Coal Operators' Conference, University of Wollongong, 10-12 Feb, Australasian Institute of Mining and Metallurgy, 463-476

Elevli S, Elevli B (2010) Performance measurement of mining equipments by utilizing OEE. Acta Montan Slovaca 15(2):95–101

Ey (2014) Productivity in mining. Ey.Com, 1–8

Fourie H (2016) Improvement in the overall efficiency of mining equipment: a case study. J South Afr Inst Min Metall 116(3):275–281

Hay E, Nehing M, Knights P, Kizil MS (2019) Ultimate pit limit determination for semi mobile in-pit crushing and conveying system: a case study. Int J Min Reclam Environ:1–21. https://doi.org/10.1080/17480930.2019.1639006

Konak G, Onur AH, Karakus D (2007) Selection of the optimum in-pit crusher location for an aggregate producer. J South Afr Inst Min Metall 107(3):161–166

Londoño JG, Knights PF, Kizil MS (2013) Modelling of in-pit crusher conveyor alternatives. Trans Instit Min Metall Section A Min Technol 122(4):193–199. https://doi.org/10.1179/1743286313Y.0000000048

Lowrie RL (2009) SME Mining Reference Handbook. Society for Mining, Metallurgy, and Exploration, Inc. XVI, 448. ISBN 978-087335-297-0

Mohammadi M, Rai P, Gupta S (2015) Performance measurement of mining equipment. Int J Emerg Technol Adv Eng 5(7):240–248

Mohammadi M, Rai P, Gupta S (2017) Performance evaluation of bucket based excavating, loading and transport (BELT) equipment - an OEE approach. Arch Min Sci 62(1):105–120. https://doi.org/10.1515/amsc-2017-0008

Morriss P (2008) Key production drivers in in-pit crushing and conveying (Ipcc) studies. South Afr Instit Min Metallurgy (Surface Mining) 2008:23–34

Nakajima S (1988) Introduction to TPM: total productive maintenance. Productivity Press, Inc., Cambridge, p 129

Norgate T, Haque N (2013) The greenhouse gas impact of IPCC and ore-sorting technologies. Miner Eng 42:13–21. https://doi.org/10.1016/j.mineng.2012.11.012

Pekol A (2019) Evaluation and risk analysis of open-pit mining operations. BHM Berg- und Hüttenmännische Monatshefte 164(6):232–236. https://doi.org/10.1007/s00501-019-0854-9

Pitkin GN (2014) Crushing and conveying - a new mining technique for the Hunter Valley. AusIMM Bull, (5)

Rahmanpour M, Osanloo M, Adibee N, AkbarpourShirazi M (2014) An approach to locate an in pit crusher in open pit mines. Int J Eng-Trans C 27:1475

Rajput HS, Jayaswal P (2012) A Total Productive maintenance (tpm) approach to improve overall equipment efficiency. Int J Mod Eng Res 2(6):4383–4386

Ritter R (2016) Contribution to the capacity determination of semi-mobile in-pit crushing and conveying systems. PhD thesis, the Faculty of Geosciences, Geoengineering and Mining of the Technische Universität Bergakademie Freibergpp, 1–176

Sağlam B, Bettemir ÖH (2018) Estimation of duration of earthwork with backhoe excavator by Monte Carlo Simulation. Journal of Construction Engineering. Manag Innov 1(2):85–94. https://doi.org/10.31462/jcemi.2018.01085094

Samanta B, Banerjee J (2004) Improving productivity of mining machinery through total productive managemenT, theammj.com/262pdf/tpmforproductivity.pd, 2004

Sturgul JR (1987) How to determine the optimum location of in-pit movable crushers. International. J Mining Geol Eng Kluwer Acad Publ 5(2):143–148. https://doi.org/10.1007/BF01560872

Tavakoli M, Hashemi A, Moosakazemi F (2011) Review of the in-pit crushing and conveying (IPCC) system and its case study in copper industry. First World Copper Congress 11-14:2011

Terezopoulos NG (1988) Continuous haulage and in-pit crushing in surface mining. Min Sci Technol 7(3):253–263. https://doi.org/10.1016/S0167-9031(88)90777-3

Tonge J (2017) The implications of improved conveyor technology on in-pit crusher conveyor systems. Bachelor's Thesis, School of Mechanical and Mining Engineering, The University of Queensland.https://doi.org/10.14264/uql.2018.296

Utley RW (2011) In-pit crushing. In: SME Mining Engineering Handbook, 3rd edn. Society for Mining, Metallurgy and Exploration Inc, USA, pp 941–956
Acknowledgements
The authors are thankful to Mombasa Cement Limited, Kenya for the provision of data used in this study.
Funding
The work reported in this paper is part of an MSc research study in the School of Mines and Engineering at Taita Taveta University. Financial support obtained from the Kenyan German Centre for Mining, Environmental Engineering and Resource Management (CEMEREM) for the MSc study.
Ethics declarations
Conflict of interest
The authors declare that they have no competing interests.
Additional information
Responsible Editor: Murat Karakus
About this article
Cite this article
Wachira, D., Githiria, J., Onifade, M. et al. Determination of semi-mobile in-pit crushing and conveying (SMIPCC) system performance. Arab J Geosci 14, 297 (2021). https://doi.org/10.1007/s12517-021-06550-4
Received:

Accepted:

Published:
Keywords
Availability

Mine productivity index

Performance

Semi-mobile in-pit crushing and conveying (SMIPCC)

Utilisation